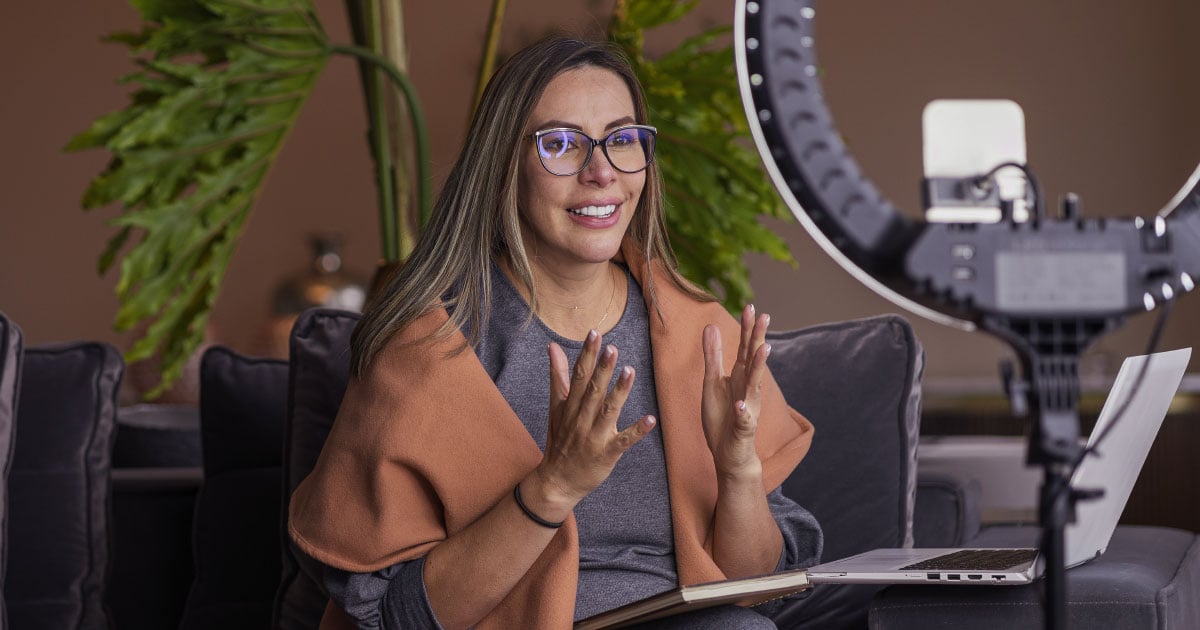 Due to the Coronavirus, the list of companies implementing travel bans and remote work is growing by the hour. Recruiters and hiring managers are scrambling for solutions to replace on-site interviews yet still make meaningful connections with candidates and continue to fill their requisitions. The solution is video interviewing.
If you haven't established a video interview process yet, now may be the time. All employers, whether you need to hire one candidate or an entire team of employees, can benefit from implementing video interviews. Here's everything you need to know to get started.
---
DON'T MISS THIS WEBINAR

Learn from Recruitment Marketing Leaders at ADP, AMGEN and ALTRU.
---
Do I need to Buy Video Interview Software?
Should you use your company's video conference platform or partner with a recruitment focused video interview provider? Several video job interview vendors (see list here) can provide an end-to-end solution for employers -- including technology, training, support, and reporting -- but it may take longer to implement if you're required to go through an RFP process to add a new vendor. It's absolutely possible to conduct successful and candidate-friendly job interviews with BlueJeans, WebEx, Zoom and other video conferencing platforms. You may also think outside the box and use WhatsApp or Facetime.
The Coronavirus has created a sense of urgency around video interviewing for recruiters and employers, who are now tasked with figuring out how to conduct successful video interviews as quickly as possible. Below are ten tips to help you create a great video interview experience for candidates, recruiters and interviewers.
10 Tips for a Great Video Interview
Plan extra time. Schedule an extra 15 minutes for video interviews. Candidates and hiring managers may need more time to get their audio and video setup working properly. Additionally, try to join 5-10 minutes early. Interviews are nerve-wracking. Put your candidate at ease by showing them that they are in the right place at the right time.
Test your microphone and speakers. Make sure your audio isn't on mute. Perform tests to confirm you can hear and be heard clearly.
Remove background noise. Turn off background music, silence nearby devices like phones and tablets, and if possible, try to find a quiet and calm place to chat. An unexpected phone call, app notification, or any other distracting loud noise could ruin a good conversation.
Close other applications. Minimize distractions and multi-tasking by closing unnecessary applications.
Add a lot of light. You always want to be front-lit with soft lighting. You don't want to backlit, side-lit or lit by the laptop screen from underneath. Add a desk lamp or a lamp with a lampshade right over your lens, centered on it. Alternatively, face a window to light you from the front. Close window shades behind you or on your side, and turn off fluorescent lighting. Try to create a clear image and avoid glare and washout.
Position your camera properly. Your laptop is probably sitting on your desk. That is great for ergonomics but bad for videos. People don't look their best in a camera angle that's coming from beneath their chin. Grab a couple of books and place them under your laptop (or smartphone). The lens of your camera should be at eye-level. Find an angle where you are centered on screen both horizontally and vertically (as opposed to off to one side or too far up/down). Sit far enough back to see your shoulders and your face. If you're using a smartphone, consider purchasing a smartphone stand.
Look into the camera. You want to engage your candidates by looking into their eyes. Look directly into the camera lens (i.e. the light). Don't look at yourself or read through a document on the screen. Looking down or leaning in to get a better view of the text will leave people staring at the top of your forehead.
Keep the background simple. If there's a busy office behind you, there will be a lot of "visual noise" that could be distracting and make it difficult for the candidate to focus. Find a clean simple background. If you're using a laptop, you have a lot of flexibility to take it wherever you want to get the background you want.
Personal appearance. If you typically wear glasses, wear contacts or take off your glasses while recording, if possible. Glare from your computer monitor will reflect in your glasses making it difficult to see your eyes, and that's really how people connect with you. Wear solid colors -- white works best. Avoid any stripes or patterns on your clothing, because these can create distracting visual effects on screen.
Show some excitement! Help put the candidate at ease by bringing energy and enthusiasm to the interview.
It's important to get your hiring teams more comfortable with being on-camera. Feel free to share this article or create a one-sheet of your own tips that you can distribute internally so they understand best practices and feed prepared to hit the ground running.
While it's important to prep interviewers for a video interview, it's also critical for a positive candidate experience to communicate to candidates that you are scheduling a video interview. Let candidates know that a computer webcam isn't required for a video interview and a smartphone is fine. Ask if they have been through a video interview before, and if not, share your one-sheet of video interview tips and offer to do a practice run so they can get familiar with your video platform.
Lastly, if you have more questions about video interviewing, the benefits of implementing a recruitment video interviewing platform, or the differences between video interview vendors, please contact us.
For more information, you can also check out this additional resource on virtual hiring below:
Want more recruitment marketing resources to help you navigate the COVID-19 outbreak? Check out our information hub.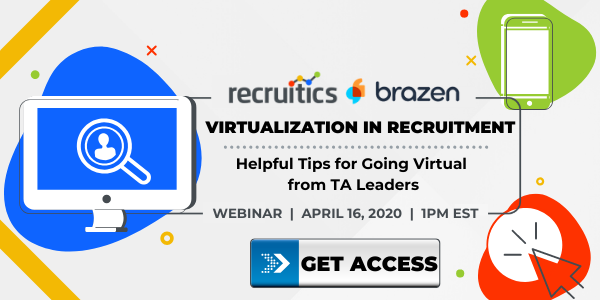 --
Special Contributor to this blog post by Cady Olson
Posted by Derina Adamczak

Derina Adamczak is no longer with Recruitics. Derina is a 17-year talent acquisition professional with recruiting experience in the IT, engineering, construction and retail sectors. She holds a Bachelor's degree in Organizational Communications from Rollins College. Throughout her career, Derina has evaluated and implemented applicant tracking systems, CRMs, talent networks and recruitment marketing platforms. Her background in sourcing and delivering top talent to hiring managers adds to her value as a marketer. Her passion is infusing technology and marketing into recruitment to create best-in-class talent attraction programs and positive candidate experiences. In Derina's spare time, she virtually remodels her home on Pinterest.