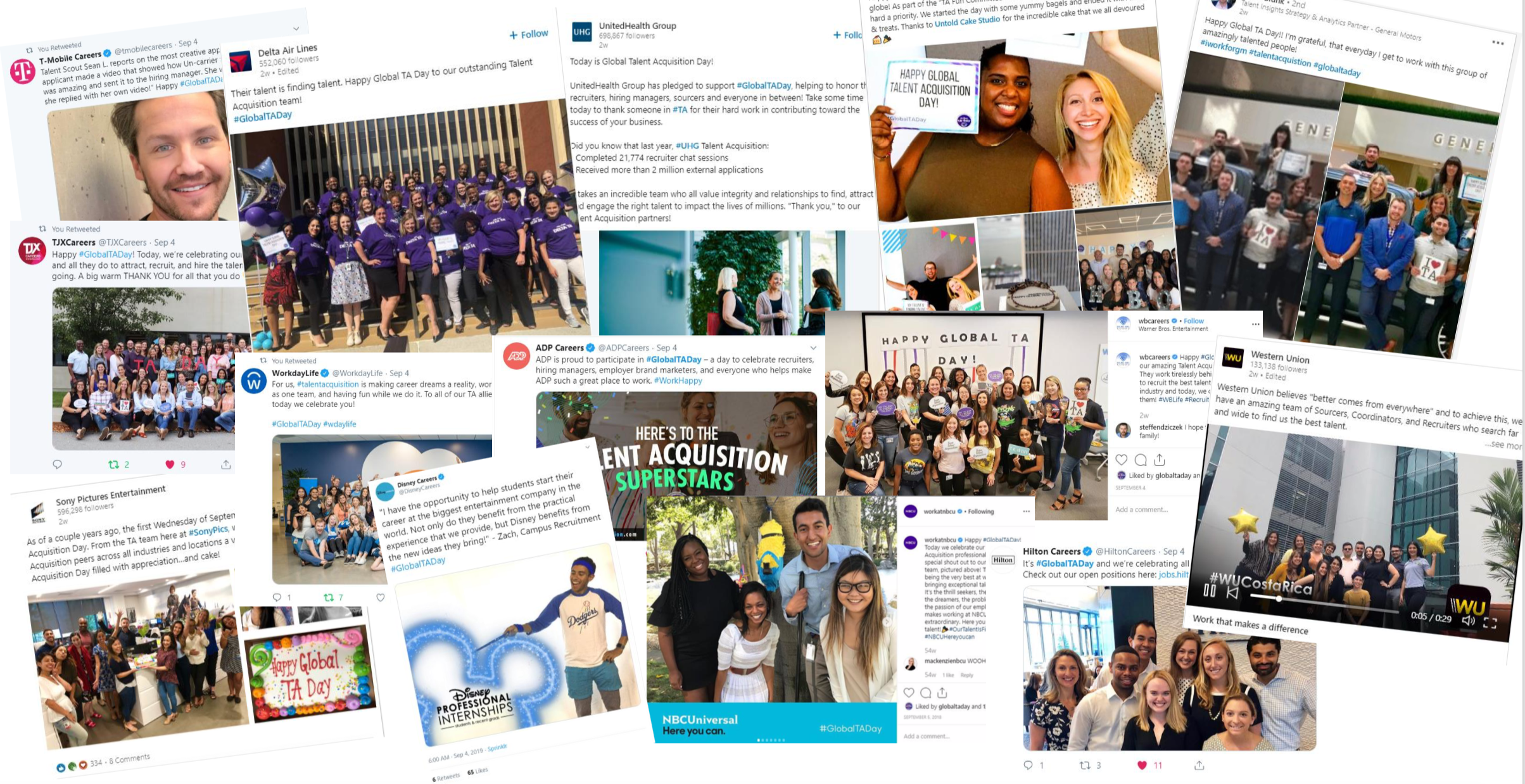 September 4, 2019 marked the second annual Global Talent Acquisition Day (#GlobalTADay), a celebration of talent acquisition professionals throughout the world!
This included recruiters, sourcers, hiring managers, employer brand folks, and more! In preparing for the day, the teams at Recruitics and the Association for Talent Acquisition Professionals (ATAP) set out to appreciate everyone involved in the talent acquisition process from start to finish. We hoped the celebration would reach far and wide, and we certainly were not disappointed!
Global TA Day 2019 was a BIG EVENT with BIG BRANDS!
We love seeing how many amazing, world-leading brands participate in Global TA Day each year. Here are just a few who made last year's event so special!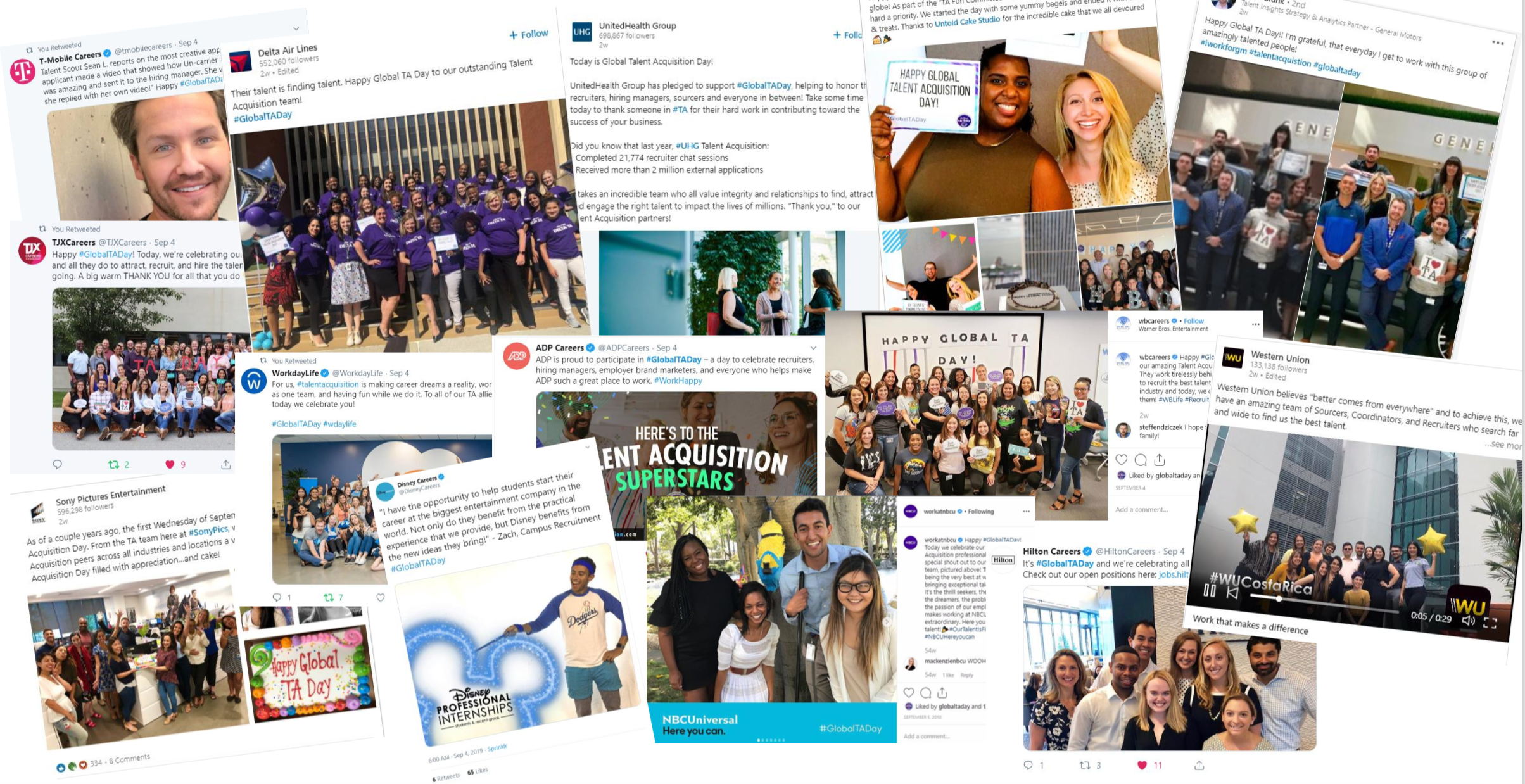 Talent Acquisition Pros Sharing Their STORIES!
It was amazing to see people sharing their talent acquisition milestones and accomplishments, as well!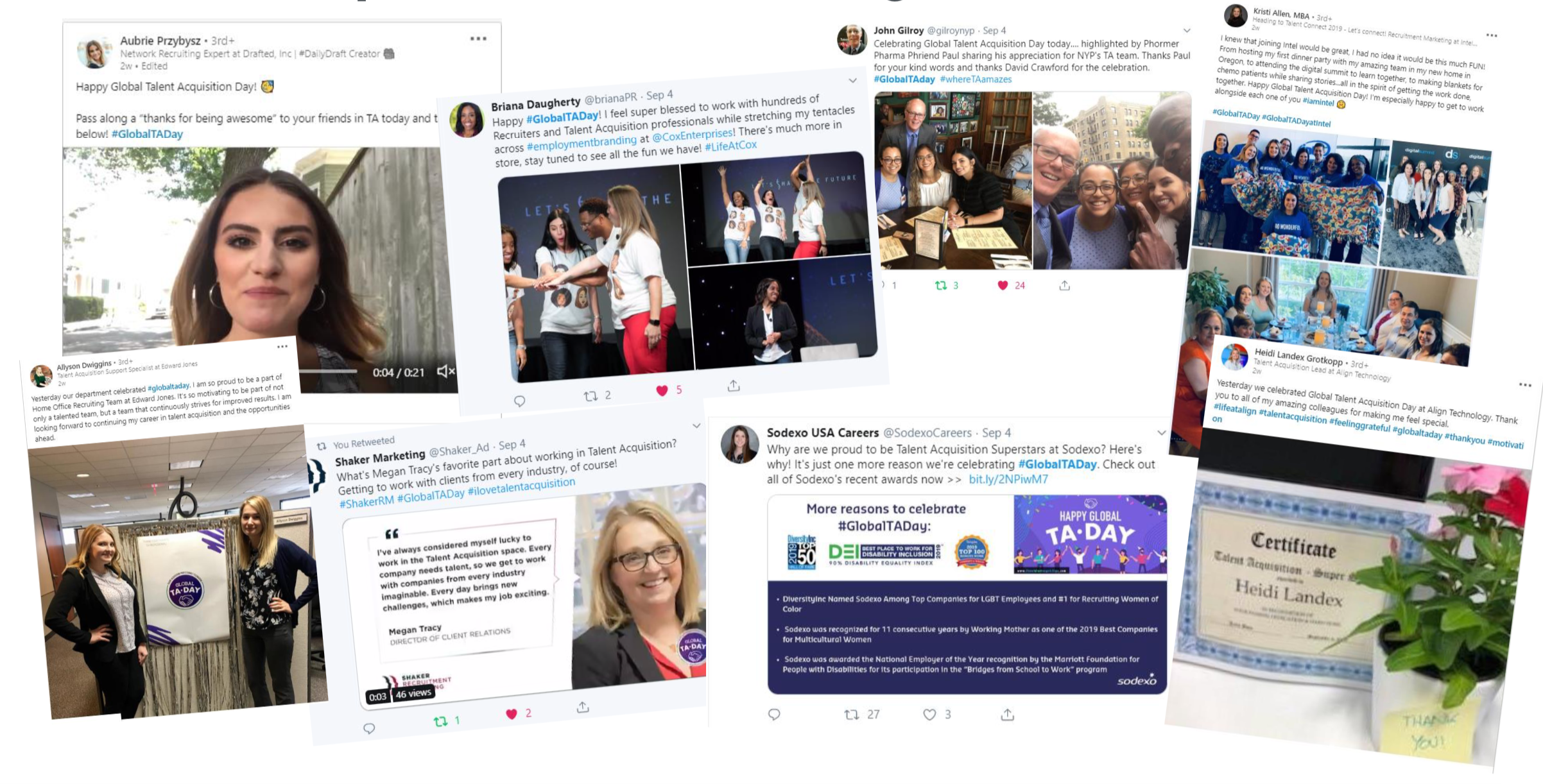 Global TA Day had GLOBAL REACH!
It truly was a global phenomenon, garnering participation from international talent acquisition teams.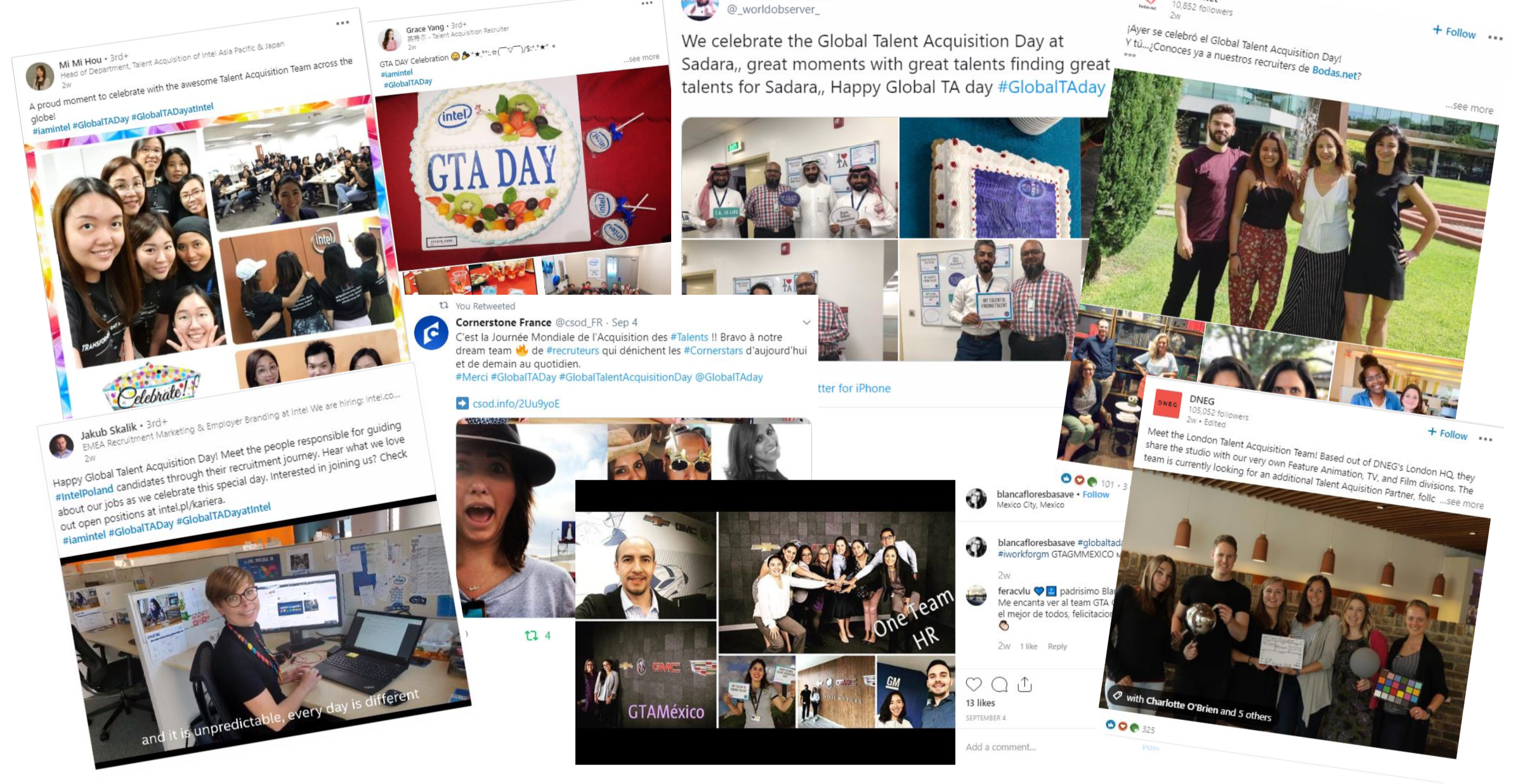 Global TA Day LIVE Events on the Day!
And of course, there was a great turn out across the U.S. with livestream and in-person events across the country!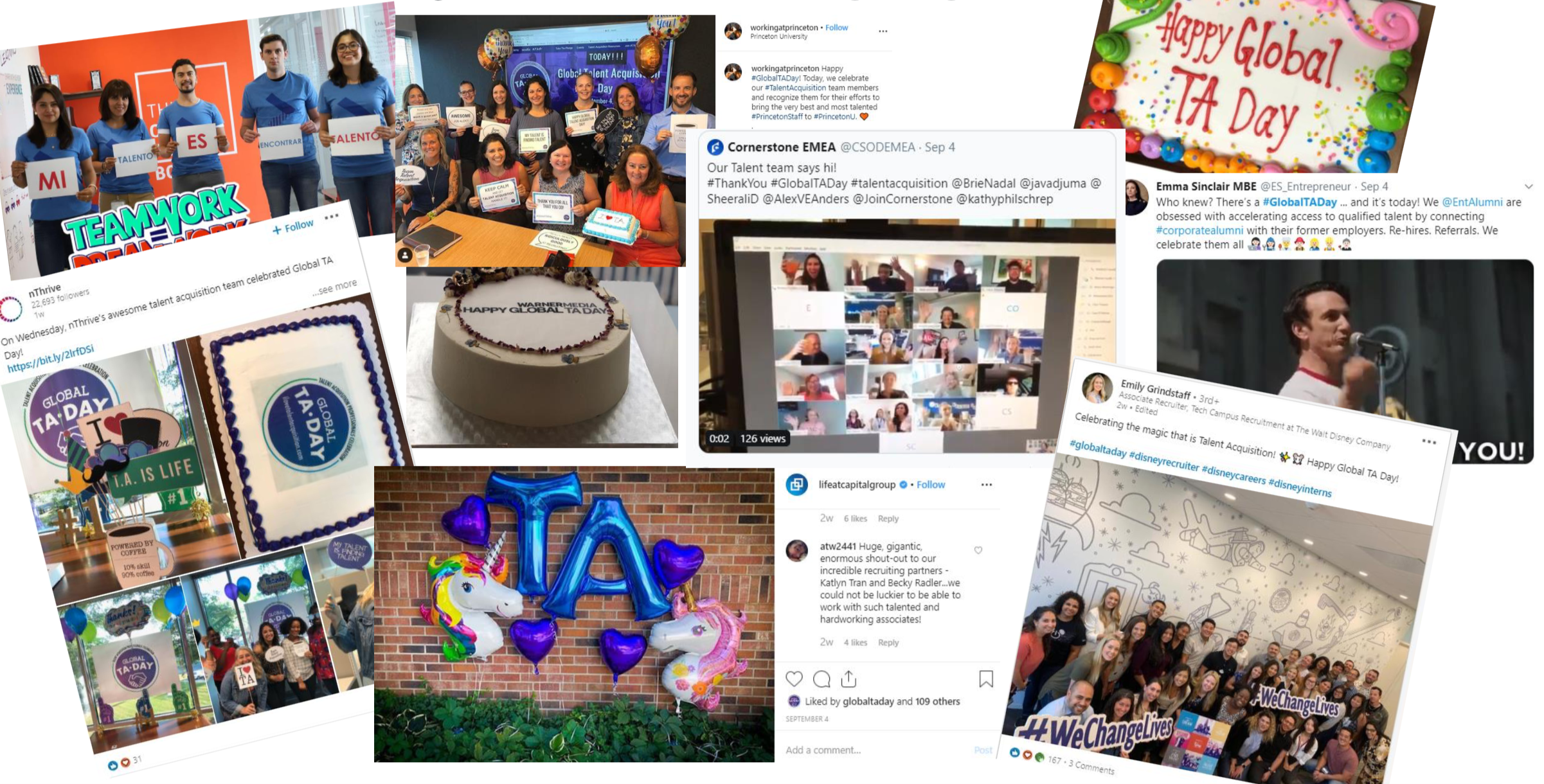 There were so many amazing participants in Global TA Day 2019!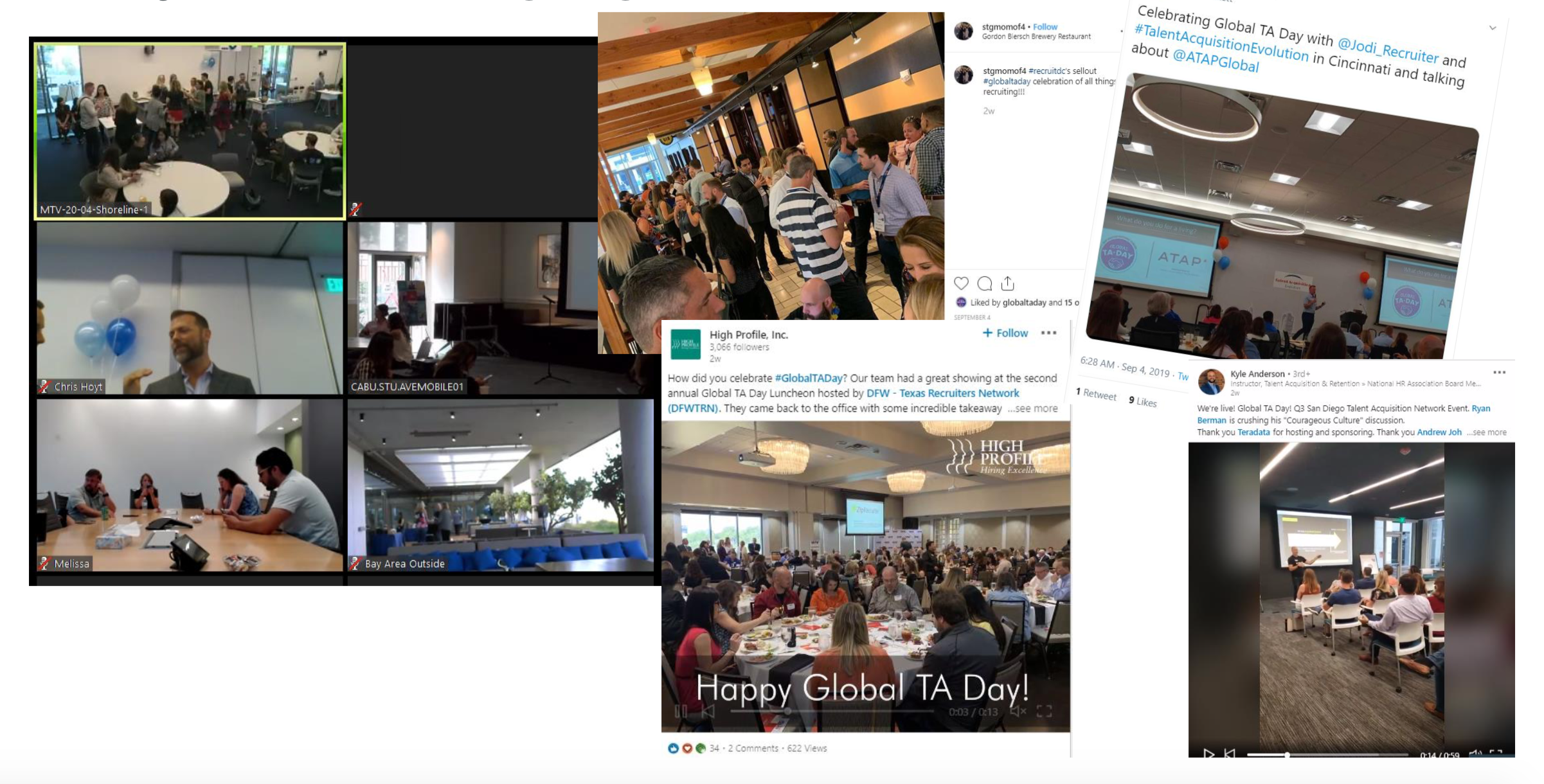 THANK YOU!
It was truly amazing to see how many people came together to appreciate talent acquisition, the oftentimes unsung heroes of the business world. Thank you to everyone who participated!
The examples above were just a fraction of the festivities! You can see more of the social buzz on #GlobalTADay on Twitter, LinkedIn, Facebook, and Instagram.
SEE YOU in 2020!
We hope to see even more participation this year, on September 2, 2020, and beyond! Stay in the loop for upcoming celebrations at www.ilovetalentacquisition.com. As the date nears, more updates and resources will become available. In the meantime, follow @GlobalTADay on Twitter!
Posted by Emily Tanner
Emily Tanner is no longer with Recruitics. During her time with us as VP of Marketing, Emily worked on both the client and business side of marketing, partnering with top enterprise customers on their talent acquisition and recruitment marketing strategies as well as developing inbound content marketing plans, paid advertising campaigns, and lead generation initiatives for Recruitics. A true data nerd at heart, Emily finds joy in analyzing deep performance metrics and finding the story in the numbers. When not working on marketing strategies or in Excel documents, you can find Emily hanging with her husband, two sons, and their dogs.