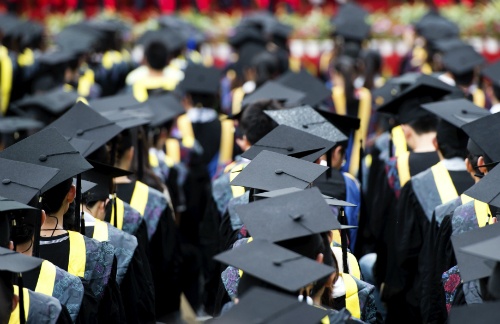 [View the 2019 updated version of this post here: Attracting and Hiring New Graduates Using Recruitment Marketing Techniques]
As college seniors across the country look forward to commencement ceremonies in May, companies are trying to figure out how they can optimize their recruitment marketing strategies to hire new graduates.
That's because, historically, May isn't just the month where young professionals get to change their status from student to alum, it's also when many businesses go on major hiring pushes to fill entry-level roles that new graduates are perfect for.
And in 2017, all indications are pointing towards a continuation of this trend. For context, we reached out to College Recruiter, a job search site geared towards students and recent grads.
"The labor market is pretty strong for most recent college graduates in that they have a lot of choices," said College Recruiter President and Founder Steven Rothberg. "Some of the choices will be good and some not very good, but the labor market for 2017 grads isn't at all like the horrendous labor market in 2008, 2009, and even 2010."
The question that remains for employers is, how do you navigate the estimated 1.9 million new graduates entering the job market to find, attract, engage and hire the best talent for your teams?
As Rothberg puts it, "employers need to truly market their opportunities, which means doing far more than just telling the candidate what the employer's requirements and preferences are."
To help, we asked our own team of in-house experts. Together, we put compiled this list of five tested recruitment marketing optimizations that can help you better position yourself to hire new graduates in the coming months.
5 Recruitment Marketing Optimizations To Consider When Hiring New Graduates
The Job Description and Apply Process
As with any job you might advertise online, you'll want to put yourself in your ideal candidate's shoes. In this case, the majority of your target audience will be Millennials, so it's important to consider current research on these job seekers before you build your job advertisements.
For instance, according to a 2016 Jobvite survey, Millennial job seekers tend to care less about compensation and work/life balance as opposed to "perks"--such as the ability to work remotely, or having access to a kitchen stocked with free snacks. With that said, you'll want to gear your job description toward the content that will resonate best with your target audience and away from what might be considered "traditionally" appealing details, if that's not what your target job seekers are after.
Secondly, consider your apply process. This generation of job seekers--new graduates included--expect to be able to apply to a job using their mobile device. In fact, a full 47% of Millennials feel this way, meaning a slow apply process, or one that isn't optimized for mobile, could be damaging to your recruitment marketing ROI. You'll want to build a fast and seamless experience that converts engaged job seekers into applicants rather than missed opportunities.
The Sources
Job seekers today leverage a wide variety of channels to find and apply for jobs, but their number one source continues to overwhelmingly be job search engines like Indeed. With that said, it's important to consider which sources you're advertising these jobs on. As we've said in the past, successful recruitment marketing is contingent upon your ability to find the right media mix. So, if you haven't already, you'll want to consider sources that specifically attract your target audience.
For example, College Recruiter, Uloop and WayUp are just three examples of employment sites that are specifically geared towards current students and new graduates. Consider advertising your jobs with these sources, as well as sources you traditionally leverage such as Indeed, LinkedIn and Glassdoor.
Furthermore, given the social proclivity of Millennials--especially on the younger end of the spectrum that will be graduating this May--you should also consider social media, or social media job distribution, as a source of candidates.
The Data
If you don't already have access to job-level recruitment marketing analytics, major hiring pushes are the perfect time to adopt this technology. Why? Because hiring pushes require large budgets, and job-level recruitment marketing analytics provide you with actionable insights to better optimize your spend, and better utilize your available resources (such as organic traffic), allowing you to increase ROI.
Most importantly, recruitment marketing analytics can help you understand which jobs require advertising spend and which jobs can produce quality hires from organic traffic alone--saving you money for a greater return. Recruitment marketing analytics can accomplish this by providing you with organic data versus paid data, allowing you to gauge how much traffic your jobs are receiving without the need for an advertisement boost.
This is especially important when it comes to hiring new graduates. Since entry-level jobs--the bulk of the jobs targeting new graduates--often have a lower threshold of skill requirements. They're often easier to fill and, therefore, do not require an advertising budget. Without recruitment marketing analytics showing you which sources are producing organic traffic, and which jobs are receiving it, you won't be able to make this determination--generally leading to higher spending.
Furthermore, recruitment marketing analytics can also help you properly allocate funds for your paid jobs by identifying which jobs are driving the most traffic (and which aren't), which roles are driving quality applicants, and much more. This data can help you determine where to allocate budget and reallocate funds, and it can also help you identify which content and techniques are working in your job advertisements.

The Programmatic Advertising Volume
New graduates are hungry for work and are therefore likely to apply to almost any job they feel qualified for. If you're looking to fill entry-level positions, this means you should expect a very high volume of applications from eager job seekers.
If you're using a programmatic job advertising technology to run rule-based campaigns, you'll want to keep an eye on this because your rules might not be currently set to handle spikes in volume that this time of the year can produce.
For example, if you programmatic job advertising strategy includes volume-based caps--such as stop-spending rules that are triggered by a click or applicant volume goal--then your entry-level jobs may prematurely hit that cap and therefore be removed from your campaign. If your campaign ends before you've expected it to, then you run the risk of missing out on potentially qualified candidates who simply didn't get to your job posting before your cap was hit.
By increasing your volume caps, you'll be able to ensure your jobs aren't automatically cut off from your budget once a goal is hit, and you can instead use other factors to dictate when a job no longer needs to be advertised.
The Competition
Let's face it, you're not the only one who is going to be advertising entry-level jobs this year, and chances are you'll be competing directly with your competition for the same talent. If this is the case, and you're leveraging performance-based media such as PPC or PPA, then you might want to consider raising your bids for your entry-level jobs.
Doing so will allow you to compete more effectively on the most popular job boards and job aggregators, the go-to sites for job seekers today. For instance, if your entry-level jobs are in more skilled job sectors such as IT and engineering, and are also located in a region that's saturated with recent grads, those two factors will make it more difficult to hire the right talent ven without pressure from your competition. All of this must be taken into account when you're setting budgets and bids this hiring season.
--
With Spring now in full bloom, May is rapidly approaching, and so too are college graduations across the nation. Ensuring your job advertising strategies are fully optimized for the coming influx of job seekers will be key to whether or not you win this war for new graduates, or if you'll be struggling to fill entry-level roles later this year.
To learn more about how you can better prepare for this hiring season, including how Recruitics can help you optimize your recruitment marketing strategy, sign up for a demo today.
Posted by Sal Trifilio
Sal Trifilo is no longer with Recruitics, but brought value as a thought leader in the recruitment industry.