When do you start thinking about the holidays?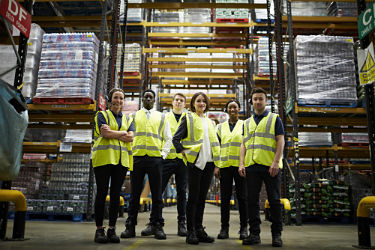 As a consumer, chances are you're not quite ready to start thinking about the end of the year and all that goes along with it. After all, Black Friday is still more than two months away.
But, if you're a hiring manager or a recruiter working in retail, logistics or order fulfillment, then you can't afford to put off thinking about the holidays any longer.
While to some, August might seem like an early start to think about holiday hiring, but HR and talent acquisition professionals in the retail industry understand what a challenge it can be to attract, engage and hire all of the seasonal workers needed to make the holiday-shopping season possible.
In order to fill the estimated 700,000 new jobs that are generated at this time of year, according to the most recent numbers from NRF, those in charge of retail recruitment need to develop and execute a seasonal hiring strategy today, in order to effectively hit their talent acquisition goals around the holidays.
In this post, we'll discuss why seasonal hiring has gotten increasingly difficult over the years and three tactics HR and talent acquisition professionals can deploy to hire seasonal workers in today's economy.
Why Hiring Seasonal Workers Has Gotten More Difficult
Massive hiring pushes have always been difficult, even for the most experienced recruiters. This was true during times of a strong economy and during times of high unemployment.
But as we've recovered from the Great Recession, the nation has seen 82 consecutive months of job growth and unemployment has fallen to 4.3 percent, the lowest level in more than a decade. (Further, many other countries across the world have shown signs of recovery as well, with the UK experiencing their lowest levels of unemployment since 1975.)
But tightening labor markets, and a landscape that economists refer to as "full employment," aren't the only reasons why seasonal workers have been harder to come by.
With each technological advance, remote work isn't just becoming easier to access, it's becoming more widely available. This gives those who might be looking for temporary or part-time work (i.e. seasonal jobs) other opportunities they may not have had in the past. Simply put, it's a candidate's market.
Couple that with the sheer volume of hires that need to be made for the holiday hiring season, and the competition for talent is only compounded.
How to Hire Seasonal Workers in Today's Economy
While the estimated 700,000 seasonal jobs (mentioned above) might be in aggregate, recruiters at individual businesses face steep hiring goals nonetheless. Just take a look at some of the hiring demands from last year's holiday season:
UPS: 95,000 seasonal jobs to fill
Target: 70,000 seasonal jobs to fill
Kohl's: 69,000 seasonal jobs to fill
JCPenney: 40,000 seasonal jobs to fill
Radial: 20,000 seasonal jobs to fill
Toys 'R' Us: 10,900 seasonal jobs to fill
Teletech: 3,000 seasonal jobs to fill
After looking at those numbers, it's pretty obvious that any seasonal hiring strategy must be aimed at bringing in a high volume of applicants. Let's look at a few ways you can accomplish this:
Plan Ahead: In recruitment, as in life, timing is everything. If you want to be an effective recruitment marketer, especially when volume is key, you'll want to be hitting your job seekers with the right messages at the right time. The graph below highlights the optimal posting timeframe based on job seeker interest, specifically for seasonal and holiday jobs. As you can see, seasonal job seeker interest begins to spike in the middle to end of August and peaks in mid-November, as the data below shows. So, the best time to advertise your seasonal jobs should coincide with these job seeker trends.
Expand Your Reach: In order to meet your seasonal hiring goals, you'll need to cast a wide net. It's no longer a given where job seekers will be searching for their next opportunity, and recent research suggest they take many different paths to reach your job descriptions. Our aggregate client data shows that retail jobs often perform best, for both volume of applicants and cost-efficiency, on top vendors like Jobs2Careers, ZipRecruiter and Nexxt (previously, Beyond).
Be Competitive With Your Bids: One of the most important things you can pay attention to in a competitive marketplace--especially when volume is key--is your CPC bids. In order to rank high in search results for seasonal jobs, you'll need to be willing to raise your Cost-Per-Click bid, when appropriate. However, this doesn't necessarily mean that you'll need to spend dramatically to meet your goals. Rather, you'll want to be actively reallocating budget from jobs that don't need it (easy-to-fill / low priority jobs) to those which do (hard-to-fill / high priority jobs). Of course, this is an admittedly laborious and time-consuming job if you lack an automation platform.
Get Creative With Your Media: When job seekers have too many options at their disposal--which can often be the case for seasonal workers--recruitment becomes a multi-touchpoint process. Your jobs posted on job boards, job aggregators and other employment websites might not be enough to get the applications you need to meet your goals. You'll want to be creative and consider other forms of recruitment marketing media, including more traditional channels potentially, such as taking advantage of local radio ad space, short-term TV spots (like the one by Amazon, below) and other forms of digital media advertising. Getting creative with your recruitment marketing media will help you build a stronger employer brand awareness and see more success in converting job clicks into applicants.
https://www.youtube.com/watch?v=1Jzw3zJKHsc
How to Efficiently Scale Your Recruitment Strategy to Get The Most Out of Your Budget
The steps above paint the picture of a robust and well-diversified recruitment marketing strategy. But these steps also represent important pieces of any successful seasonal hiring strategy.
In today's economy, it's incredibly difficult to hire in-demand talent, and that difficulty is only magnified by the large scale of workers seasonal hiring requires. In online recruitment, competition directly affects cost, so you're probably wondering how you'll be able to hit your goals without breaking the budget.
The number one tool you have for sustainable scalability is your recruitment marketing analytics platform. Since scaling a recruitment marketing strategy to meet high demand requires careful budget allocation, it therefore also requires accurate and timely, source- and job-level data.
Data allows you to understand your the performance of all your jobs across all sources and helps build your roadmap for success. Without quality source- and job-level analytics, you'll may be basing the bulk of your budgeting decisions off of intuition rather than insights--a risky move, at best.
If you don't have access to the necessary data, you can get started today with Recruitics Analytics, our FREE recruitment marketing analytics dashboard. To learn more about Recruitics Analytics and to get access to your free dashboard, sign up today.