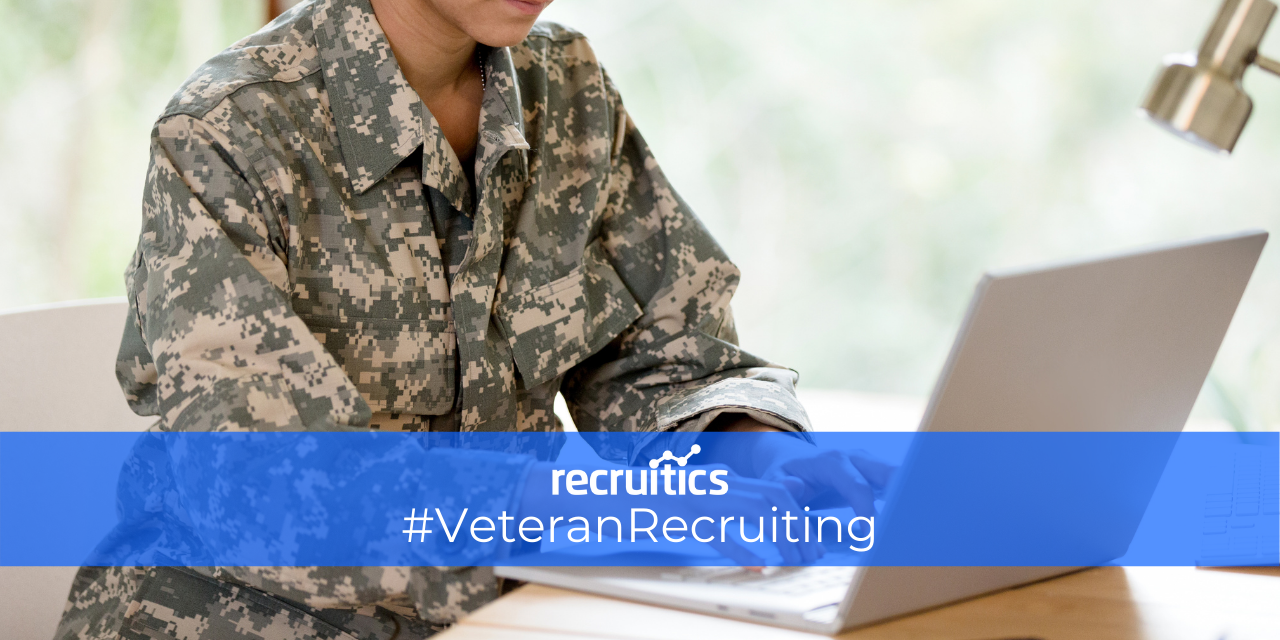 The tumultuousness of this year has resulted in no shortage of challenges for both employers and employees when it comes to navigating changes and new norms in the workplace. The commitment, adaptability, and skills that most companies will need to successfully overcome these new challenges may be hard to come by, but there is one talent pool that is extensively qualified and prepared to perform their duties under the pressure of a crisis: military veterans.
While veteran unemployment in the U.S. has remained consistently lower than civilian unemployment throughout this year (6.8% vs. 7.8% in September 2020, for example), veterans certainly have not been immune to the impact of COVID-19. Veteran recruiting has always come with a unique set of challenges, many of which have been exacerbated by the pandemic.
Read on to learn more about the challenges of veteran recruitment, the impact of COVID-19 on veteran hiring initiatives, and how civilian employers can leverage technology to attract and support veteran candidates.
COVID-19'S IMPACT ON VETERAN RECRUITING
In 2019, there were around 18.8 million men and women classified as veterans in the U.S. population, and each year around 200,000 service members transition from military to civilian life. That accounts for a large and valuable talent pool that many recruiters had previously overlooked. Companies are coming to realize the untapped potential of the veteran talent pool, and more organizations have set in motion concentrated efforts to attract veteran talent and make their overall recruitment process more veteran-friendly.
The unemployment rate for veterans in September 2019 was 3.1%, the lowest rate for the month of September in 19 years -- an indicator that efforts to improve veteran inclusion were showing signs of success. This September, however, the veteran unemployment rate rose to 6.8%. Although the rate is more than double what it was at the same time last year, it's far from the highest it has been since 2020 began. In April, during the height of pandemic-related upheaval, that number ballooned to 11.8%, the record high for the last decade.
Before the pandemic, many companies relied heavily on career fairs and visits to military colleges, bases, and veteran assistance centers to recruit veteran talent. Interacting with the candidates in person and building relationships face-to-face were seen as essential methods for increasing your visibility as a military-friendly employer and networking with this talent pool. Many of these traditional methods that businesses have relied on to recruit veterans have been rendered difficult - if not impossible - in the wake of COVID-19 social distancing and shelter-at-home directives.
HOW TECHNOLOGY CAN HELP YOU RECRUIT & HIRE MORE VETS
While companies have worked to virtualize their overall recruitment and hiring strategies to accommodate our new reality, the heavier reliance on in-person networking in veteran recruiting makes this more challenging. Consequently, the idea of creating a recruiting process that is both virtual and veteran-inclusive may seem like a daunting task.
Here are some ways you can effectively leverage technology, tools, and digital strategies to hire veterans more successfully and improve their candidate experience with your organization.
Virtual Career Fairs
Attending or participating in a veteran career fair is an effective way to increase your number of veteran applicants, and they can also solidify your company's reputation as a military-friendly employer. The opportunity to have a personal conversation with veteran candidates is also a great way to assess their soft skills, such as their communication abilities and willingness to learn.
For veteran candidates, particularly those that struggle with translating their military experience for a civilian role, it can be challenging to stand out based on a resume alone. Career fairs can help this talent pool to make a good impression with an employer and network more effectively.
Due to the pandemic, many career fairs have shifted completely online. While these virtual career fairs don't offer the exact same experience as an in-person event, they provide many of the same benefits, often at a reduced expense. Virtual job fairs save candidates money, time, and resources, and they still allow employers and candidates to network and build personal relationships with one another. Since virtual events don't require travel, they have the potential to attract a larger pool of talent that may not have otherwise attended an in-person event due to proximity or scheduling conflicts.
If you were already utilizing career fairs to target veteran talent, you can start by checking to see if the military partners, veteran organizations, or other event organizers you've worked within the past have any upcoming virtual events you could participate in. RecruitMilitary and Corporate Gray, for example, have a full schedule of virtual job fairs on the books for 2021.
If you're interested in hosting or participating in a virtual career fair but don't know where to start, check out our guide for best practices, tips, resources, and more!
Veteran Information/Landing Page on Your Career Site
Adding a military landing page to your careers site is a great way to provide relevant information to service members visiting your site. Also, if you plan to run veteran-specific recruitment campaigns, linking to a dedicated page for veteran talent helps reinforce your commitment to maintaining a military-friendly workplace and hiring practices. Here are a couple of examples of robust military landing pages: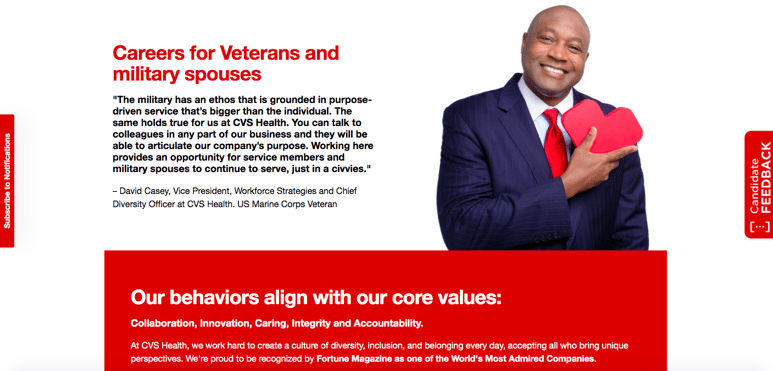 CVS Health's Veteran and Military Spouse Career Landing Page
Skill Translators
According to Linkedin's Veteran Hiring Report, veterans with a bachelor's degree have about 2.9x more work experience than civilians with equivalent educational attainment. This indicates that veterans certainly have the skills and experience to qualify for civilian jobs, but these skills are often quite literally getting "lost in translation" for both the veteran attempting to communicate their qualifications to a potential employer and the civilian employer evaluating their resume.
This is why incorporating a military skill translator on your career site can add a tremendous amount of value. If you're using a military-specific landing page on your career site, skill translators are a perfect companion piece you can add to that dedicated page to really go above and beyond in your commitment to the veteran candidate experience.
It's important to think about what roles people in the U.S. military have held and what skill sets they have, and getting creative with how you can apply them to different roles within your organization. Many veterans have the skills a company is looking for, but civilian hiring authorities may not understand military jargon well enough to see the overlap. Skill translators help veteran or military candidates communicate about their skills in a way that's easier for others who lack that military knowledge to understand. It also makes it easier for veterans to identify the right opportunities with your organization that are truly the best fit based on their qualifications.
If you want to check out companies that are successfully leveraging skill translators, here are some great examples: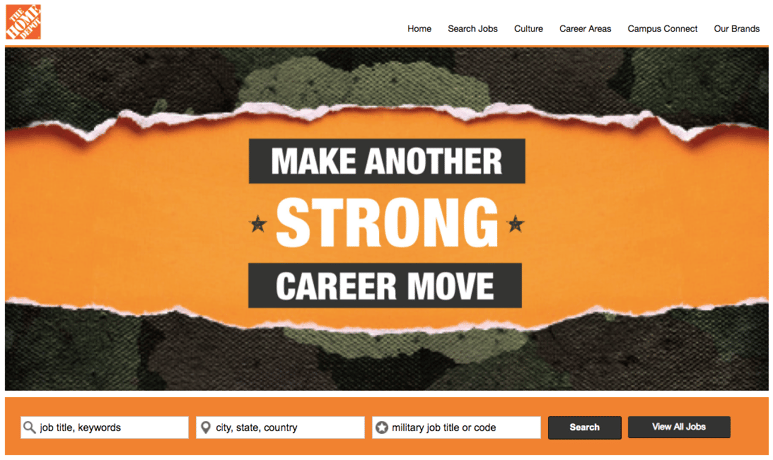 Inclusive Job Description Content
If you're posting your job to a military/veteran job board or communicating about your open positions in a veteran-exclusive setting, consider tailoring your content to improve its appeal and relatability for your target audience. When tasks, processes, and systems are outlined using familiar and clear terms or language, it will increase a veteran's confidence in their ability to do the job and make them more likely to apply.
Using a skill translator like those mentioned above is one important way to make your job content more inclusive, but you should also narrow down the requirements to those that are truly essential for success. Consider whether or not you're making any assumptions about the skills that a candidate would need based on the experience you would expect a civilian applying for that role to have as opposed to what would actually be required to perform the job successfully. Carefully evaluate which qualifications are "needs" and which are "wants."
It's also important to keep the intersection of veteran status and disability in mind when writing job description content targeting former service members. Although it's a misconception that all or even most veterans are disabled, those who have served in the military are more likely to be impacted by a disability than the average civilian. According to a 2019 study published by the Bureau of Labor Statistics, one in four U.S. veterans has a service-related disability. To truly make your job content veteran-inclusive, it must also be inclusive of disabled vets.
Unconscious bias in your content isn't always obvious or easy to identify, but there are plenty of writing and language processing tools that can help you evaluate the inclusivity of your job description content. Text analyzers from TalVisa and OnGig, for example, can help identify words or phrases in your job description that may imply bias against those with disabilities and suggest more inclusive alternatives.
Lastly, if your company has demonstrated a commitment to hiring veterans, include a brief summary of these initiatives in your job description. Outline the programs your organization has developed to serve veterans in the community, describe how you've worked to increase career opportunities for former service members, or mention veteran leaders in your company by name to create a more personal connection with your audience.
Veteran & Military-Friendly Job Boards:
Niche job boards are a great solution for attracting talent with specific skills, interests, or backgrounds, and there are plenty of niche job boards that cater specifically to veterans and military/veteran spouses. These job boards help veterans begin their journey to civilian careers and connect with military-friendly employers. Some of these job boards also target specific types of veterans based on their branch of the military, skillset, career interests, or disability status.
Some of the more popular job boards for veterans and military spouses (both government and private sector) include:
Programmatic Distribution Networks for D&I
When it comes to improving the visibility of your jobs within the veteran talent pool, identifying niche job boards targeting veterans is a great start. However, you can take this a step further by leveraging automated distribution networks like the Recruitics Reach Diversity Network.
The Reach Diversity Network is a programmatic job distribution platform that allows employers to easily and simultaneously distribute their job postings to a curation of niche job boards targeting a variety of underrepresented minority groups. This includes veteran-specific job boards like Veteran Job Center, ArmedServicesJobs.com, and JOFDV (Job Opportunities For Disabled Vets), just to name a few.
Candidates can express interest through a completed application on your ATS or through lead generation, talent network or nurture program. The Reach Diversity Network's real-time analytics dashboard consolidates jobseeker event data to provide you with ongoing, detailed reports for tracking results, helping employers to understand the number of diverse candidates that are being acquired through each specific media channel.
It can often be difficult to understand whether or not you've successfully moved the dial in your intent to increase the diversity of your talent pool, but using an automated distribution network with a built-in analytics platform gives you improved visibility and transparency into which sources and strategies are working and which are not.
Social Media Platforms
Paid social ads campaigns targeted at veterans for specific roles are also an option. These could be directed to a military landing page on your careers site. You can also publish organic posts that communicate your desire to recruit veterans as part of your content calendar.
START FROM THE INSIDE OUT
Having a veteran recruitment method in place is a good start, but it won't be effective if your commitment to veteran hiring doesn't go beyond the technology you use. We recommend starting on the inside and making changes to your existing company culture first. Survey your employees to understand how they perceive the effectiveness of your D&I strategies and your level of commitment to inclusive hiring. Understanding what you're doing well and where you may have room to improve can help you move the dial more effectively in your efforts to create a more inclusive environment, both for veterans and other minority groups.
Once you understand where your company stands, then you can begin expanding the technologies you use and start using your platform to tell authentic stories about your company culture and employer brand via your career site, job description content, social media, and word-of-mouth. By effectively demonstrating your values and commitment to diversity, you'll improve your reputation with the diverse talent you're looking to attract and increase their interest in a career with your business. As your workforce becomes more inclusive, implicit bias in your hiring process will be reduced, and your programmatic and automated recruiting strategies will become more effective in attracting diverse candidates.
Wrapping up
Virtualizing your veteran recruiting strategy may come with some unique challenges, but being adaptable, expanding your technological arsenal, and leveraging solid partnerships can help put you on the path to success. With a little creativity and strategic planning, it's also possible to adapt many of your existing virtual recruiting to make them more inclusive of military service members. However, it's important to remember that a commitment to diversity needs to be implemented throughout your entire business and corporate culture in order to create a truly inclusive work environment, and that goes beyond just the hiring process.
--
Are you interested in reaching a more diverse talent pool or looking to improve your virtual talent acquisition process? We're here to help!
--
Posted by Mona Tawakali

Mona is a Chief Strategy Officer at Recruitics. With over 13 years of experience helping Fortune 1000 companies with their recruitment marketing efforts, Mona is considered an industry thought leader in data-driven recruitment marketing solutions and is passionate about finding innovative ways to deliver the best ROI on all advertising investments. Mona holds a master's degree in internet marketing from University of San Francisco, and she earned her B.A. in broadcast journalism at San Francisco State University.