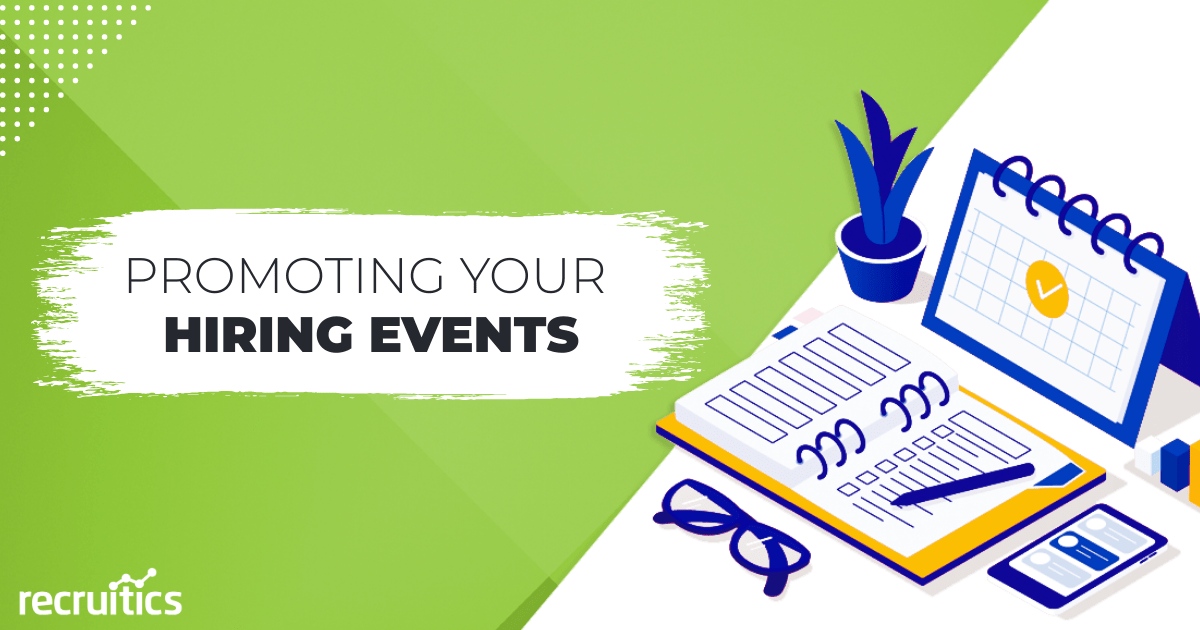 Hiring events can be a great way to promote your open positions to a large number of candidates in a one-stop environment. Here's everything you need to know about planning and promoting a hiring event for your organization.
What is a Hiring Event?
A hiring event is like a job fair but is held by a single employer vs. featuring multiple companies. Hiring events are a great way for employers to fill multiple roles quickly. They are also a way for candidates to meet employers, tour facilities, and learn about a company and role prior to applying. It takes a lot of the mystery out of the job hunt process by giving both employers and potential candidates the opportunity to meet face to face.
Many events hold interviews, while others act more like a meet and greet. Each company must determine which type of event works best for them.
Best Uses for an Event:
High volume hiring, such as seasonal - These are best set up to include an interview and offers on the spot.
Hard to fill mid-level roles - Keep in mind attendance might be lower than a high-volume seasonal role, and it is unlikely you will want to provide offers on the spot.
There are a lot of factors to consider for a hiring event, such as where to hold it, how many people to staff, the best day of the week, the best time of day, do you interview or just meet, etc. This post will focus on how to promote the event. But it is important to consider all the aspects of an event prior to beginning the process.
Media Tactics for Consideration
There are several ways to promote your event. Some are easy and low cost, while others are more involved and have higher price tags. This list is not all-inclusive—local media may vary by location.
Branding Tactics to Consider:
Local Print
Outdoor Banners or billboards
Radio
Sponsored Jobs
Paid Search
Lawn Signs
Direct Response Tactics to Consider:
Event promotion products with partners, such as Indeed, CareerBuilder, and Talroo.
Email
Text – custom text codes to pair with out of home media in order to track back.
Social Media Boost
Hiring Event Promotion Timeline
Recruitics can help you promote your event and drive attendees. We recommend starting the process as early as 6 weeks before your hiring event. However, many companies have been able to turn events around in a shorter time frame.

6 weeks prior to your event:
1. Determine the date of your event.
2. Determine the location of your event.
3. Finalize the titles and roles you want to hire for.
4. Determine a budget both for promotion and the event (cost of the location if not owned, snacks and refreshments, etc).
5. Reach out to Recruitics to build a promotional approach.

5 weeks prior to your event:
1. Confirm media tactics to be used in promotion.
2. Begin production of any creative materials.
E.g. logos, brand assets, images for print or email, and images for out of home.
4 weeks prior to your event:
1. Launch brand media (e.g. social, sponsored jobs, paid search, and out of home).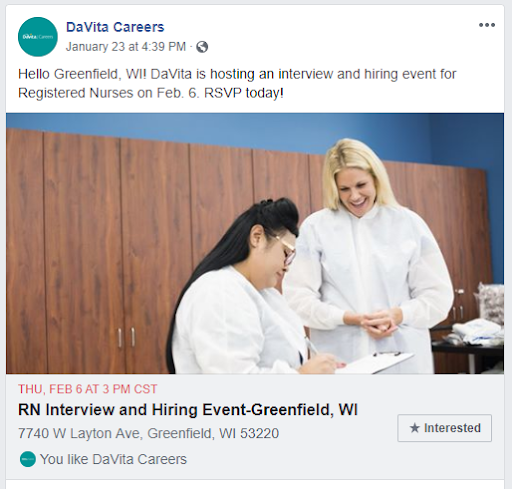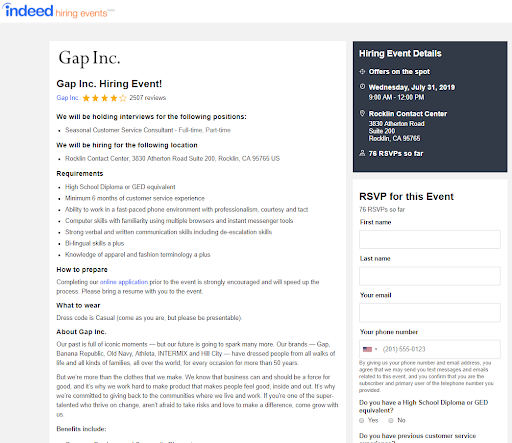 2 weeks prior to your event:
1. Launch direct respond media (e.g. Indeed/Talroo event, Facebook Boost, Email, Text, and Local print).

Week of the event:
1. Finalize the estimated number of attendees and plan accordingly. Ensure proper staffing and set up.
2. Send Reminders
Mini Case Study
Challenge: A retail company needed to make 1,000+ seasonal hires during the lead up to the 2019 holiday season.
Strategy: Combine a media mix of online, offline, and hiring events to drive applications. Hiring event cadence of 1 per week for 8 weeks.
Event Strategy: Promote each event utilizing multiple media tools: Indeed Events, Facebook, and Radio.
Results: Across 8 events paid media drove: 1,510 event RSVPs, 513 attendees, 282 offers for hire. Average of 64 attendees per event and 35 offers per event
Not every event will require every tactic described. The success lies in a bespoke approach based on your specific circumstances. It all comes down to goals, budgets, and timing.
What are your experiences with hiring events? We'd love to hear from you.
--
Posted by Abigail DiFazio

Abigail DiFazio is no longer with Recruitics. During. her time with us, she was a Director of Client Strategy, with over nine years of media planning and buying experience. She has been in the recruitment space for over four years, utilizing knowledge from the consumer world to help employers target and reach the right candidates for their roles. She has a passion for strategy and reporting, utilizing metrics to help drive performance for her clients. When not building media plans you can find Abby on the mountains in Colorado.