Finding high-quality candidates can be difficult – there are so many ways to connect with an audience it can be hard to know where to start. How can you maximize your recruitment media spend and efforts? Get data-driven with tactics like conversion-friendly landing pages for recruitment.
Landing pages are websites that exist independent of your main website. They can focus on specific functions, campaigns or other hiring efforts. Landing pages for recruitment are used for promoting specific job openings, hiring events, job locations, or company culture. These pages are easily customizable, shareable and trackable. A custom landing page with a specific focus can maximize your company's presence to all types of job seekers across the web. A well-crafted landing page can help you fill hard-to-fill roles by hyper-focusing and catering to certain groups of candidates and locations. Here are some landing page features you can use to elevate your recruitment efforts.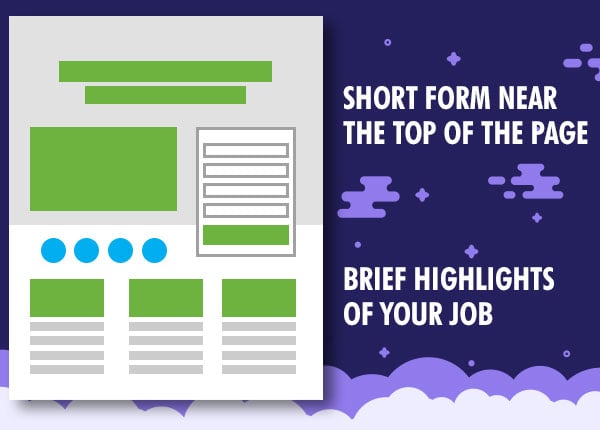 Tweet: #LandingPages for #Recruitment 101: How You Can Attract Quality Candidates https://ctt.ec/reNth+ @recruitics
HIGHLIGHT YOUR COMPANY AND JOB PERKS
A landing page can be a great way to highlight a specific job function, location or marketing campaign. For example, if you are hiring in Seattle, WA, you can geo-target job seekers in that area with specific messaging based on those jobs in that area. You can use a landing page to quickly highlight everything about the job and what you're looking for, and provide some top-level info about your company or that specific location/role. A candidate can easily get a top-level look at your jobs and what it's like to work at your company. Include a video, employee testimonials, company culture or other perks and benefits that make working at your company special.
MAKE IT EASY TO GET IN TOUCH WITH SHORT FORMS
A landing page is a great vehicle to get information about potential candidates. Many times, users may be browsing jobs or company sites and are directed straight to an applicant tracking system (ATS). Most times, these applications can be lengthy and time consuming, and they ask for a lot of personal information. A passive candidate may be perfect for the job you are trying to fill, but they may not be ready to go through the entire application process. With a short form, it's easy to collect vital info from people interested in your jobs or company: name, email, phone, or even adding a resume attachment option. This form allows potential candidates to contact you and gives you a quick overview on who they are. We can set up these short form entries to work with your existing CRM and ATS, so each new lead will be added to the pipeline. This also makes it easy for you to quickly follow up with them later and send more information based on their form entry.
EASILY SHAREABLE AND TRACKABLE
Share your landing page across all your social media channels to get in front of all types of candidates. Sharing and boosting your landing page on sites like LinkedIn, where professionals "hang out," can get your jobs and company in front of active job seekers. You can see what platforms perform best by adding tracking metrics to URLs. Most landing page services include custom tracking within the CMS, so you can set goals and see what is converting and what isn't. Many services allow you to run A/B tests, see heatmaps of what users are looking at/clicking on, and help optimize pages to perform better. Of course, the team at KRT can help track and measure landing pages and campaigns.
Once you have a few campaigns under your belt, you'll be able to hone in on your target demographic with ease, maximize your ROI and expand your candidate pool.
TOOLS
Building landing pages for recruitment can be tricky, but we are here to help! The analytics experts at Recruitics know the ins and outs of getting the most effective job landing pages off and running in no time. If you are considering trying it on your own, there are complete CMS platforms that offer soup-to-nuts landing pages with custom URLs, hosting and tracking, and as well as standalone page builders for the more advanced site builders. Some ATS platforms also allow capability to create landing pages. Below is a list of some landing page builders to fit every need and budget.
--
The best way to get started is to let us know how we can help! Landing pages for recruitment are just one of the services we offer.
Posted by Brian Christopher
This blog was written by Brian Christopher who is no longer with Recruitics, but brought value as a thought leader in the recruitment industry.