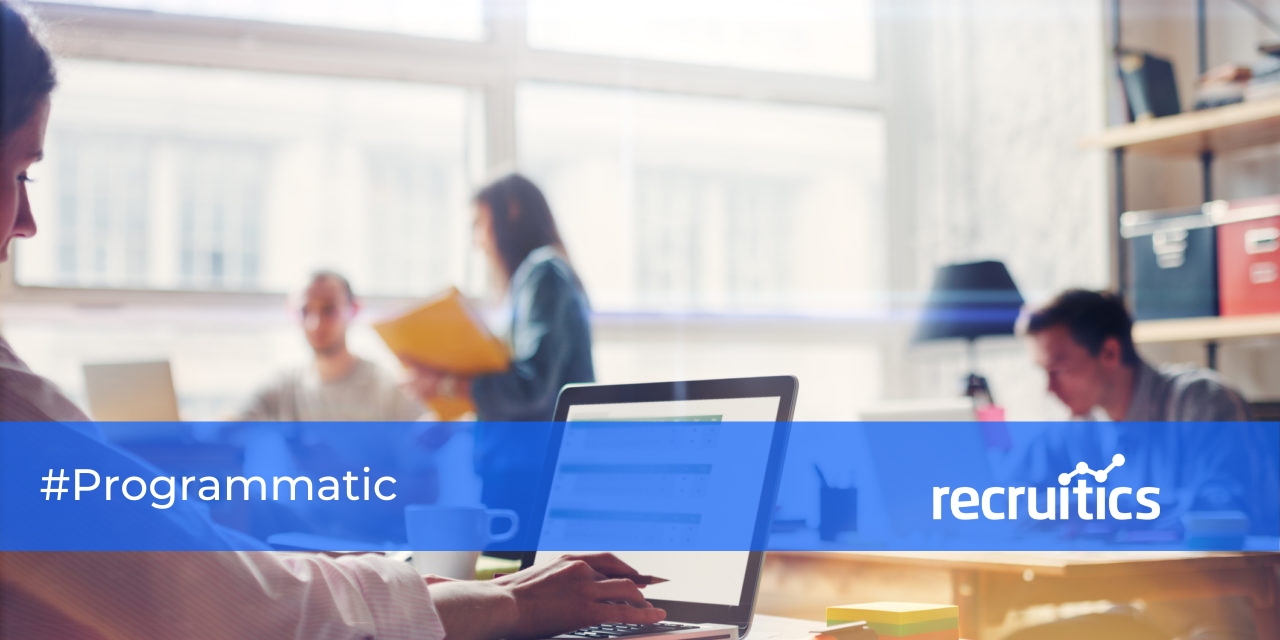 At Recruitics, we talk about programmatic job advertising a lot, but there is also programmatic display media, which is as important for what we do here.
Programmatic media has been on the rise for the last few years. Consumer ads have been running programmatically since 2010, and dollar spend has continued to increase since then. So, what is programmatic display media buying and why is it so important to include in your recruitment media plan?
As a form of marketing automation, programmatic advertising streamlines the ad buying process with data-driven, automated technology.
The Benefits of #Programmatic #DisplayAds for #Recruitment [CLICK TO TWEET]
Source: Salesforce
With programmatic, you can buy advertising space and place ads through an auction process. Programmatic advertising platforms use advanced algorithms, historical data and other parameters to calculate bids in real time for each ad placement. Purchasing transactions takes place instantly.
From the audience perspective, when users are browsing a website, the ad placement/creative combination that they see is decided by AI while the page is loading. The cookies in users' browsers determine what creative they are served (e.g. someone might get a retargeting ad if they are familiar with the brand or have started an application, if it's a job ad.)
So how exactly can you use programmatic display ads to help with your recruitment needs?
These are just a few benefits of programmatic display:
Targeting passive candidates

– These days, job seekers have many options in starting their job search, and job search engines are just one. Display ads help you reach candidates who aren't actively looking through job boards.
Brand awareness

– Programmatic display ads can help align your brand with your creative and place it on highly targeted websites that are relevant to your brand and attract the audience you're looking for.
Retargeting

– Programmatic display can help slice and dice the user pool to your website by separating them based on the pages they visit and actions they take. Using that data, you can then show them creative based on where they are in the application process.
A/B testing

– It's very easy to test different creative options with programmatic display without creating too many campaigns and comparing the results manually, like in Google AdWords.
Hyper-local targeting

– Do you need to target all people around a college? Or maybe a conference? It's a perk of programmatic display – you can target as locally as you need!
Measuring the media impact

– Programmatic display can track view-through conversions and measure the influence on a candidate's decision to apply later, even if they didn't click on the display ad.
Target a very specific audience

– Need to hire female engineers in Austin? Or looking for nurses who are at an early stage in their career? Programmatic display audience segments have all sorts of highly targeted groups by interest, age, industry, and degree level.
Target passive candidates w/ #programmatic display! #recruitment [CLICK TO TWEET]
Want to learn more about programmatic display? We are here to help! Reach out and we'll be happy to help you solve any tricky hiring needs you might have.
Posted by Kat Guseva

As the Paid Search Strategist, Kat is very interested in everything that is related to Google products and services, including Google Analytics. Her main passion is to work with data and see what it has to say. With the programmatic media entering the recruitment space, Kat became interested in automated bidding platforms for job boards as well.