You've probably noticed we've been talking a lot about the benefits of programmatic job ad buying lately. Sure, it is one of the biggest innovations to hit the recruitment marketing industry since sliced bread, but this is a trend that is completely changing the digital advertising landscape. Why? Because it works!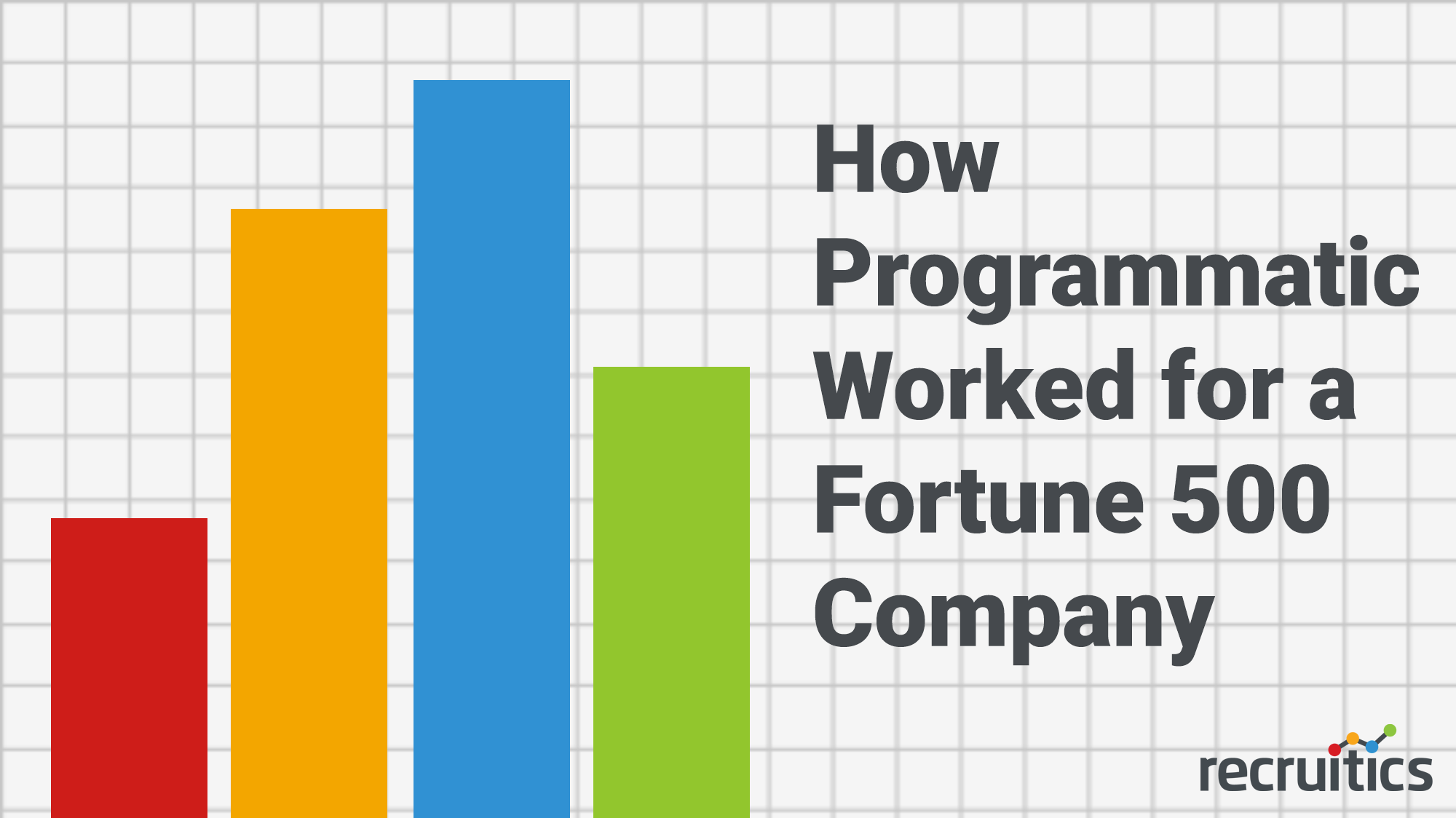 We consistently see three major outcomes after making a switch to programmatic PPC campaigns.
You get way more control of the jobs you're spending money on. There is better performance distribution across all jobs – no more jobs hogging the budget because they are easier to fill.
There is a major shift from being reactive to being proactive. Campaign adjustments and decision-making become proactive while your jobs are still open. No more reactive decision making by measuring campaigns after they've ended (What good is that?).
Better ROI

– Cost-per-click (CPC) and cost-per-application (CPA) averages are reduced significantly.
Here's an example of the impact programmatic job ad buying had on a Fortune 500 company after we helped them make the switch last April.
PRE-PROGRAMMATIC
Uneven performance: 80% of media spend and clicks were incorrectly going to a small percent of jobs, leaving all other jobs without the applications needed to make a hire.
POST-PROGRAMMATIC
We programmatically distributed budget and performance across all jobs by using data and set rules.
RECAP
Pre: Lack of access to job-level reporting until after the end of the month made us reactive rather than proactively improving performance. There was no way to see spend or click volume on a job level until after the month was over.
Post: Using real-time data made us more proactive than ever. Tracking tags helped us set rules to significantly improve ROI:
Removed jobs from advertising once they hit application goals
Increased bids only for hard-to-fill jobs
Programmatically hunted for best performing PPC boards
Pre: Lack of campaign controls and a diverse media strategy were driving up CPCs and CPAs.
Post: Leveraging a diverse media mix expanded reach and created healthy market competition, which reduced CPCs and CPAs, and drove down cost-per-hire.
In the end, we were able to reduce the average cost-per-click for the client by over 50% in the first quarter and even more compelling, we lowered the average cost-per-application by 80%! Programmatic has helped our clients receive better ROI on their media investments by not only getting more for less, but also assuring that we can support the jobs that need budget the most and not waste budget on jobs that already have a healthy applicant flow.
So, are you ready to take the plunge into programmatic? Give us a call – it's our favorite thing to talk about these days!
---
This post was originally published on the KRT Marketing blog on March 16, 2016. Recruitics acquired KRT Marketing on July 31, 2019 - read more about it here.
Posted by Mona Tawakali

Mona is a Chief Strategy Officer at Recruitics. With over 13 years of experience helping Fortune 1000 companies with their recruitment marketing efforts, Mona is considered an industry thought leader in data-driven recruitment marketing solutions and is passionate about finding innovative ways to deliver the best ROI on all advertising investments. Mona holds a master's degree in internet marketing from University of San Francisco, and she earned her B.A. in broadcast journalism at San Francisco State University.