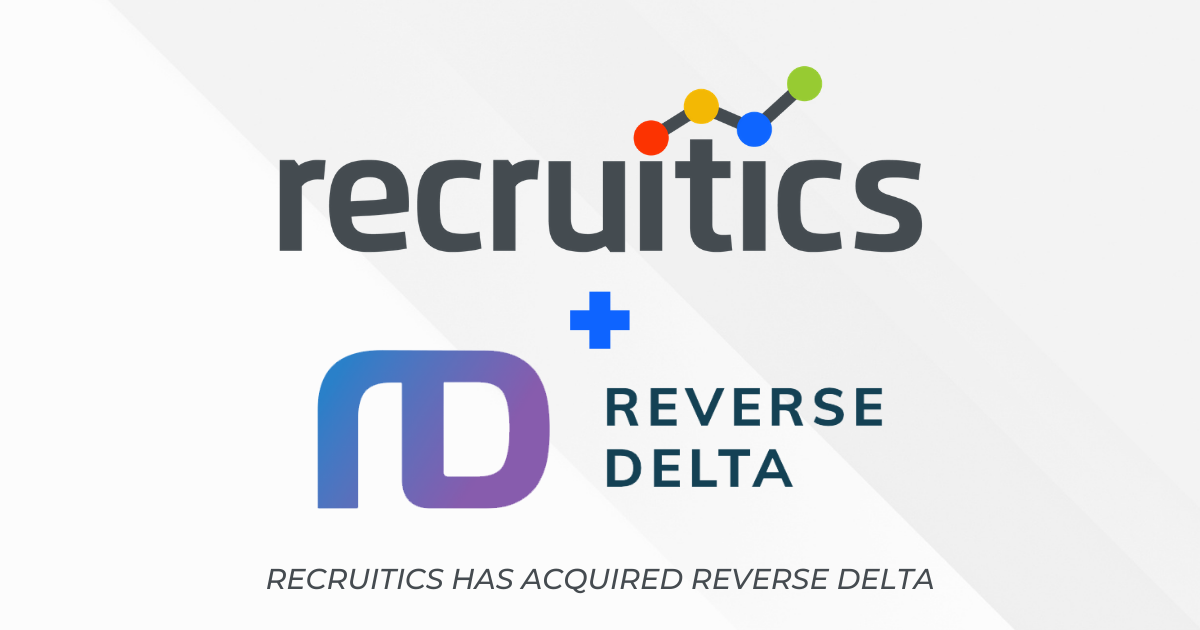 Recruitics, a data-centric recruitment marketing agency, is proud to announce the acquisition of Reverse Delta Ltd.
Reverse Delta is a London-based company that specializes in integrated recruitment websites and digital marketing, and is best known for its award-winning career site platform, FXRecruiter.
With this acquisition, Reverse Delta customers will now have an increased opportunity to drive higher ROI to their talent acquisition strategy, via expanded access to Recruitics' suite of recruitment marketing services, which include employer branding, media management, and programmatic job distribution, among others.
"We could not be more excited to welcome Reverse Delta to the Recruitics family. This is a world-class team, and they have built an incredible career site platform which is a critical component of any company's recruitment marketing strategy" said Josh Gampel, CEO of Recruitics. "We're excited to bring our agency offerings, programmatic job technology, and media cost analytics to Reverse Delta's customers."
For more information on this announcement, please email info@recruitics.com.
--
ABOUT REVERSE DELTA:
Reverse Delta is a software company specializing in branded career websites, recruitment sites and job boards. The company was established in London in 2002. FXRecruiter is the flagship product, designed to put customers and candidates first. Our team has been with us a long time, as have most of our customers. Reverse Delta helps customers to not only implement software, but identify how to get the best out of it through social media channels, in addition to providing guidance for creating employer brand information and career site design.
ABOUT RECRUITICS
Recruitics is a data-centric recruitment marketing agency that makes it easy for the world's leading brands to attract and hire great talent. Recruitics revolutionized recruitment advertising with the introduction of the industry's first programmatic buying platform in 2012. Since then, Recruitics has helped thousands of companies find, attract, and engage millions of job seekers. Today, Recruitics continues to lead the industry as a data-driven recruitment marketing agency that is powered by its innovative analytics and optimization platform.
FOLLOW RECRUITICS ON SOCIAL MEDIA:
--
Posted by Julie Calli

Julie Calli is an industry leader, innovator, and advocate for recruitment marketing revolution. She has managed over a billion dollars in recruitment advertising and developed strategies that have supported hundreds of organizations. She is passionate about recruitment marketing and the positive impact that it has on connecting people to opportunity.