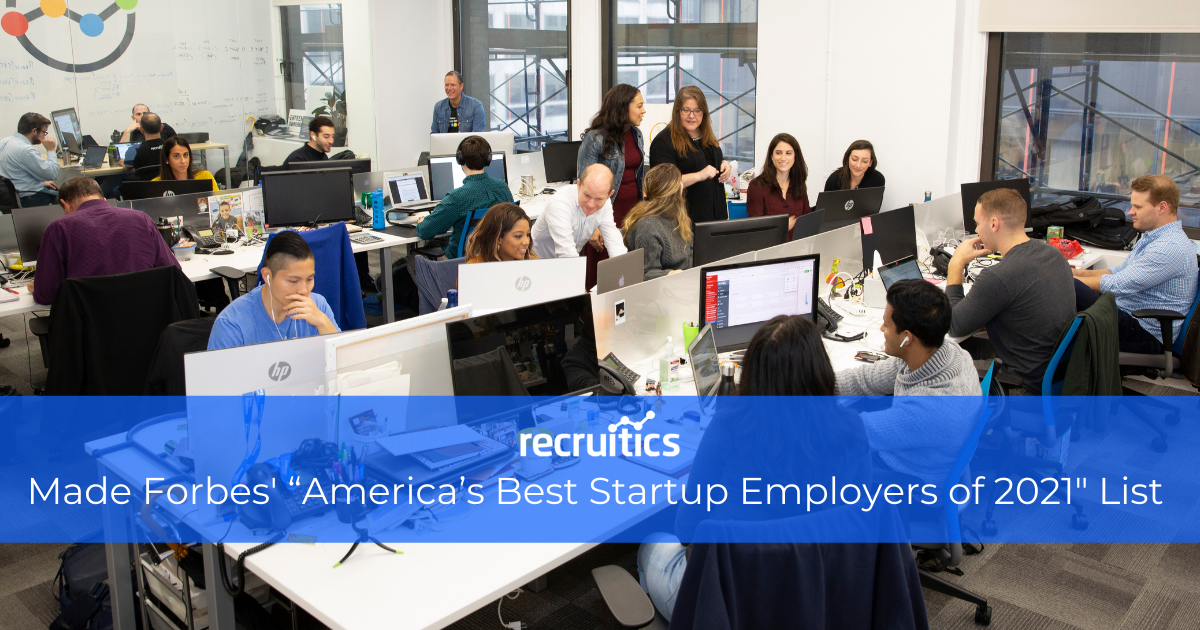 Recruitics is once again named one of America's Best Startup Employers of 2021.
Forbes has announced their "America's Best Startup Employers of 2021" list, and Recruitics is honored to have been recognized. This award, presented by Forbes in partnership with the world-leading statistics portal and industry ranking provider Statista, identified the top startup employers based on an innovative methodology focused on three key factors: employee satisfaction, employee reputation, and company growth.
Over 7 million data points were analyzed to determine which companies qualified for this recognition and their ranking order. For an employer to be considered for this list, requirements included a founding date between 2011 and 2018 and a headquarters location based in the United States. Out of more than ten thousand American companies considered for this list, only 500 employers earned this nomination.
"We are honored to be recognized by Forbes as one of the Best Startup Employers in America," says Josh Gampel, CEO of Recruitics. "Our company has grown so much since its inception, but one thing has remained the same throughout the years: our main focus is our people, values, and goals. We look forward to continuing to deliver our world-class results in the recruitment marketing space."
To learn more, visit the Forbes website to view the full list of winners.
ABOUT RECRUITICS
Recruitics is a data-centric recruitment marketing agency that makes it easy for the world's leading brands to attract and hire great talent. Recruitics revolutionized recruitment advertising with the introduction of the industry's first programmatic buying platform in 2012. Since then, Recruitics has helped thousands of companies find, attract, and engage millions of job seekers. Today, Recruitics continues to lead the industry as a data-driven recruitment marketing agency that is powered by its innovative analytics and optimization platform.
FOLLOW RECRUITICS ON SOCIAL MEDIA:
--
Posted by Julie Calli

Julie Calli is the Chief Marketing Officer at Recruitics. In the 16+ years that Julie has worked in talent acquisition, she has managed over $700 million in recruitment advertising and developed strategies that have supported hundreds of organizations. She is passionate about recruitment advertising and the positive impact that it has on bringing together employer opportunities and talented people.