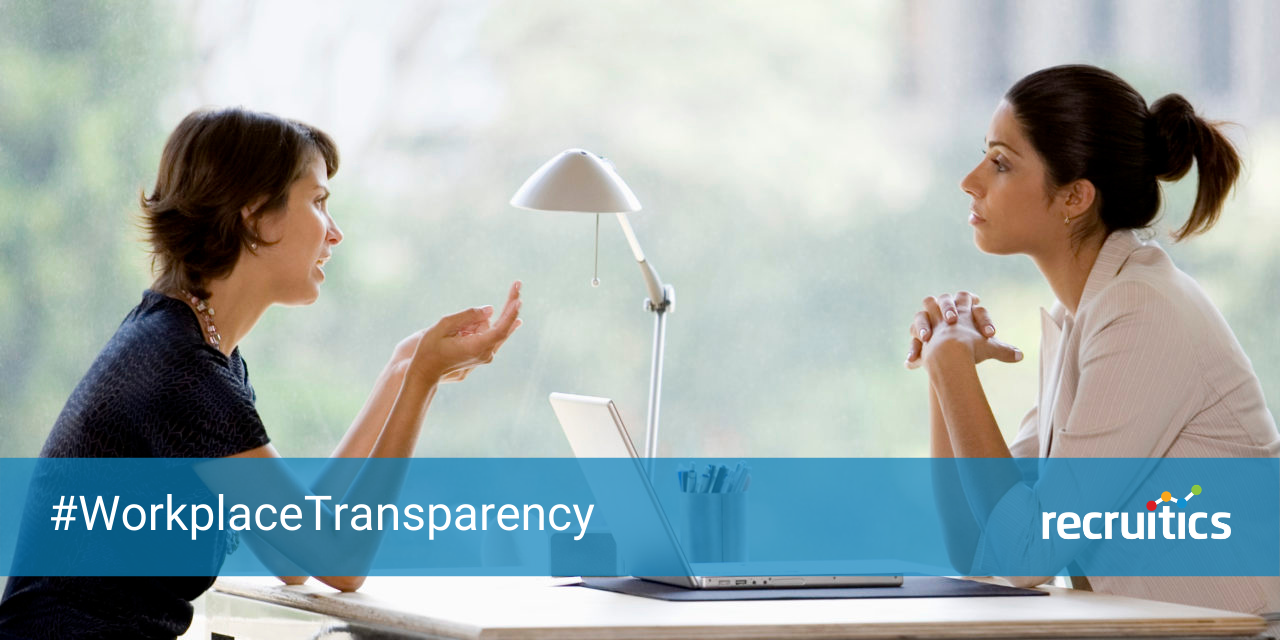 The reasons why certain companies have productive and content workplaces go beyond just hiring efficient employees and paying a good salary. Workplace transparency can increase productivity and employee happiness, and it can decrease the turnover rate.
"The reason why transparency is so appealing is largely due to cultural trends and human behavior. We like people who are transparent, so it makes sense that we like companies who are transparent, too. It's about being a real person, a real leader, and a real company." – Neil Patel
CLICK TO TWEET: 'We like people who are transparent, so it makes sense that we like companies who are transparent, too.' @neilpatel #WorkplaceTransparency via @Recruitics https://ctt.ec/4xdf9+
Introducing transparency in the hiring process will allow candidates to be more informed about the company they're applying to and the status of their application.
One of the major contributors to candidate dissatisfaction is a lack of transparency in the hiring process. Organizations that provide applicants with visibility into hiring have a clear advantage over their competitors. 35% of well-informed candidates are less likely to be dissatisfied with their experience, which can help your business attract and retain top talent.
Workplace transparency reduces turnover.
Most interview processes reveal very little about what it's like to work for a company. It's very common for expectations set during the interview process to not align with the realities of the job. This is one of the most common miscommunications that create a turnover problem.
A solution would be to put these expectations into writing as it will clear up cases of he said/she said. People often hear what they want to hear, as opposed to what was said. But more importantly, it will quickly uncover and allow you to fix any contradictions between stated expectations and the realities of the job.
Workplace transparency reduces the unknown.
Be transparent about people and culture - Don't hold back. Ask about candidates' work ethic and experience. Get to know them as human beings and see if you vibe and interact positively together. Represent who/what you want, and the company's needs. Being open about culture, values, and expectations will help candidates self-select — and make you a top choice for candidates who share your vision.
Be transparent about goals and expectations - It's important to be honest about what it's really like to work at your company. Clearly communicate what the company's true mission is and what that looks like over the course of the company's lifetime or a person's career. Confirm on both ends that the candidate and company are looking for the same things for growth and goals.
Fast Facts
92% of employees say transparent goals improve performance. (Source: BetterWorks)
Post hire, transparency and expectations that are set during the interview process can help eliminate most questions or issues afterwards.
96% of job seekers say it's important to work for a company that embraces transparency. (Source: Glassdoor)
CLICK TO TWEET: "96% of job seekers say it's important to work for a company that is transparent" https://ctt.ec/3FJjq+ #RecruitmentMarketing via @Recruitics
Younger candidates want to clearly see inside your work culture. They'll more than likely try to engage with someone who currently works there. They'll pay close attention to branded social media profiles on sites like Glassdoor and LinkedIn.
Who's doing this?
Johnson & Johnson is one of the first companies to pave the way of application process transparency by creating a new candidate experience platform, Shine. The intent of this was to help their candidates know what to expect during the application process and ensure that applicants didn't feel as if their applications and resumes went into the infamous "black hole." It was designed to give candidates control of their job search and make the whole experience engaging from start to finish. For example, they provide updates on the progress of your application, what to expect next, perspectives from recent hires about their experiences, and articles and videos that are relevant to where job seekers are in the hiring process.
Find out more here.
--
Do you need help with your application process or overall workplace transparency? We'd love to help!
Posted by Jenny Skundrich

Jenny Skundrich is the VP of Client Strategy who brings over 14 years of recruitment marketing, media buying, strategy and analytics to the agency. Her strong client services skills and strategic focus allows her to handle the details without losing sight of the big picture. She graduated from California State University, Chico where she earned a journalism/public relations degree. Outside of the office she likes to snowboard, cycle, kick box and spend time with her husband and two young children… along with a nice glass of Pinot.