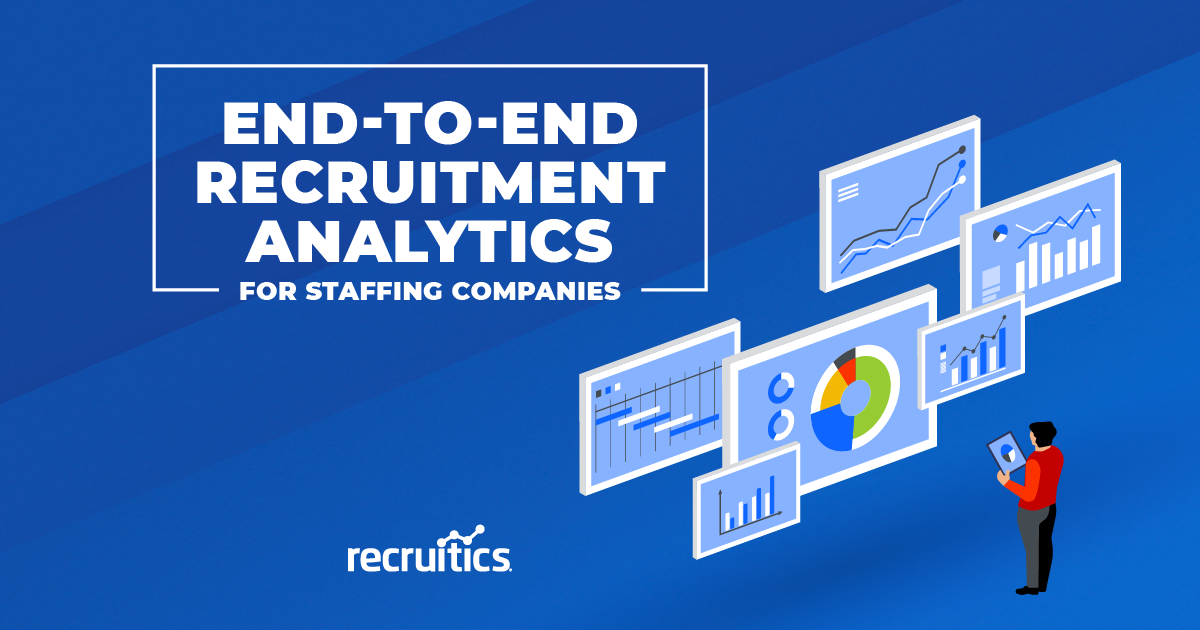 The global pandemic has forever left its mark on us. COVID-19 changed our personal and professional lives, and the impact of the pandemic will continue to be felt for quite a while. One critical concern among employers is recruiting, topping the list with workforce planning and workplace health and safety coming in second and third, according to a recent survey of 563 U.S. employers.
Faced with recruiting pressures, along with upskilling, contingent workforces, and candidate expectations, recruiters and staffing agencies are under increasing pressure to find top talent and deliver a positive return on investment (ROI). Where traditional recruitment metrics often fail to demonstrate concrete [effect] on a company's bottom line, recruiters are turning to "data-driven decision-making," helping to "easily measure the business impact of recruitment."
End-to-end cost analytics provides a data-driven framework to measure your full life cycle of recruiting. From sourcing to hiring to onboarding, tracking costs along the journey gives you objective insight into your hiring practices, helping you to demonstrate an impactful ROI.
In this article, we're going to explore three tips for using end-to-end cost analytics in recruiting.
What Are End-To-End Cost Analytics?
Generally, recruitment analytics are "defined as the application of statistical analysis and modeling to the recruitment process to improve business outcomes. Recruitment analytics essentially informs HR leaders and recruiters of the present and future performance potential of their recruiting processes and workflows."
A subset of recruitment analytics is end-to-end cost analytics, helping you to more accurately identify the cost associated with each step of the recruitment process. For example, end-to-end cost analytics can better assist you in determining if you have quality hires in your pipeline. Without a tracking system like this, it's difficult to answer questions such as, "Are the applicants you're attracting good?" "Are they quality applicants?"
Also, it's difficult -- if not impossible -- to quantify your recruiting ROI without data-driven metrics. However, with end-to-end cost analytics, you can determine cost per hire and cost per applicant, as examples. Further, using these hard dollar numbers is critical when explaining the value of recruiting to senior management.
End-to-end cost analytics provide talent acquisition and recruiting professionals with a more holistic view of their recruitment marketing efforts, allowing them access to more actionable insights from the data they're processing. This actionable data not only identifies gaps in the recruiting process but also highlights what's done well. According to Recruiting Daily, "[a]s recruitment becomes a driver of competitive advantage for organizations in a tight labor market, recruitment analytics becomes the fuel that drives this advantage."
Here are three tips for staffing companies and recruiting professionals when considering end-to-end analytics.
1. Understand How Candidates Are Finding Out About Opportunities
Whether or not you have a solid tracking system in place, it's a good idea first to go back to the basics: talk to candidates about how they even found out about the company or the job in the first place. Companies often mistake self-selected candidate feedback as to where and how the candidates found out about a job. In this instance, the recruiter isn't spending much time confirming the accuracy of the candidate's sourcing.
For example, by default, many applicant tracking systems will allow candidates to select which source led them to apply for the job. So, the prospective candidate may search for a job online and land on a position advertised on Indeed. The next day, that same prospective candidate views the company's LinkedIn career page and then applies for the position.
However, when the recruiter asks the candidate where they found out about the advertised position, the candidate may answer Indeed, when in fact, the candidate applied for the job after viewing LinkedIn. With a sound tracking system, you'll know exactly how and when the candidate applied for a position at your company, giving you additional insight into what job platforms perform best.
By understanding how candidates find out about advertised job opportunities, recruiters can build a baseline for sourcing, which then translates to spend. If, for example, numerous potential candidates are finding out about the open position on a specific job site, then the company may decide to invest more with that site. However, suppose you're getting low traction on job site A and high caliber candidates on job site B. In that case, the data objectively shows that more money should be directed to job site B and less to job site A.
By combining the data-driven evidence from your end-to-end system and anecdotal evidence from your candidates, you can develop better sourcing outreach and recruitment advertising backed by a targeted spend.
2. Make Proper Optimizations
When we talk about recruitment optimizations, we're talking about how much we're bidding per click or how much we're paying for applications, consistently trying to increase or decrease applicant flow through programmatic strategies.
Once you have a robust data set indicating how recruitment is performing at each level of the funnel, you'll realize what type of ROI you're receiving on your spend. For example, if you recognize through your data that you're paying twice as much for applies on Indeed for engineers, but you're interviewing twice as many engineers sourced from Indeed than elsewhere, the higher price may be worth the money.
But how do you break the habit of only focusing on the top of the funnel regarding analytics? With advanced analytics, you can monitor your recruitment efforts quarter over quarter, year over year, at each funnel level. For example, if you're okay with paying $500 per hire for a software engineer, you want to monitor your overall programmatic cost per hire for engineers quarterly.
By finding data-based trends and outcomes over time -- knowing, for example, where to bid higher, you understand how to apply money to your top of funnel functions and increase your down funnel's strength by focusing on quality candidates.


3. Know When To Review Your End-To-End Cost Analytics
Understanding how often to check your end-to-end cost analytics is also integral to your recruiting (and budgeting) strategy. For example, by reviewing your analytics quarterly, you can avoid hair-trigger reactions of radical shifts in your process that may not be warranted.
Also, by adding in reviews quarterly, you establish a fixed, predictable approach to reviewing your analytics. Since most hiring processes take several weeks, you get the opportunity to review your recruiting strategy from end-to-end instead of as each step is completed. With so many steps in recruitment, checking each step can get to be a little overwhelming. Instead, let the data play out over time, giving you valuable insight into what truly needs to be tweaked.
However, reviewing your data quarterly shouldn't prevent you from completing an annual review, preparing you with objective data for your next budget ask. Additionally, your annual review can help provide leadership with hard numbers and trends proving out recruiting's ROI (which should also help with that budget ask).
Best Practices In Action
Let's now look at some best practices in action when using end-to-end analytics.
When tracking analytics, you should initially focus on two factors when tracking down the funnel: (1) The number of applicants you received from Indeed, Zip Recruiter, LinkedIn, and the like; and (2) How many of those applicants turned into a "quality event," such as an interview.
In the next step, you can measure how many got to the interview stage who were not hired for these same applicants. Getting to the interview stage indicates a quality candidate. By understanding these numbers, you can structure your strategy and invest your funding around sources converting to interviews more frequently.
By tracking not only your number of applies but also the conversion to interviews and then eventually to hires, you're using analytical insight down the funnel, focusing a complete picture of what your spend generated.
Where to start if you don't have an end-to-end analytics solution
If your company doesn't have an end-to-end cost analytics system in place, it's okay. However, there are many benefits to having end-to-end analytics, and here are a few things to consider.
1. Implementing an end-to-end cost analytics system is worth the investment
In the current hiring climate, companies are turning increasingly to advertising to supplement their number of candidates. As a result, there's a limited candidate pool, and there's a lot of companies needing to hire talent. To stand out in the sea of employers, you must spend money to make sure the right talent is seeing your job. You also need to know how that money performs (e.g., attracting quality candidates for interviews or hires).
If you're not tracking how many people are getting interviewed and hired from your recruiting budget, you don't know how your investment is performing. Without numbers to support your efforts, you're just guessing, hoping your efforts work. In the end, that's not a sound recruiting plan.
2. If you don't have an analytics system in place, you're at the mercy of the vendors to justify their own performance based on their data
For example, a vendor will show you (with their data) how great they perform, as will the others. Of course, if you don't have a benchmark to compare them all, you're shooting in the dark. It's best to have an analytics system in place to measure your own success and vendors' success as well.
3. Don't forego networking
Many recruiters will tell you that the most valuable thing they do is network and talk to candidates. Sourcing for staffing agencies is critical. You hire recruiters that have recruited for similar candidates in the past, who can go on LinkedIn and say, "Oh, hey, Rebecca, I have this job. It's just like the one I placed you in a year ago. Are you interested? Do you want to go interview?"
Through networking, you can continue to tap into a qualified pool of applicants, shortening your time to apply and time to hire. Combine that with an end-to-end analytics system, and you've just taken your recruiting strategy to the next level.
--
If your company wants to take your recruiting strategy to the next level by implementing an end-to-end cost analytics system, keeping you competitive in an evolving workplace, contact Recruitics!
Posted by Chris Satterlee

Chris Satterlee is a VP of Marketing Strategy at Recruitics. Chris attended Massachusetts College of Liberal Arts where he earned a Bachelor of Arts in English Language and Literature. He has held many positions at Recruitics in the past, including ​​Talent Acquisition Manager and Account Director. When he's not working, you'll find him playing guitar or reading a good book.