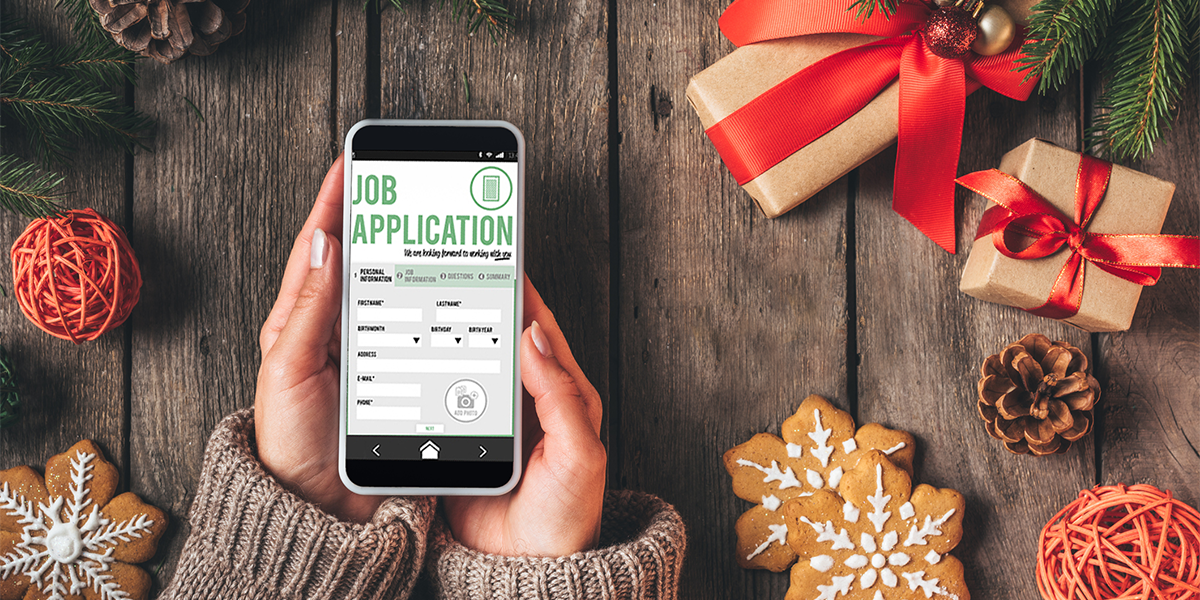 The 2019 season of holiday retail hiring is well underway with increased job postings, recruiting challenges, and that tricky little trend called e-commerce throwing a wrench into high-demand positions. Here's all you need to know about current numbers, predictions, and tips for how your retail company can meet your seasonal hiring numbers.
Retail Hiring Trends and Predictions
According to data from the Bureau of Labor Statistics, retailers added 668,400 jobs in 2017 and 625,600 jobs in 2018—a 6.4% decrease. When we look at how 2019 is faring so far, holiday job searches (per million job seekers) are up 11% in August from the same period last year. (Tweet This)
Some companies, like Indeed, predict a healthy seasonal hiring year as more companies are buying up retail goods ahead of international tariffs. Other predictions believe that due to the rise of e-commerce, seasonal hiring will fall this year in all areas except transportation and warehouse positions.
The results of the recent Forrester's State of Retailing report, revealed at the National Retail Federation 2019: Retail's Big Show, indicate four areas that retailers are prioritizing—all of which are influenced by the ability to hire quality staff:
Increasing revenues

- launching new product lines and retaining customers.

Reducing costs

- retaining employees and lowering spending on IT, but investing in improving supply chain and logistics.

Customer experience

- making the customer experience better, more secure, and more personalized.

Improving products

- making products easier to utilize, obtain, and designed better.
Online and mobile presences are an expanding field that is affecting seasonal hiring. Retail loyalty programs, shopping apps, and pick-up centers are making it easier for consumers, but growing reliance on advanced technology as an integral part of the retail experience is also leading to a greater need for retail talent with more modern skills and advanced technical abilities. Additionally, delivery drivers are in high demand as e-commerce and online orders have become a popular and convenient option.
2019 Seasonal Retail Hiring by the Numbers
According to an analysis by Indeed, holiday job postings in the US have increased since last year.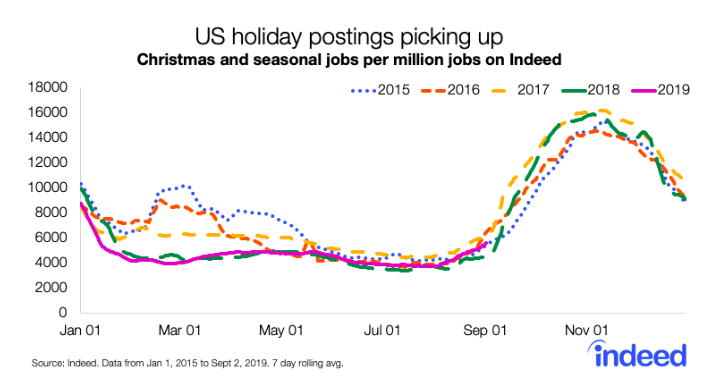 By mid-September of this year, Kohl's and Famous Footwear led the retail hiring pack with Lowe's, Party City, Bath & Body Works, Macy's, and Victoria's Secret following close behind. Here's the breakdown of how large retail companies are hiring this season:
Target

plans to hire

125,000 seasonal team members

ranging from customer service to stocking shelves at more than 1,800 stores across the country.
UPS

expects to hire

about 100,000 seasonal workers to support higher demand in package delivery from November 2019 to January 2020.
Amazon

will hire over

30,000 permanent staffers

and plans to recruit tens of thousands of seasonal workers for the holidays. In 2018, they hired about 100,000 seasonal workers, which was down by 20,000 from the year prior.
Kohl's

opened seasonal applications

in July across 500 stores, and released even more roles in August at stores nationwide, the company's nine distribution centers, and five e-commerce fulfillment centers. As of mid-Sept, it still had thousands of open gigs across stores and distribution centers, with more to come.
Macy's

is preparing for the holiday season by

hiring nearly 80,000 workers

. The company's national hiring event is scheduled for October 24th when 30,000 will be hired specifically for fulfillment facilities, 1,000 for customer service centers, and 1,000 for the Macy's Thanksgiving Day Parade. They even customized their

careers site page

for seasonal hiring with the phrase, "Be One of the 80,000 this holiday season."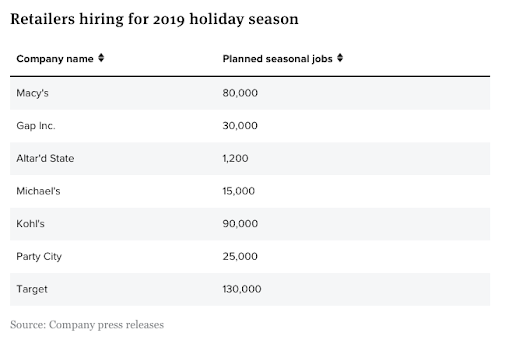 Challenges with Seasonal Hiring in Retail
Seasonal retail job openings can be difficult to fill for several reasons. During times of low unemployment and a stronger economy, it is a job seeker's market. Top candidates are going for the best jobs with above-average compensation, work hours, and benefits. Seasonal jobs in retail may not appeal to some since it is short-term work, and scheduled hours can fluctuate, which could affect pay and eligibility for benefits.
Economic factors aside, retail work can also be some of the most physically and mentally demanding work there is. Not everyone can handle the stress that comes from dealing with customers all the time, especially during the hectic holiday season.
Lastly, there are many more people working freelance and part-time gigs from the comfort of their own homes and on the flexibility of their own schedules, which means they are not necessarily looking for other seasonal work.
Tips for Hiring Seasonal Retail Employees
Anticipating that retail hiring goals for this year will likely overshoot 2018, and with the challenges mentioned above, the task of hiring seasonal staff will be tough for many of the world's largest retailers. But, these four tips can help make it easier for you, and it's not too late to get ahead!
According to data generated on Google Trends from 2015 to 2019, the time individuals start seeking out seasonal retail jobs is around late August to early September, with peak hiring taking place in early to mid-November. (Tweet This)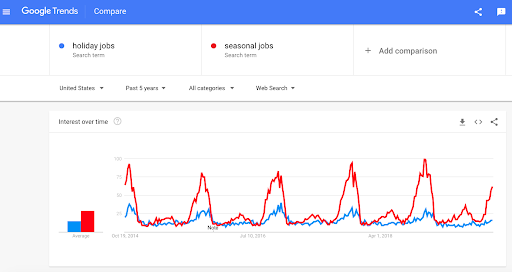 With peak season approaching, follow these recruiting tips to achieve your seasonal hiring numbers:
1. Consider New Audiences
Expand your pool of candidates by considering new audiences like students or retirees. High school and college students are a great resource as they will likely be seeking additional employment over holiday breaks to pay for their cars, spring break travel plans, and educational expenses. And, many senior citizens and retirees are seeking opportunities to remain active in the community while supplementing their incomes.
2. Increase Your Reach
Ensure you have a multimedia strategy in place, based on your specific hiring goals and open jobs, that utilizes an expansive network of hiring websites and job ad campaigns to increase the visibility of your job postings. Job seekers engage with employers across many touchpoints before deciding where to apply. Be creative and post job ads in multiple places where people seeking part-time and seasonal work may be searching. Reach job seekers where they are by using mobile advertisements, social media outreach, and job boards that cater to temporary, seasonal, and retail work. Also, consider using radio advertisements, brief television ads, and other digital advertising to capture the interest of those not looking at traditional job websites.
3. Keep Your Programmatic Bids Competitive
When recruiting in a competitive job market, it's vital to pay attention to your CPC (cost-per-click) and CPA (cost-per-application) bids in your programmatic job advertising strategy, especially when high-volume or immediate hiring is so critical. Many other retail employers are competing in the same space and bidding on similar jobs to the same audience of job seekers, and your bids need to be competitive enough so your jobs show front and center to candidates as often as possible. To rank high in search results for seasonal retail jobs, not only should you bid competitively, but you may also need to increase your programmatic job advertising budget, as appropriate for each job ad and depending on performance. Keep in mind that this does not mean you have to spend more money. Instead, you should optimize how you spend that money by continually and proactively reallocating and optimizing your budget from jobs that are easier to fill and reaching application volume goals towards jobs that are more challenging to fill and are struggling to get applicants.
4. Showcase Your Employer Brand
With how competitive the talent market is, examining the foundation of your talent acquisition strategy is a smart move. Take a look at your employer brand and make sure it clearly shines through to candidates in your job postings, career sites, landing pages, social media channels and anywhere else you're talking about recruitment. Displaying your authentic company culture and work environment can pique a candidate's interest, nudge them to apply, or even help them decide to accept your job over another. Offers, such as pay, benefits, incentives, and the possibility to stay on after the holidays could also be the difference in winning over talent from competitors. Consider offering higher compensation, better work hours, or different shift options to make your company more competitive in the "war for talent" this season.
It's Not Too Late!
This year's seasonal retail hiring may have already begun, but the peak is still approaching. Strategies like considering new audiences, using a strategic multimedia approach, ensuring your programmatic bids are competitive, and showcasing your employer brand can help your company meet your recruiting goals faster and more cost-effectively. And ultimately, meeting your hiring goals will help support the business and drive revenue this holiday season.
Got any other tips? Tell us about them on our social media. Happy holiday hiring!
--
[This is a 2019 updated version of our original post How to Hire Seasonal Workers In Today's Economy]
Posted by Emily Tanner
Emily Tanner is no longer with Recruitics. During her time with us as VP of Marketing, Emily worked on both the client and business side of marketing, partnering with top enterprise customers on their talent acquisition and recruitment marketing strategies as well as developing inbound content marketing plans, paid advertising campaigns, and lead generation initiatives for Recruitics. A true data nerd at heart, Emily finds joy in analyzing deep performance metrics and finding the story in the numbers. When not working on marketing strategies or in Excel documents, you can find Emily hanging with her husband, two sons, and their dogs.