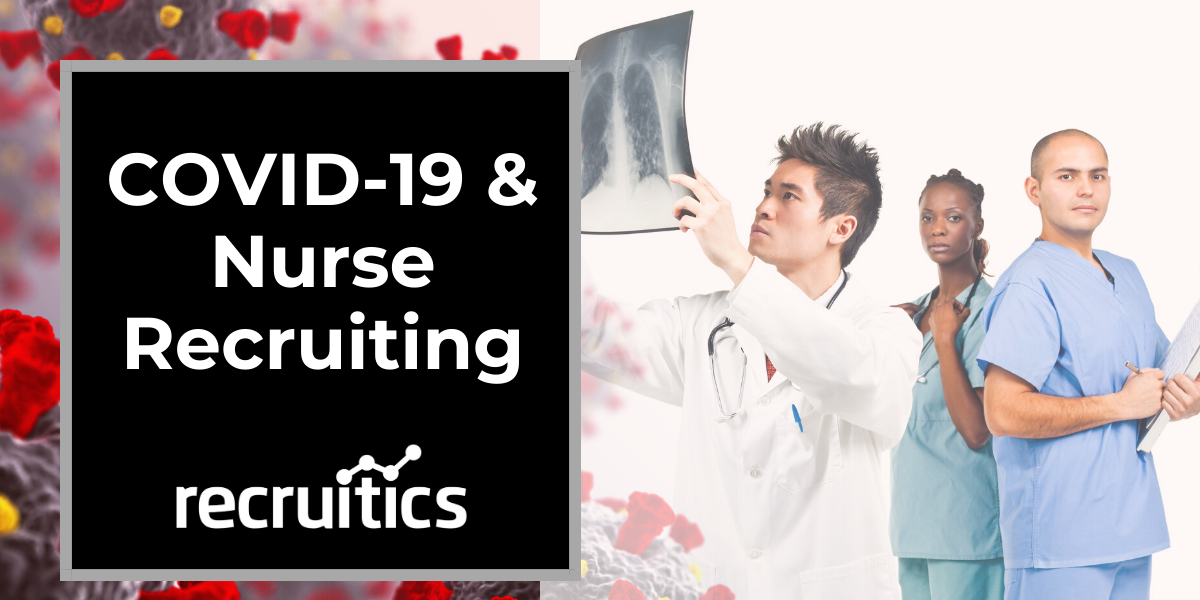 Even before the coronavirus (COVID-19) crisis, recruiting nurses (RNs) was a challenge due to the talent gap that was predicted well into the future.
In an attempt to help companies hire an essential workforce during this difficult time, we'd like to provide our healthcare recruitment marketing expertise free of charge. Please see below how to access key information about retaining, supporting and attracting top nursing talent. Learn also, how you can get a free 30-minute consultation with one of our experts.
Now more than ever, it's important that talent professionals within the healthcare industry understand:
RN Talent Supply & Demand
In the talent acquisition space, demand can be measured by the number of jobs or roles that need to be filled, and supply by the activity of job seekers or eligible workforce. How these two factors correlate creates what we call a "talent trade value." Talent Trade Value is the acquisition value of a type of candidate by a combination of skill and market. Talent trade value changes daily, just like the stock market. When demand is high and supply is low, the value increases. When supply is high and demand is low, the value decreases.
The Demand: A High Need for Nurse Talent
According to Indeed, nurses were already in high demand before the pandemic with six of the top 10 job titles searched by employers in 2019 being healthcare-related and number one on the list being "Registered Nurse."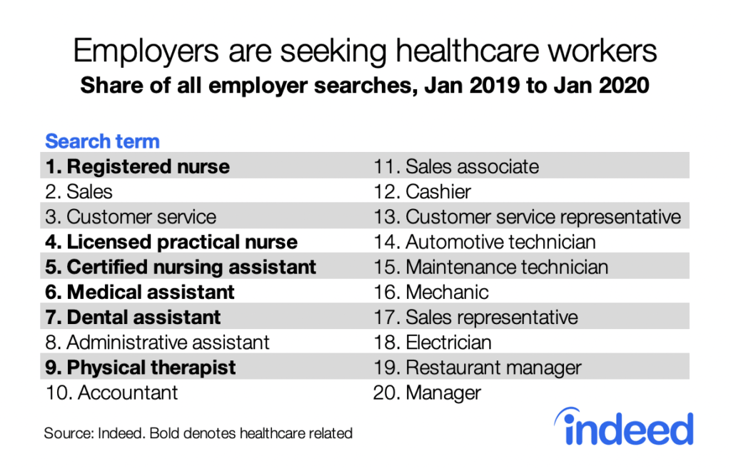 The Supply: A Shortage of Nurse Talent
People searching for "nurse jobs" on Google in January peaked to its highest ever in over five years, which was an optimistic sign for 2020. The trend normalized as expected after the "new year, new job", which is common in general for most industries and functions, but the new normal was still well above previous years.
However, when the Coronavirus began to make a significant impact on the U.S. in March 2020, the trends of people searching for "nurse jobs" began declining so significantly that it's looking to be the lowest it's been in years. Heading further into 2020, this may be a trend of lower supply of people searching for nursing jobs.

An Action Plan for Healthcare Employers
What steps should healthcare facilities take to prepare for the challenges of staffing nurses? There are three major actions: retain the current workforce, acquire additional resources, and accelerate the ability to onboard new staff.
Visit this page to get information about:
1. Retain Your Current Nursing Workforce
2. Increase Your Available Resources
3. Accelerate Your Ability to Employ
---
The Recruitics Commitment to Help Companies with Healthcare Recruitment Marketing Expertise.
We have spent endless hours supporting healthcare companies with strategies to attract and hire talent, particularly nursing. These are unprecedented times, and we all must use our skills to support our nation.
If you are a talent acquisition leader in the healthcare industry, please contact us for a free 30-minute consultation on how you can improve your chances find and hire the RN talent that is so needed at this time - no strings attached!
Read the full article

, and most importantly, stay safe and healthy!
Posted by Julie Calli

Julie Calli is an industry leader, innovator, and advocate for recruitment marketing revolution. She has managed over a billion dollars in recruitment advertising and developed strategies that have supported hundreds of organizations. She is passionate about recruitment marketing and the positive impact that it has on connecting people to opportunity.