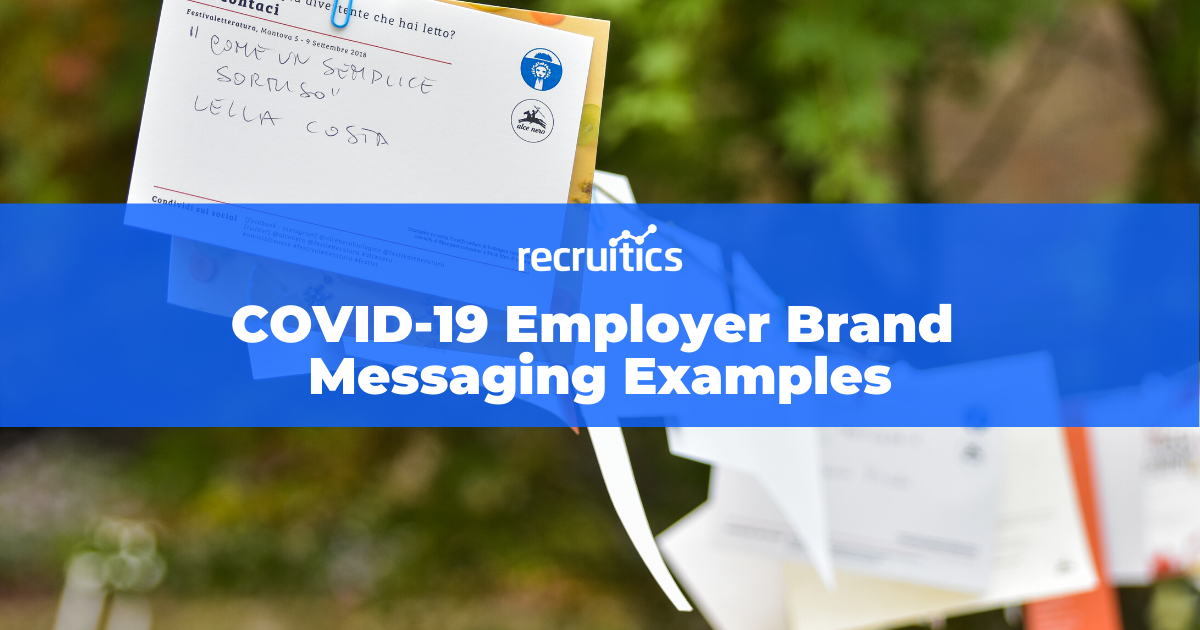 The COVID-19 crisis greatly affected all companies - big and small. The impact has certainly been economic, but also, it has impacted our perception of certain employers.
How organizations respond to the coronavirus pandemic showcases how close they follow their core values when it comes to social responsibility, community involvement, customer partnerships, and employee support.
Right now, it's the time for companies to showcase the strength and accuracy of their employer brand. And we agree with Mark Cuban: "How companies treat employees during the pandemic is going to define their brand for decades."
Below are examples of how some employers are handling messaging to candidates across their employer brand channels, like on their career sites, social media profiles and talent networks.
---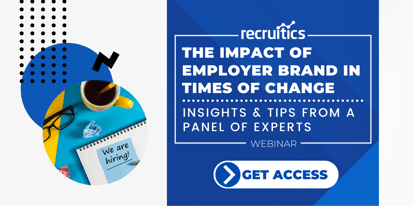 Access the webinar on demand now.
---
career site messaging
Target
Target has a pop-up call to action on its careers site encouraging candidates to apply.

The link drives to a dedicated page with several COVID-19 response-related information and articles: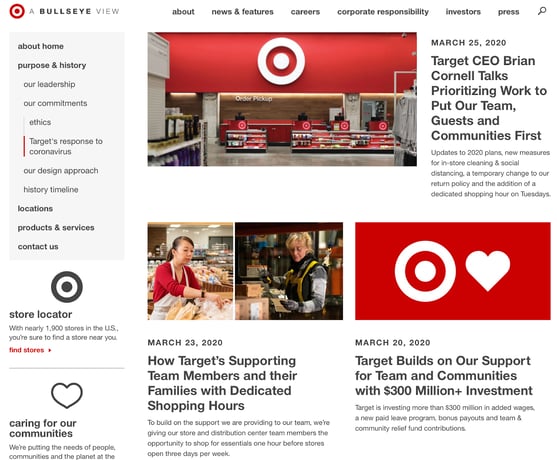 Wegmans
Wegmans has a pop-up on its careers site explaining that they are still hiring during this difficult time.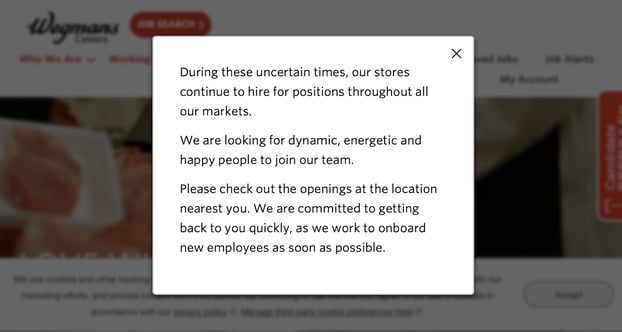 Trader Joe's
Under the main company announcements section on the Trader Joe's website, the article: 'Coronavirus Update: How Trader Joe's is Caring for Crew Members and Customers' is constantly updated.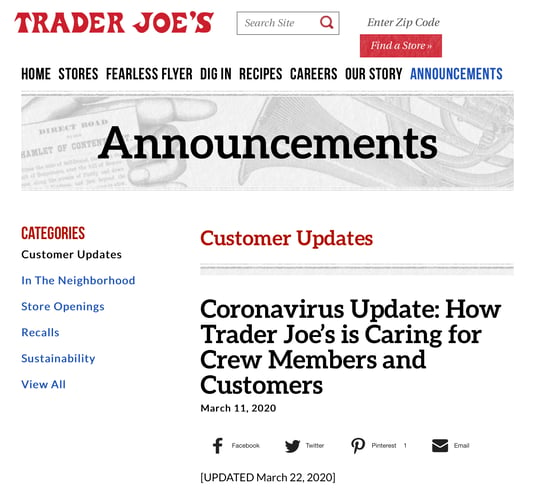 Northwell Health
Northwell Health has a pop-up on its careers site advertising their need to hire heroes.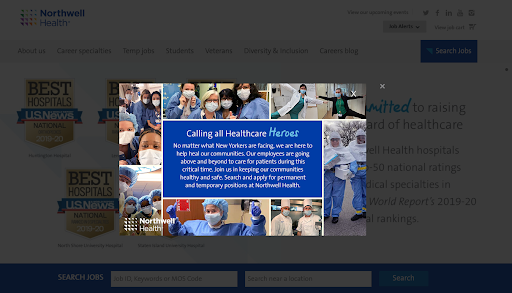 Host Healthcare
Host Healthcare has a pop-up on its careers site explaining how they take care of their team.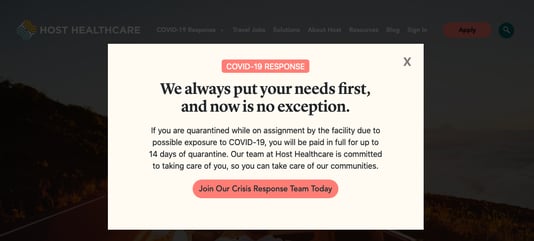 Providence St. Joseph Health
Providence St. Joseph Health has a warning banner on their careers site driving candidates to learn more about recruitment and hiring during the coronavirus crisis.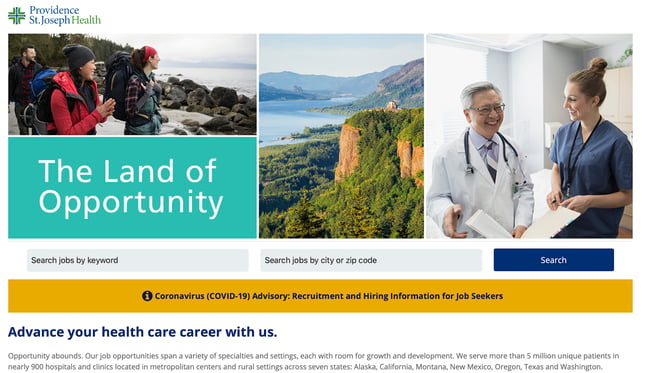 Once candidates click on the banner, they land on a dedicated page with detailed FAQs for job seekers.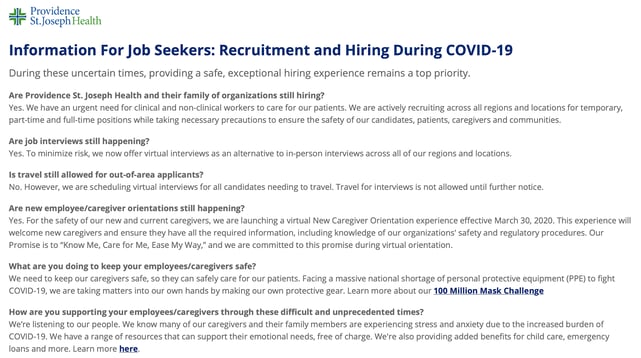 Dignity Health
Dignity Health has a banner on their careers site explaining that they are moving to a virtual recruitment process.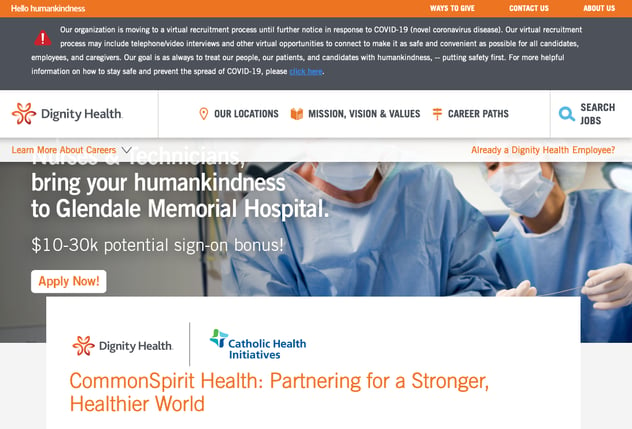 Syneos Health
Syneos Health has a dedicated section of their careers site dedicated for COVID-19 resources for candidates and employees.

Sound Physicians
As you land on the Sound Physicians careers page you have information on recruitment and hiring during COVID-19 along with FAQs.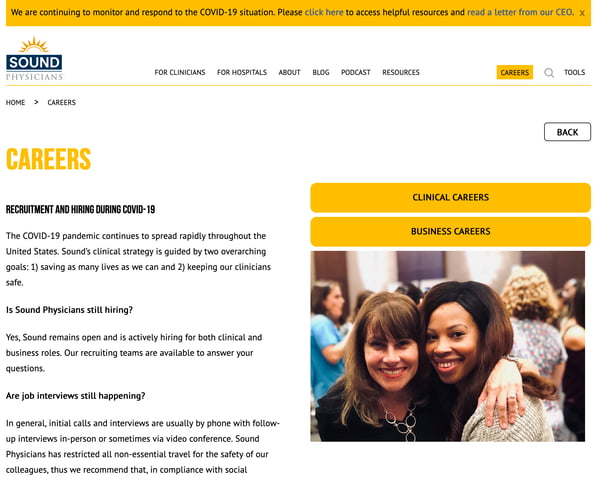 Social media messaging
Cigna
Cigna has posted a few valuable COVID-19 messages on LinkedIn. Here are 2 examples:
1. What they are doing to help employees during the COVID-19 pandemic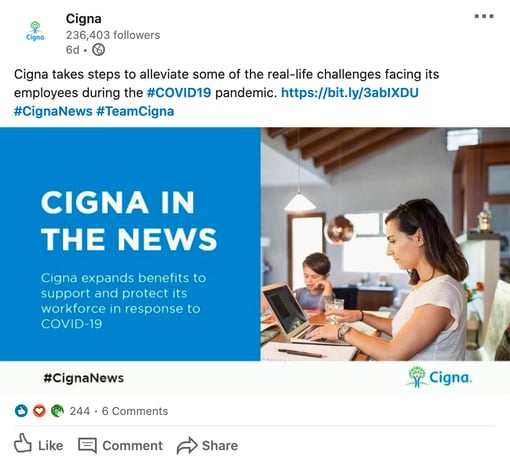 2. Thanked their employees for their efforts.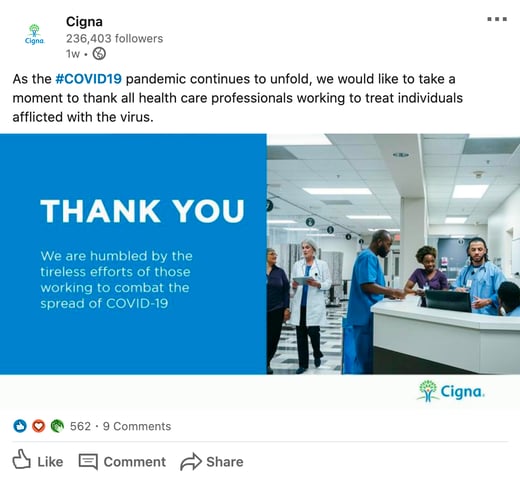 Salesforce
Salesforce posted a snapshot of the "new normal" on LinkedIn: resources from an employee to be productive working from home.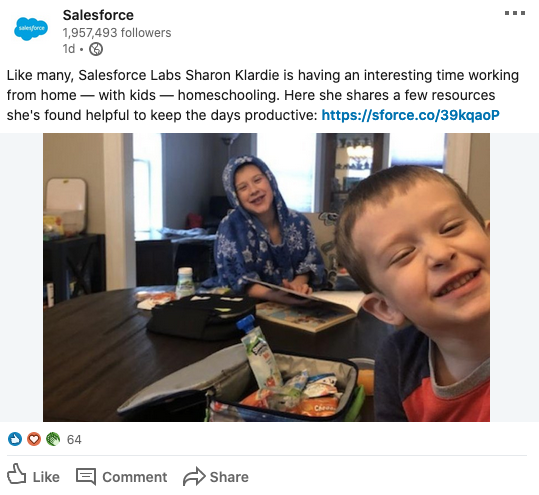 And on Twitter, their culture and the human side of the business were showcased.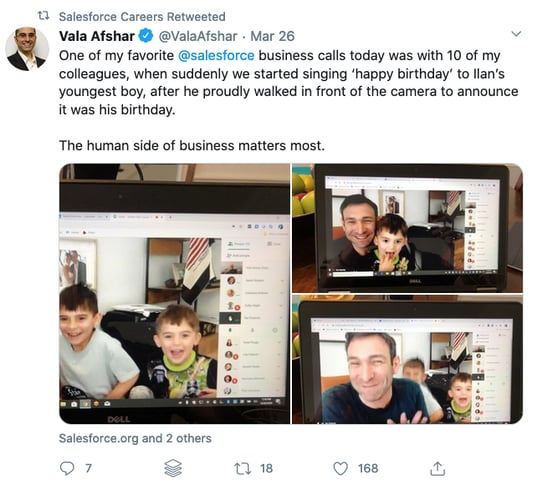 Also on LinkedIn, Salesforce opened the doors to a LIVE Q&A session on how they are keeping everyone safe.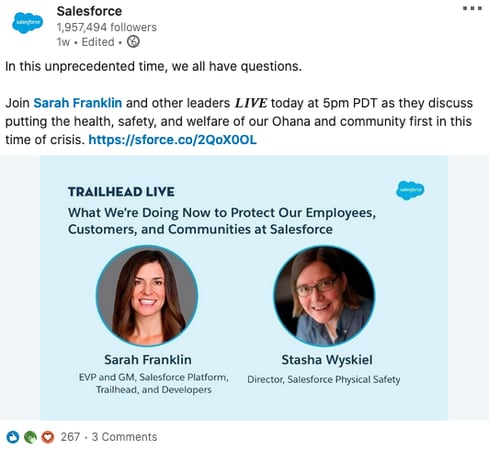 Host Healthcare
Host Healthcare posted on Facebook that they are hiring for their special task force along with a 'thank you' message to healthcare professionals.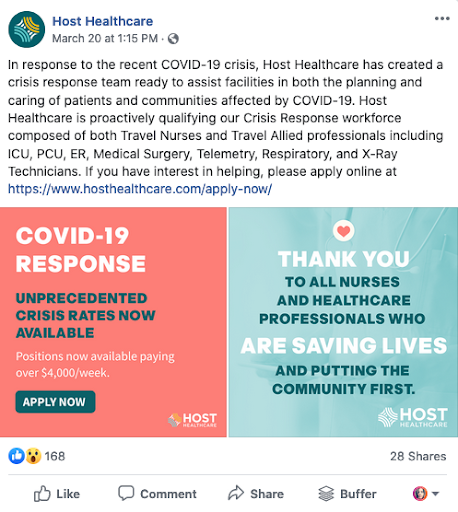 HCA Healthcare
HCA Healthcare posted on their Facebook Careers page that they are hosting a virtual career fair.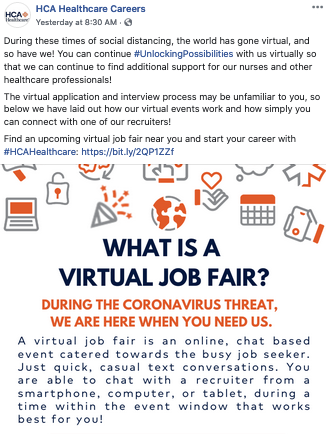 They also posted on their corporate Facebook page what they are doing to protect their workforce.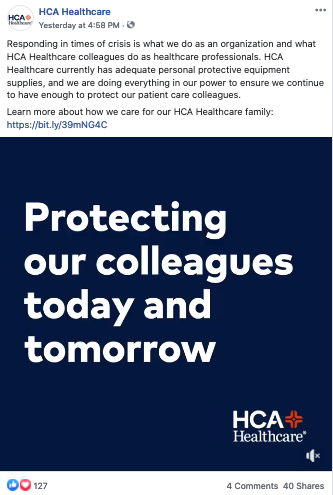 Stanford Health Care
Posted on their Facebook Careers page a #MotivationMonday highlighting their employees as heroes.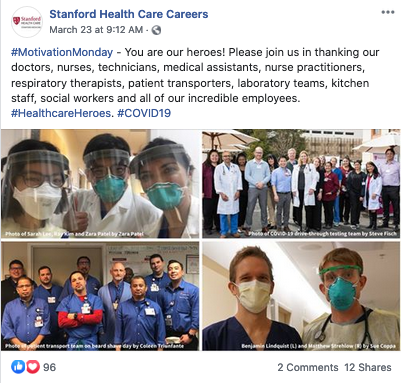 Northwell Health
Posted on their Facebook Careers page content highlighting that they are part of the local New York community (invoking a sense of pride) and letting everyone know they are recruiting temporary help.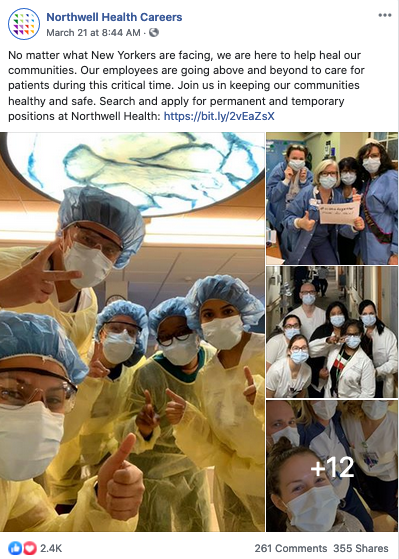 Encompass Health
Shared on their Twitter Careers handle, a video message from their Chief Medical Officer personally thanking their employees for all they are doing during these difficult times.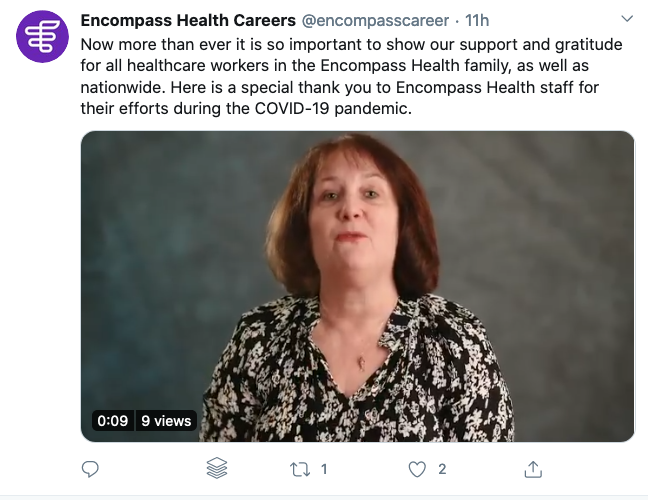 Dignity Health
Shared on their Twitter Careers handle that their recruitment process is now virtual.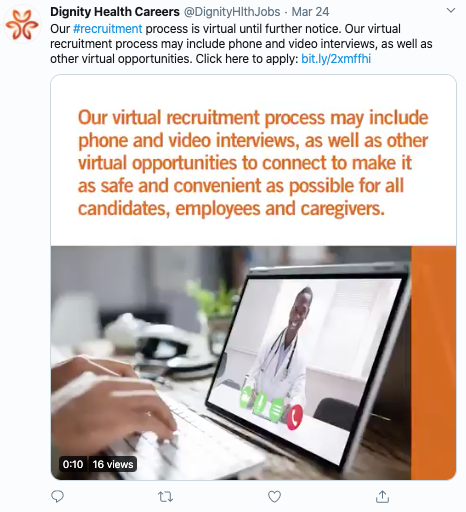 Walmart
Walmart shared on their Facebook Careers page a heartfelt message from one of their managers with tidbits like: "Today was a tough day at work" - "I hired teachers today" - "That Walmart job will help keep a roof over their heads" - "I've never been more proud to be a Walmart associate."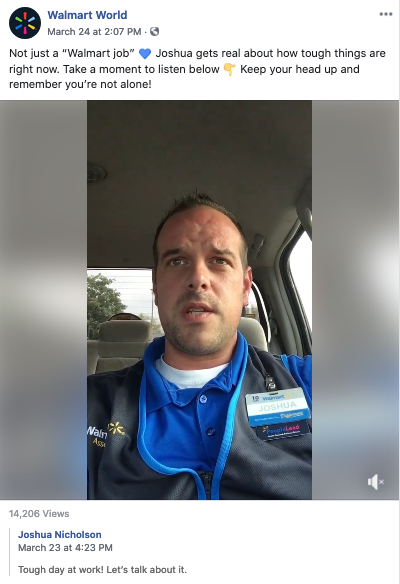 Walmart also posted on Twitter with new hires' take on being hired in 24 hours and how much of a lifeline their new jobs are.

Lululemon
Lululemon posted on Instagram that they were closing all stores but that their employees would still receive full pay.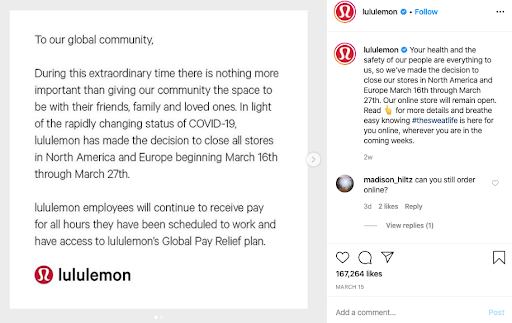 Gap Inc.
Gap shared a similar message on their Instagram feed--tore closures with employees receiving full pay.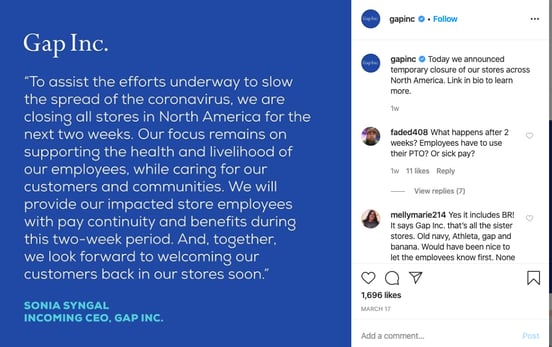 Safeway
Safeway posted on their Instagram feed that they are hiring for immediate openings: "We need your help!"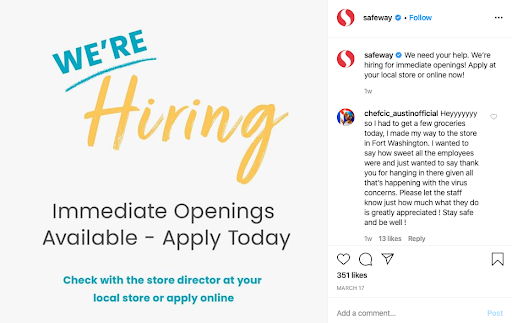 Other Retailers
You can see how other retailers are handling the messaging online - all with big impact (positive and negative) to their consumer and employer brands.
Talent Network
Keeping your talent network in the know is important in a time of crisis. Many companies forget that everyone is nervous, so candidates already in your pipelines could benefit from hearing from you, especially now.
Here are two examples of emails that were sent to folks that had already raised their hands and said 'I want to hear from you.'
CVS Health

UnitedHealth Group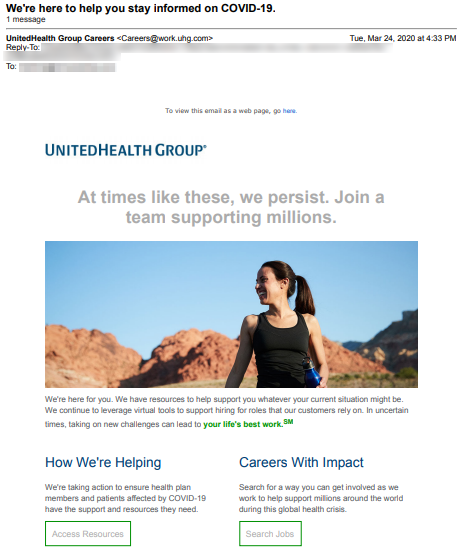 These are unprecedented times, and we are all doing our best to cope with the new challenges. Now is the time to bring your employer brand to the forefront and put forth content and messaging that aligns with your team and company values. What companies do (or don't do) now will have an impact for years to come, both for the corporate brand and the employer brand.
Have you seen any other examples that stood out to you? Let us know! We'd love to share other examples and discuss the current challenges with you and your team - no strings attached. If you are interested, just let us know.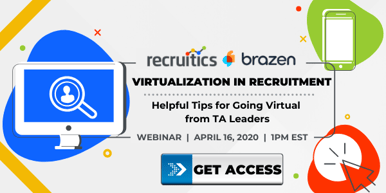 ---
GET ACCESS TO THIS WEBINAR ON DEMAND

Posted by Adriana Kevill

Adriana is no longer with Recruitics. During her time with us, she utilized her 20+ years of marketing experience to execute on corporate marketing initiatives and digital strategies for Recruitics. An innovator at heart who is rarely satisfied with the status quo, Adriana is responsible for helping to build two departments from scratch, spearheading the development of our Search Marketing and Social Media teams. By helping clients from several industries (financial technology, engineering, healthcare, etc.), she offered distinctive insights on recruitment marketing strategies, challenges, and opportunities. Adriana's prior experience in the localization industry also gives her a unique perspective into different cultures and international business. In addition to her passion for marketing, Adriana also loves chocolate, lattes, sandy beaches, and traveling the world.The "why not?" attitude that stems from her fiery personality combined with the fact that she is seldom satisfied with the status quo, enabled her to build two departments from scratch: Search Marketing and Social Media. By helping clients from several industries (financial technology, engineering, healthcare, etc.), she is equipped with a distinctive vantage point on recruitment marketing strategies, challenges, and opportunities. Getting personal: • Incurable chocoholic • Small talk defiant • Lover of lattes, flip-flops and white sandy beaches • World traveler • Wine over beer • Admirer of great art and design • Crazy mom in beta • Professional observer enthralled by the 'social' web