On Wednesday, May 17, Google sent shockwaves through the recruitment space when they announced that they would be launching a job search engine at their annual I/O conference.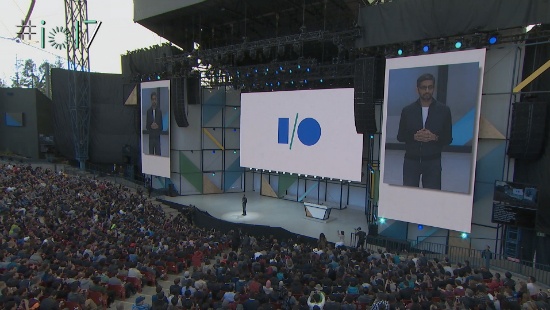 Google's new jobs search engine, aptly named Google for Jobs, will cater to all job seekers from blue collar and service industry jobs, to entry-level corporate jobs and even high-level positions.
According to reporting by TechCrunch, the Alphabet subsidiary believes they're uniquely positioned to bridge the gap between job seekers and employers today:
"46% of U.S. employers say they face talent shortages and have issues filling open job positions," explained [Google CEO Sundar] Pichai. "While job seekers may be looking for openings right next door – there's a big disconnect here…We want to better connect employers and job seekers through a new initiative, Google for Jobs."
The search giant's announcement of their entry into the online recruitment space at least partially answers some questions around how Google might plan on disrupting recruitment today. As we mentioned in our recent post, Google made headlines earlier this month when they launched Google Hire--essentially a login screen that sent the recruitment industry into a spat of confusion.
Many were, and still are, unsure of what Google has up their sleeves in terms of recruitment technology and services. Speculation was still buzzing as recently as yesterday around whether or not they'll decide to launch an Applicant Tracking System (ATS), a job board or job search engine, or if Google would simply begin altering their current search engine's algorithm to play more nicely with job ads.
Their decision to launch a job search engine--regardless of what else they decide to bring to the table--is huge news for the space and could quite possibly have the largest impact on recruitment out of all of the other rumors currently circling Google's plans for entry into the industry.
Since Google is already the preeminent search engine for the web, they'll no doubt begin surfacing results from Google for Jobs within the traditional Google search engine. Although Google reportedly isn't looking to compete with current job boards and job aggregators--opting to partner with them instead--any employment website that relies on Google's organic traffic to drive applicants could be in trouble of losing traffic, and quality traffic at that.
This makes it incredibly important for anyone who advertises jobs online to keep a close eye on the performance of their sources and, more specifically, their volume of organic traffic over the next few weeks. Since it's unclear what impact Google for Jobs will have once it's launched in the coming weeks, the ability to monitor job ad performance with analytics will be key to ensuring you're not caught off guard and that your budget isn't affected by any sudden shift caused by Google for Jobs.
Further, as noted in our last post on Google Hire, the best way to protect your recruitment strategy against major disruptions in the online recruitment space is to make sure your strategy is properly diversified. Finding the right media mix, as we describe it, is key to driving the best return on investment for your job ads and paramount to ensuring changes in traffic to one or two sources won't cripple your return.
While we'll be keeping a close eye on the Google for Jobs and Google Hire storylines as they unfold, you can learn more about how Google might affect your recruitment strategy by reading our recent post here.
Want to stay up to date on important industry news like this? Sign up for our newsletter today and get great content like this and more, delivered to your inbox each week.
Posted by Sal Trifilio
Sal Trifilo is no longer with Recruitics, but brought value as a thought leader in the recruitment industry.