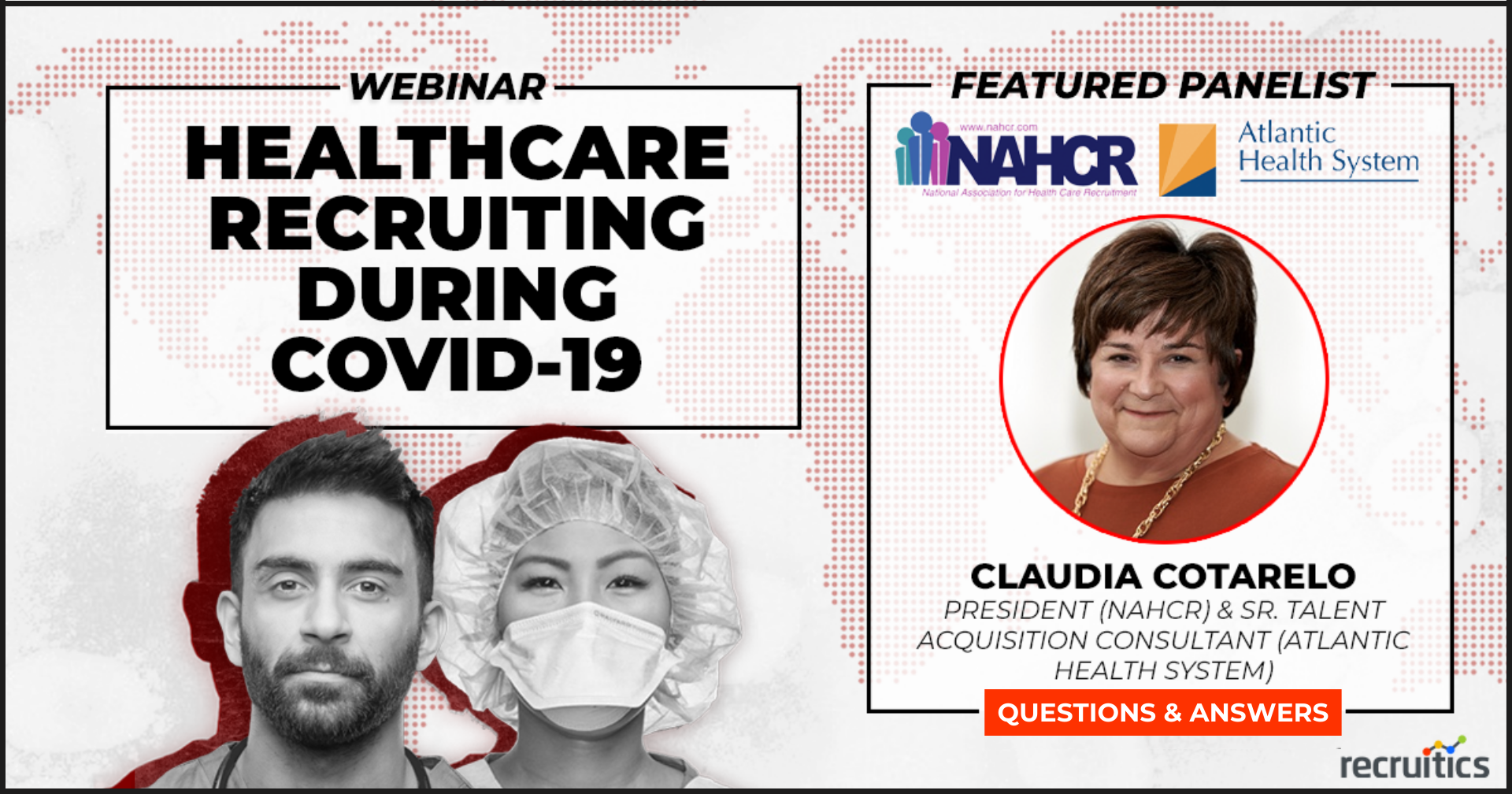 On a recent webinar on "Healthcare Recruiting During A Crisis: How TA Leaders are Navigating COVID-19 & the Impact to Recruitment Marketing" I was part of a panel of healthcare recruiting experts to share insights and information on how we are navigating challenges of COVID-19. During this webinar, a number of questions came up generally around healthcare recruiting and more specifically around how to accelerate the talent acquisition process.
In this post, I am diving deeper into these questions from actual webinar attendees. Here you go:
Q: "What are the 2-3 most prevalent jobs that are hardest to find candidates for right now (because of the crisis)?"
A: RTs (Respiratory Therapists) and RNs (Registered Nurses - especially in critical care, ED, etc.).
Q: "Has there been a noticeable impact on in-home RN/LPNs versus on-premise healthcare roles?"
A: Not really.
Q: "Is your organization using a virtual chat platform to connect candidates directly with recruiters?"
A: We are using Skype for this.
Q: "What are the tools (other than LinkedIn) that your healthcare recruiters are using to source and engage with frontline talent (nurses, respiratory therapists, etc.)?"
A: For nurses, Indeed has been very beneficial. We also use our ATS (applicant tracking system) as passive candidate portals.
Q: "How are your recruiters handling the additional applicant volume?"
A: We are holding our own. We have 5 nurse recruiters in the office, and we are gearing up for the new graduate hiring season, as well. Each recruiter has about 40-50 vacancies to manage.
Q: "Are you only using internal recruiters, or are you also outsourcing to recruitment companies or temp help to assist?"
A: We are not using outside recruiters at this time.
Q: "Are you exploring new recruiting partners to scale your recruitment teams during this time of high-demand?"
A: Not at this time.
Q: "What about staffing firms to assist?"
A: Yes, we use staffing firms for some Nursing and RT (Respiratory Therapist) positions.
Q: "How are you navigating the increase in hires?"
A: In order to get hires in the door more quickly, we're fast-tracking orientations and onboarding.
Q: "On the webinar, Claudia mentioned some licensure requirements that have recently changed during this crisis that helps speed up the TA process. What has changed?"
A: For instance, the NJ Division of Consumer Affairs has sent out a form that out-of-state RNs can fill out in order to be given a temporary RN license (good for 180 days).
Q: "Dying to know from Claudia how she is accelerating through the background screening process."
A: We continue to be compliant in our process.
Q: "How are you managing expediting background checks for individuals that will be doing direct patient care. All of our background contingencies take about 2-3 weeks. Curious if you are making exceptions and allowing new hires to start before they are fully cleared. Thank you.
A: No exceptions, we're going through the process as per compliance. We do have a 3rd party vendor assisting us.
Q: "On the webinar, Claudia mentioned that Atlantic Health Systems needs to hire CCU nurses and have RNs recommending friends who work in surgery centers or doctors offices to help. How are you training these RNs in order to become clinically competent in caring for critically ill patients?"
A: We are conducting on-demand orientation (clinical). We are also hiring temp RNs that have critical care experience to work with critically ill patients.
Q: I am eager to know what, if anything, you're doing to fast-track new hires, especially RNs. Changes to background check process? Change to onboarding? Orientations?"
A: On-demand orientation, partnering with our education department.
Q: "On the webinar, Claudia mentioned making a hire and start in two days. How??"
A: The position was offered, and OMS was able to process the physical in two days – they have their own process.
A: "How are you able to go from 2-week hiring to start to 2-day start? Please explain. Background and drug screens take a while.
A: We have onsite drug screening, for the most part.
I hope these additional insights were helpful for the webinar attendees!
You can get access to the full webinar recording here, or you can watch the section of the webinar on Healthcare Talent Acquisition Process Adjustments below.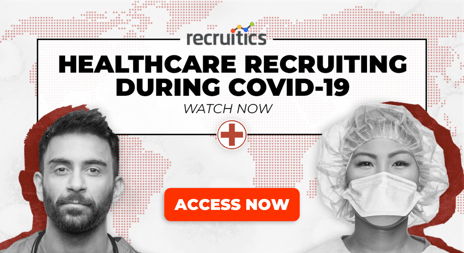 Get access to the full webinar recording of "Healthcare Recruiting During a Crisis: How TA Leaders are Navigating COVID-19 & the Impact to Recruitment Marketing" here.
Posted by Claudia Cotarelo