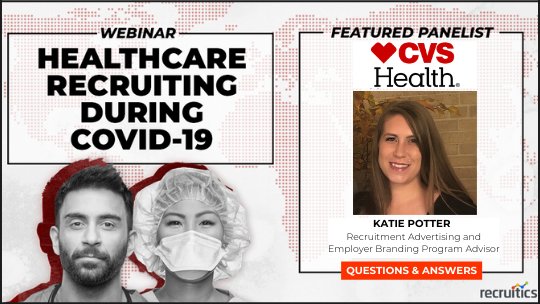 On a recent webinar on "Healthcare Recruiting During A Crisis: How TA Leaders are Navigating COVID-19 & the Impact to Recruitment Marketing" I was part of a panel of healthcare recruiting experts to share insights and information on how we are navigating challenges of COVID-19. During this webinar, a number of questions came up generally around healthcare recruiting and more specifically around how to accelerate the talent acquisition process.
In this post, I am diving deeper into these questions from actual webinar attendees. Here you go:
Q: "Katie, what are some of those critical hiring needs you mentioned on the webinar?"
A: Nurses, Pharmacy Technicians, Distribution Centers, and our Retail Store roles have all been critical needs for us, and as a result of the changing nature of healthcare, we are also hiring Data Scientists and Data Analysts.
Q: "What are the 2-3 most prevalent jobs that are hardest to find candidates for right now (because of the crisis)?"
A: Our most urgent areas have been Retail Store Associates, Pharmacists, Pharmacy Technicians, MinuteClinic providers and Distribution Center professionals to accommodate for increased demand as pharmacies are still open. We are also looking to recruit Data Scientists and Data Analysts to help us understand the impact the pandemic has had on healthcare. It's not necessarily because of the crisis; these roles have been historically harder to fill, but their importance is magnified during this crisis. We are always looking for Nurses, Nurse Practitioners, Pharmacy Technicians, and more.
Q: "Has there been a noticeable impact on in-home RN/LPNs versus on-premise healthcare roles? Has one or the other become a higher need and/or more difficult to recruit for?"
A: This has always been an in-demand skill set and somewhat difficult to recruit for. We added nearly 30,000 new jobs a month ago to accommodate for the increased demand in certain markets. Some of those positions were for LPNs in our new CVS HealthHUB stores, and in some markets, there does seem to be an increased need for infusion RNs. I wouldn't say they are any harder to recruit for as nurses are always in-demand and have many options.
Q: "For CVS Health, will the open jobs you mentioned on the webinar [filling from Marriott furloughed employees, for example] be long-term or short-lived?"
A: For our partner companies, we expect those roles to be short-term while workers are furloughed, and then when companies reopen they'll be able to recall their employees. We still have our normal job openings, as well. We know some of our new colleagues may stay at CVS Health, but we will help them transition back to their home organization when business is back to normal.
Q: "With so many vendors out there, has there been a change in the way you are looking at vendors, ROI and looking at new vendors/partners to generate new talent leads?"
A: At the moment, we are working closely with our existing partners to see how we can leverage products for these accelerated hiring needs and an all virtual environment. We're lucky to have partners who work with us to be able to adapt to a virtual environment.
Q: "What are the tools (other than LinkedIn) that your healthcare recruiters are using to source and engage with front-line talent (nurses, respiratory therapists, etc.)?"
A: We use a variety of resume databases and referrals – we are seeing nice engagement with our virtual chat sessions and hiring events through Brazen, and we're looking forward to enhancing our career site experience with conversational job search through Paradox.
Q: "How are your recruiters handling the additional applicant volume?"
A: Our teams have reprioritized job types and locations to fill critical needs first and have done an amazing job rising to the needs of our communities with their current teams.
Q: "How are your companies navigating the increase in hires? Are you using internal recruiters only, or are you also outsourcing to recruitment companies or temp help to assist? What about staffing firms to assist / use of staffing agencies / use of contract recruiters?"
A: We use a mix of our existing resources to meet the increased demand, including our internal teams and our existing relationships with our RPOs.
I hope these additional insights were helpful for the webinar attendees!
You can get access to the full webinar recording here, or you can watch the section of the webinar on the "Impact of COVID-19 on Talent Acquisition" below.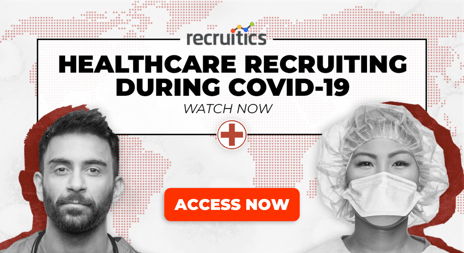 Get access to the full webinar recording of "Healthcare Recruiting During a Crisis: How TA Leaders are Navigating COVID-19 & the Impact to Recruitment Marketing" here.
Posted by Katie Potter