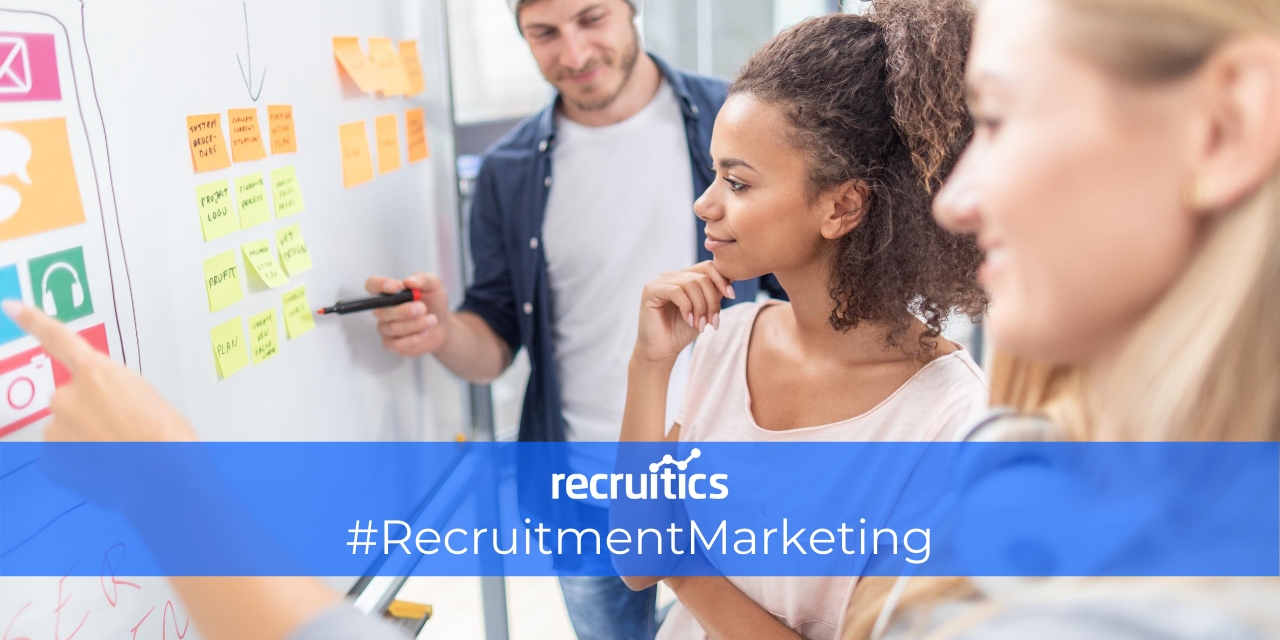 What we now call "recruitment marketing" is generally taking consumer marketing strategies and applying them to recruitment and talent acquisition initiatives.
Consumer marketing efforts have been fine-tuned for customer satisfaction. So, by tweaking and applying these methods to your recruitment strategies, you can improve the candidate experience and receive more applications from qualified talent.
Employers, staffing agencies, and job boards alike should all consider and apply consumer marketing strategies to their recruitment efforts in order to attract and hire top talent.
Consumer Marketing Techniques to Improve Your Candidate Experience
Improve your candidate experience by using these consumer marketing tactics in your recruitment marketing strategies:
Behavioral Targeting - Consumer marketing uses behavioral targeting to suggest similar purchases based on related consumer purchases, and recruitment marketing can benefit from this strategy as well. Catch candidates' attention by suggesting similar jobs through behavioral targeting. By understanding candidate job search and apply behavior, you can include sections such as "People with experience like you have also applied to…" next to your job postings.
One-Click Action - Make it easier for candidates to apply to your job postings by implementing one-click apply buttons, similar to consumer marketing's one-click buy tactics (e.g. Amazon's "Buy Now" button, instead of "Add to Cart"). One-click apply buttons will help you attract more talent since "

60% of job seekers

quit in the middle of filling out online applications because of the application's length and complexity." Even though you may receive a higher volume of lesser quality applicants with the easier application, you won't be turning away the qualified ones due to a poor candidate experience.
Transparent Communication - When you order food on a meal delivery app, such as GrubHub or UberEATS, it sends you push notifications or emails of your order's progress (i.e. order has been placed, received, made, picked up, on its way, or arriving). Recruitment marketing can use this same tactic to better communicate with job seekers (e.g. your application was received, is being reviewed, etc.). "

65% of job seekers

say they never or rarely receive notice of their application status," and "80% of job seekers say they would not reapply to a company that didn't notify them of their application status." Instead, keep your candidates in the loop with push notifications via email, text message, or other forms of communication.
Chatbots - Improve candidate experience by implementing a Chatbot to answer FAQs about company culture or specific positions, to guide them through the application process, or to capture their information to join your talent network. Just like a consumer website's chatbot assists customers with their purchases, you should have a chatbot available to assist candidates with their journey, so when an issue or question does arise, it can be quickly addressed automatically instead of discouraging the candidate from completing the application.
Consumer Marketing Techniques to Improve Your Candidate Experience
Take advantage of these consumer marketing approaches in your recruitment marketing initiatives to attract talent more efficiently and cost-effectively:
Programmatic Buying - Programmatic buying is the algorithmic purchase and sale of advertising space in real-time, which began as a marketing approach for consumer marketing. It has since crossed over into recruitment marketing and has become a core element of recruiting (fun fact: Recruitics launched the recruitment industry's first programmatic buying technology in 2012!). Improve the performance of your job ads with programmatic job advertising, which is performance-based, so you only pay for the clicks and applications you receive.

Read a brief overview of what programmatic job advertising is and how it can help your recruiting.

Retargeting - Retargeting allows brands to "follow" consumers around the web with highly targeted ads based on past engagement with their site or content. For instance, when you look at a product on Amazon, but you don't buy it, you may see ads from Amazon of that exact product on your Facebook, in your Gmail account, etc. Recruitment marketers can do this, too. Engage candidates by pushing job ads to job seekers who have already viewed your careers site or open position, but didn't apply. Online shopping companies often use this strategy with customers who viewed a product or added it to their cart but didn't purchase it. They'll have the ad for the product "follow" the customer around on the internet to keep their interest.
Lead Generation & Nurturing - Nurture leads over time to engage leads in a purposeful way and move them along the candidate journey. Consumer marketing often nurtures leads to convert them to sales, and recruitment marketing should nurture job seekers to turn them into applicants, as well. It's not enough to hope that qualified candidates find you—you need to actively source them. Once candidates show interest in your job, you should engage them and nurture them to apply. Strategies like gated content (i.e. content with a form required to access) or talent pools will help you capture candidate information.
We recommend reaching out to your careers site hosting platform, your ATS and/or your recruitment marketing agency to discuss how you can implement some of these strategies into your careers site and apply process.
Contact Recruitics to learn more about how we use marketing methodologies like the above to support your recruitment efforts and achieve your hiring goals.
--
Posted by Emily Tanner
Emily Tanner is no longer with Recruitics. During her time with us as VP of Marketing, Emily worked on both the client and business side of marketing, partnering with top enterprise customers on their talent acquisition and recruitment marketing strategies as well as developing inbound content marketing plans, paid advertising campaigns, and lead generation initiatives for Recruitics. A true data nerd at heart, Emily finds joy in analyzing deep performance metrics and finding the story in the numbers. When not working on marketing strategies or in Excel documents, you can find Emily hanging with her husband, two sons, and their 3 dogs.