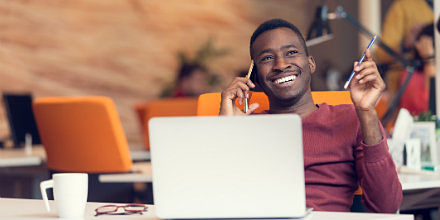 [View the 2019 updated version of this post here: Qualities of a Successful Recruitment Marketing Strategy]
With the advancements and growth in technology and recruitment marketing, it's safe to say the world of talent acquisition has evolved and continues to evolve with ever growing improvements.
Innovations like artificial intelligence, social recruiting and mobile sourcing just scratch the surface of our quickly expanding industry and offer more tactics and tools for talent acquisition professionals to integrate in their efforts. This can become overwhelming, so it's important to stay in-the-know with recruitment marketing basics and review your strategies to make sure your efforts are utilizing up-to-date best practices. And before you can actively stay updated on the industry, you must first have a solid basic understanding of what drives recruitment marketing success.
So, in this post, we'll review the key traits every successful recruitment marketing strategy needs, starting with the basics.
The Basics of Recruitment Marketing
Understand What Recruitment Marketing is
In order to support recruitment efforts, talent acquisition professionals integrate various marketing elements, including content marketing, social and mobile recruiting, recruitment events, digital marketing and many more channels. Simply put, recruitment marketing is the application of marketing best practices and marketing-based approaches to recruitment efforts. For example, digital advertising allows recruiters to advertise jobs online through marketing approaches like social media feeds, search engine results and job boards.
Understand Why You Need a Recruitment Marketing Strategy
Having a recruitment marketing strategy in place allows you to have more control over the talent acquisition results you produce for your budget, rather than just "winging it" and hoping for the best. In the past, many recruitment "strategies" were primarily what the industry called "post-and-pray" (where you post jobs online and pray that you get the applicants you need), but now, strategic recruitment marketing allows you to optimize ROI and get more for your budget.
Key Traits of a Successful Recruitment Marketing Strategy
Now that we've reviewed the basics of what recruitment marketing is and why you need it, let's dive further into what key traits makes a successful recruitment marketing strategy. As each talent acquisition team has different goals and resources, each recruitment marketing strategy will be unique to support your specific hiring needs and to set a path to fulfill those needs efficiently and cost-effectively. However, all successful recruitment marketing strategies will have these 5 traits:
Deep, Source- and Job-level Analytics: Recruitment marketing analytics are critical to a successful strategy as data allows recruitment marketers to make adjustments and to optimize in real-time. Having the ability to see various levels of analytics helps you identify different opportunities for improvement, whether it be allocating budget to the best performing sources or focusing efforts on jobs that are generating the most traffic and applications.

What To Do Next with Your Recruitment Marketing Strategy
Now that you understand the basics and the backbone of successful recruitment marketing strategies, it's just as important to know where to get started or what to do next if you already have a strategy in place:
If You're an Employer:
Companies don't have to break their budgets in order to improve their recruitment marketing strategies. You can achieve a more efficient talent acquisition with data-driven optimizations, especially by eliminating wasting clicks and click spend, only paying for applications you need in order to eliminate overspend and shifting focus on hard-to-fill and immediate-need jobs.
If You're a Staffing Agency:
Recruitment marketing strategies for staffing industry professionals tend to revolve around driving higher gross margins and making more placements, which supports the need for efficiency with paid media and advertising. You can increase gross margin with simple PPC optimizations to prioritize and optimize job ads to efficiently utilize budget for an optimal ROI.
If You're a Job Board:
For job boards using recruitment marketing, the focus is likely on increasing job seeker traffic and retaining your clients. So, in order to achieve these goals, job board professionals must have a strategy with efforts focused on retaining clients, including optimizing for a lower CPA and managing traffic based on return.
Find out More About Recruitment Marketing Strategies
Recruitment marketing strategies are constantly changing and must be modified as your goals adapt according to your recruitment needs. As you continue to optimize on your path to success, you have the opportunity to learn and grow with your strategy and to use what you learn for future recruitment marketing efforts. Using in-depth recruitment marketing analytics will help you make more-informed data-driven optimizations for success.
If you're interested in establishing a new recruitment marketing strategy or in improving your current recruitment marketing strategy, our in-house agency team of industry experts can help. Just contact the Recruitics Agency today to discuss your needs with one of our recruitment marketing strategists.