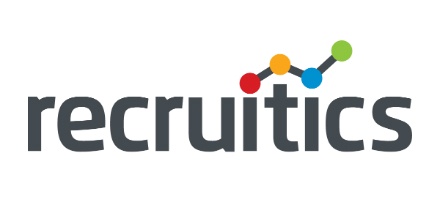 Recruitics Analytics™ now enables employers to track the effectiveness of their advertising ROI to the cost-per-hire.
NEW YORK, NEW YORK--Recruitics, a leading recruitment marketing analytics and automation platform, will be exhibiting and showcasing the latest iteration of Recruitics Analytics™, including the integration of end-to-end recruitment metrics, at Bullhorn Engage in Boston on June 8-10.
Recruitics Analytics™ is an industry-leading recruitment analytics and reporting suite that makes it easy for staffing agencies, employers, and job boards to gain actionable insight into the performance of their recruitment marketing strategies.
The latest addition to the Recruitics Analytics™ platform provides talent acquisition and staffing professionals with "end-to-end" recruitment analytics. Recruitics Analytics™ now integrates submission, interview and hire data from a company's applicant tracking system (ATS) into its web-based reporting dashboard. These insights provide companies with an accurate understanding of their cost-per-hire by advertising source, category, or location.
"The ultimate measure of advertising ROI is understanding which sources are driving hires," said Josh Gampel, president of Recruitics. "We are excited to bring this capability to the market via our easy-to-use, web-based analytics dashboard."
Attendees interested in learning more about the latest update to the Recruitics Analytics™ platform, can participate in a free, one-on-one demo at Bullhorn Engage Booth #7. To sign up for a demonstration prior to the event, pleas visit: http://go.recruitics.com/bullhorn-engage-2016.
About Bullhorn Engage:
Engage 2016 is an event that focuses on exploring the opportunities and challenges associated with accelerating business growth. Attendees learn to build better business relationships and boost their performance by more effectively engaging with their customers and employees. Bullhorn Engage brings together practitioners, industry experts, and innovative business leaders. Learn more about Engage 2016 here: http://engage.bullhorn.com/
About Recruitics:
Recruitics is a recruitment analytics and programmatic buying platform that makes it easy for companies to achieve amazing results from their recruitment marketing strategy. Founded in 2012, Recruitics works with the nation's largest corporations, staffing agencies, and job boards to drive more applicants to their online job postings, hire great talent, and meet their recruitment goals. Recruitics received the 2015 ReSI Award for Most Innovative Enterprise Solution for Recruiting. The company is headquartered in New York City, NY with its European headquarters in London, UK. You can find Recruitics online at http://recruitics.com/.
Posted by Recruitics

Recruitics is a data-centric recruitment marketing agency that makes it easy for the world's leading brands to attract and hire great talent. Recruitics has helped thousands of companies find, attract, and engage millions of job seekers and continues to lead the industry as a data-driven recruitment marketing agency that is powered by its innovative analytics and optimization platform.