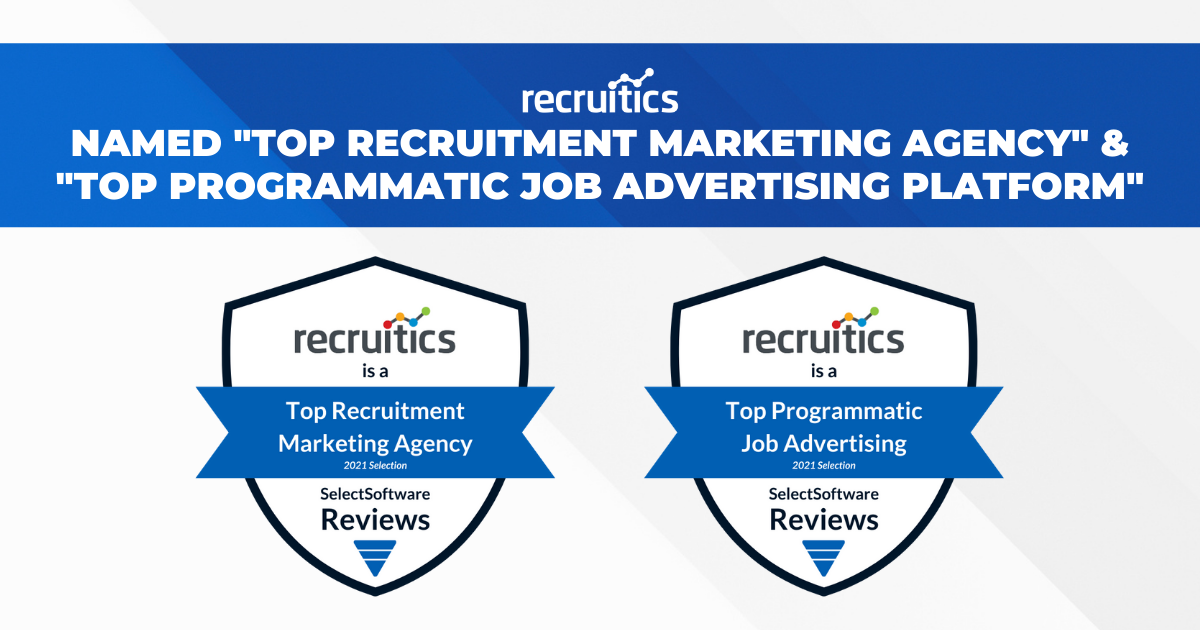 Recruitics is honored to share that we have been named a Top Recruitment Marketing Agency and a Top Programmatic Job Advertising Platform by SelectSoftware Reviews (SSR).
SelectSoftware tracks thousands of HR and talent acquisition solutions and finds the best recruitment marketing agencies and programmatic job advertising platforms. They spend hundreds of hours researching vendors, and rely heavily on HR practitioners and experts in the industry to help them recommend the right software. Over 30,000 companies per month are now using SelectSoftware to research vendors.
SelectSoftware chooses companies to be highlighted on their site based on a company's product, recommendations from HR practitioners, and financial metrics. This is what gives SelectSoftware the confidence to recommend a company to their user base. This process also rewards the best vendors through exposure and shortened sales cycles.
Top Recruitment Marketing Agencies
SSR shared that Recruitics is best for HR teams looking to leverage programmatic advertising in their TA efforts. Recruitment marketing agencies can help your company define your EVP, build assets, manage talent communities, manage paid media, manage third-party sites, and much more.
SSR also recommends Recruitics because we believe in the power of data, but when it's guided by people. Our team includes recruitment marketing experts, data nerds, search professionals, and branding mavens.
Top Programmatic Job Advertising Platforms
SSR wrote that Recruitics is best for companies who don't want to pay for software and would rather have someone else do the work. SSR says they love Recruitics because we are a job advertising agency that has programmatic ads in our toolbelt.
At Recruitics, we can help with advertising, employer brand, and career sites. With advertising, we specialize in job programmatic, targeting, distribution, technology, and enablement (recruiter). Our employer brand team can help with EVP, brand development, brand management, and creative (media). We also help with career sites and its technology.
"We are so honored and thankful for this distinction," says Josh Gampel, CEO of Recruitics. "It's our mission is to make it easy for the world's leading brands to attract and hire great talent, and we are able to do that because of our dedicated team members and our solutions. We will continue our efforts to deliver world-class results to our clients and in the recruitment marketing space."
--
ABOUT SELECTSOFTWARE:
SelectSoftware is the first expert-driven HR Tech review website. They are designed to allow practitioners to efficiently discover and engage the best vendors in a given category. SelectSoftware's research evaluates vendors and writes up definitive content to assist HR teams in the buying process. Since buying HRTech is hard, this allows HR professionals to find the best vendors.
ABOUT RECRUITICS
Recruitics is a data-centric recruitment marketing agency that makes it easy for the world's leading brands to attract and hire great talent. Recruitics revolutionized recruitment advertising with the introduction of the industry's first programmatic buying platform in 2012. Since then, Recruitics has helped thousands of companies find, attract, and engage millions of job seekers. Today, Recruitics continues to lead the industry as a data-driven recruitment marketing agency that is powered by its innovative analytics and optimization platform.
FOLLOW RECRUITICS ON SOCIAL MEDIA:
--
Posted by Recruitics