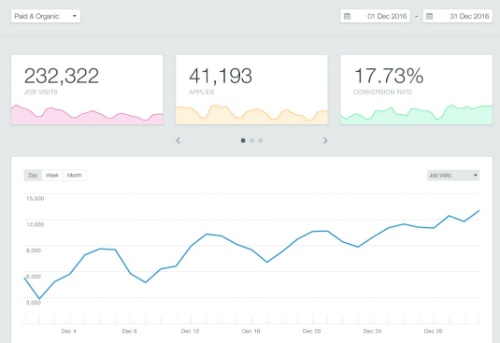 HR and talent acquisition professionals are in a difficult position today. Not only do you need to hire the right talent, but you're now under immense pressure to do so quickly as competitors swarm to swoop up coveted talent in a market that no longer favors the employer.
This pressure is amplified by the evolving nature of recruitment. With job ads now sitting in the spotlight of the recruitment process, talent acquisition teams are now working with bigger budgets than ever before--which can be difficult to manage and even more difficult to optimize.
If you're not tracking Recruitment Analytics, then how could you possibly know how well your budget dollars are being spent? Before we can dive deeper, let's start by reviewing what recruitment analytics are.
What are Recruitment Analytics?
Recruitment analytics are the data and insights behind your job ads. They can tell you important things, such as how many clicks a job has received and how many of those clicks have turned into completed applications--to name just a couple of insights.
With recruitment analytics, HR and talent acquisition professionals can run more efficient strategies by optimizing campaigns based on the data.
For instance, if you've noticed an important job is underperforming (that it's not getting enough clicks or applicants needed to make the necessary hires) then you can make a data-driven decision to spend more on that job and boost its engagement. Further, if you're trying to figure out where that extra budget might come from, you could simply leverage your recruitment analytics to identify jobs that are overperforming (getting more than enough clicks or applicants) and reallocate funds away from these jobs to support the jobs that need the budget most.

One common issue with recruitment analytics is that they can be hard to understand as a whole, given how difficult it is to see all of your data in one place. Each vendor you post job ads to will provide some sort of analytics, but what they provide and how they provide it will vary. This makes tracking your recruitment analytics a game of retrieve and organize--or a constant duplication of efforts where you're pulling data from vendor sites, organizing them in some sort of spreadsheet or pivot table, and then trying to find some sort of actionable insights from them.
In order to make this process easier you'll need to start by first understanding which metrics you should be tracking and why.
Recruitment Analytics Checklist: What to Track and Why
If you want to understand how your job ads are performing and where you can make adjustments to get even more return for your investment, you'll want to make sure you check every box in this list:

Clicks (or Job Views): Helps you understand job seeker interest

Spend: Helps you calculate your return on investment, based on other recruitment analytics

Cost-Per-Click (CPC): Helps you understand how much you've spent for each click on a job ad or group of job ads

Applicants: Helps you understand job seeker engagement

Conversion Rate: Helps you understand how efficient your job ad is in producing applicants

Cost-Per-Applicant: Helps you understand how cost-effective it is to produce a job applicant from your job ads

Quality Applicant: Helps you identify the number of applicants that were deemed "quality" (someone you might
interview or hire)

Quality Applicant Conversion Rate: Helps you understand what percentage of your total applicants are qualified

Cost-Per-Quality-Applicant (CPQA): Helps you understand how cost-effective it is to produce a quality job applicant from your job ads

Hires: Helps you understand how many job seekers you've been able to hire through your job ads

Cost-Per-Hire (CPH): Helps you understand how much you need to spend on job ads to make a hire
Unfortunately, not every vendor will provide you with this breath of recruitment analytics. Often times, this means you may need to invest in a recruitment analytics platform that can pull the analytics you need. If you're interested in learning how to calculate the metrics above, download our free recruitment analytics cheat sheet that has every formula you'll need in one easy to reference page.
Are you Tracking the Right Recruitment Analytics?
After seeing this checklist, you might be wondering how well you and your team are currently tracking the data behind your job ads. Chances are, if you don't have access to all of the metrics listed above, you may need a more advanced recruitment analytics platform to help provide that data for you.
In order to help you easily evaluate where you stand with recruitment analytics, we've put together a quick recruitment analytics self-assessment that you can download for free here.
However, if you're still not feeling confident about your ability to track your recruitment analytics, you might want to consider a recruitment analytics dashboard that can handle a lot of the heavy lifting for you. Sign up for a demo to learn more.
Or, join the waitlist to get early access to our FREE recruitment analytics dashboard today!
Posted by Emily Tanner
Emily is the VP of Marketing at Recruitics. With over 8 years of industry experience, Emily has worked on both the client side and the business side of marketing, partnering with top enterprise customers on their talent acquisition and recruitment marketing strategies as well as developing inbound content marketing plans, paid advertising campaigns, lead generation initiatives for Recruitics. A true data nerd at heart, Emily finds joy in analyzing deep performance metrics and finding the story in the numbers. When not working on marketing strategies or in Excel documents, you can find Emily hanging with her husband and son and their 3 dogs.