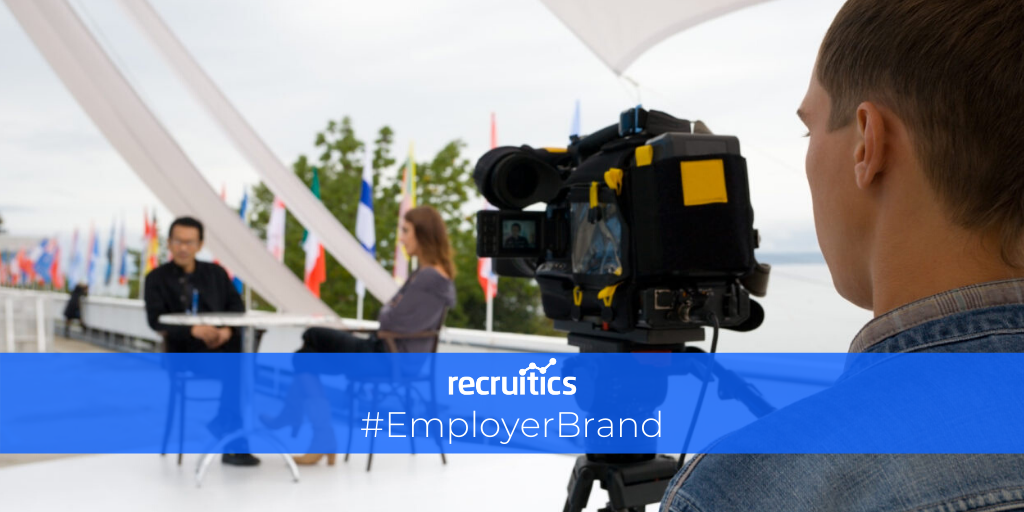 Countless studies assert that candidates want employers to be transparent and show authenticity – and we agree! Employee-generated videos like hiring managers discussing a new hot job or employees working together on a volunteer project are great examples of how to humanize your employer brand. But employers still need high production value videos in their recruitment marketing materials. "High production value" means attention is paid to the concept, location, script, lighting, audio, camera, graphics, animation and editing in post-production.
---
DON'T MISS THIS WEBINAR RECORDING

Learn from Recruitment Marketing Leaders at ADP, AMGEN and ALTRU.
---
Should talent acquisition invest in high production value recruitment videos?
Visual media is absolutely necessary to promote a company's employment brand, and it's far easier and more engaging to tell a story through a 1-2-minute video than text. The higher the quality of your production, the more memorable your story will be. Recruitment videos do "go viral" these days. Check out this police chief recruitment video from the Hillsboro Police Department.
To help you achieve this objective, here is a list of video vendors that specialize or have extensive experience producing recruitment videos. Note: We hope this list contributes to your video vendor research process, and it is not in any particular ranking or order.
Stories Incorporated creates engaging employer branding and people communications content to help organizations attract, retain, and engage top talent. They are very knowledgeable and thought leaders within the recruitment industry and have several examples of successful videos.
The Muse is an employer branding partner that augments talent attraction, candidate experience and employee engagement through authentic content. For their business partners, The Muse spearheads development of evergreen, education-led content (photo, video, editorial and infographic) designed to educate and inspire talent across all stages of their career.
Click through for an example featuring T-Mobile.
Hed Hi Media is a full-service video production company with offices in Charleston, SC and Berkeley, CA. They offer conceptual and strategic planning services, pre- and post-production technical assistance, on-location direction, photography, sound, lighting, and video recording.
Effective employee recruitment is an art… and a science. Since 2000, MadDash has helped more than 500 national and global clients paint more compelling recruitment messages through online video storytelling.
With offices in London and Brooklyn, Casual Films works internationally with over 500 brands and digital agencies. They can help bring content plans to life and tell stories that move, inspire, and entertain.
Sky DoJo specializes in producing videos that surpass expectation. They have worked with everyone from Fortune 500 companies to independents in the film industry.
Hotbed is a video production company based in Columbus, OH, and San Francisco. They offer full service video strategy and creation. From branding and recruitment to training and sales, Hotbed builds videos that incite action and get results.
See recruitment video examples from Hotbed here!
Media Agents' core business is the design and worldwide production of corporate films with deep expertise in customer success videos, recruitment and training programs. Their principal focus is on films for technology-based companies.
What is your experience with video? Have you worked with a partner that is not listed? Let us know. And Yes! You have lots of choices, which one is right for you? We can help vet the right video partner, we are one email away.
Posted by Derina Adamczak

Derina Adamczak is no longer with Recruitics. Derina is a 17-year talent acquisition professional with recruiting experience in the IT, engineering, construction and retail sectors. She holds a Bachelor's degree in Organizational Communications from Rollins College. Throughout her career, Derina has evaluated and implemented applicant tracking systems, CRMs, talent networks and recruitment marketing platforms. Her background in sourcing and delivering top talent to hiring managers adds to her value as a marketer. Her passion is infusing technology and marketing into recruitment to create best-in-class talent attraction programs and positive candidate experiences. In Derina's spare time, she virtually remodels her home on Pinterest.