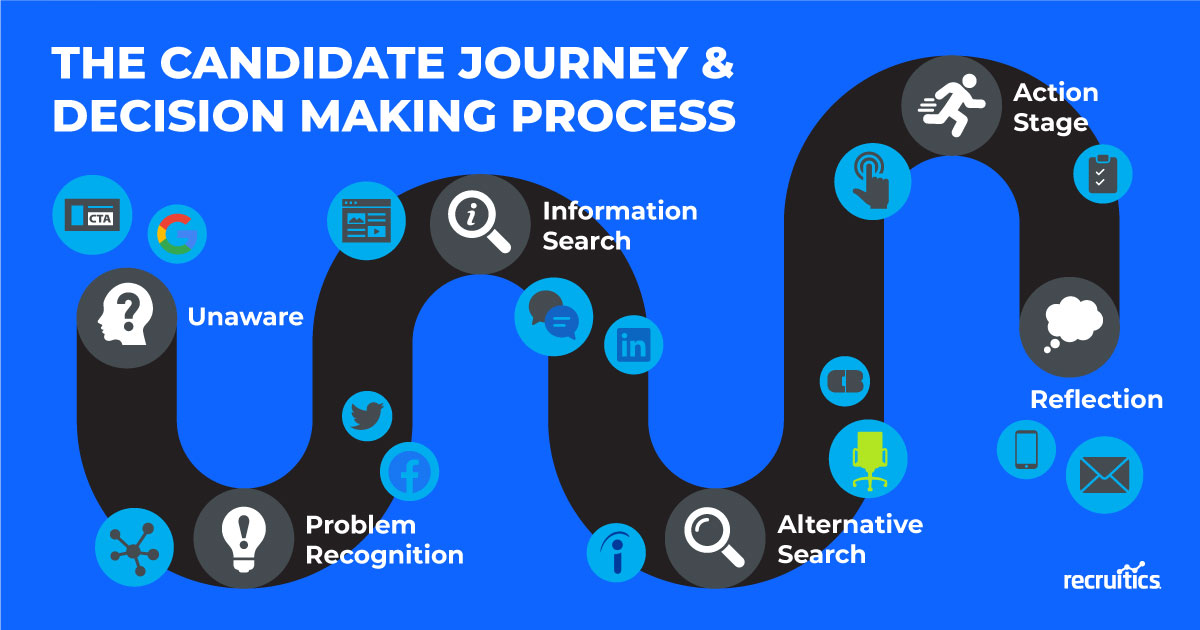 Today's hiring landscape is difficult to navigate. Candidates are in high demand and the market is competitive. This "new normal" forces companies to take a deeper look into talent attraction. Organizations that understand how to reach the right audience at the right time have the competitive edge. By using this understanding, they are able to place the right advertisement, in front of the right candidate, with the right messaging, at the right time.
This article will discuss the different stages a candidate is in when making a decision, the nature and dynamics of each stage, and the messaging that would be most relevant to each stage.
The Candidate Decision Making Process
When developing content, companies first need to understand the audience they're marketing towards. Candidates are consumers, and they make decisions based on the amount of information, or consideration, they receive.
The content candidates are consuming includes a company's job advertisements and brand messaging. When creating content and advertising, it's important to understand the impact messaging may have on an audience. In order to create messaging that will resonate with prospective applicants, it's important to understand the process a candidate goes through when making a decision.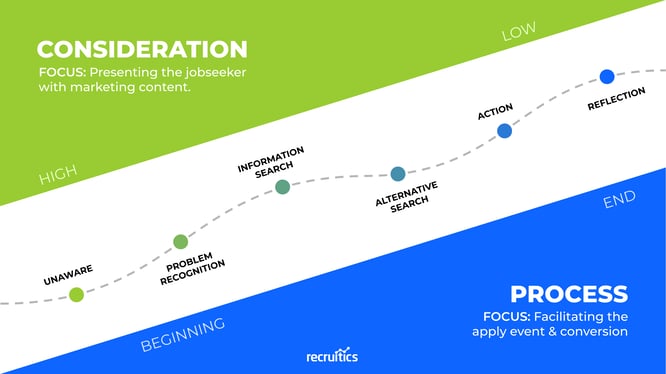 As a candidate is provided consideration, their ability to perceive a problem increases, and their likelihood of seeking a solution is increased. The more consideration they receive, the less they need to be provided.
Alternatively, the less a candidate perceives a problem, the less likely they are to convert. Providing process facilitation before helping a candidate understand a problem will result in the candidate being less likely to take the desired action.
Each stage in the consideration process represents a different point in which a candidate is evaluating opportunities. To this end, candidates can be within one of the following stages:
Unaware: In this stage, a candidate may not be aware there is a problem – they may be content in their current situation or have not evaluated their employment status.
Problem Recognition: Here, the candidate identified a need to review their employment situation. This may be the result of a perceived deficit in their current circumstance, or of being presented with an alternative they had not considered.
Information Search: In this stage, the candidate attempts to identify the opportunity or next steps that are the right fit for them.
Alternative Search: This is the research stage. The candidate now looks for additional information about a specific opportunity, organization, or role they are interested in. This search can be done by Google searches or on sites such as Glassdoor or even social media profiles.
Action Stage: This is the stage where the candidate is ready to apply for one or more viable positions.
Reflection: Here, the candidate reflects on their decision and determines the next appropriate steps.
For organizations seeking candidates, it's important to consider the type of advertising and messaging within each ad type based on the candidate stages of decision making.
Reaching An Audience
Knowing where to reach a company's potential candidates and communicating the most relevant information to them about a company is crucial for hiring success. Understanding marketing audiences and media opportunities is key to this win. There are a few ways to get in front of an audience:
Paid Social
Most successful for impacting candidates in the Unaware and Problem Recognition stages.
Key metrics to consider: Increase brand recognition and affinity, develop a social media plan that encourages engagement with relevant, exciting, and timely content to key audiences.
Examples: Facebook / Instagram, LinkedIn, TikTok


Display Advertising
These ads are effective at reaching candidates who fall into the Unaware and Problem Recognition stages. Audiences can be targeted using a variety of content, by geography (location), or by behavioral targeting & retargeting.
Key metrics to consider: Increase in site traffic, cost-per-impression, clicks, and additional on-site key performance indicators including, bounce rate, scroll depth and pages visited, ultimately leading to an increase in applications.
Examples: Google Display Network & programmatic media networks across an abundance of relevant websites & mobile apps


Paid Search & Native Advertising
A presence is needed when candidates are in the Information Search and Alternative Search stages. Paid keyword campaigns & content targeting will make sure a company is present for those actively seeking opportunities, and share the most relevant content to the prospective candidates.
Key Metrics to consider: Increases in relevant traffic to website or job posting. If keyword strategy is effective and the application process is optimized, there will be a decrease in bounce rate and increase in applicants.
Examples: Google Ads, Bing Ads
Job Media
Similar to Paid Search, candidates in the Information Search and Alternative Search stages will be looking for a company on job boards.
Key Metrics to consider: Job views, job clicks, job board applications
Examples: Indeed, ZipRecruiter, Monster, Career Builder, Recruitics Reach network


Nurturing The Database
If a company is not actively nurturing their own database, then they need to add a plan in place to start. Retargeting owned media is one of the most effective ways to get an application today. Candidates in the Problem Recognition and Reflection stages are best found in a company's database!
Using a Retargeting list from a company's data can help to reach not only the current database, but is also valuable in creating new audiences when looking for prospects. The easiest way to increase ROI is to ensure there's a comprehensive communication strategy tied to the own database.
Key Metrics to consider: Email Open Rate, Email Click Through Rate, Unsubscribe Rate, Conversion Rate
Example: Recruitics
When companies know where to advertise, it's important to discuss how they will advertise – or the content to use.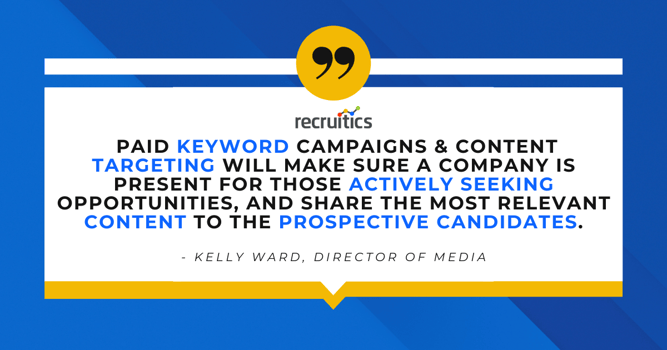 A Company's Messaging
A company's messaging can be broken into two main categories: consideration and process (as seen in the graphic above).
Consideration is the information a company provides a candidate about the job opportunity, the organization, and anything in between. Process is the mechanism by which a candidate completes the application, such as the "Apply Now" buttons, the application itself, or any other actions a candidate must complete to be considered a full applicant.
As the candidate moves deeper into the process of making a decision, the amount of consideration a company provides becomes less important and the responsibility shifts from providing information towards facilitating the process.
Take a look at how this relates:
Unaware: Content in this stage needs to be heavy in consideration and help the candidate identify that there is a problem, and highlight the value of the role or organization. Advertising should avoid generalities such as "We are hiring" and focus on specifics such as "We pay $5/hr more than our competition" or "From line to manager in 6 months!" Clearly defining the perks or benefits of the organization is crucial for garnering interest from those candidates who may not be aware that their current employment may be lacking.
Problem Recognition: This is the moment a candidate identifies there is an issue. A company's messaging needs to be focused on value statements speaking to the opportunity. Here, a company should clearly communicate the opportunity and simplify how candidates can express interest, like a lead capture form. Once basic information is collected, a company is able to nurture the potential candidate through the full application process.
Alternative Search: When a candidate reaches this stage, they are truly trying to understand the organization. Social presence, a Glassdoor profile, reputation, and brand recognition will all play a role in a candidate's decision. Ensuring the organization has up-to-date information, the brand messaging is cohesive, and they are present where the candidate is researching will help guide a candidate forward.
Action Stage: This is where the candidate determines to move forward with an application. In this stage, it is important to reduce the amount of friction a candidate receives. Asking a candidate to fill out their information more than once, such as creating an account and then asking for the same information on the application, can be a deterrent. Similarly, having a process that has a candidate fill out employment history, education history, and other personal details that are present on a resume, and then asking for that resume directly can lead to candidate frustration. The goal here should be to obtain the relevant information once, and then use that information to make an informed decision.
Reflection: After a candidate completes an application, they enter into a reflection period. The quicker a company is able to reach out to a candidate, the more inclined they will be to speak about the opportunity. The longer a company waits to communicate with applicants, the greater the chance the candidate has found another opportunity – or the excitement about the opportunity has passed.
This is not an exact science, since candidates can (and do) exist on various platforms during different stages. It's important to understand how messaging and targeting will be received by the ideal audience on each of those mediums.
This is why a comprehensive strategy is the best strategy!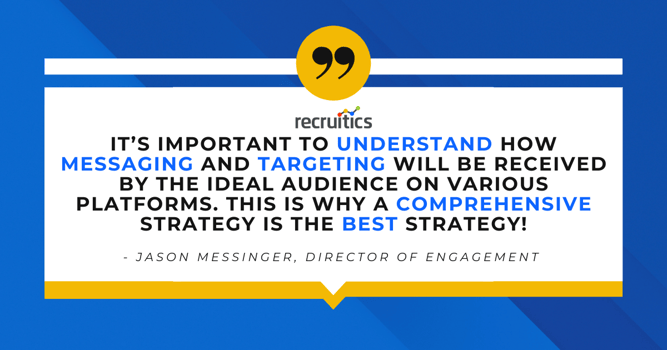 Once a company determines where and how to advertise, they still need to ensure they get the application. Simply advertising and expecting a candidate to convert is no longer enough.
What does a company do once they get a candidate's attention?
Lead Acquisition vs Direct Conversion
A company has two choices when a candidate interacts with an advertisement: direct them to the careers site and hope they convert, or direct candidates to a lead acquisition landing page – i.e. lead capture forms on social media such as Facebook, Instagram, and TikTok. There are benefits to doing both, but when leveraged properly, a company can enhance the candidate experience and increase the number of applicant leads.
Candidates who are ready to apply in the moment should be directed to the careers site, but how does a company know if a candidate is in this stage? The short answer is, they can't. On the other hand, there are other candidates who may need more information before they are ready to be directed to the careers site. To ensure a company gets additional consideration in front of these individuals, leveraging the landing page instead of flowing traffic directly to the careers site, where additional consideration the candidate is looking for can be provided, is the ideal strategy.
Custom landing pages can be built to provide valuable information for a candidate such as job details, company details, and next steps. Additionally, if a simple capture form is added on these pages, a company can put together a robust nurture strategy – ensuring multiple attempts at converting a candidate into an applicant.
For candidates who are ready to apply now, companies can add a pathway on their landing page that directs the candidate to the careers site. This ensures candidates are afforded all options when making their decisions.
Messaging
So what messaging should be put out to a candidate once a company has captured their contact information? This is dictated by where a candidate originates. Remember those media sources mentioned above?
Paid Social/Display:
Messaging to these candidates should be crafted with an understanding that they are either in the Unaware or Problem Recognition stage. When sending emails, start by providing heavy consideration and identifying the candidate may have an employment issue.
Paid Search/Job Media:
These candidates are deeper into the decision making process living in the Problem Recognition or Alternative Search stages. They are looking for information and need deeper consideration. These candidates are looking for details around the opportunity and the organization as a whole. They may also be ready to go directly to the action stage, so email messaging should begin focusing on facilitating the process.
Nurturing The
Database:
These candidates need less consideration than other stages, but also should be spoken to with familiarity. Recognize the prior actions the candidate has taken and reach out to them with language that expresses a sense of urgency. Remember, these candidates are either in the Problem Recognition stage or the Reflection stage. They are either attempting to identify a new opportunity, or are awaiting communication.
--
In the end, laying out a full funnel strategy for each type of candidate is key for feeding the top of the funnel and pushing people along through each of the phases. Then, understanding the number of touch points needed to make each type of candidate take action and being present in the places they're looking will give the greatest chance of success ensuring an organization has the competitive edge.
If you'd like help in refining your recruitment marketing strategy or have questions about targeting candidates, feel free to contact Recruitics!
Posted by Jason Messinger and Kelly Ward

Jason Messinger is the Director of Engagement at Recruitics. He loves to meet new people, help guide them on their path, and looks for opportunities to connect at every moment. Jason is passionate about identifying and correcting automation errors and overcoming complex challenges. When he's not working, you can find him spending time with his two daughters. Kelly Ward is a VP of Media at Recruitics. She is a paid media marketing strategist with a specialization in remarketing strategy and audience selection. Outside of work, Kelly has an action packed home and social life, as the mother of three savage young adults and the orchestrator of numerous Friday festivities. As a result, she has become an expert multitasker and coffee connoisseur.