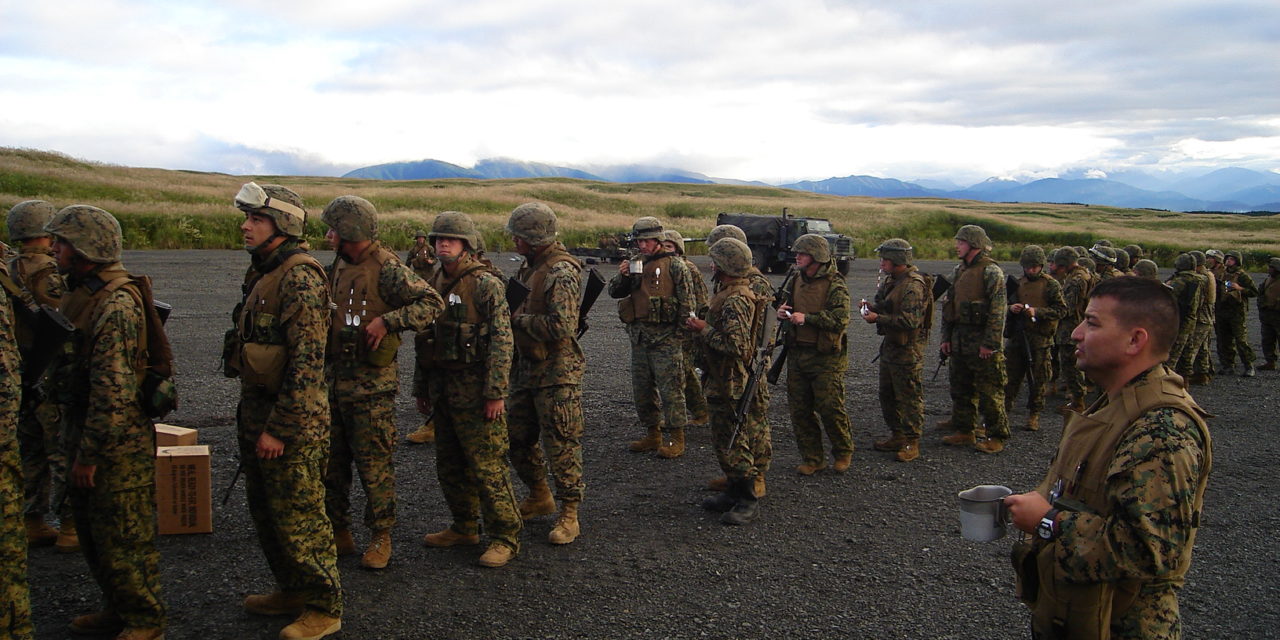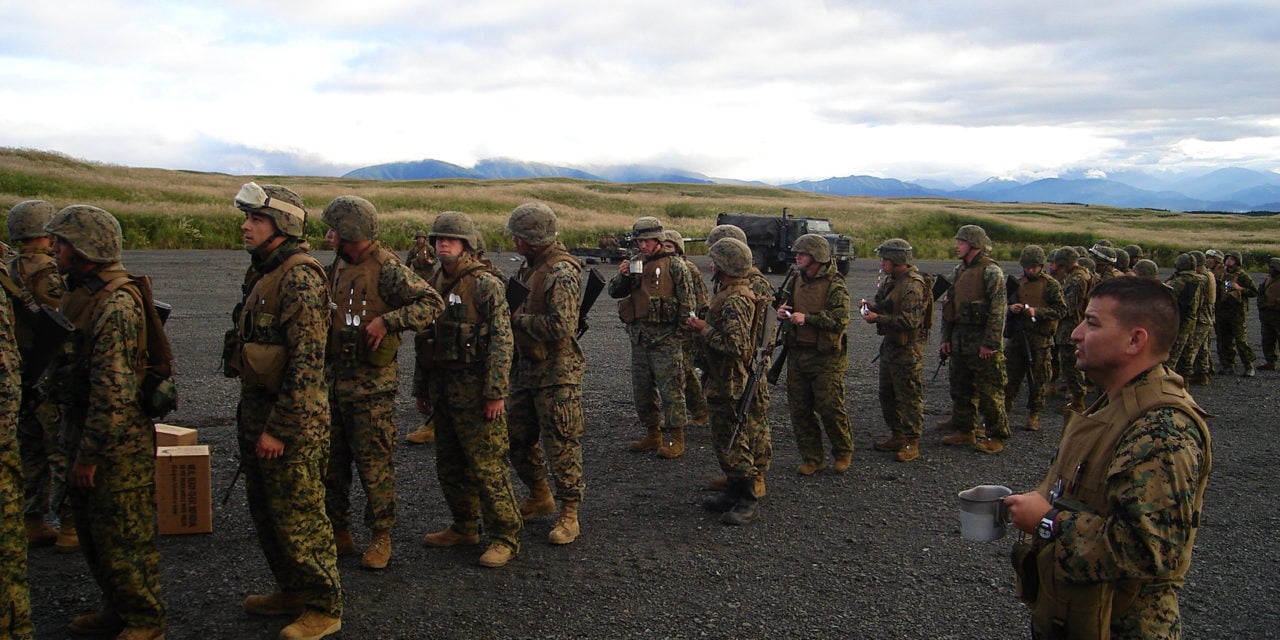 (Pictured: Retired Master Sergeant Tom Prado, lower right, at field chow in Fuji, Japan)
Next in the series is Tom Prado. Before he co-founded Vet.Careers, Tom dedicated his life to his country as a career member of the United States Marine Corps. In the 20+ years of his career, he was a fearless leader and an inspiration to many. Now he wears the hat of "Mr. Mom" and also provides Vet.Careers with a veteran's perspective on veteran recruiting. We sat down with him to find out more about his journey.
[After 20 yrs of service, check out what this retired #Marine is up to. #veterans #veteranhiring (CLICK TO TWEET)]
Describe your background and tell us about your service.
I graduated from high school in 1987. After high school, I wasn't quite sure what I wanted to do so I spent two years at the local community college. At this point I was looking for a change in my life and thought about joining the military. I enlisted in the Marines in 1989. My first day in the Marine Corps was September 11, 1989.
Upon graduating from Marine Corps boot camp and completion of my military occupational school (MOS) I was assigned to 3rd Battalion, 11th Marines. My first deployment was a combat tour for Operations Desert Shield and Desert Storm. We conducted missions in Saudi Arabia and Kuwait. After I finished my first tour, I chose to stay in the Marines and make it a career. I found it special to be around people who were willing to sacrifice and risk their lives for others – an extremely unselfish act of mankind. Everyone joins the Marines for a reason, so most of the time I got to work with people who were united around a common mission: loyalty.
During my time, I served with many different units and several deployments all around the world. I served two tours in the Middle East and a handful in Asia, mainly Japan and Iraq. As I developed throughout my career in the Corps, I mastered my leadership skills and traits. This led me to get promoted several times. I eventually retired as a master sergeant.
I held many different leadership roles during my time of service, leading thousands in the process. One of my favorite roles was instructor. I taught fellow Marines at many different levels in many different locations – everything from time management to financial management. I also enjoyed my time in the field and being around so many people with the same mindset. Overall, the most rewarding part of my time as a Marine was anytime I could meet like-minded people and serve as a mentor. I am proud to say that probably 70% of the people I led would give me a hug and a kiss if I saw them out and about today.
What did you do after you ended service?
I was fortunate because after I retired from the military I could continue to live the same lifestyle without entering the workforce. I traded my Marine titles for the honorable positions of "Coach" and "Mr. Mom," both of which I am very proud of.
While I was deployed, I missed a lot of time with my family so now I love getting to spend time with them. I enjoyed coaching wrestling while my son was in school so I could spend more time with him. During that time, I made a positive impression about the military where I have inspired several of my students to pursue military service.
I am still active in the military community. In addition to helping launch Vet.Careers, I make sure to be present at veteran ceremonies in the Bay Area, whether it is to be a speaker or just show support. I also try my best to provide leadership guidance whenever I can.
Of the veterans you served with, what was their experience like getting a job post-military?
Out of all the people I kept in contact with once I retired, I would say about 50% of them went into law enforcement or roles within the government. This made sense because they are industries that are extremely similar to the military. About 20% went into some working-force position, like a business job. Another 5% retired while the other 5% ended up in the education industry – either as high school teachers or college professors.
Most of the veterans I know found jobs by utilizing veteran resources, and most of them are doing great things to this day.
Any pieces of advice for employment-seeking veterans?
Your service teaches you how to be a chameleon. You learn how to blend in and succeed in any environment, with any group of people, anywhere in the world. You can apply this skill to do well in any job.
In the military, everyone knows someone who knows someone. Use your military network as a strong reference to find a job or occupation.
My advice for veterans would be:
Make sure you have good communication skills.
Always present yourself in a proper manner, even when you think no one is watching.
Make sure your resume looks good and is up to date.
Always carry yourself with integrity and honor.
Utilize your leadership and management skills.
Any pieces of veteran recruiting advice for companies?
Veterans make great employees, regardless of the field. If you are hiring a vet, know that a majority of veterans will go above and beyond to accomplish the tasks given to them. They are used to having a task-orientated mindset so it helps to present them with projects in a way that plays on this strength.
Veterans have developed an ingrained habit of making do with less. They have burned the midnight oil, so you should anticipate that they will do the same for your company.
Finally, veterans will be loyal to you and your company because at one time in that man or woman's life, they were willing to risk his or her life for his or her country.
['#Veterans will go above and beyond to accomplish tasks.' Read more about #recruiting veterans. (CLICK TO TWEET)]
---
This post was originally published on the KRT Marketing blog on August 16, 2017. Recruitics acquired KRT Marketing on July 31, 2019 - read more about it here.