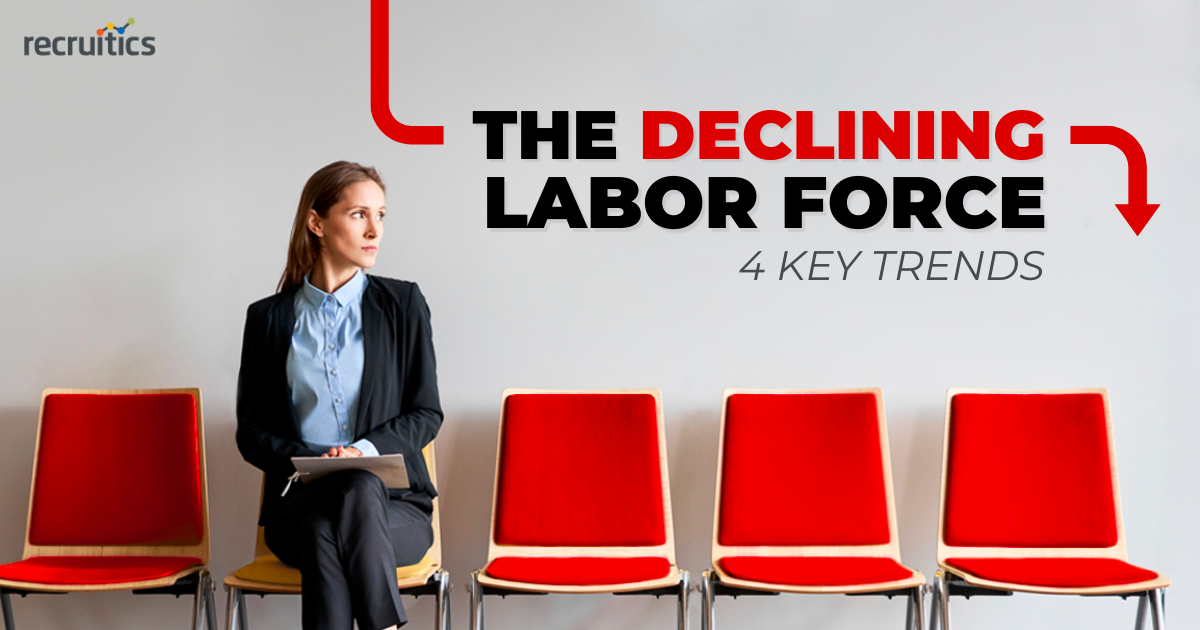 Declining participation of the workforce is an emerging trend, and is a logical result of the ripple effect the COVID-19 pandemic has had. Concerns about health, family care, and government regulated social distancing policies have all played a role in the availability and interest of the workforce. For those reasons and more, we have not fully recovered from the disruption the pandemic has caused to the labor supply, and it's going to be a while until we get to our pre-pandemic state again.
The Labor Force Participation Rate fell to 61.5% in March 2021, the lowest it had been since 1976. Though we may experience occasional spikes, the participation rate is expected to continue to decline.
Here are some trends we've noticed that may be contributing to the decline:
1. Parents Leaving The Workforce
The decline in labor force participation among parents, especially mothers, is likely due to the shift of schools to distance learning and the temporary closure of many childcare facilities during the pandemic. The closures of childcare facilities and in-person schools left parents wondering how they would meet the demands of work.
Though many childcare centers have reopened, the cost of providing care has increased as much as 59% for center-based childcare. For some parents, this expense has hindered them from finding extra care for their children during the workday. This situation became especially challenging for some, when grandparents who would normally be available to care for school-aged children during the day were no longer able, due to health concerns associated with COVID.
"Closures of in-person schools and childcare facilities have the greatest impact on the labor supply of parents. Childcare demands are likely to impair parents' ability to return to their previous levels of participation and hours. Even if the economy at large expands vigorously, parents may be slow to fully return to paid work, and this may erode their employment prospects when or if they finally do return," stated the BLS.
This challenge is even more prominent among women. According to the National Women's Law Center, nearly 2.2 million women left the labor force between February and October 2020. The study found that women "disproportionately suffered pandemic-related job losses," losing more than 5.5 million net jobs, accounting for 54.5% of overall net job loss since the start of the pandemic.
However, the participation rate for women is the lowest it's been in 33 years, setting back much of the progress made toward gender equity in the workforce. We're actually going backwards.
"This may have lasting and increasing impacts on labor market supply of the parental workforce," stated the BLS. "Changes in telework and workplace flexibilities may help parents combine labor market participation with childcare responsibilities."
So that begs the question, is it all women leaving the workforce? The answer is no. The workforce participation rate is declining for both men and women. And both of them are projected to continue to decline.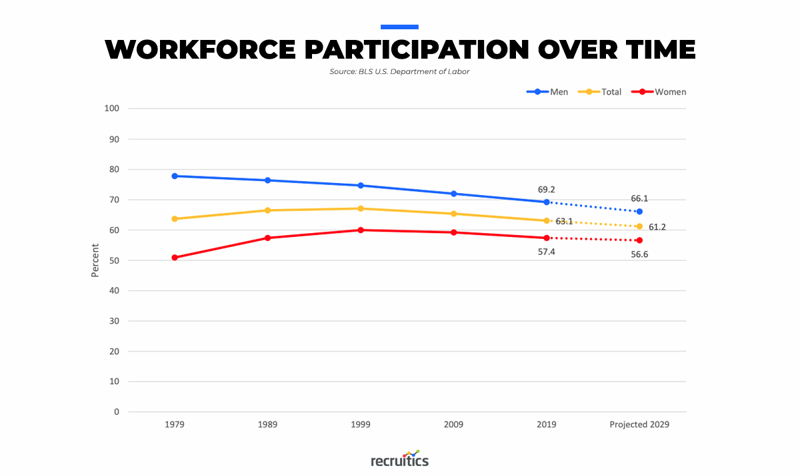 2. Compensation For Non-Participation
Another factor potentially affecting labor supply was the additional funds provided in special pandemic unemployment insurance benefits. It seemingly makes more sense to the job seeker to remain unemployed rather than take on work where the salary does not exceed the unemployment compensation.
The BLS reports that, "Most economists think that the effect of such high compensation was very different than it would be in ordinary time. For most workers, the long-run benefits of retaining a job with an existing employer are probably more valuable than receiving these benefits."
Only time will tell the true impact of this unusual scenario. For many workers, unemployment compensation is much more generous than wages they were previously paid, and they may find ways not to go back to work longer because of it -- resulting in the stability of an income from a job becoming optional.
To be very clear, this is basic math and logic. If the rate to return is lower than the rate to not participate, then why risk concerns of safety and health to rejoin the labor force? For many this answer seems obvious.
3. Workers Are Aging Out Of The Workforce
By 2029, Boomers are projected to be the largest percentage of the workforce. It is projected that 25% of the population will be 65 or older in 10 years, and since older people are less likely to remain active in the labor force, this is likely to cause the overall labor force participation rate to decline.
"The growing percentage of the older population is a change to that demographic group itself. As this group's population share rises, the overall labor force participation rate has declined because older people are less likely to work as they age." says the BLS.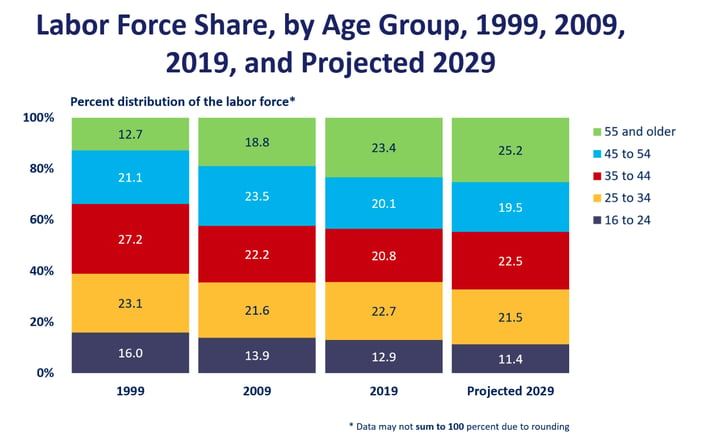 Source: The Bureau of Labor Statistics
4. Desire For Flexibility
Due to the necessity of working remotely during COVID, expectations have changed about when and where work is done, and job seekers expect greater flexibility and work autonomy. This is why remote jobs are likely to stay and why there is a big sway toward the gig economy.
According to Recruitics analytics, the term "Remote Jobs" gained a 7X increase in job views comparing Q1 YOY, and the average conversion rate for Remote Jobs improved by 46% comparing Q1 YOY. Companies should consider keeping remote positions open as an option for their jobs, in order to hire and retain talent.
Along with the theme of flexibility, the gig economy has been seeing greater interest from previously full-time workers. Gig work includes freelancers, temporary workers, contract workers, contingent labor, independent contractors, etc., and are paid by the task or project. Gig workers can earn a living by working independently, and it's becoming a preferred lifestyle. As of this writing, 1 in 6 individuals working in traditional jobs desire to switch to gig work. These workers have freedom, flexibility, and autonomy which is becoming a more valuable benefit, and 60% of independent workers don't look for alternative work because they don't need/or want to find something else.
Workforce Talent Gaps Widen
The response to the pandemic has created lasting effects on talent expectations and an aging workforce population is a fact of nature. As talent demand has begun to increase with the rise of new job postings, the needed supply has been challenging to bolster and we are seeing fewer people participating in the job market.
The labor market is tight and hiring has become increasingly difficult. That gap impacts all sectors, functions, locations, and employers in varying ways, with jobs that require a high level of skill or experience feeling the longest and deepest impact.
--
Now is the time to reevaluate what your company is doing to sustain a healthy talent network. Recruitics has customized solutions for all of your recruitment needs. Contact us to find out how we can become an extension of your talent acquisition team.
Posted by Julie Calli

Julie Calli is an industry leader, innovator, and advocate for recruitment marketing revolution. She has managed over a billion dollars in recruitment advertising and developed strategies that have supported hundreds of organizations. She is passionate about recruitment marketing and the positive impact that it has on connecting people to opportunity.