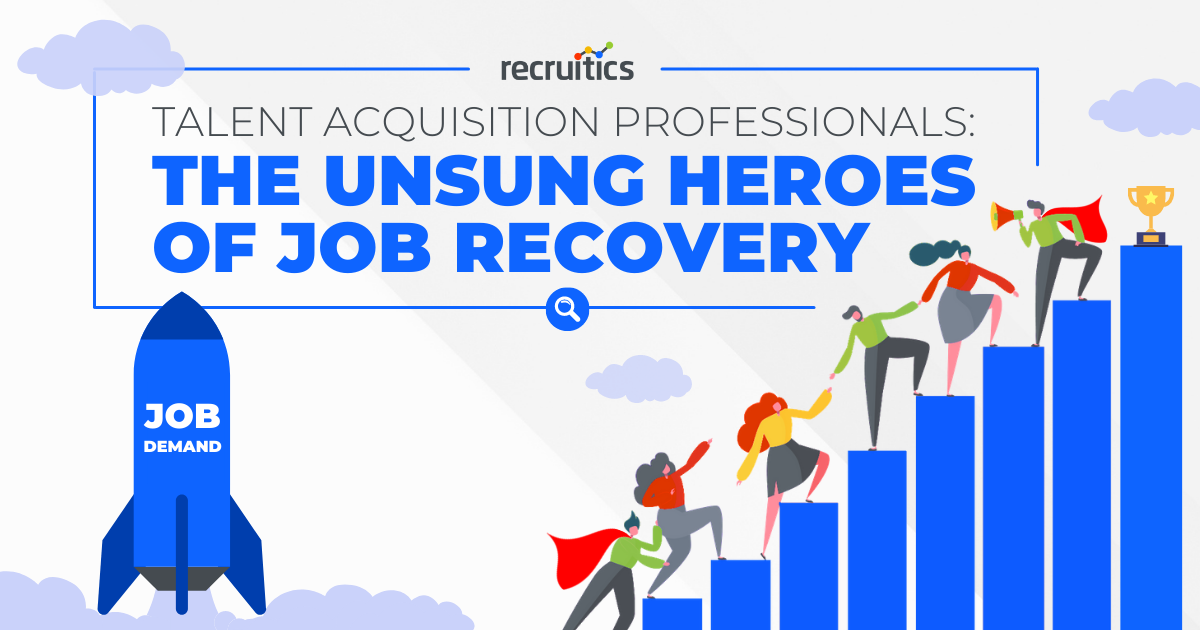 The job market is roaring into recovery due to the reopening of markets, the steady rollback of social distancing guidelines, and increased consumer demand as COVID-19 vaccinations are becoming more readily available. We are still a ways off until we can claim to have fully returned to our pre-pandemic state, however it's remarkable to see talent acquisition professionals have accomplished thus far. You don't often hear about the magnitude of job recovery that has been accomplished in the past year.
However, at Recruitics, we work alongside those creating what very well may be a legacy of the greatest job recovery to date. In essence, what previously took a decade in hiring, has rebounded in just 12 months, and we owe thanks to those in talent acquisition for making it happen!
Roaring Job Recovery
The leading narrative for the past year is that the magnitude of job loss in 2020 due to the COVID-19 pandemic had no precedent quite as impactful as seen since the end of World War II. What is exceptional, however, and not as commonly reviewed, is just how quickly the job market has bounced back. Never in our history have we seen such a significant and sudden resurgence of jobs in such a short period of time.
To put that in perspective, let's look back to the most recent recession known as the "Great Recession" which began in 2007. The Bureau of Labor Statistics reported that ten years later in 2017, employment had grown by 16 million.
In March and April of 2020, 22.2 million jobs were lost and we entered the COVID-19 pandemic recession. One year later, over 14.5 million jobs have returned. That's almost 10 years worth of recovery in just a year's time.
With such significant job growth, it is clear that Talent Acquisition professionals are some of the unsung heroes of the past year. It has been a tremendous effort in a time of accelerated change, and they're nowhere near finished.
By 2029, the Bureau of Labor Statistics predicts that not only will we fully recover, but we'll also likely add an additional 6 million new jobs.
With all of these jobs continuing to return alongside continued job creation, demand for talent is skyrocketing. As a result, workers are seeing the possibilities within the booming job market and are looking for new opportunities, so there is a great deal of talent on the move as well. That means hiring managers will need talent to fill roles that have returned and new roles that have been created, as well as backfill existing roles. Of course, every occupation and industry is experiencing this boom differently.
Occupation and Industry Growth
As the number of jobs increases, the demand for talent has massively accelerated in some industries and others are morphing traditional occupations into the digital era for the future. The biggest occupation growth trends are in healthcare and technology.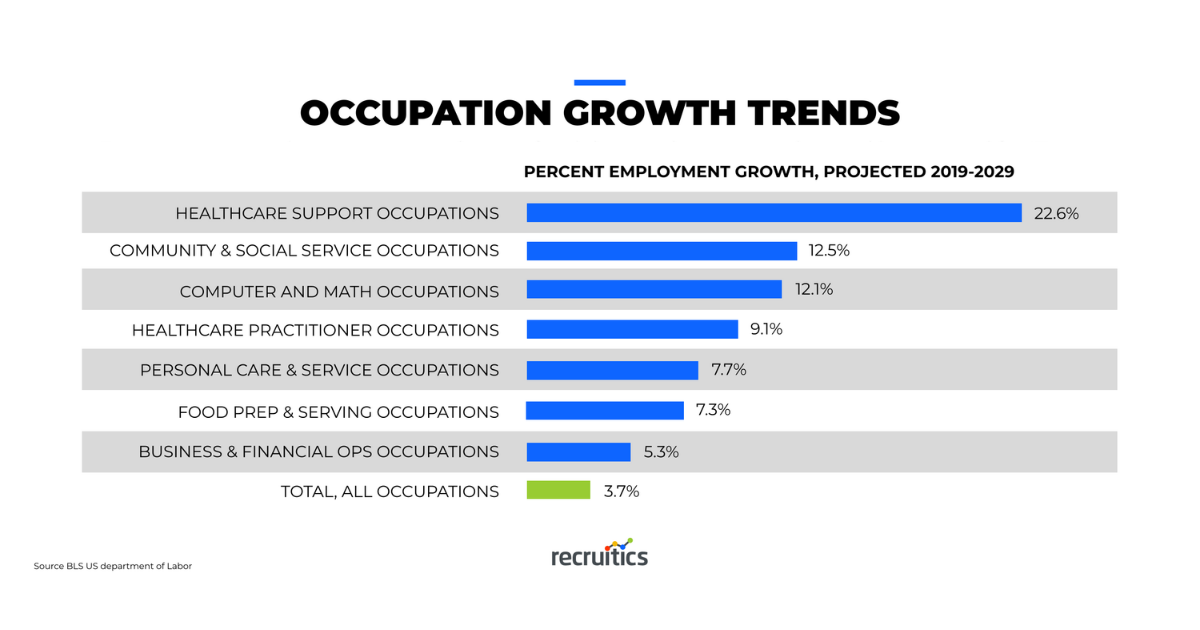 The Healthcare and Social Assistance sectors are projected to add the most new jobs. In fact, 6 of the ten fastest-growing occupations are related to healthcare. And when it comes to healthcare, there is a need for qualified professionals. Talent needs to be trained and certified, which is an important area for employer investment. With these special qualifications in such high demand, companies will be fighting to find people to fill their positions. As a result, employers should consider offering training or continuing education to talent to stay competitive.
Computer occupations are also expected to see fast job growth, as strong demand is expected for IT security and software development. As new products associated with the Internet of Things (IoT) are developed, the need for these skills will continue to accelerate.
Technology is also going to facilitate a lot of automation and E-commerce. That's expected to result in declining employment for office and administrative support occupations, as well as sales. The jobs won't disappear entirely, but they'll transform and evolve into the digital era requiring new skills.
Lastly, technological advancements are expected to support rapid employment growth in professional, business, and scientific services sectors. This includes computer systems design and related services in management, scientific, and technical consulting services.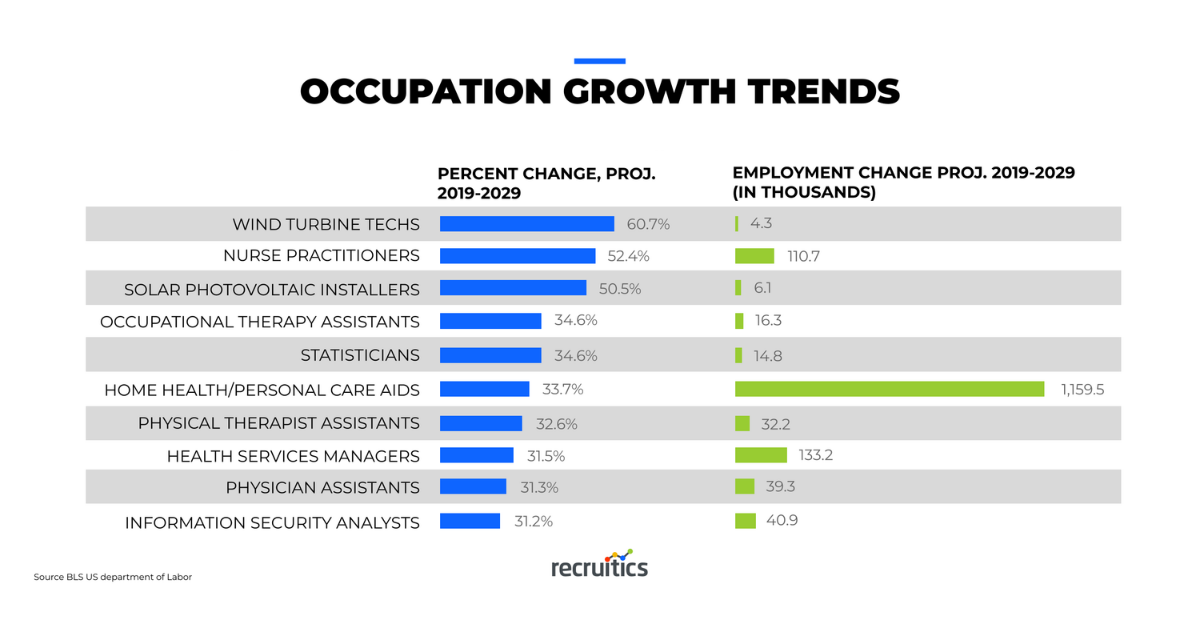 What Does This All Mean?
Let's hear it for the heroes in talent acquisition -- the hiring managers, the recruiters, the talent sourcers, the recruitment marketers and the staffing agencies. Not only are they activating a decade's worth of jobs growth in only a year's time, they are doing it during a time of great change. We should be celebrating the work of those that have done what has never been done before and at 10X the rate of what has been done in the past. Thank you to the unsung heroes of the job recovery.
Notably, within the past year, several organizations made solid commitments to high volume hiring and were looking to fill both temporary and permanent roles quickly. Among these are: Instacart, Amazon, Walmart, CVS Health, Dollar General, Lowes, Pizza Hut, Albertsons Companies, Tesco, 7-Eleven, Papa John's, ByteDance, Kroger, Sitel Group, Chipotle, and Domino's. Consequently, talent acquisition professionals supporting those companies have had to ramp up their efforts to stay competitive in today's market.
Listen to what the data is telling us -- that we are amidst hyper-accelerated job growth at a rate that has never been seen before. Also remember that today's talent is on the move and talent has a choice. It's going to be competitive for some time to retain, attract and hire great talent. Be sure you are armed and ready for battle to fight in the war for talent.
--
If you need a partner in battle or support with your accelerating demand for talent, Recruitics is here to help.
Posted by Julie Calli

Julie Calli is the Chief Marketing Officer at Recruitics. In the 16+ years that Julie has worked in talent acquisition, she has managed over $700 million in recruitment advertising and developed strategies that have supported hundreds of organizations. She is passionate about recruitment advertising and the positive impact that it has on bringing together employer opportunities and talented people.