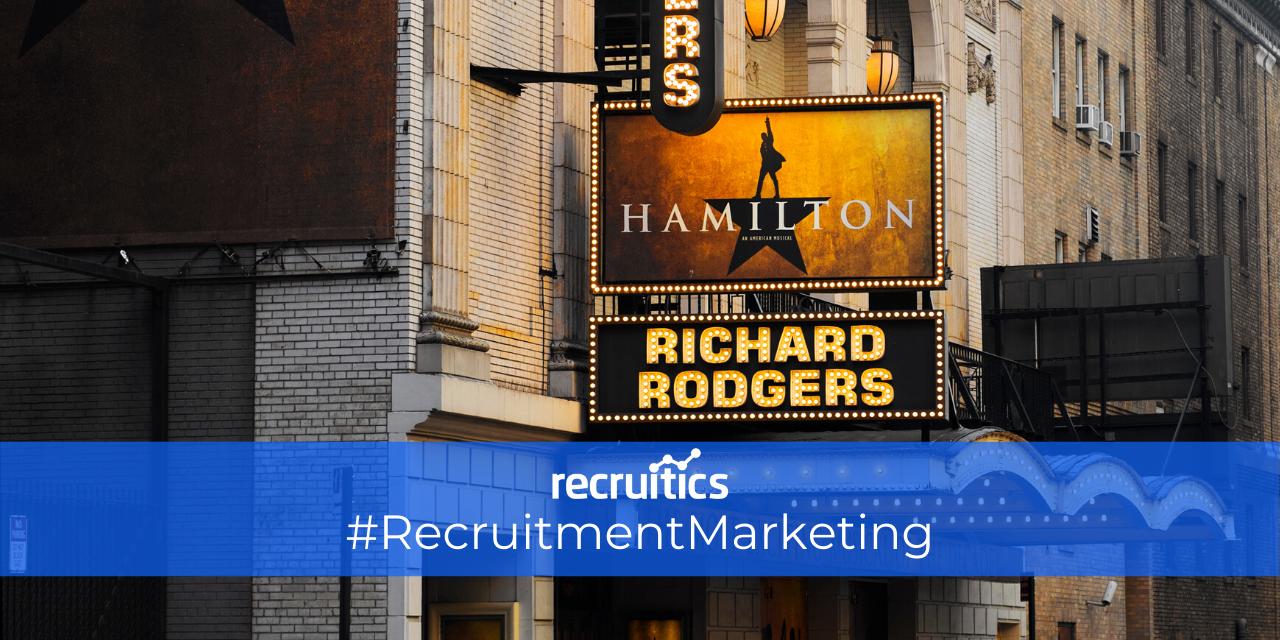 When are these colonies companies gonna rise up?
How does a "bastard, orphan, son of a whore, and a Scotsman" inspire and challenge companies in their recruitment practices? Creator and Broadway star Lin-Manuel Miranda's record-breaking Hamilton: An American Musical has taken the world by storm in its musical innovation and empowering message since its premiere in 2015. As he retells the story of the self-starter, Founding Father Alexander Hamilton through the Revolutionary War to early American government, there are three recruitment lessons we can take from this young, scrappy, and hungry musical.
(The Original Broadway Cast of Hamilton, featuring Lin-Manuel Miranda as Alexander Hamilton in the front. Photo by Joan Marcus)
Miranda's unique portrayal of the Founding Fathers and America's origin was met with controversy, as white historical figures are played predominantly by actors of color. The original cast was mainly comprised of people of black and Latino descent, featuring Tony winners Leslie Odom Jr. as Aaron Burr and Daveed Diggs as Thomas Jefferson/Marquis de Lafayette. Three years after its premiere, Hamilton's touring cast continues to promote diversity, as an Asian-American George Washington (played by Marcus Choi) dominates the stage in his farewell address to the nation.
But why did Miranda decide to go down this path? "The idea has always been to look the way America looks now, and that doesn't exclude anyone," Miranda explains in an interview with Rolling Stone.
Even in his musical, characters John Laurens and Hamilton "write essays against slavery" (Stay Alive). In the song retelling the battle that ensured the colonies' freedom from Britain, Hamilton and Marquis de Lafayette sing in unison, "Immigrants, we get the job done" (Yorktown).
Recruitment Lesson
As Miranda fought to juxtapose America's past with its diverse present, and as the musical fought for racial equality and pride in immigration, we ought to embrace diversity within the workplace. McKinsey's research shows that the top quartile of ethnically diverse companies are 35% more likely to perform better than less diverse companies. Glassdoor's survey found that 67% of active and passive job seekers said a diverse workforce is an important factor in evaluating companies and offers. The study 'Millennials@Work: Perspectives on Diversity & Inclusion' backs this up - it found that 50% of millennials in the U.S. consider a diverse and inclusive workplace as an important factor in their job search.
Read more about how your company can achieve workforce diversity.
2. INCLUDE WOMEN IN "THE SEQUEL."
(Renée Elise Goldberry (center) as Angelica Schuyler, Phillipa Soo (left) as Eliza Schuyler, and Jasmine Cephas-Jones (right) as Peggy Schuyler. Photo by Joan Marcus.)
The third song of the musical features three Schuyler sisters sneaking into the city to watch the revolution stirring in the city. In a period where women were not usually involved in education or politics, Angelica and her sisters defy this standard — they are not only attracted to the political movement, but they also have a firm stance on women rights. Angelica sings, "I've been reading Common Sense by Thomas Paine, so men say that I'm intense or I'm insane. You want a revolution? I want a revelation. So listen to my declaration." Angelica declares that "when [she] meets Thomas Jefferson, [she'll] compel him to include women in the sequel." As the revolutionaries were declaring for freedom, she wanted those same rights to be available to women as well.
The women not only impact Hamilton greatly throughout the musical, but their long-lasting contributions include the creation of the Washington Monument and establishing the first private orphanage in New York City (Who Lives, Who Dies, Who Tells Your Story).
Recruitment Lesson
Hamilton's strong female leads, who thrived in an unaccepting environment, empower women today to push for success and continue the fight for gender equality in the office. According to the National Center of Education Statistics, women earned over half of all bachelor's degrees (57.2%), master's degrees (59.2%), and doctorate degrees (52.7%) in the 2015-2016 class. In addition to that, women have earned more bachelor's degrees (since 1982), more master's degrees (since 1987), and more doctorate degrees (since 2006) than men.
Despite this though, McKinsey finds that women are on average 18% less likely to be promoted than their male peers, and that women of color face greater obstacles in the workplace. Consider your company's inclusion of women and what steps you are taking to empower women in the workforce.
3. RISE UP AND BE BOLD IN MAKING POSITIVE CHANGES IN THE WORLD.
"I have not been shy, I am just a guy in the public eye tryin' to do my best for our republic. I don't wanna fight, but I won't apologize for doing what's right" — Alexander Hamilton (Your Obedient Servant)
Alexander Hamilton wrote like he was running out of time throughout the musical. From fighting for the colonies' independence from Britain to creating financial systems for the early government, the consistent theme is Hamilton's relentless and fearless pursuit of what he believed was right.
"You get love for it. You get hate for it. You get nothing if you wait for it," Hamilton stated to Aaron Burr, who consistently guarded his opinions from the public in fear of hostile opposition (The Room Where It Happens). Burr's character never clearly stated his beliefs; instead, the audience sees Burr change political parties to gain power and, even as he ran for presidency, he obfuscated away from sharing his political stances.
The complex relationship and differing paths of forthcoming go-getter Hamilton and the obscure and waiting Burr shows us benefits and consequences of both. Though Burr attracted many people in his fleeting charm, Hamilton's pursuit to "build something that's gonna outlive [him]" came true as his legacy continues today (The Room Where It Happens).
Recruitment Lesson
Though Hamilton was abrasive and stepped on a lot of peoples' toes with his strong beliefs, many companies can learn from Hamilton's boldness to stand up in what he believes in. Don't follow Burr in obfuscating and dancing around when it comes to important issues: prioritize your core values as a company and strive to make positive changes in the world by practicing corporate social responsibility.
---
"America, you great unfinished symphony, you sent for me. You let me make a difference, a place where even orphan immigrants can leave their fingerprints and rise up." — Alexander Hamilton (The World Was Wide Enough)
There's a million things we still haven't done in our workplaces, but just you wait. With these three lessons in mind, we can work to build a positive culture for our generation and the generations to come.
Want to discuss recruitment marketing strategies, including Diversity and Inclusion plans? We are just one email away.
This blog has been updated in June 2020 by Adriana Kevill.
Posted by Melissa Chung

Melissa is a web and graphic designer at Recruitics. She earned her Bachelor of Arts in Studio Practice from San Jose State University, and a Certificate in Web Design and User Experience from UC Santa Cruz Extension. When she's not designing websites, emails, or digital banner ads, you can find Melissa filming weddings, traveling the world, watching Broadway shows, or at her second home (Disneyland).