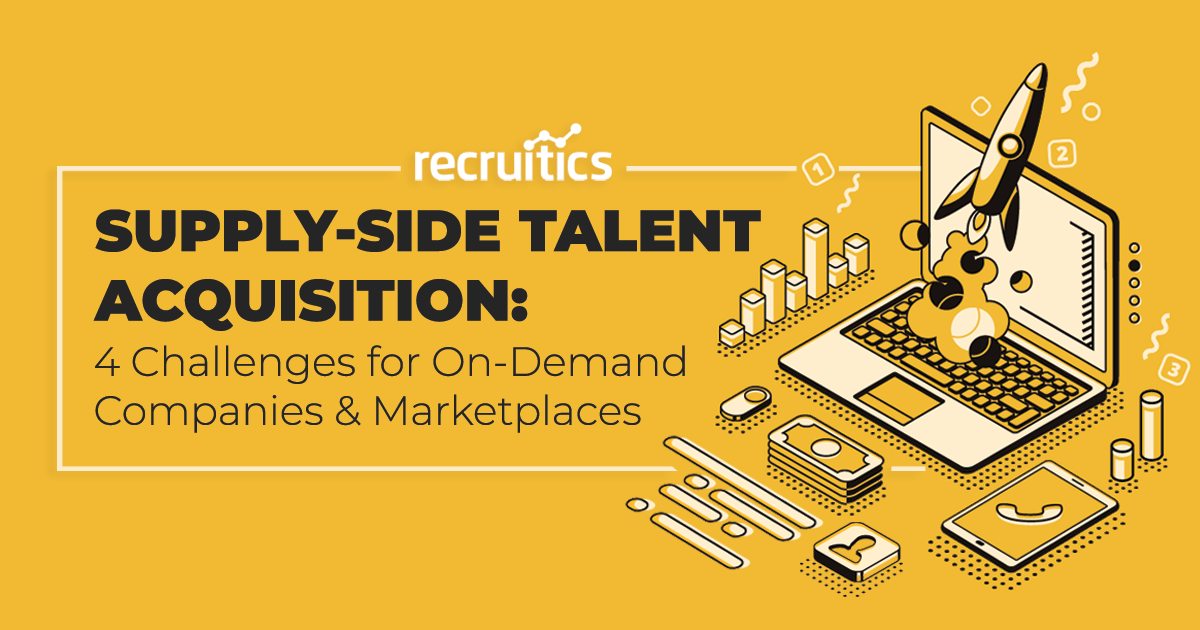 Businesses trying to recruit on-demand talent in high-volumes across several markets face a specific set of challenges. For marketplaces and on-demand companies in the gig economy, effectively scaling supply-side talent acquisition can be complex—making sure programmatic job advertising campaigns are not overspending, adapting strategies to individual markets, tracking ROI, and managing time spent with vendor relationships are just some of the factors that need close attention.
4 challenges for growth marketers
We'll focus on the four main challenges growth marketers at on-demand and marketplace companies often face when trying to increase supply-side talent acquisition.
CHALLENGE #1: Not having standard "job" pages makes it difficult to advertise on job boards and aggregators.
Many on-demand companies and marketplaces don't post jobs on their careers site for supply-side acquisition needs. Instead, there's typically a single landing page for candidates to register and go through the application. These landing pages often don't have your standard "job" look and feel—no job title, job description, requirements, etc. are found. Instead, the landing page is built more like a marketing landing page, with branded copy, headlines, graphics, and short forms. This is great from a marketing perspective, but not great when you want to advertise your jobs on job boards and aggregators that require individual job pages (with individual URLs) to post your jobs.
So, to advertise supply-side acquisition needs on recruitment channels, individual job pages typically need to be created. This might mean creating thousands of jobs across many cities and states to blanket the market.
After your job pages are set up, you can start testing job titles to see what job content will generate the highest conversion rate (for example, Delivery Driver vs. Delivery Courier). Once you've identified the optimal job content, you can also begin to create individual job ads by market or sub-markets for an even more targeted approach. You can use these strategies for A/B testing to identify optimal job content and locations for your goals and results, and they often significantly increase applicant volume across the board.
CHALLENGE #2: Increasing CPC bids may cause overspend due to market saturation.
On-demand companies that are hiring and need to scale supply-side acquisition should be aware that the Law of Diminishing Returns is very much in effect. When companies advertise certain jobs on traditional job aggregators (e.g. Indeed and ZipRecruiter), they too often spend more on a cost-per-click (CPC) or cost-per-applicant (CPA) basis than needed
Enter the Law of Diminishing Returns. This popular economic theory states that "if one input in the production of a commodity is increased while all other inputs are held fixed, a point will eventually be reached at which additions of the input yield progressively smaller, or diminishing, increases in output."
In short, there comes a point in every PPC (pay-per-click) job advertising campaign where throwing more money towards a job ad will not yield an increase in ROI—that's the point where market saturation has been reached. Job boards operate off an auction model where multiple people bid on specific keyword terms on a CPC (or CPA) basis, and the highest bidder in the auction pays the PPC of the second-highest bidder. While you might feel the inclination to continue increasing your CPC bids to rank higher on job search results pages or to support a very hard-to-fill job, this strategy may fail to yield the desired results, depending on factors, such as the job, location, and especially, market saturation.
Growth marketers should be aware of the potential for market saturation to avoid running into the Law of Diminishing Returns and overspending unnecessarily. But how do you solve this challenge?
Solving market saturation and overspending starts with a clear understanding of the applicant volume goals for each role by market, as well as good communication internally. Start by determining your supply needs; you should research what the total addressable labor pool is in each market. From there, it's important to drill down further to separate and identify the ideal job seekers from the available labor pool.
Having candidate personas is a great way to identify your ideal job seekers. Building out candidate personas is a practice that will help you reach the right candidates, and it helps you create job content that resonates with your target audience to receive higher-quality applications.
CHALLENGE #3: Managing many markets, vendors, partners, and data points is time-consuming and daunting.
Having a successful supply-side acquisition strategy requires setting up geo-targeted market-level campaigns. However, effectively scaling supply-side acquisition or maintaining existing candidate flow simultaneously in hundreds of markets can be extremely time-consuming. Several different moving parts ensure that talent supply and demand are balanced adequately.
Before any job ad campaigns are launched, tracking across all recruitment advertising channels should be properly set up. Even once analytics are in place, managing all of the different vendor relationships can be even more time-consuming. Managing vendors could encompass negotiating contract renewals, handling day to day communications, last-minute changes to campaigns, and more. Outside of vendor relationships, any third-party agencies and partner relationships also need to be maintained. A good recruitment marketing campaign that effectively hits supply talent acquisition goals demands a significant time commitment to ensure that efficiency is achieved.
After all of the above has been completed, it's time to track the ROI behind your acquisition marketing spend and to take a look at the key performance indicators (KPIs) that matter the most to your team. Following the above suggestions are steps in the right direction to ensuring you maintain a market-level focus.
You can save time and increase your chances for success if you work with a recruitment marketing agency partner that has the expertise setting up effective market-level focused job advertising campaigns with proper tracking for ROI analysis, optimization, and can handle the relationship with the various publishers and 3rd party vendors.
CHALLENGE #4: Not all jobs, markets, or media are created equally.
Since not every job is created equally, then, in theory, every job deserves its own recruitment marketing strategy. Think about it. Recruiting for a delivery courier role in San Francisco, California will require a different strategy than recruiting for a delivery courier in Boise, Idaho. Regardless of how you define a "market"—whether, by Core Based Statistical Area (CBSA), Designated Market Area (DMA), Zip Code, Town, County, City, State, or some other geographical breakdown—the demand for talent supply acquisition naturally tends to be greater in larger metropolitan cities compared to smaller cities and rural parts of the country. Supply and demand dynamics are continuously in flux; therefore, so are your talent acquisition needs and costs (the volume of candidates you need and optimal CPC/CPA will vary).
On top of that, there's no one-size-fits-all recruitment marketing strategy that will hit your supply-side acquisition goals. Alternative strategies, outside of pay-per-click (PPC) advertising, should be incorporated in struggling markets. Other marketing strategies like targeted advertising, employer brand awareness, and sourcing and engagement can help get your company's brand in front of the right audience of candidates. In struggling markets where PPC and PPA channels are not as effective, you should consider diversifying your recruitment advertising media. Budgets should be reallocated to new channels to test how to best reach your target audience.
In desolate areas of the country, other forms of paid media advertising (e.g. billboards, print ads, career fairs, etc.) can be effective alternatives to supplement lagging performance on job aggregators. These forms of advertising are valuable if you need to spread your brand's value proposition in more markets, which is especially important when launching into new markets. Diversifying your recruitment advertising channels is the most optimal approach to accomplishing your acquisition goals while factoring in the differences among markets, media, and goals.
WRAPPING UP
In closing, these four major challenges can develop into significant obstacles in properly scaling the candidate supply at the top of the funnel. However, all of these challenges can be addressed and successfully managed if you're willing to dig into your recruitment marketing strategies to understand where and how to improve.
If you're interested in learning more about Recruitics marketplace expertise and how we can help you scale your supply-side talent acquisition efforts, contact us today!
--
Posted by Cory Kapner

Cory is the Vice President of Global Sales for Recruitics - a recruitment marketing analytics and optimization platform. Over the past 8 years, Cory has helped major marketplaces, staffing firms and Fortune 100 companies with their talent acquisition and retention strategy. Cory brings a data driven, subject matter expert approach to all situations and has proven to be a strategic partner for clients in both North America and Europe. His past experience includes Michael Page International, Indeed.com, and is a founding member of Recruitics.