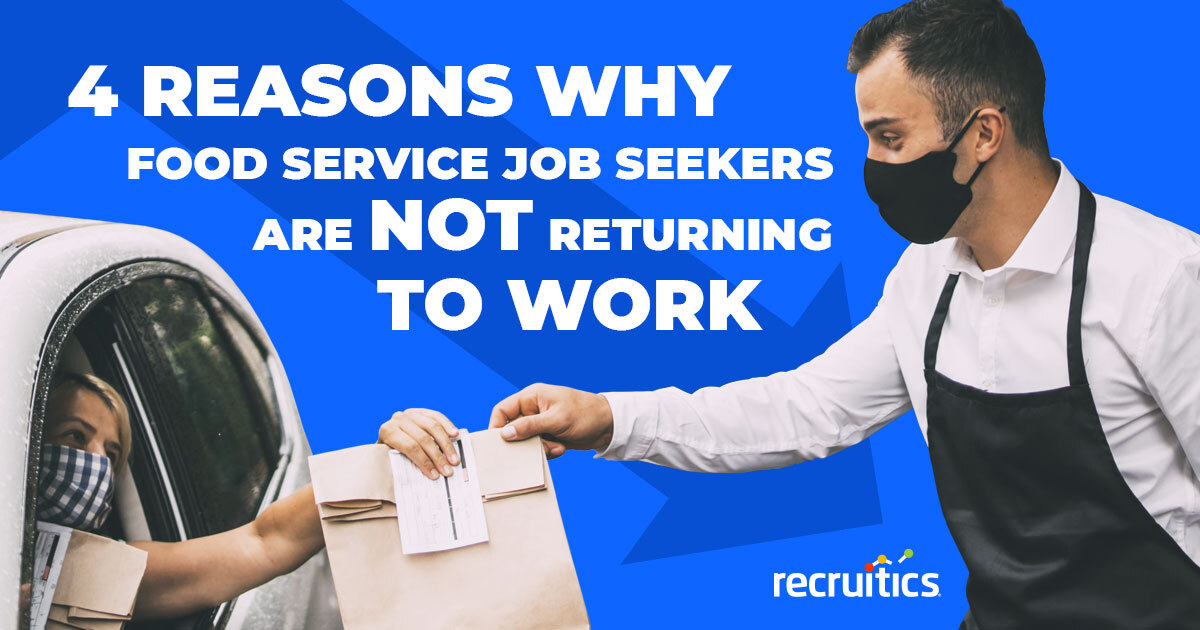 Due to the pandemic, there is a huge deficit in workforce participation that's causing even more of a labor shortage than anticipated.At the end of December 2021, there were 6.3 million unemployed people in the US. In September, federal unemployment benefits ended, and many companies were expecting to see an impact on job seeker interest. However, a lot of people are still sitting on the sidelines, and the impact many companies were hoping for did not happen.
With the unemployment rate being 3.9%, and close to pre-pandemic levels, many businesses are having issues hiring talent -- especially in the restaurant & retail industries. A lot of businesses aren't able to open new restaurants because there are not enough people to staff up the locations. This is impacting growth, reducing operating hours, and causing friction in the industry – which is leading to challenges when recruiting and retaining talent.
Another challenge for many companies is that a lot of candidates aren't seeking this kind of work. To elaborate, to work in a restaurant, talent has to be in person all day, commute to the job, interact with the public, and for some, this may be uncomfortable. There's also concern with health and safety and how businesses are going to manage that properly. Many job seekers aren't looking to take the risk or looking to lose the opportunity to find a job that's flexible.
Read more to learn what hiring managers are seeing in the market and what businesses can do to combat these issues.
Current Labor Dynamic
Job openings declined in November 2021, from 11.1 million to 10.6 million; but the gap between job openings and unemployed people widened to 3.7 million – surpassing the July record of 2.2 million and making it the largest ever.
Looking at workforce participation, in April 2020, it took one of the biggest hits in modern history, and there's been strong growth in participation month-over-month since. However, workforce participation has not been able to go back to pre pandemic levels -- with the drop off in labor participation being as substantial as it was in the beginning of the pandemic, the gains made recently have not brought the workforce back to early 2020 levels.
A lot of job seekers were impacted by the pandemic, with women being disproportionately impacted in many cases -- because many had to stay at home to take care of their children. McKinsey shares that one in four women are considering leaving the workforce or downshifting their careers. Also, during the pandemic, mothers are more than three times as likely as fathers to meet the majority of the demands for housework and caregiving.
Also, baby boomers are starting to retire, and they're not coming back into the workforce -- when before, it wasn't uncommon to see retired workers unretire. Many are not returning back to work due to health concerns, and there's an increase in the retired population as time goes on.
SOURCE: U.S. CENSUS BUREAU, NBER, GLASSDOOR

Why Are Job Seekers Not Returning To Work?
There are many reasons as to why job seekers aren't returning to the workforce, but the following being major contributing factors:
Shift in Mindset : Karin Kimbrough, LinkedIn's Chief Economist, shared in an interview with

60 Minutes

"People have been living to work for a very long time. I think the pandemic brought that moment of reflection for everyone. 'What do I want to do? What makes my heart sing?' People are thinking, 'If not now, then when?'" Candidates are looking for opportunities that fit their lifestyle better, especially when it comes to work schedule flexibility
Childcare / Homecare: A top reason is because many people can't leave their home. In households with kids going to school virtually, a parent often needs to be present. Also, even though many school-aged kids are back in school, sometimes kids have to quarantine for weeks at a time, which can lead to a lot of uncertainty and a need for flexibility. For some families, if they can get by on one salary, they may choose to do so for the good of their family.
Not Worth The Money: The debate around a $15 minimum wage continues, businesses are finding that they have to pay that much just to hire the people they need. For jobs that are high stress with inflexible hours and few benefits, it's just not enough money to entice applicants.
Unemployment / Stimulus:

With some of the supplemental programs that were offered, people were actually able to save up enough money to sustain them past the point of when the federal unemployment benefits ended. So, many aren't in a rush to get back to work because it's not worth the money. Employers are getting so competitive that they're paying and offering many benefits -- like sign on bonuses -- where it's really a job seeker market and they can pick and choose the right job.
Traffic To Job Posts
According to Recruitis data, for the fifth quarter in a row, the average conversion rate has fallen. Not only are jobs receiving less traffic on average, but the amount of candidates who convert to an apply is also dropping on average quarter over quarter. In Q3 2021, there were the lowest average conversion rates in over a year due to increased options for job seekers as more and more jobs are posted. Candidates are being more selective than ever. With this, companies are getting less candidates interested in clicking on jobs and are having to spend a lot more to get less, and many aren't converting at the rate that they once were -- as a result of the competitiveness in the marketplace, CPAs are rising.
SOURCE: RECRUITICS DATA
What Job Seekers Are Interested In
Two factors that are most important to job seekers right now are flexibility and pay. Oftentimes, for many employers, flexibility can be hard to manage because they need to be present at the restaurant. With this, companies need to think about how to create some flexibility within shifts. If a company can offer flexibility, this is a benefit to show off. For pay, a lot of people are looking for more money -- with 39% of survey respondents saying compensation is their highest priority. With the conversation about raising minimum wages growing, some employers have been really intentional when talking about raising minimum wages. Showcasing a higher pay and even advertising a sign on bonus will help companies remain competitive and attractive for job seekers.
Two factors that are seeming to be less important to job seekers are benefits and safe conditions. Only 13% of survey respondents said better benefits would be the most important part of their job search. Also, job seekers are less interested in health care plans, since pay and flexibility are more important to some. With 11% of job seekers surveyed agreeing that safety is their top priority, it's apparent that to some this isn't the biggest driving factor in whether or not they're gonna click on a job.
How To Remain Competitive
With the competition for talent being so high, it's crucial for companies to ensure their hiring process is smooth and that candidates will not have issues at any stage. If there are issues, the candidate will likely move on and look to the next company hiring. To combat this and remain competitive, there are a few things companies can do.
First, making sure there's no friction for candidates when applying for jobs on the career site. Many job seekers are searching and applying for jobs at a higher rate on mobile devices, so it's important to consider the mobile candidate experience. Also, if there's an arduous apply process, many candidates may abandon their application. Job seekers are looking for an easy and seamless process, and easy apply can be beneficial to help with this. A great tip for companies would be to test the apply process to see if there are any areas that can be removed, test on mobile to see what that process looks like, and remove any parts that seem to be clunky. Also, introduce lead capture forms and nurture candidates through the apply process.
Another tip is to read job descriptions and the qualifications and remove nice to have qualifications. To elaborate, does the job actually need a college degree? Is it really necessary to have a resume for this job? If a company is hiring an entry level crew member and doesn't need to review a resume, don't ask in the job description for one. Also, if a job is doing well with COVID safety, it's worth talking about in the job description.
It's also wise to showcase the company's benefits and why people can benefit from working at the organization. When possible, highlight competitive pay and/or sign-on bonuses at the very top of the job descriptions (and experiment with including it in titles, too), and share if the company offers remote work or if there's COVID safety procedures in the workplace. Also, investing in EVP and employer brand will help showcase to job seekers what sets the company apart. Make it easy for candidates to see why they would want to work for the company -- and tell the story!
With candidates applying to many jobs at once, speed in recruiter responses is also really important. The faster hiring managers get back to a candidate and move them through the funnel, the more likely they'll beat competition. The reality is that many companies are hiring, and it's critical to make it as easy as possible for candidates to discover the benefits of working for an organization and express interest in the roles.
--
As companies continue to fight to win talent in this highly competitive hiring landscape, employers will need to strategize how best to attract and retain talent. When looking towards the future, updating hiring practices will ensure companies remain competitive.
If you're looking for help on how you can best strategize for the future, reach out to Recruitics!
Posted by Mona Tawakali

Mona is a Chief Strategy Officer at Recruitics. With over 13 years of experience helping Fortune 1000 companies with their recruitment marketing efforts, Mona is considered an industry thought leader in data-driven recruitment marketing solutions and is passionate about finding innovative ways to deliver the best ROI on all advertising investments. Mona holds a master's degree in internet marketing from University of San Francisco, and she earned her B.A. in broadcast journalism at San Francisco State University.