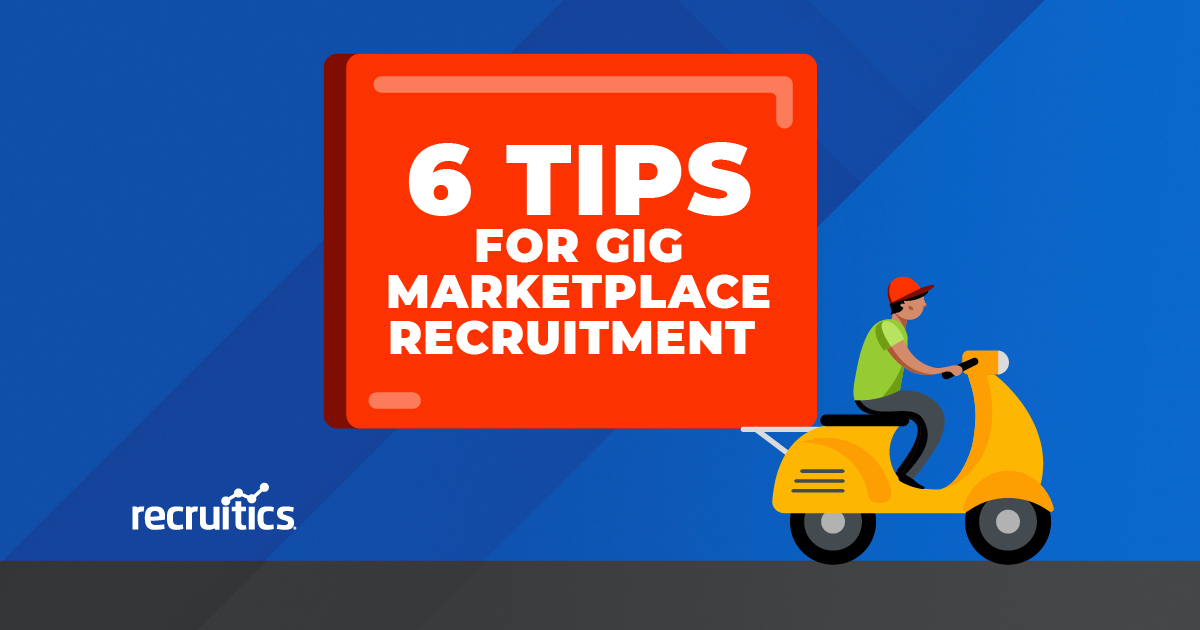 The composition of today's workplace is evolving rapidly. Currently, five generations -- from the Silent Generation to Gen Z -- are actively working. Fifty-seven million workers of all ages are currently participating in the U.S. gig economy. And Gen Z is the most "racially and ethnically diverse generation" to date.
Often referred to as the "shadow workforce," ADP reports that the gig economy includes workers from all ages, backgrounds, experiences, and skillsets. Business services, construction, and recreation are the top three industries using gig workers. However, for those gig workers under the age of 34, they "view themselves as traditional employees, perhaps reflecting the shift in the workforce."
The gig economy is growing and becoming very common for many workers to participate in. With these opportunities, it's important for companies to have a competitive advantage -- and you'll want your company to get and stay ahead.
Here are 6 tips for gig marketplaces to help with your recruitment strategy.
Tip #1 Be Proactive, Not Reactive
When adapting your recruitment practices to the gig workforce, you must be proactive. Understanding how your business works regarding attraction and retention of talent, understanding your consumer seasonal patterns, and understanding what's trending in the marketplace and economy all directly impact your recruitment success.
Being reactive instead of proactive is an easy trap to fall into, as we all have mile-long to-do lists, causing us to push tasks to the back burner. Pushing things off, however, can quickly get out of control.
For example, if you're reactive in your recruiting, you may be further behind than you think. However, since it takes time to acquire new leads, realistically, you may be two to three weeks behind, not two to three days. Instead, by paying attention to the ebbs, flows, trends, and results within your organization and outside the marketplace, you can better anticipate your company's needs, allowing you to strategically take advantage of your proactivity.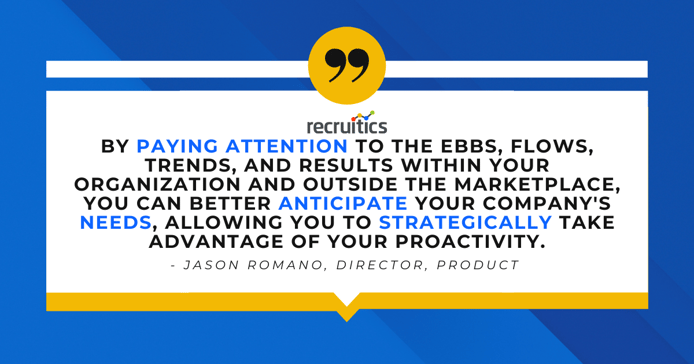 Let's look at a specific example of how reactivity can be detrimental to your recruiting efforts. Historically, we know that strong demand for convenient services exists from the middle of August to the middle of September, or back-to-school time. As parents are busier getting their kids ready to go back to school, they don't have as much time to go grocery shopping or cook dinner. Instead, they want to order food delivery or pick-up, making their lives easier during this hectic time.
If your business involves food delivery or other convenience services, not understanding or anticipating this behavioral spike in the marketplace can put you behind -- way behind. In addition, once these consumer demands increase during the second week of August, it's too late for you to recruit, hire, and on-board temporary delivery drivers or food shoppers, causing you to miss out on the revenue brought about by the seasonality of "back to school" demands.
The best players in the space understand, anticipate, and expect that this uptick in food services is coming, allowing them to plan four to six weeks ahead. By having delivery drivers and shoppers hired and on-boarded, these proactive employers can take advantage of the consumer demand, with the benefits directly and positively impacting their bottom line.
When planning for seasonal spikes in demand, ask yourself these questions:
At what time of the year are consumers more likely to use your service? What time of day? What time of week? What time of month?
When do you have a greater supply of gig workers on your platform?
As highlighted in the example above, if you're in the food delivery business, ask yourself: At what point do your gig workers start to drop off after making ten deliveries? 20 deliveries?
By delving down into these questions and the resulting answers, you can better understand how your supply of gig workers will meet consumer demand at both its peaks and valleys. Further, you can determine the lifecycle of your gig workers and their retention.
To elaborate, if 80% of food delivery drivers drop off your platform by the third month of deliveries, then what can you do to counteract that? Understanding these metrics is critical and helps you understand the health of your gig workforce.
According to Tim Robbins, VP of Staffing and Recruiting at Monster, "the pandemic-fueled trend of using temp workers to handle the ebbs and flows of demand will continue well into 2021 -- especially in certain industries." Key sectors such as warehousing, transportation, healthcare, retail, and hospitality will all continue feeling the need to tailor recruitment to the gig workforce to handle these ebbs and flows. Thus, by being proactive,, employers can better position themselves to take advantage of this seasonality and not be left behind.
Tip #2 Balance both the consumer-side demand with the supply of people working on the gig platform
When focusing on being proactive in your recruitment efforts, don't forget to balance both the consumer-side demand with the supply of people working on the gig platform. By understanding the intersection of consumer demand and your access to gig workers, you'll be more prepared when anticipating your gig worker supply in response to consumer demand -- while considering changes in the marketplace and economy. Failing to see how each counterbalances the other can cause you to lose out on opportunities, negatively impacting your bottom line.
Tip #3 Understand What Makes A Quality Lead
Today, to stay competitive, employers must focus on a lead generation strategy producing quality candidates -- not just someone to fill a position. But what does a quality lead look like?
Well, it depends. It depends on your business, industry, and goals. For example, you'll want to establish certain metrics particular to those positions for food delivery drivers. Have they passed a background check? Do they have a valid driver's license? Are they over the age of eighteen? Establishing lead generation metrics such as these will help you determine which applicants may convert to a hire and then to on-boarding.
Further, since food delivery drivers don't have to show up for work at a brick and mortar, you'll also want to establish a metric for that first delivery. After all, attracting quality leads won't mean much if they don't complete a shift or an order once on-boarded. So by establishing quality metrics, you can better attract quality leads.
TIP #4 Understanding & Adjusting To Differences in Recruiting Costs
To really understand how to determine your hiring goals, you must understand your data. For example, when recruiting for high consumer demand, such as the demand for convenience services during back-to-school, you can determine mathematically how many quality leads you'll need at the top of the funnel to meet your target. Additionally, data can identify other metrics impacting your recruitment, such as the "success of your employer brand as a recruiting tool" or "[s]upply and demand for talent in your area."
By objectively studying your data, you can also measure consumer-side demand using machine learning models that will more precisely predict seasonality while ingesting changes in trends and demand in real-time. By using robust algorithms and forecasting models, you have access to actionable data, based on historical patterns and real-time changes. Understanding your data will provide you with information needed to create new goals -- also in real time -- helping you to stay ahead of the competitive curve.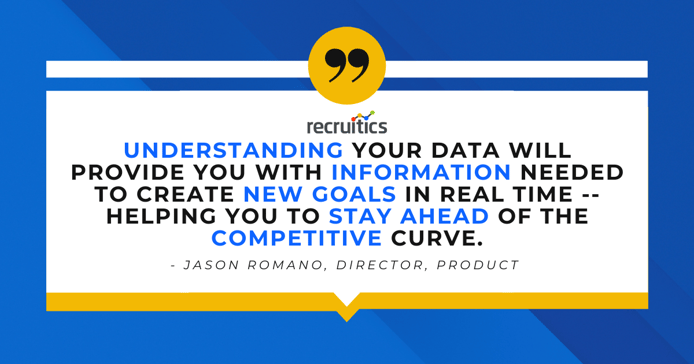 Tip #5 Review Your Data RegularLY
For data to be truly compelling and actionable, you'll need to review it often. How often will depend once again on your company, industry, and goals.
If you're examining your top-of-funnel metrics, you may look at your data weekly or daily. However, if you want to look further down the funnel to interviews and offers, then you may dig a bit deeper into your data, seeing how you're trending against your established metrics. For this, reviewing your data daily may not be necessary. Instead, you may find it more beneficial to view your data monthly or quarterly.
No matter where in the funnel you're looking, you should tie your data reviews to your hiring goals as they go hand-in-hand.
Tip #6 Try To Differentiate Yourself
With 9.3 million U.S. job openings (a record-setting number) and 80 percent of employers stating they are having "difficulty filling openings due to skills gaps," competition for quality talent is fierce. Employers must provide benefits and added value to attract the best candidates or find themselves stretched thin.
With the continual shift in workplace composition, employers must examine the tug-of-war that's going on right now around whether ideal candidates should be traditional full-time employees or whether they should be freelancers or contractors. Further, employers should examine what kind of benefits or incentives these workers should receive, determining if the employer can provide any additional value enticing these workers to want to on-board -- and once on-boarded -- to stay.
For example, if food delivery drivers make 100 deliveries by a specific date, they may be entitled to a bonus -- whether they are traditional full-time workers or gig workers. Since there's so much demand for qualified workers, but such little supply, employers must create a recruiting and retention strategy that incentivizes workers to not only on-board but to perform the services offered -- such as food delivery.
Differentiating yourself through pay, benefits, incentives, and flexibility can help you stay ahead of the competition in a tight and ever-shifting labor market.
Moving Forward
With the gig economy growing as it is, competition is as fierce as ever. To get a leg up on the competition, it's important to remain ahead of the curve and to implement the best recruitment policies, procedures, and practices.
If your company wants to adapt your gig marketplace recruiting practices, keeping you competitive in an evolving workplace, contact Recruitics!
Posted by Jason Romano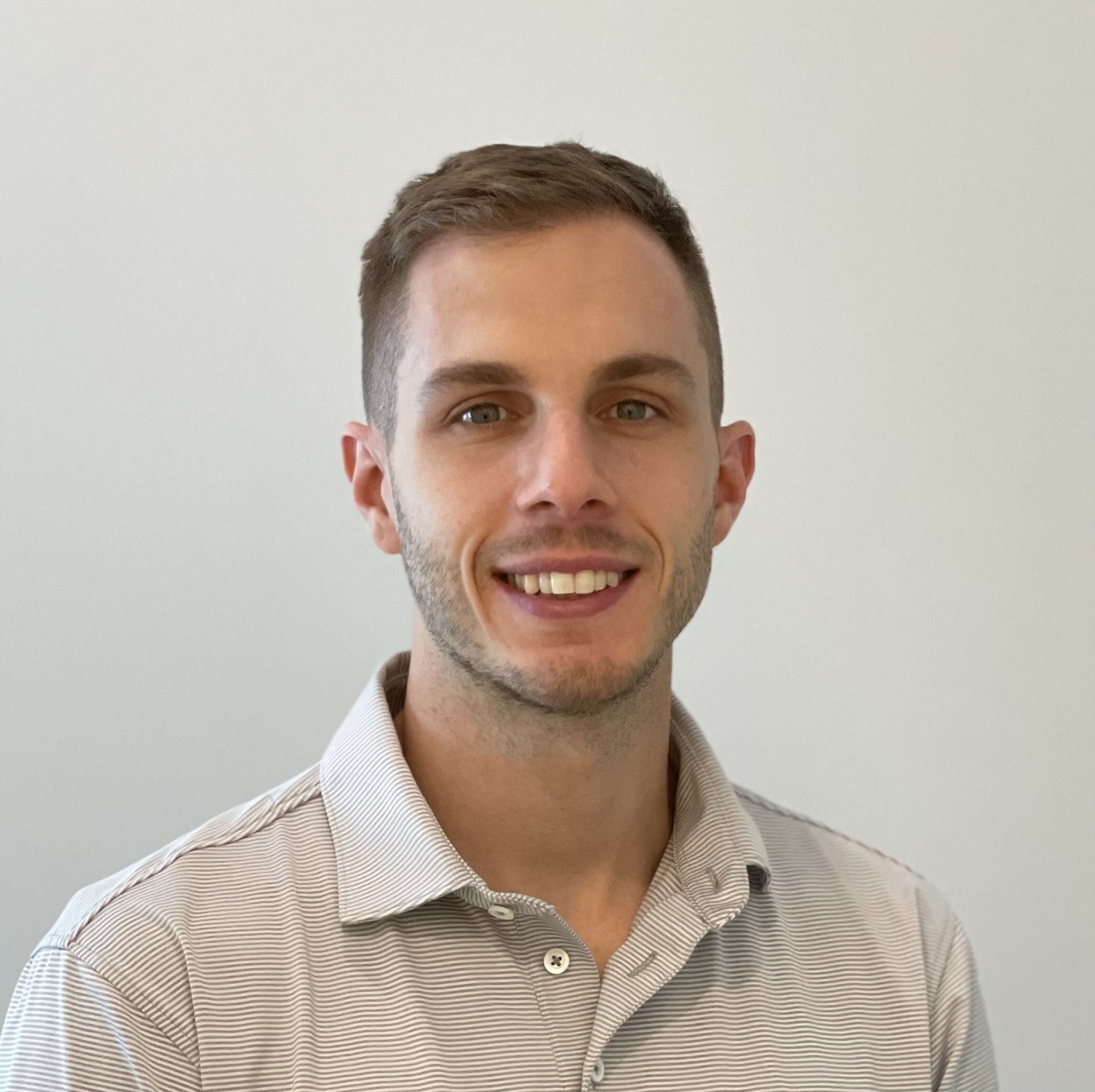 Jason Romano is a Director of Product at Recruitics. Jason attended Rutgers University where he earned a Bachelor of Science in economics. He's been at Recruitics for over 5 years, and throughout his time, he's taken on many roles -- from working on our internal marketing team to working directly with clients. Outside of work, Jason loves to be outside, so you can find him playing golf, basketball or going for hikes. Also, he's a huge car enthusiast and tries to attend as many meets and shows as possible.