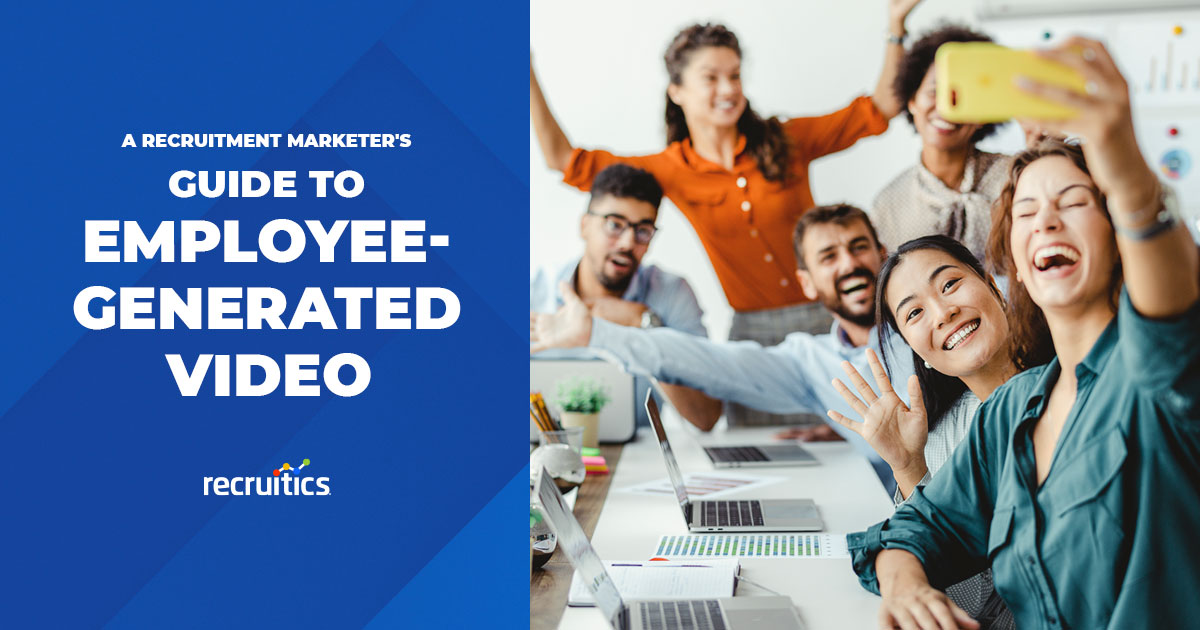 When it comes to attracting talent to an organization, candidates want to know what it's really like to work for the company. The job seeker audience craves authenticity and transparency. They want to hear from real people and learn about real experiences. Employee-generated video builds authentic connections and allows candidates to envision themselves at the company.
According to iCIMS, companies that produce employee-generated video content can see a 37% increase in time-on-site from candidates. Through employee-generated content, candidates can get an understanding of what it's really like to work at a company and get first-hand stories of what a day-to-day job might be like. Companies who utilize this type of content tend to see an increase in the time spent on their career site and a 34% increase in candidate conversion rate!
There's been a growth in the creation of employee-generated content (EGC), and companies are seeing the impact on channels like TikTok, Instagram, and YouTube. These channels are impacting the rise of candidates who are interested in hearing authentic stories, because many employees are already posting about their jobs organically on their personal accounts. Studies have found that videos shared by employees receive eight times more engagement than content shared through brand channels.
A great way to see how much activity there is on these channels is to search with relevant hashtags. Here are some examples on TikTok:
#dayinthelife has 5.4 billion views
#workvlog has 64.7 million views
If companies are thinking that their industry wouldn't benefit from employee-generated videos, here are some examples of employees and companies doing it right:
Nurse day in the life example:
Source: https://vm.tiktok.com/TTPdAR9L5V/
Advertising/Social Media day in the life example:
Source: https://vm.tiktok.com/TTPdARBoPL/
Example of a brand who does it really well: TikTok
Source: https://www.tiktok.com/@lifeattiktok/video/7021634866693295362
What Are Employee-Generated Videos?
An employee-generated video is a form of content that incorporates video footage shot by and featuring employees. These videos can be used both internally and externally to promote company culture and attract new talent. The content can be utilized across the career site, social media channels, job postings, advertising campaigns, and more.
Incorporating employee-generated video into talent acquisition efforts is a smart business practice. Allowing employees to be a part of content creation allows employees to become advocates for the brand and amplify the brand message. Having an employee-generated video strategy will help empower and guide a team to share their stories while reinforcing the company's employer brand.
Tip: Companies should keep in mind that not every employee is going to be camera-savvy, or they may be camera shy. If the recruitment team is having a hard time drumming up participation, start small. Identify employees who are top performers or who are socially active and would be great on camera. Don't hesitate to ask around – department managers will likely be able to help identify their team members who would be willing to participate.
The Importance of Employee-Generated Videos
Including employees in the recruitment marketing content can help a company stand out, since job seekers are three times more likely to trust employee reviews over statements made in a job posting. Also, 80% of people want brands to tell human stories, so showcasing authentic employee stories can have a major impact on the recruitment process.
With 85% of people sharing they'd like to see more videos from brands and 43% of people say that branded videos are the most memorable content shared by companies, it's a no brainer that adding employee-generated videos can help companies showcase their employer brand and become memorable – which will be necessary when remaining competitive.
The Benefits of Employee-Generated Videos
From driving brand awareness, to showcasing recruitment opportunities, assists with external messaging, improving brand trust, and increasing thought leadership – there are many benefits to adding employee-generated content into a recruitment strategy.
Here's a deeper dive into other benefits to employee-generated videos:
Adds a fresh perspective: Featuring employees enables a diversity in perspective and allows for a more comprehensive view of the company culture. These videos shine a light on the organization in a fun, light-hearted way.
Creates credibility: An employee-generated video creates trust. It generates interest because it comes from a real person with a real message. The audience viewing an employee-generated video are more likely to see themselves easily on the team and what it would be like day-to-day. Incorporating employees from each team at the organization helps ensure the content utilized to recruit specific candidates resonates with the items that mean the most to them in their given role/field.
Provide greater reach: The beauty of social media is that it offers a domino effect. Companies should encourage employees to post the video to their own social media channels to build their personal brand and extend the reach of the brand's marketing efforts. If it is appreciated by just one person, it is shared again. The average employee has roughly 350 LinkedIn connections or Twitter followers. Multiply that view by one hundred people, allowing the message to have an even wider reach.
Improve employee engagement: Companies look for ways to increase employee engagement, and

EGC's

are a great way to create a positive dynamic between the organization and the employee. Employee-generated videos help show employees that companies value their work and insight, and can lead to employees feeling more rewarded and knowing that their experiences and voice matters. As they tell their story, it reinforces why they work for the company and how their performance relates to the overall success of the organization.
Improves personal performance: In addition to increasing employee engagement, creating employee-generated videos improves the employee's communication skills as well as their confidence. It opens doors for other opportunities such as blogging for the company, speaking opportunities, and training other employees.
Getting the Most Out of Employee-Generated Videos
There is something magical that happens when employees get involved in the content creation process. Many employees are proud of where they work and the company's values, but sometimes don't know how to share with the world. These videos allow teammates the platform to be a spokesperson for the company and help build a team of like-minded people.
To get started, companies will need to:
Understand the goal: Recruitment teams will need to brainstorm around what the company wants to achieve with the video and cater the questions to match what the goal is. This could be tutorials, behind-the-scenes looks, what the company benefits are, and company announcements.
Provide the necessary tools: Most employee-generated videos are created from the employee's phone. Companies can pair up with tools such as

iCIMS Video Studio

, which allows companies to spotlight their own people and facilitates an organizations' ability to stay in-house while producing custom-branded video content.
Creating guidelines for content: Before engaging with employees, companies should consider key talking points they wanted to ensure are highlighted in the content. Creating prompts and guidelines for content development helps spark thoughtful responses and allows the employee to put their own creativity into the response. Companies should allow room for employees to bring their own ideas into the video creation process – providing a rigid script or guideline could lead to the videos coming off as overproduced and inauthentic.

Some sample prompts to consider are:
What makes the company culture unique?
What's a day-in-the-life like for you?
What advice would you give to a candidate to be successful on the job?
How do remote teams collaborate?
How do benefits compare to industry standards?
How would you describe the company's vision
Understand how to brand the content: Once content is collected and edited, make sure to unify the brand experience. This can be done by adding the company's logo, font, and images into the video content.
Post the content: Once the videos are created, companies should encourage their employees to share across their social media platforms. Organizations should also add the content to their career sites, social channels, in blog posts, podcasts, on YouTube, in job postings, and more.
Tip: Consider holding brainstorming sessions with teammates to stir up ideas on which videos might have the greatest impact on attracting quality talent and increasing brand awareness. These sessions will not only provide greater marketing videos, but will uncover areas in the organization to either shine the spotlight or improve upon.
--
Questions on how to update your recruitment strategy to include employee-generated videos? We're here to help!
Posted by Melissa Van Dyke

Melissa is a Director of Paid Social at Recruitics, where she brings her passion for social media to the table on a daily basis. She puts her fun personality into each custom campaign she creates. (You've probably seen a few on your Facebook feeds!) Melissa is a Saint Mary's College of California alumna where she earned a Bachelor of Science in psychology and a minor in business administration. Outside of work, you can find her either attending country music concerts or binge-watching reality TV. Melissa is as dedicated to her clients as she is to the Real Housewives franchise.