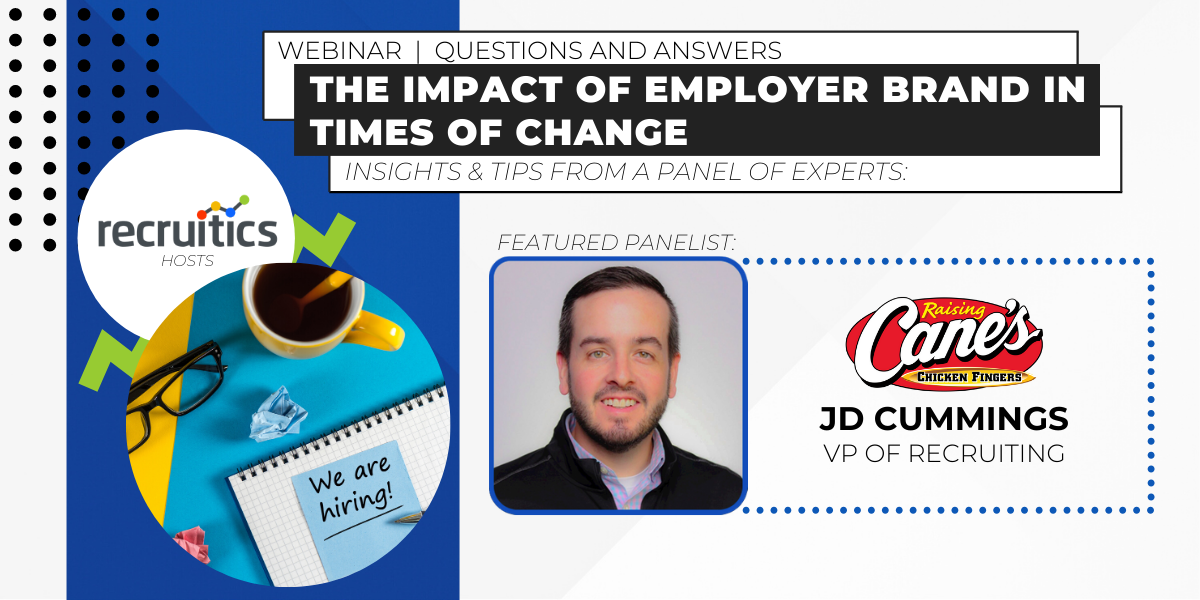 On a recent Recruitics webinar on the topic of "The Impact of Employer Brand in Times of Change: Insights & Tips from a Panel of Experts," I was a panelist among employer branding and recruitment experts that shared insights and information on how they are navigating challenges of COVID-19. During this webinar, many questions about employer branding came up, so in this post, I am diving deeper into these questions from actual webinar attendees. Here you go!
Q: "How are employer brand teams and corporate communications teams playing nicely in the sandbox with seemingly competing priorities?"
A: We do not feel as if there are competing priorities in communications, at least for our business. We are open and hiring, and those messages are very complementary. Also, our commitment to keep everyone employed with "No Crewmember Left Behind" is an important message for both our consumer and candidate audiences to hear.
Q: "There are some harsh realities in companies right now. What challenges have you seen employer brand teams have with corporate communications teams, or have you had to scrap employer brand launches or reduce content flow to shared channels in response to COVID-19?"
A: Our focus has and always will be on our people and taking care of our Crewmembers, Customers and Communities. These core and foundational areas of our company culture. This type of focus builds strong engagement and sentiment internally which, ultimately defines an employer brand. The only challenge we have faced is finding the right way to convey that externally to candidates who have not yet had a chance to experience our culture firsthand. Our Recruiting team is working with Marketing, Internal Communications, IT, Operations, etc. to find different ways to share that story as well as ensuring we are reaching the right audience and our leadership is very supportive of that.
In fact, we are in the midst of preparing to launch a new careers website with updated copy, creative and a completely revamped user experience. That project is still moving forward and may be more important than ever right now as we are looking to hire 5,000 new Crewmembers to staff our restaurants. We have also had an increase of press coverage about our "No Crewmember Left Behind" commitment which has provided some additional content to share. We have always had a great story to tell, but it sometimes got lost in all of the white noise of every single company out there screaming and shouting about their great culture, opportunities for growth, etc. Being able to highlight our commitment to keeping everyone employed and all of the steps our team has taken to support our communities has given us an opportunity to reinforce our story and get that message out to a broader audience.
Q: "What are some of the most persuasive arguments to make to leadership to convince them to lean-in on employer branding during this time? How are you selling the value of employer branding to executives who aren't even thinking about this right now? How will we remind decision makers of the importance recruiting and employment branding are post-pandemic?"
A: It is pretty simple in my mind - the people in your organization will determine long-term success of the business. To get the right people into your organization, you have to focus on talent attraction, selection and onboarding. Not every company will have the same, cookie-cutter recruiting strategy or emphasis on employer brand, but ignoring it all together can be detrimental to achieving organizational objectives by limiting your ability to acquire the best-fit talent for your open positions. Candidates have access to information about your brand and what it is like to work there whether you like it or not. It is important to take control of the narrative by being open, honest and transparent about the realities of your business along with highlighting the competitive advantages in your employer value proposition (EVP). This will help attract the best-fit candidates and repel the candidates that would not fit within your organization.
Q: "What metrics do you use to measure employer brand strength?"
A: Every company may use different metrics depending on the composition of their workforce. Even if companies use the same metrics, each organization might look at individual metrics through a unique lens and determine what it means for their specific organizational objectives. Net Promoter Score is a pretty critical metric for us to measure how our current and former Crewmembers feel about their work experience with us. If people, even after they have left your business, would still recommend you as an employer to someone else, that is a pretty solid indicator that your internal culture is strong. If your internal culture is strong, then all you have to do is find the right ways to tell that story externally and get that message into the hands (or news feeds) of candidates that are the right fit for your organization.
Q: "What advice do you have for those who are leading the employer brand in companies that are on hiring freezes or going through layoffs?"
A: Be as open, honest and transparent as possible. It will be rewarded long-term. People want to work for an organization that they feel can be trusted.
Q: "What is your advice for or thoughts on level of transparency (both internally and externally for B2C brands) for companies that are having to do some layoffs or furloughs, but also are still trying to sustain and grow business and might even be hiring for certain key positions?"
A: Be compassionate and caring, and make sure that you communicate all of the steps that were taken to try to avoid any difficult, people-related decisions (i.e. cutting executive pay, reducing discretionary spending, etc.).
Q: "How are you balancing the COVID-19 messaging that employers want to distribute with the burnout of audiences on pandemic messaging?"
A: Our focus has been on messaging that is important to our Crew, Customers and Communities. Plain and simple.
Q: "With more people working remotely, how are you leveraging employees to create content?"
A: We leveraged our support teams to record messages to our Restaurant Crew and Managers to thank them for all of their hard work as they continue to serve our Customers and Communities. We compiled some of these clips and shared them in a television ad that aired during the recent NFL draft.
---
I hope you found these helpful!
Learn more about employer branding on this resources hub. Also, the Recruitics Blog and Recruitment Marketing Resources page both have tons of other great resources about recruitment marketing, talent acquisition, employer branding and more.
Additionally, you can get access to the full webinar recording here, or you can watch the section of the webinar on "Employer Brand & Messaging Lessons Learned from Leading Brands" below.
Featured Resources:
Posted by JD Cummings