As you might have noticed, Google is making quite the stir in the online recruitment space lately.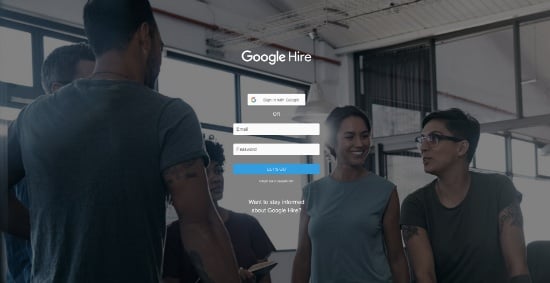 Many have speculated for years that the search giant--with its seemingly endless resources--was uniquely poised to disrupt the industry, but for whatever reason had avoided throwing its hat in the ring.
But last month that all changed with the launch of the Google Hire website, and now many are wondering what this might mean for their recruitment strategy?
What is Google Hire?
Before we can get to what this means for your recruitment strategy, it's important to understand what we're dealing with--as there seems to be some confusion among HR and talent acquisition professionals.
So, what is Google Hire? Right now, it's honestly not much. If you head to the website (linked above) you're simply sent to a sign in screen--and no, trying to sign in with your Google account probably won't work just yet.
But for everything Google Hire isn't, there's enormous amount of speculation about what it might be.
Here's just a quick sampling of some of the rumors circulating around Google Hire:
An HR and employment ecosystem like we've never seen: According to Joel Cheesman on ERE Media, Google has its sights set on the entirety of today's HR tech stack. Cheesman's sources are telling him that Google has an ATS, careers site, jobs feed and even an algorithm in the works in an attempt to maximize their inevitable impact on the space.
Cloud-based applicant tracking: Megan Flamer at HR Tech Weekly has another idea about what Google might be up to. She notes in her piece on Google Hire that the algorithm masterminds behind the search giant might be building a system that can perfectly match job candidates to available positions. By leveraging their advanced machine learning and big data capabilities, Google could match job seekers with employer preferences and needs at unprecedented levels of accuracy and success.
One search to rule them all: We all know that Google is king when it comes to web searches, but for job searches, your first thought might be a job aggregator like Indeed. Google may be looking to take on job aggregators by baking job search results directly into their web page results, as reported by Chris Russell at Recruiting Headlines
So, we can't yet pinpoint exactly what Google is up to with their latest launch, but based on the rumor mill alone, it's something worth speculating on. In any event, it's important to be prepared for how this might change the recruitment landscape, and in turn, your recruitment strategy.
What does Google Hire mean for my recruitment strategy?
Right now, Google Hire won't have much affect on your recruitment strategy. However, once Google Hire releases more information, there's a good chance the landscape will change in the world of online recruitment.
However, given the information we currently have at hand, we can make some educated guesses as to what the effects of Google Hire might be. So let's start by breaking down the effects of each rumor above:
An HR and employment ecosystem: If Google plans to roll out a soup to nuts HR and employment ecosystem, the effects of this might not be felt immediately. For one, if Google is to replace the entire HR tech stack as we know it, they'll need to wait for the most established businesses, with already heavy investments in HR technology, to adapt. We'd also need to wait and see how job seekers react to job ads powered by Google rather than those powered by other job distribution platforms and applicant tracking systems. All in all, the potential here is for a unified HR tech stack that's as easy to use as any other Google product--forcing others in the space to keep pace. Basically, this means you'll either benefit directly from Google's new products, or from the innovation spurred by your current ATS provider (for example) who is trying to retain customers and keep pace.

A cloud-based ATS: This is another possible strategy for Google and one that would fit nicely into current industry trends. As has been widely reported, there's a lot of innovation currently taking place in the ATS space, and the addition of Google will only make competition stronger--meaning better products at large for HR and talent acquisition professionals. If Google intends to flex its algorithmic and machine learning capabilities, they could become a serious pioneer in the recruitment space's adoption of artificial intelligence. While this has the potential to make recruitment more efficient than ever, many still worry that too much AI involvement in recruitment is actually hurting talent acquisition.
Job ads showing in Google: Here is where we might see a direct affect to your current recruitment strategy. As we've explained in recent posts, such as our blog on job aggregators vs job boards, search engines like Google have not historically displayed open positions in their search results. That's because job aggregators largely handled that market--which is why many are known as "search engines for jobs." If Google decides to show open jobs directly in search results pages for job-related queries, it could mean a major shakeup in the way people post and search for job ads. For instance, major job aggregators like Indeed, Glassdoor, Beyond and more have strong search engine optimization (SEO) and pull large amounts of organic traffic into their sites from search engines such as Google. If these job aggregators are forced to compete with Google--and Google is responsible for a large portion of job aggregators' organic traffic--it could affect the organic traffic to your job ads on these aggregators.
Clearly, Google's entry into the online recruitment space will have some sort of impact on the industry, whether it's on the technology players, the job aggregators and job boards, or both.
The best way to ensure you're protected against major disruptions in the online recruitment space, is to ensure that your recruitment strategy is properly diversified. You can learn more about why having the right media mix is critical to recruitment marketing here.
It's also important to keep an eye on industry trends and news like this, to ensure you're never being blind-sided by major changes and disruptions in the space.
Sign up for our newsletter today and get important industry news and other content like this delivered directly to your inbox each week.
Posted by Sal Trifilio
Sal Trifilo is no longer with Recruitics, but brought value as a thought leader in the recruitment industry.