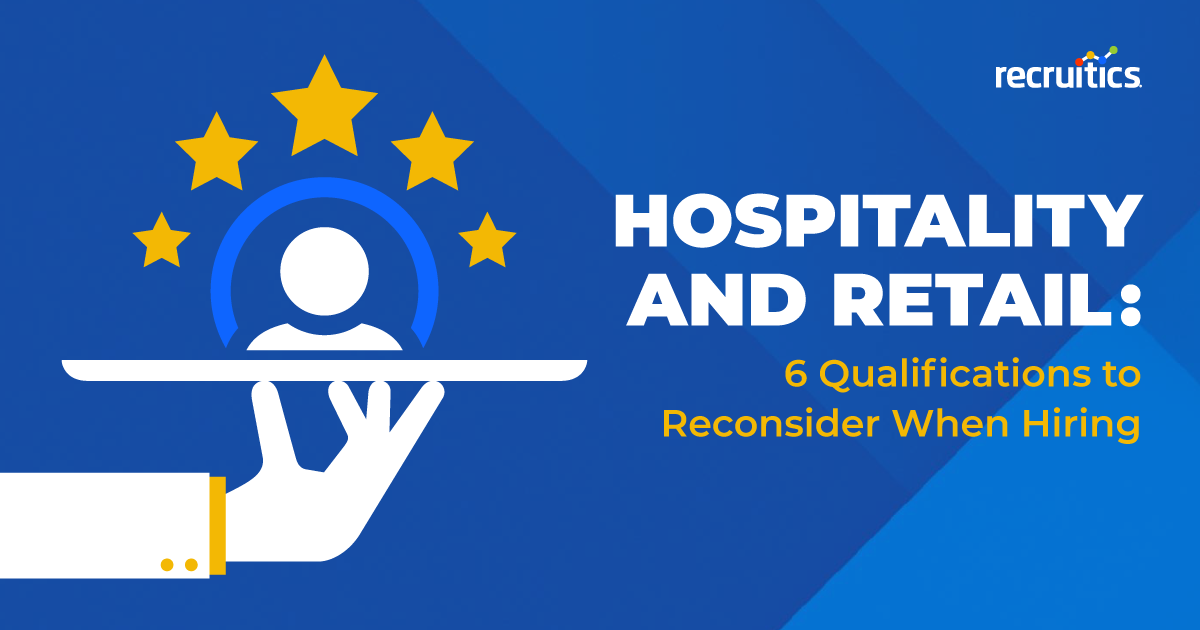 Employee recruitment and retention have always been hot topics in high-turnover industries like hospitality and retail. However, the last couple of years has sent these service industries on a wild ride – permanently changing how hospitality and retail organizations attract and retain talent in a very hot job market.
In 2021, for example, the hotel industry experienced an annualized turnover rate of 73.8 percent, while the retail industry saw turnover rates close to 60 percent. The Washington Post recently reflected on the financial impact of such high turnover, reporting that 60 percent turnover rates translate into "more than 230 million days of lost productivity and $19 billion in costs associated with recruiting, hiring, and training."
As the service industry approaches the peak hiring season, retailers and hospitality employers alike are gearing up for increased hiring and staffing. Experts project sales for the U.S. retail industry will rise 3.3 percent to $1.262 trillion for the 2022 holiday season across brick-and-mortar stores, e-commerce, and m-commerce.
For the hospitality industry, high gas prices and thousands of canceled flights don't seem to keep travelers at home. With 42 million Americans traveling over the 4th of July weekend, the hospitality industry can expect a high volume for the 2022 holiday season.
So, how can these service industries compete in a fierce talent market ahead of the peak hiring season? Read on to learn about six recruitment processes to reconsider when hiring specifically for the hospitality and retail industries.
1. What job qualifications may be preventing candidates from applying for open positions?
When job seekers start looking for a new job, it can be an exciting – yet nail-biting – experience. When attracting job seekers, employers tend to focus on how to attract the right talent in job postings and advertisements.
However, employers need to flip that coin and look at what job qualifications may be preventing job candidates from applying for open positions. After all, employers don't want to miss out on the right candidate at the right time. Therefore, understanding why job candidates don't click on the job posting is just as important as understanding why they do.
Indeed recently surveyed 500 job seekers across numerous U.S. industries about what factors influence a candidate to apply for a job – or not- even when they believe they are a good fit.
According to Indeed, "approximately one-third of job seekers have opted out of applying because they lacked the experience (31%), education (31%) or technical skills (29%)." Yet, employers and employees believe that job candidates only need to meet 70 percent of all job requirements listed, drawing statistical attention to 30 percent of requirements that potentially should be cut.
In other words, which requirements are required and which ones are nice to have? Do job candidates know which requirements fall in which bucket?
It's time to rethink job descriptions for the service industry. Consider cutting any drug testing, personality test, education (schooling/GPAs/certifications), skills-based tests, etc., that are not absolutely necessary for a candidate to be successful in the role.
By understanding what skills are necessary for the job and which are just nice-to-haves, service industry employers can attract a wider swath of talent – especially before the high-volume season.
2. Are company values highlighted in the recruitment process?
In the same 2021 Indeed study, 18 percent of survey respondents stated that they opted out of applying for a job because of "culture fit" concerns. Twenty-three percent of male respondents chose not to apply to a position because of a culture mismatch, whereas 15 percent of women opted out for the same reasons.
Therefore, creating a stellar employee value proposition (EVP) and employer brand (EB) while showcasing company culture is critical to attracting top service industry talent.
Contrary to industry jargon, EVP, employer brand, and culture aren't the same thing – and they aren't interchangeable. Let's look at each in turn:
EVP: wholly represents what employees value about their work experience.
Employer branding: is what a company becomes known for.
Culture: shapes behavior through an organization's mission, vision, and values.
Creating an EVP, employer brand, and culture that stands out will help attract the right people to the right jobs, but these need to be highlighted throughout the hiring process and even when considering a new position. Ensuring all recruitment advertising processes have updated EVP, employer brand, and culture information will be helpful, since communicating the most relevant information about a company to candidates is crucial for hiring success.
Tip: Be sure to share testimonials/videos to highlight culture, since candidates want to hear from current employees. Also, it's very important to respond to reviews on review sites such as Glassdoor to see what employees and past teammates say about the company.
3. Is an investment in career advancement spotlighted?
In Gallup's recent American Upskilling Study, 65 percent of U.S. employees "believe employer-provided upskilling is very important when evaluating a potential new job." Further, 48 percent of U.S. employees "would switch to a new job if offered skills training opportunities," not only impacting recruitment but impacting retention.
These recent statistics highlight the importance of investing in career development, not only after a job candidate is hired, but also while job candidates consider applying for open positions. Companies should also consider incorporating a management training program on the retail and hospitality side to show job seekers that they have room for growth.
Be sure to call out opportunities for career development, showcasing beliefs (and actions) about investing in employee training. As the statistics above show, spotlighting career development investment boosts culture, attraction, and attention.
4. Is current employee sentiment tracked, allowing employers to measure perceptions and pain points?
Another process that can set employers apart from other companies is tracking employee sentiment, helping to quantify and measure employees' perception of retail or hospitality companies – essentially measuring how employees feel about work.
According to a 2021 Gallup study, 36 percent of U.S. employees are engaged in work and their employer, whereas 15 percent are actively disengaged. Employee disengagement decreases productivity, increases absenteeism, decreases retention, and negatively impacts team morale.
Also, disengaged workers cost U.S. companies $450-500 billion annually. Engaging in regular employee sentiment surveys can make a difference in industries with naturally high turnover, especially during the holiday season.
An organization's responsiveness to feedback also makes a massive difference in attraction and retention. It can lead to higher retention, improved productivity, high morale, and a positive message to employees that their opinions matter and that what they have to say is valued.
5. Have service industry employers fine-tuned recruitment for seasonality?
Retail and hospitality employers must fine-tune their recruitment for the upcoming season. For many retail and hospitality employers, a significant number of full-time, part-time, or seasonal employees make up most of the hires during this time. But how do employers go about attracting and hiring high volumes of workers?
One way to advertise a large number of job openings at once is through programmatic job advertising. This type of advertising revolves around using technology (instead of people) for buying, placing, and optimizing job ads for retail stores or hospitality organizations. Essentially, programmatic job advertising knows when to purchase job ads, ensuring the right job candidates see job openings at the right time.
Additionally, when implementing changes to an employer's recruitment strategy, be sure to track and measure strategies (and results), allowing hiring professionals to see how well recruitment strategies are paying off.
But data for data's sake is not the answer. Employers must be able to track trends and results through data and analytics, providing actionable data. Actionable data allows companies to change or tweak recruitment strategies, optimizing them for the service industry at its busiest time of year – the holidays
6. How can recruitment technology improve the hiring process?
If there's one truth about technology – it's that it's constantly changing, improving, and impacting how we live and work.
Recruitment technology is no different. Technology will continue to change, improve, and impact how hiring professionals recruit. If it's been a while since recruiting professionals have reviewed or updated their recruitment technology, this is a great time to do so.
Here are some ways recruiting technology that can improve hiring processes, especially when service industries have high volume hiring needs for the busiest season of the year:
Applicant tracking system (ATS) integrations: allows hiring professionals to integrate job boards, social media platforms, background screening technology, and interview scheduling platforms into an ATS.
Automated assessments: a pre-employment or pre-interview assessment is a tool used to evaluate and measure a candidate's qualifications, reducing the time hiring professionals spend screening candidates.

Virtual interviews

: allowing hiring professionals to increase their reach into different talent pools across the US and world.
AI-enabled chatbots: contributing to the job candidate experience by answering common candidate questions 24/7/365.
Virtual onboarding: this gives employers and employees the opportunity to onboard through welcome videos, organization charts, training, and company information, all before the first day of work.
Tip: Make sure to track all metrics when advertising - from app-to-hire and CPAs, and dig into why applicants may not be converting. Partnering with an agency can help with this.
Moving Forward
Since the service industry competes with many other establishments over the same pool of qualified talent, it's essential to update recruitment practices ahead of the high-volume hiring season.
If you'd like to learn more about how to update your recruitment marketing strategy to gain a competitive edge in hiring, contact Recruitics!
Posted by Katherine Rose

Katherine Rose is a VP of Sales at Recruitics. Kat is an expert in account development and market penetration, as well as being an expert in recruitment solutions, campaign ideation and strategy, and delivering impactful product recommendations. She is skilled at managing stakeholder and client satisfaction, consistently exceeding expectations and goals and producing a winning scenario for all involved. Outside of work, Kat loves to travel and explore new cultures, and when she has time she writes.