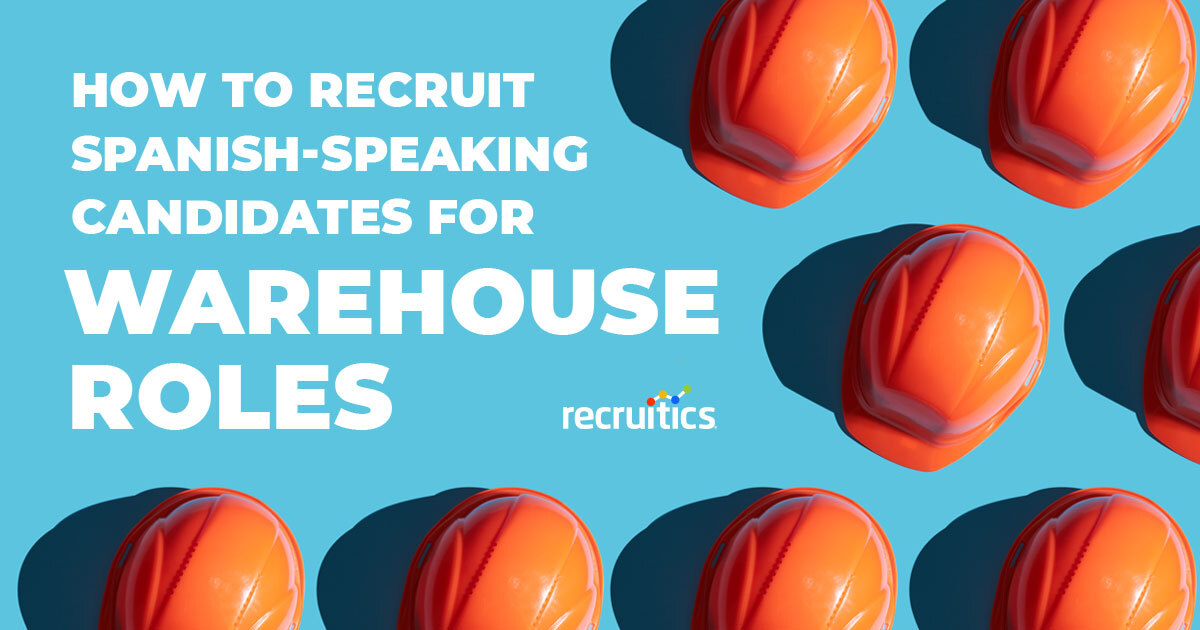 Our current labor shortage presents a problem exponentially more difficult for warehouse employers as peak hiring seasons have begun. This year has presented a new challenge as competition is fiercer than ever, but warehouse talent is seemingly nowhere to be found. While there are various factors out of our control contributing to both American and global worker shortage, what can we do to attract, and ultimately convert talent?
Whenever we address a problem, the first step is to take a look at the problem from the candidate's perspective. Of course, we focus on CPAs, CPHs, and app-to-hire ratios, but it is important to take a step back and remember all of these numbers correspond to real people -- real people that depend on sites like Indeed and LinkedIn to find their next opportunity.
It's also important for employers to be mindful in regards to being inclusive of different groups in the hiring landscape, as well as across varied job classifications. We've noticed that recently, warehouses have been adapting their recruiting strategies to be more inclusive of Spanish-speaking talent.
This article explores trends from this year's warehouse hiring season and offers a prescription for tapping-in to the Spanish speaking talent pool.
Background
In the post-pandemic era, companies in nearly all industries have been changing their recruitment strategies in an effort to bounce back from pandemic losses. Companies have specifically pivoted to increase their pool of qualified candidates in an attempt to mitigate the effects of the labor shortage. Many warehouse employers have increased wages, some have removed drug testing, and others have opened their warehouse doors to Spanish-speaking talent.
Impact of the Hispanic Workforce
By 2050, it is estimated that Hispanics will make up 30% of the U.S. labor force. Hispanic individuals are also projected to account for 78% of net new workers between 2020 and 2030 (U.S. Census Bureau / U.S. Bureau of Labor Statistics). According to a recent Pew Research Center study, the current generation of Hispanics skews toward the young side, with a median age of 28, making them the youngest ethnic group in the U.S. That has led to a boom in the labor force, with Hispanics accounting for 75% of all U.S. labor force growth over the last six years.
According to the U.S. Department of Labor, Hispanic workers now make up 10.7% of workers in management jobs (up from 5.2% in 2000). While they are still overrepresented in service occupations, nearly 24% of those in the Transportation and Materials sector are represented by Hispanic workers, and it is this sector that includes warehouses. A Seattle Times article reported that in 2015, Amazon released its diversity data for the first time, reflecting that nearly 25% of its U.S. workforce was either black or Hispanic, with the majority of these employees working in its warehouses.
As employers work to tap-in to this specific talent pool, they will need to keep the candidate experience in mind. Companies opening up hiring to Spanish-speaking talent will drastically increase their options as they work to achieve lofty hiring goals. This represents a win for both businesses and Spanish-speaking job seekers.
Candidate Experience for Spanish-Speaking Talent
Few employers will be in a position to match the pay and sign-on bonuses offered by larger companies. People quit higher-paying jobs for a wide variety of reasons, so not being able to provide higher wages does not automatically mean that other warehouse employers will lose out on quality talent. As warehouse employers open their doors to Spanish-speaking talent, one of the best ways that companies can succeed is by differentiating themselves. While money is important, it is not everything to job seekers.
Since money isn't everything to job seekers, this means crafting a completely different approach when recruiting Spanish-speaking talent.
Here, focusing on the candidate experience should be the number one priority. Creating a landing page that's in Spanish is essential, as well as updating the application process to ensure it makes sense for the talent you're seeking. Also, language requirements should be clearly defined in all postings. Job descriptions should be made available in Spanish, and this is obviously of special importance if candidates who speak Spanish only are to be considered for positions. Any requirements that aren't necessary for the job should be stripped out of job descriptions, as these only muddy the waters and raise doubts on the part of prospective candidates.
An emphasis on being inclusive and why it's important for your company should be conveyed on landing pages, other media, and throughout the application process in Spanish. There are some warehouse employers who pay well, but who have gotten a reputation for having a less-than-favorable work environment. Your Hispanic candidates pay attention to these factors just as much as any other demographic, so an in-depth look into your company's culture in this regard can be of great benefit.
A big mistake that some companies have been making is in packaging their positions, pay and incentives extremely well, but then failing to follow through on the candidate experience.
When you're looking for candidates, it's important to remember that you are dealing with real people. Do you know who you are hiring?
Creating a candidate persona should be the first step as this informs your strategy and overall hiring approach.
Have empathy. Do the research to determine who the candidate is and what their wants and needs are — what drives them in life?
Develop a strategy based on the research. If you know what kind of candidate you are looking for, the rest of the strategy will fall into place.
Finding Warehouse Talent
So, what are some good ways for warehouse employers to go about getting Hispanic candidates in the door? By meeting candidates where they are is the name of the game.
In this case, it's okay to log out of your LinkedIn Recruiter Seat and hop on social media. Activate on channels like Facebook, Twitter, and TikTok in order to increase brand awareness but ultimately find warehouse talent.
TikTok, for example, is a veritable magnet for people of all ages and of every demographic. It's becoming big for brand awareness which is key for our Spanish-speaking talent. Since joining TikTok in 2018, fast-food company Chipotle has achieved massive reach and awareness through the platform, gaining more than 1.3 million followers and 20.7 million likes across the brand's 100+ videos. Chipotle is a great example of how brands can leverage their accounts to grow brand presence and engage with prospective candidates. Many companies aren't yet on TikTok, making it a huge untapped market.
Recruiting and INCLUSION
It's no secret that there's a talent shortage right now across nearly all industries, and true inclusion translates into having processes in place for diverse groups. Recruiting warehouse workers with an eye toward inclusivity should be part of any organization's comprehensive diversity, equity, inclusion and belonging (DEIB) strategy. As we've seen above, it's not only economic needs that job-seekers are looking to fulfill; it's important for the candidate's experience to make sure that they feel included and welcomed in your organization.
Based on information released by Forbes magazine in May of this year, companies that prioritize DEIB in the workplace also benefit in these areas:
Financial performance: Companies in the top quarter for diversity on executive teams are 25% more likely to financially outperform those in the bottom quarter.
Innovation: Companies with above-average diversity produced a 19% greater proportion of revenue from innovation than companies with below-average diversity (45% vs. 26%).
Customer trust: Companies that are perceived as addressing racial issues well are three times more trusted than those that aren't.
Next Steps
As we've seen above, it's not only economic needs that job-seekers are looking to fulfill. Although we touched on warehouse talent, every audience is different. How well do you know your candidate? What drives them?
Leading with empathy and researching who you are looking for will make your job easier in the long run. A thoughtfully-crafted candidate persona will activate your strategy and open up your talent pool in the right areas. If you'd like to discuss creating a candidate persona and activating it, or digging into other possibilities for your organization, feel free to reach out to us!
Posted by Mauricio Gonzalez

Mauricio is a Director of Client Strategy at Recruitics. He has experience in developing custom digital solutions with an emphasis on Software as a Service (SaaS) for Fortune 500 companies. By creating and executing multi-faceted digital strategies, he helps his clients use software solutions and data driven decisions to reimagine the user experience. Outside of work, you can find him working out, trying new foods, or finding his next travel destination.