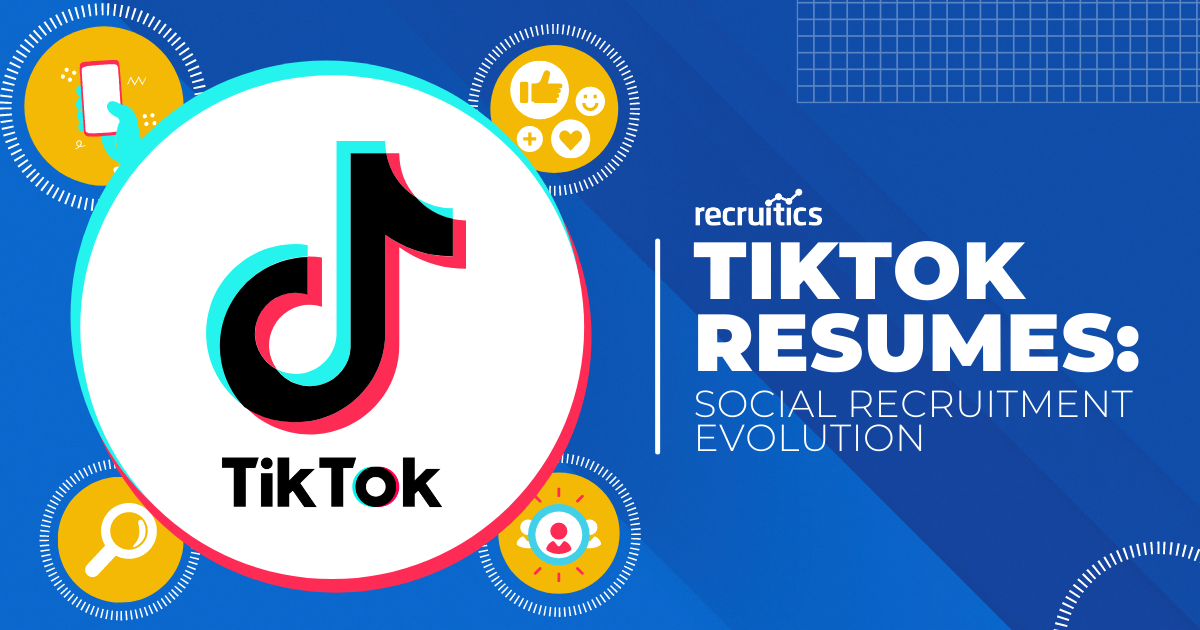 Earlier this year, we discussed why Tiktok, the rapidly-growing social media platform that's large on pop culture influence, is becoming a worthwhile tool for recruitment. Now, we have yet another reason employers and corporate recruiters are spending so much time on TikTok...because that's where their market is.
A major hangout for those across the Gen Z continuum, TikTok boasts an enviable 100 million U.S. users and it was reported in 2020 that this figure had grown around 800% over the previous two years. So, from a recruiting standpoint, TikTok is a no-brainer for companies wanting to access that market.
So... What Is TikTok?
For the uninitiated, TikTok is a video-sharing app that allows its users to create and share content up to 3 minutes in length on pretty much any topic. Initially, TikTok's primary focus was entertainment -- the idea being that its users entertain each other. However, the platform is now evolving to an information sharing platform as well...especially when it comes to employment items. It could be argued that the organic rise of people talking about their jobs on TikTok is, in part, what led to TikTok Resumes.
Source: https://www.tiktok.com/@disneyparks/
TikTok is based on a similar short-form video format as some other video sharing apps, but its scope is much broader. The TikTok app offers users an array of sounds, song snippets and options to add special effects and filters. Users can also upload video footage directly from their phones, which typically consist of dance videos, challenges, magic tricks, and comedy.
A Resource For Recruiters And Job Seekers
This month, TikTok announced the launch of its new US-based pilot program, the Resumes feature. This allows job seekers to post video resumes for positions with partner companies such as Chipotle, Target and Shopify, Meredith, NASCAR and the WWE directly to the app. The idea is that TikTok users/job applicants will be able to show off their skills in creative, imaginative ways, tagging the content with the hashtag #TikTokResumes.
Source: https://www.tiktok.com/@makena.yee/
"TikTok Resumes is officially open and accepting TikTok video resumes," said Nick Tran, Global Head of Marketing at TikTok. "We're humbled to be able to partner with some of the world's most admired and emerging brands as we pilot a new way for job seekers to showcase their experiences and skill sets in creative and authentic ways."
"Short, creative videos, combined with TikTok's easy-to-use, built-in creation tools have organically created new ways to discover talented candidates and career opportunities," the company said in a statement earlier this month.
The new pilot program is discoverable through the dedicated hashtag and on the website tiktokresumes.com, which provides tips and guidelines for applying as well as sample videos. On the site, prospective applicants can browse job listings and fill out a short questionnaire; they can also attach their TikTok video link.
In addition to job listings and tips, job seekers can view examples of what are considered to be "strong" TikTok video resumes and view video from TikTok creators who've posted career-related content.
A Natural Extension
According to TikTok's Marketing Manager Kayla Dixon, "TikTok Resumes is a natural extension of our TikTok College Ambassadors program, where we previously employed hundreds of college students as on-campus brand representatives. Like many, college students were impacted by the pandemic and have displayed a resilience and unwavering optimism that's truly been inspiring. We're excited to help students and job seekers everywhere unleash their creativity and 'get the bag!'"
TikTok still encourages its job-seeking users to point potential employers to their LinkedIn profiles for deeper insight into their prospects' skills and qualifications. On the employer side, companies considering participation in the program will need to be mindful that they are dealing with the Gen Z demographic. As indicated above, their communication style and sensibilities tend to differ as much as TikTok differs from LinkedIn, so there will probably have to be some give-and-take on both sides as TikTok Resumes moves forward.
Participating employers will also have to be willing to examine job seekers' content with an eye toward context vis-à-vis bias and laws in hiring processes. There have been a few instances over the years where employers have run afoul of labor statutes during the vetting process for employees whilst performing background checks using social media resources. But to be fair, there are quite a few job seekers who've posted questionable materials on their social media accounts without properly attending to the permissions on those accounts.
With so many high-profile brands already on the bandwagon with TikTok Resumes however, it's clear that those in the business world have seen the writing on the wall with regard to changing attitudes and sensibilities.
Jobs And Inclusion
Regarding the participating brands, the job openings span a wide range of skills and industries, from corporate sales roles to warehouse employees. There are even a few roles attuned to the aspiring TikTok stars, such as an opening at All Recipes for on-camera talent to teach viewers how to make biscuits. The initial beta program is limited to jobs in the United States.
Food service is of course one of the largest industries out there, and one of the most eager to hire young workers. Chipotle Mexican Grill Inc. recently said that they decided to participate in the platform's pilot program in an effort to respond to the competitive labor market. According to Chipotle, the new program allows applicants to show off their personalities outside of a traditional sit-down interview.
Chipotle's Chief Diversity, Inclusion and People Officer Marissa Andrada said, "Given the current hiring climate and our strong growth trajectory, it's essential to find new platforms to directly engage in meaningful career conversations with Gen-Z," said Chipotle's Chief Diversity, Inclusion and People Officer Marissa Andrada. "TikTok has been ingrained into Chipotle's DNA for some time and now we're evolving our presence to help bring in top talent to our restaurants."
Source: https://www.tiktok.com/@chipotle/
On July 15, Chipotle hosted a "Coast to Coast Career Day" for workers with an eye toward attracting this desired demographic. Chipotle offers starting wages between $11 and $18 per hour, benefits and the opportunity to rise to positions that pay $100,000 salaries. The company reported that it has hired more than 82,000 crew members and had more than 4,200 promotions since the beginning of the year.
"#CareerTok is already a thriving subculture on the platform and we can't wait to see how the community embraces TikTok Resumes and helps to reimagine recruiting and job discovery," said TikTok's Nick Tran. At present, only positions in the US are available on the TikTok platform. The pilot program will be accepting TikTok resumes through July 31.
The social recruitment evolution
TikTok Resumes is a definite paradigm shift in the job seeking process. With the possible exception of LinkedIn, where companies and job seekers have been courting one another since 2002, the job seeking and application grind hasn't changed very much in several decades.
The one-page resume, wherein applicants list, stylize and finely hone their educational and job experience has been the standard for many years. This paradigm has also become the bane of job seekers, recruiters and HR personnel alike. With so many job seekers, industries and communication styles across several demographics now in play, it was clearly time for something new -- and it looks like TikTok may have given us all an object lesson in social recruitment evolution.
--
With this pilot program exploding in popularity, there is no doubt an increasing number of recruitment teams will be turning to TikTok to expand the ways they engage with the platform and its users.
TikTok has been the platform to watch for a while now, and it's time for you to get onboard! The features they offer are flexible enough to get you started in a way that works best for your team, your budget, and your culture. Let us help you develop an effective social recruiting strategy.
If you're looking to expand your knowledge on all things social, we're happy to help, or you can check out our social recruiting resources hub for more tips, trends & best practices!
Posted by Melissa Van Dyke

Melissa is a Director of Paid Social at Recruitics, where she brings her passion for social media to the table on a daily basis. She puts her fun personality into each custom campaign she creates. (You've probably seen a few on your Facebook feeds!) Melissa is a Saint Mary's College of California alumna where she earned a Bachelor of Science in psychology and a minor in business administration. Outside of work, you can find her either attending country music concerts or binge-watching reality TV. Melissa is as dedicated to her clients as she is to the Real Housewives franchise.