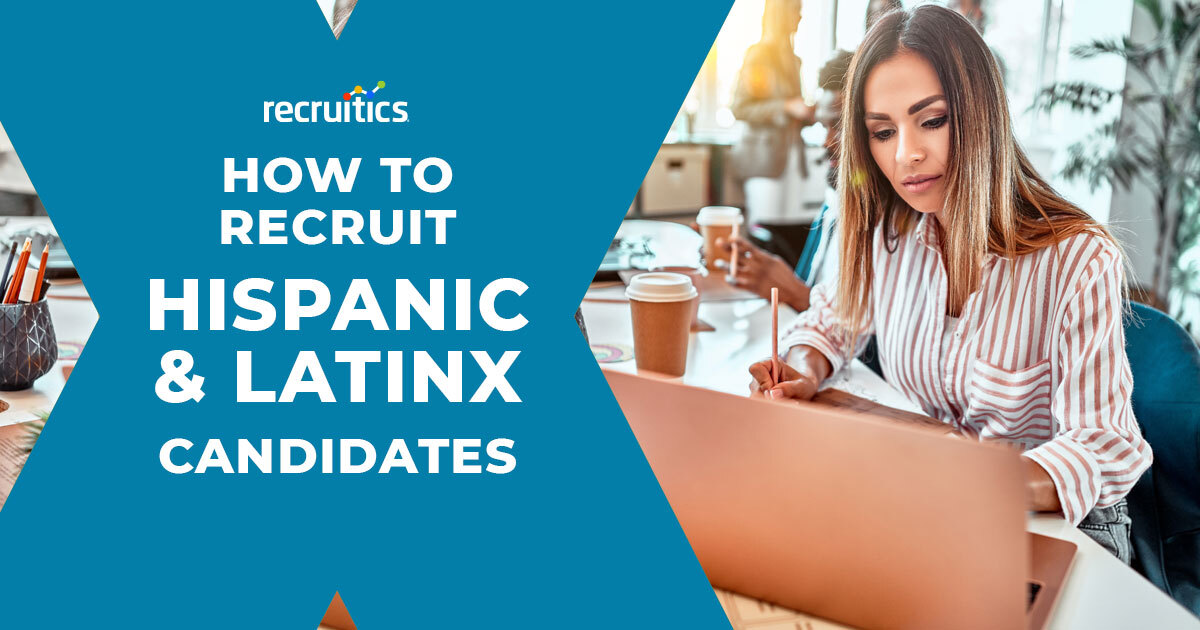 With the hiring landscape evolving due to post-pandemic needs, it's crucial for companies to update their hiring practices in order to be inclusive of the widest range of candidates. Especially as we enter the peak season for seasonal hiring, it's important for companies to ensure that their recruiting plans are strategic and inclusive -- which is crucial when targeting diverse candidates.
Also, October is Global Diversity Awareness Month, so we thought it would be an appropriate time to highlight the importance of inclusivity regarding diverse groups in the hiring process -- with a specific focus for this article on Hispanic and Latinx candidates.
The Growing Significance of Hispanic Candidates
The Hispanic and Latinx community make up 18.5% of the total population in the U.S., and by 2050 they are projected to make up 30% of the U.S. labor force. Hispanic and Latinx employees are projected to account for 78% of net new workers between 2020 and 2030. Additionally, the Hispanic labor force participation rate is higher than non-Hispanics because they tend to be younger and in the prime age working group of 25-54 years old. (U.S. Census Bureau / U.S. Bureau of Labor Statistics).
The 2020 U.S. Census revealed that out of the 60.5 million people who speak a language other than English at home, 62% speak Spanish. This makes Spanish the second most widely-spoken language in America. This being the case, employers seeking Hispanic/Latinx and bilingual workers owe it to themselves to make sure that language requirements are clearly defined in their job postings.
Given the above numbers, it's more important than ever to think strategically when crafting your recruiting plan as it relates to Hispanic and Latinx candidates. In this article, you'll learn what the hiring landscape looks like for Hispanic/Latinx talent, best practices for recruiting Hispanic and Latinx candidates, and the importance of creating a recruiting plan with an emphasis on diversity, equity, inclusion, and belonging (DEIB).
Understanding the Market
A 2014 report by the Society for Human Resource Management (SHRM) highlighted the importance of understanding the differences between candidates from "mature" versus "emerging" Hispanic markets. In mature Hispanic markets, a majority segment of the Hispanic/Latinx population is U.S.-born, and job seekers are often second and third-generation workers who may speak English as a first language.
Emerging Hispanic markets usually include many more first-generation job seekers, some of whom may be bilingual. This demographic is largest in states that have historically been immigration points of entry and have some of the country's largest Hispanic and Latinx populations.
SHRM and a Nielsen Mobile Media Marketplace study also reported that Hispanic and Latinx now represent the most digitally savvy, socially-connected demographic in the country. 72% of Hispanics own at least one smartphone, giving them easy access to online job boards, virtual forums, and social media in their job searches. This translates into ripe opportunities for businesses seeking to connect with Hispanic and Latinx candidates at all levels of employment.
One cultural difference attributed to Hispanic and Latinx was reflected in a study from Cornell University. This suggested that Hispanic and Latinx aren't in the habit of promoting themselves in the work environment as compared to other ethnic groups. While the study suggested that this might be a barrier to employment and advancement for some, it underscores the need for employers to be proactive when it comes to outreach and implementing inclusive recruitment strategies.
Best Practices to Implement in your Recruitment Strategy
There are a number of tried-and-true methods that you can use to recruit Hispanic/Latinx and bilingual (Spanish/English) candidates. If you'd like to learn more or need help implementing a recruiting strategy, we're just an email away.
In the meantime, we have included a few initiatives that you can implement internally that leverage your website and your workforce.
Spanish-Specific Landing Pages
There are two key reasons for creating Spanish-specific landing pages for job openings you're offering:
Bilingual candidates may search for a bilingual role in Spanish (as opposed to English), thus
Your listing is more likely to appear in all search results (which can also enhance your company's overall ranking with search engines).
As search engine algorithms become more refined to reflect cultural sensitivities, this is likely to become even more important. Treating both languages as separate user experiences also provides a more welcoming face for your organization to Hispanic/Latinx and bilingual candidates.
Employee Referral Programs (ERP)
Based on the SHRM study, Hispanic and Latinx are 50% more likely to use contacts or friends and family to find a job. What this means is that creating a specific referral program is a great way to generate diverse candidates. Additionally, identifying a knowledgeable point person in your organization to coordinate and advise managers on issues specific to recruiting or promoting Hispanic and Latinx employees is a good component to such a program.
Adjuncts to such a program could also include:
Positioning existing Hispanic and Latinx executives and success stories from your organization "front and center" to establish a sense of pride and serve recruiting case studies.
Expanding local searches to target national candidates, since many Hispanic professionals will relocate for a promising job opportunity.
Providing networking opportunities (events, virtual forums, etc.) for Hispanic/Latinx that offer access to your company's hiring managers.
As far as external recommendations go, there are many, including:
Advertising
According to SHRM, many Hispanic and Latinx workers rely heavily on personal connections and word-of-mouth during job searches. This includes taking advantage of social media platforms like Facebook, Twitter and even TikTok.
Target users who have listed certain skills on their profile (Spanish language on LinkedIn, for example.)
Test ad copy to find the best variation, (i.e., an English headline and Spanish body copy).
Pandora and Spotify Ads
Advertise targeting users who listen to Spanish stations. Pandora and Spotify ads can be targeted to reach a certain location, age, or demographic.
Job Boards
Job boards of every kind have come into being with the advent of the Internet, and those catering to Hispanic and Latinx job applicants are no exception. By using an ethnically diverse job board, you are providing an opportunity for underrepresented candidates to ensure they aren't being overlooked in the hiring process.
A few examples of Hispanic and Latinx job boards are:
From there, just drill down to the classifications (professional, skilled, etc.) that will work best for your company.
Virtual Forums
Virtual forums have become a popular and unique avenue through which job hunters at all ages and stages of their careers can view available positions, meet with managers in various departments and connect with HR personnel from different companies. Signing up as a participating company, a sponsor, or even hosting a virtual job forum focused on recruiting diverse candidates is an excellent way to expose your organization to Hispanic/Latinx in the job market.
Outreach
Your organization's presence in Hispanic and Latinx communities, whether locally or online, can be enhanced through leveraging organizations that focus on Hispanic diversity. For filling more professional roles, you can reach out to organizations like:
Connecting with community leaders locally is also a great component to any recruitment effort. Hispanic culture tends to be very community-focused, and respect for authority is highly valued. Many times, people in Hispanic and Latinx communities typically turn to their family leaders, followed by their community leaders. By connecting with local leaders, your organization can open doors to meeting job seekers in these communities.
You can find local leaders in the same way you would in any other community. A call or visit to a Hispanic Chamber of Commerce or Spanish-speaking church can be the start of an ongoing and mutually beneficial relationship between your organization and the Hispanic/Latinx community in your area.
Since you understand your organization best, your DEIB recruitment strategies will obviously be tailored to your industry and hiring requirements. Still, it remains important to think strategically about your recruiting plan, especially when targeting diverse candidates. This will help you to best leverage the available resources to provide the best ROI.
The Power of DEIB
Creating a diversity, equity, inclusion and belonging (DEIB) strategy has become increasingly important, both from cultural and business standpoints. Having a DEIB plan in place not only opens your talent pool to more qualified candidates, but it will allow your organization to remain competitive when trying to hire.
While crafting comprehensive plans of this scope may seem daunting, creating a DEIB strategy need not be complicated. Just implementing a few well-thought-out measures can get your organization on the right track. As you prepare to formulate your DEIB strategy, it is important to be mindful that:
True inclusion means having processes in place for any diverse group
Your organization must convey clarity of intention
Your organization needs to maintain an understanding of diverse individuals' current experience and their environment
Diverse teams make decisions faster -- with a

60% improvement

in decision-making
Moving Forward
A customized diversity plan is essential, since there are nuances and variations when it comes to industry, roles, and geography. If you'd like to discuss these ideas and other possibilities for your organization, feel free to reach out to us!
Posted by Olivia Yongue

Olivia Yongue is SVP of Client Strategy and has been in the recruitment marketing industry since 2012. She thrives on new challenges and opportunities working with her global clients - from shaping their talent strategies with the newest technologies and trends to media and analytics. She is also a graduate of Saint Mary's College of California where she earned both her Business degree and MBA. Outside of work, she is passionate about health, fitness and animals. Fun fact is that she has competed in a CrossFit competition.