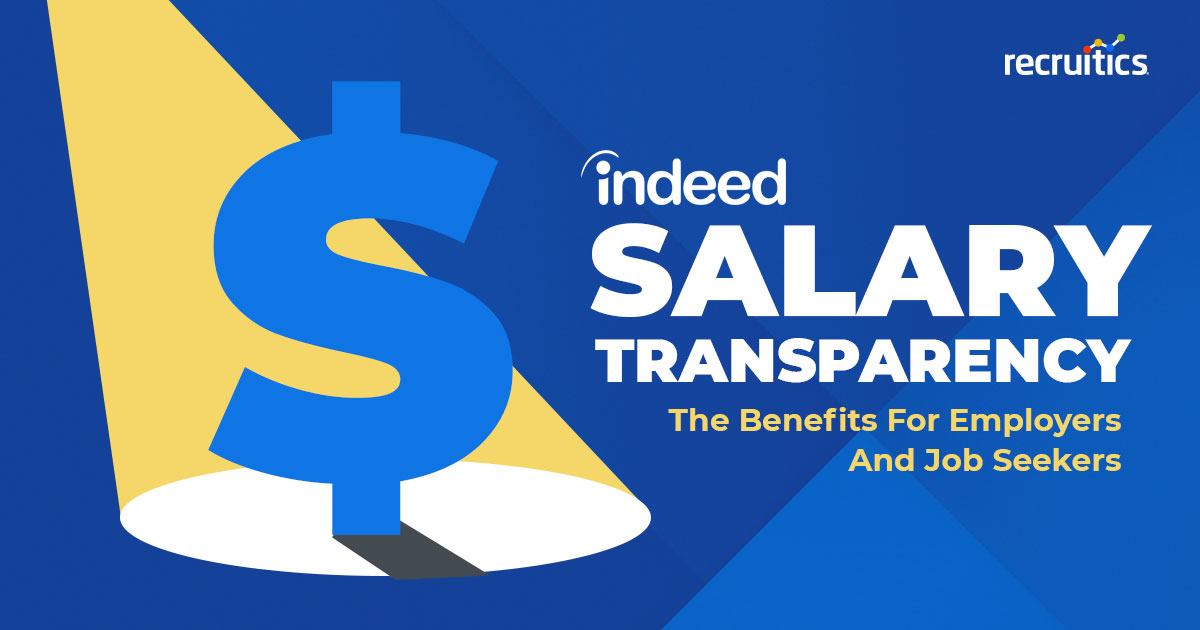 Over the past few years, a growing number of states and municipalities have begun to require employers to include pay rate or pay range information in job postings. These new regulations are thought to promote pay transparency – which can help close the wage/pay gaps experienced disproportionately by women and people of color in the United States.
Indeed has job seekers in mind, and as a result, they have begun to change how they present salary information to job seekers when searching for jobs on the search engine's results page.


What's Changed: How Salary and Benefits are Displayed on Indeed
On January 17th, 2022, Indeed began rolling out changes (they are currently testing at 50% of their audience, and plan to be at 100% by the end of July 2022) to how they display salary and benefits information in indexed/sponsored job postings in search results. Those adjustments were likely made in response to municipalities like NYC, that are now requiring information about pay ranges.
When details about salary are provided as part of the XML feed to Indeed, those values will be presented. When information about salary/pay rate is not provided in the XML feed nor included in the body of a job description, Indeed will now present an estimated salary based on a range of potential factors:
Self-reported salaries from employees on Indeed with similar titles in their resumes
Salary information from similar jobs in the same location (i.e. market average salaries)
Also, job seekers on Indeed have the ability to flag when salary appears inaccurate to help update its platform (similar to updates supported on Glassdoor, LinkedIn, and many similar job sites). This information will help shape estimated salary information when displayed on Indeed.
What States And Municipalities Are Doing
Colorado and New York City are two locations that have laws in place that require employers to present salary information to job seekers. In these locations, Indeed will not be estimating salaries – as it is required for the employer to include salary information, or the job will be restricted from posting on Indeed and will also be suppressed in all forms.
Colorado
Beginning in 2021, Colorado enacted its "​​Equal Pay Transparency Rules," which required employers to disclose "hourly or salary compensation, or a range of hourly or the salary compensation, and a general description of all of the benefits and other compensation to be offered to the hired applicant" in all job postings. The regulation is a requirement for all job postings for positions based in the state of Colorado, and also to be provided to any candidates who are able to perform the job within Colorado (i.e. remote or work-from-home positions).
New York City
As a regulation recently pushed back to November 2022, jobs on Indeed in NYC (any of the 5 boroughs – Brooklyn, Queens, Staten Island, Manhattan, and the Bronx) will require salary information to be included by the employer, or Indeed will "set the jobs to Nowhere" which blocks their visibility to jobseekers to comply with the transparency policy. This means that effective November 2022, the jobs will not be visible on Indeed's site if the salary information is not present.
There are a few asterisks in terms of jobs that do not apply to the new policy and are listed below with description:
Commission-only roles: Salary is not required to align with Indeed's commission-only policy.
Contractor roles: Salary is not required.
Remote/Nationwide roles: Salary is required if the job description indicates one of the 5 boroughs in NYC as the location.
More and more states are passing these laws, and others have them in the works or have just started the process.
The Impact On Employers
This is an issue all employers are wrestling with right now. Organizations need to ensure they get salary information on all of their job postings.
If an organization doesn't put their salary information in Indeed, then Indeed's intelligent technology will estimate salaries.
However, Indeed's salary estimate may not be perfect, meaning that the estimate may be lower than the expected salary – or on the other end of the spectrum, the estimate might be higher than the expected salary. Either way, this is showcasing slightly misleading information to job seekers and potentially misrepresenting the exact details of the opportunity.
Benefits For Employers
This update from Indeed can be beneficial to employers. Recent surveys show that salary is top of mind to job seekers – with 63% of U.S. adults sharing that salary is among their most important decision-making factors. Showcasing salaries can help companies stand out from the crowd as an employer who is transparent, trustworthy, and fair – which can be incredibly helpful in this tightening labor market.
This shift may also increase recruiter efficiency by saving valuable time on behalf of hiring professionals.
When salary information is not revealed, jobseekers with salary expectations that don't match the opportunity may apply – which can clutter the applicant pool and drive up recruitment marketing costs. Listing salary information gives job seekers clarity on what the offer is – and if it's attractive, then appropriate candidates will take the time to fill out the application. When the salary for a job is revealed, recruiters will receive applicants from well-informed job seekers who are truly interested, which can increase efficiency at the top of the funnel.
This can in turn save money on advertising costs because it will reduce job seekers who do not match the salary requirements from clicking on the job ads, which will increase the engagement with candidates who are a better fit for the open role.
Benefits For Job Seekers
There's been a long-time evolution of job seekers wanting more information about salary before completing an application. This shift from Indeed is beneficial to job seekers because it finally gives candidates visibility into the benefits they're interested in.
Company reviews and salary insights are popular among job seekers right now, and candidates are doing their due diligence and research because they want to know as much information as possible when evaluating an opening at a company. With so many options available for job seekers currently, salary can be a make-or-break decision.
With competitive pay being a huge part of the job seeker's decision-making process, salary transparency helps candidates who are selective of which jobs they're applying for and allows them to narrow down their options – which in turn saves them time when filling out applications.
--
If you're looking for more information and insights on how best to include pay rates/salary in your job postings, reach out to Recruitics today!
Posted by Matt Anderson

Matt Anderson is the Sr. Director of Programmatic at Recruitics. In 2021, Matt celebrated 11 years in the Talent Acquisition & Recruitment Marketing space, and is forever grateful for the opportunity to work in the sector. Matt has helped hundreds of companies across the globe drive major job seeker acquisition campaigns and win in the modern day digital war for talent - peacefully. He began his career leading resume Sourcing teams and is an expert in generating the strongest results possible on Pay-for-Performance Programmatic job sites. Matt is obsessed with the power of automated programmatic rule-based media buying coupled with constant optimizations to help advertisers reach job seeker acquisition goals. Matt works to make sense of large recruitment marketing data sets for advertisers who are drowning in data and thirsty for insights.