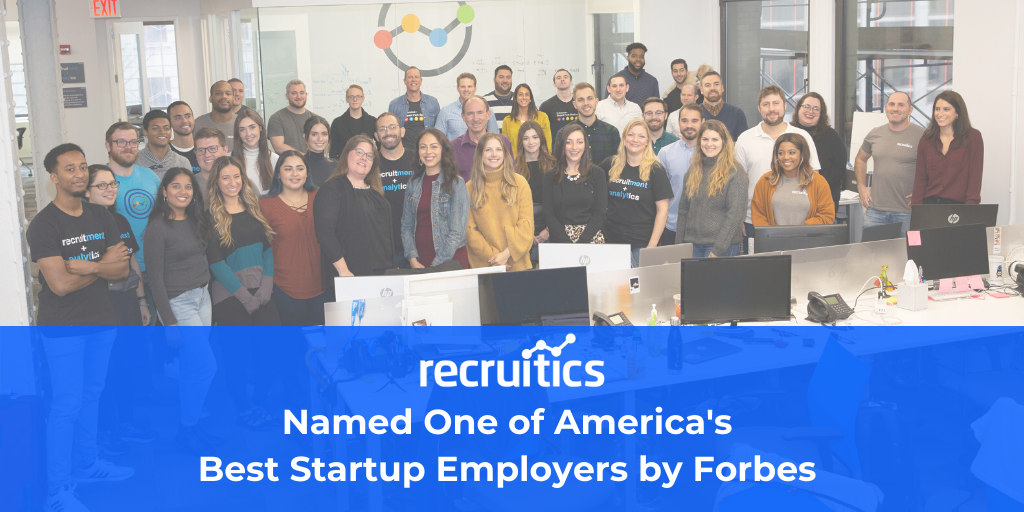 Forbes published a new employer recognition list: America's Best Startup Employers for 2020. Recruitics is honored to recognized with a rank of 109 out of 500 in this list. This prestigious award is presented by Forbes and Statista Inc., the world-leading statistics portal and industry ranking provider. The awards list was announced on March 10, 2020 and can currently be viewed on the Forbes website.
Forbes and Statista identified the top Startup employers by analyzing more than 7 million publicly available data points. Special focus was given to three aspects of each company during the evaluation: employer reputation, employee satisfaction, and company growth.
Out of more than ten thousand considered organizations in the United States, only 500 companies earned this nomination, and Recruitics is thrilled to be recognized as one of Forbes' 2020 list of America's Best Startup Employers.
"We are honored to be recognized as one of the Best Startup Employers in America by Forbes," says Josh Gampel, CEO of Recruitics. "Since our inception, we have made our people, values, and goals a top priority. We will continue to create a welcoming, innovative culture as we work to achieve our mission."
Not only did Recruitics come in as the 109th Best Startup Employer for 2020 out of the 500 recognized companies, but Recruitics was also among the top 5 employers in the "Advertising and Marketing" industry out of more than 20 total companies recognized in this category.
The Forbes Best Employer Award is the latest in a series of successes for Recruitics, including a Comparably Award for Best Companies for Women, a ReSI Award for Most Innovative Recruitment Advertising Solution, a Gold MarCom Award for Recruitment Marketing Strategy, and the acquisition of KRT Marketing, a full-service recruitment marketing agency. The combination of the two companies' expert teams, data, and technologies have established Recruitics as the industry's preeminent recruitment marketing agency.
View the entire America's Best Startup Employers list from Forbes and read the full story and methodology.
And in case you are wondering... Yes! We are hiring for several positions across the United States!
Posted by Recruitics

Recruitics is a data-powered recruitment marketing platform that makes it easy for the world's leading brands to attract and hire great talent. Recruitics revolutionized recruitment advertising with the introduction of the industry's first programmatic buying platform in 2012. Since then, Recruitics has helped thousands of companies find, attract, and engage millions of job seekers. Today, Recruitics continues to lead the recruitment marketing industry with its state-of-the-art data optimization and analytics platform.