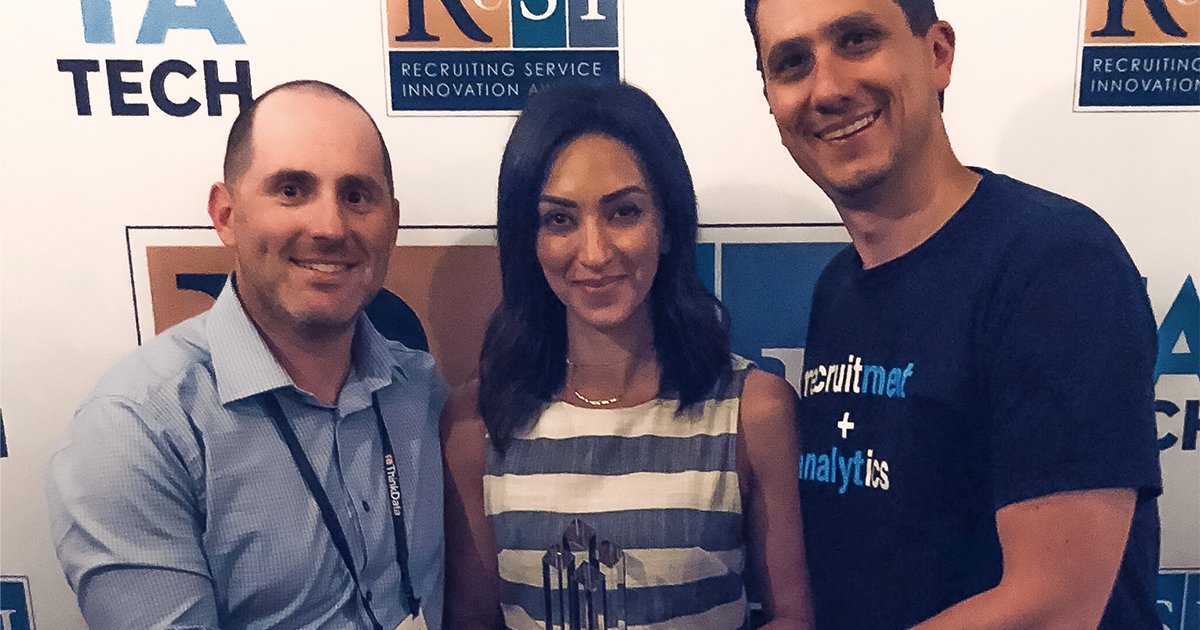 PRESS RELEASE
Recruitics Wins Most Innovative Recruitment Advertising Solution at 2019 ReSI Awards
The ReSI win is the latest success in an exciting year for Recruitics, which also acquired the full-service recruitment marketing agency KRT Marketing July, combining our teams and technology to form the industry's preeminent recruitment advertising agency.
Recruitics was recently honored with our fourth Recruiting Service Innovation Award (ReSI) Award, taking home the win for "Most Innovative Recruitment Advertising Solution" at this year's TAtech (The Association for Talent Acquisition Solutions) North America conference in Austin, Texas. Read the full press release here.
The award recognizes our proprietary programmatic buying platform, Recruitics REACH™, technology that makes it easy for the world's leading brands to buy recruitment media and attract top talent across an extensive network of job sites.
Recruitics REACH™ is the most recent recruitment marketing solution developed in-house by Recruitics to receive industry recognition for its ability to help our enterprise agency customers find the best talent for their open jobs. Others include Recruitics Analytics™, a free recruitment marketing analytics dashboard, and Recruitics Action™, a programmatic job advertising platform, both of which were first-to-market, award-winning technologies, for the recruitment industry.
"Thank you to the ReSI committee and TAtech for this honor," said Josh Gampel, Recruitics' CEO. "This award means a great deal to our company and every team member who worked tirelessly on the REACH™ platform. We look forward to continuing to develop services and solutions that help companies attract and hire great talent."
The ReSI Awards are the only accolades in the talent acquisition field that recognize the companies, products & individuals that are Optimizing the RECRUITER's Experience™ and are hosted by TATech. Previously, Recruitics has won ReSI Awards in 2015 for "Most Innovative Enterprise Solution for Recruiting" and in 2016 & 2017 for "Most Innovative Big Data Solution."
Posted by Recruitics

Recruitics is a data-powered recruitment marketing platform that makes it easy for the world's leading brands to attract and hire great talent. Recruitics revolutionized recruitment advertising with the introduction of the industry's first programmatic buying platform in 2012. Since then, Recruitics has helped thousands of companies find, attract, and engage millions of job seekers. Today, Recruitics continues to lead the recruitment marketing industry with its state-of-the-art data optimization and analytics platform.