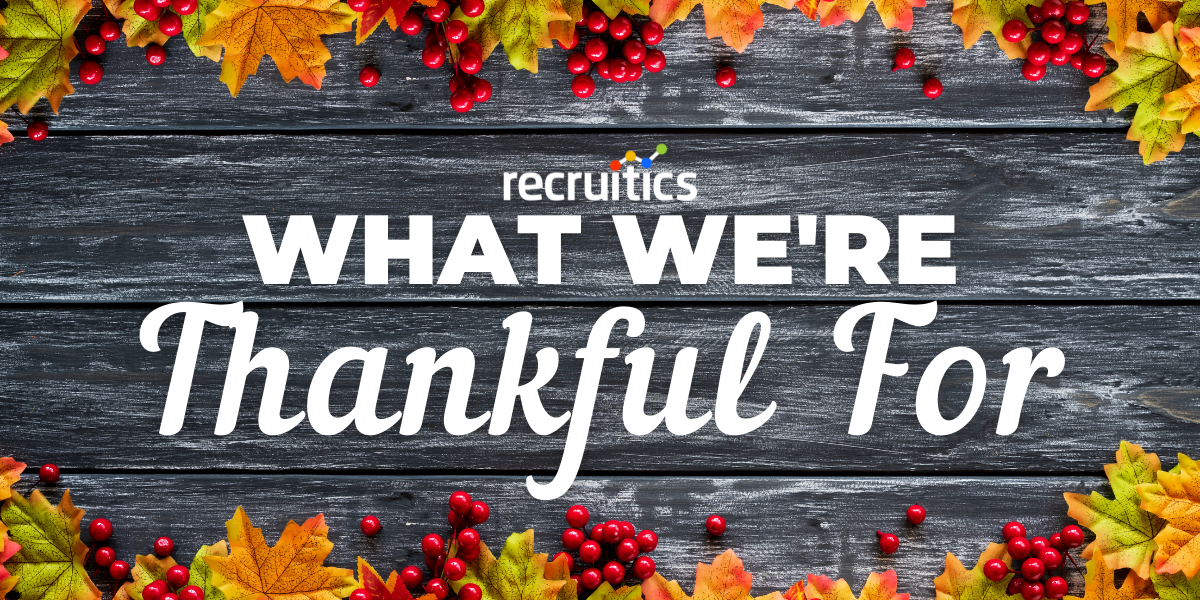 The Thanksgiving season is a time to reflect on the events of the year and show appreciation for the things that you're grateful for in your life. We wanted to take a step back and recognize what has brightened our spirits this year. There is a lot to be thankful for!
Technology
While we still continue to work remote or in hybrid approaches, technology has made a huge impact for both employees and businesses. In particular, we have adapted to and learned of new ways to communicate with one another while remaining apart. The shift to work from home (or hybrid approaches) has been made possible with all the technology and tools available to ensure we remain connected to our colleagues, clients, partners, and even friends and family.
One tool in particular, video conferencing, has been an essential addition to teams as we navigate the new digital world. With platforms like these available, distance doesn't feel so far.
With the number of annual meeting minutes on Zoom now being over 3.3 trillion, many companies are taking advantage of how easy it is to schedule meetings and maintain a tighter agenda. At Recruitics, we realize how important video conferences can be, and even adapted our work policies to reflect our virtual work approach -- for enforcing speedy meetings to creating tips to battle Zoom Fatigue.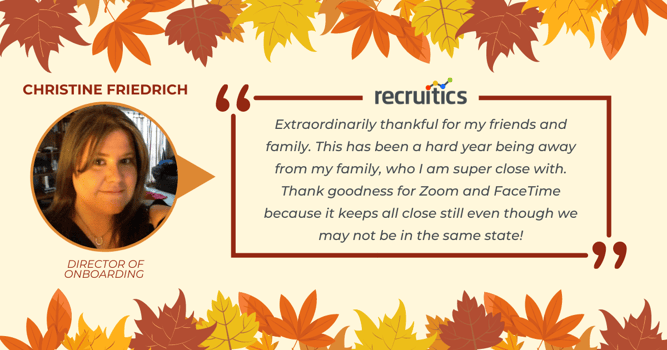 As we continue working in a digital world, having multi-channel communication tools such as Zoom, Slack, and Microsoft Teams have helped many businesses and families stay connected easily. Being able to collaborate effectively and maintain different ways to communicate are huge for many companies to remain successful.
For us, we benefited greatly from having the tech to remain connected while still apart. We have such a collaborative and communicative culture, so it requires planning, organization, and setting up the right environment to keep our culture intact. We have been able to plan fun parties and games over Zoom, which enables us to keep our authentic and genuine culture at the forefront. From hosting virtual gatherings with teammates like Halloween Bingo and holiday parties, we are able to create an environment where everyone can feel our culture in the way it's intended.
Getting Back Together In Person and Reconnections
Even though we are still working in a mainly virtual environment, we are thankful that for the first time in over a year, many teams have been able to gather in person. Our first real gathering was our Q3 kickoff, where many teammates came together to celebrate the accomplishments of the part quarter and look forward to the future together. For many who were hired during the pandemic, this was also their first opportunity to meet colleagues and teammates face-to-face. After months of virtual communication, we were so grateful to see familiar faces -- both those that we hadn't seen since offices closed, and those that we had only ever seen on a computer screen.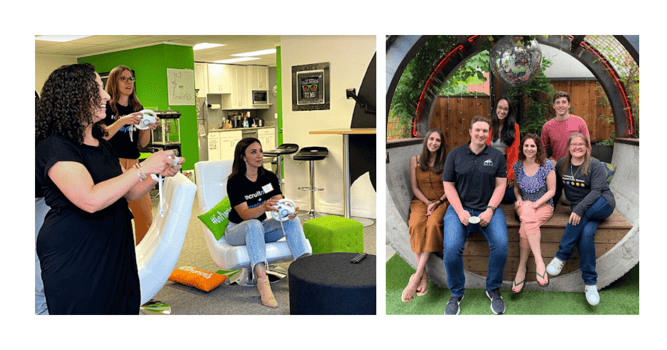 Recently, we have also been fortunate to be able to gather and celebrate as teams. From marketing's trip to the zoo, to sales going to a winery, and our operations team having a lakeside BBQ, we are slowly coming back together and gaining a sense of normalcy -- that so many have missed -- by just being able to interact with one another without a screen separating us.
Slowly and surely, we are working towards one day of being back in the office, but we are so thankful for these small opportunities where we get to gather and work together in the same space.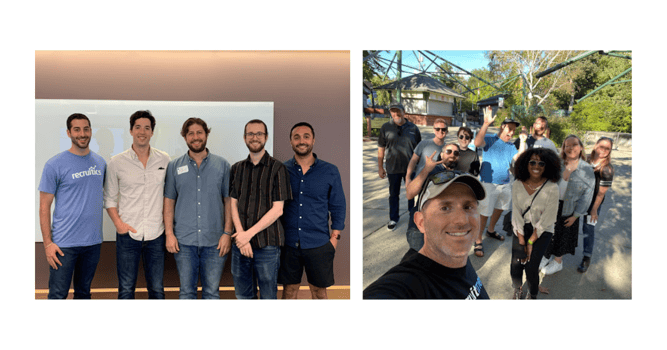 Teamwork, Clients, And Partners
When working from home, we've had to be creative in the ways we engage with our teammates, and we are thankful for teamwork. Over the past two years, our effective team collaboration, regardless of distance, has helped maintain a sense of normalcy. But more importantly, being able to rely on one another to get the job done and have the incredible output of work that we have would not be possible without everyone working together. For many teams, we have been able to take on new projects, ways of working, and challenges -- which could not be done without the commitment to teamwork and remaining connected.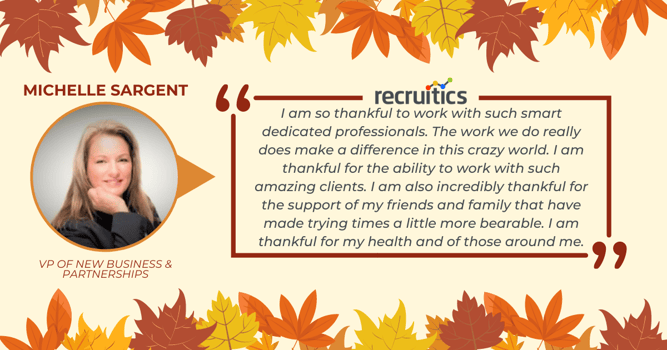 Also, maintaining connections with your colleagues and teammates is more important now than ever before, since these connections can help make working from home not feel so isolating. Many companies have risen to this challenge by scheduling virtual happy hours, sponsored events, zoom celebrations, and team lunches to ensure everyone is staying connected and being given the opportunity to socialize with one another -- which has been so important to maintain normalcy and company culture.
We would not have been able to make it through another year without our amazing clients and partners. We partner with employers, recruitment marketers, and talent acquisition professionals to get things done. At Recruitics, we believe we're stronger together, and our connections with our clients show us how true this is. We remain proud to be extensions of our clients' talent acquisition departments and true partners of recruitment marketers, with the best people and technologies in the business. Just as we've found new ways to connect with our team over the past few years, we have done the same with our clients -- but we have not only maintained, but improved our relationships with our clients as we grow the ways we work together and tackle their most complex recruiting challenges.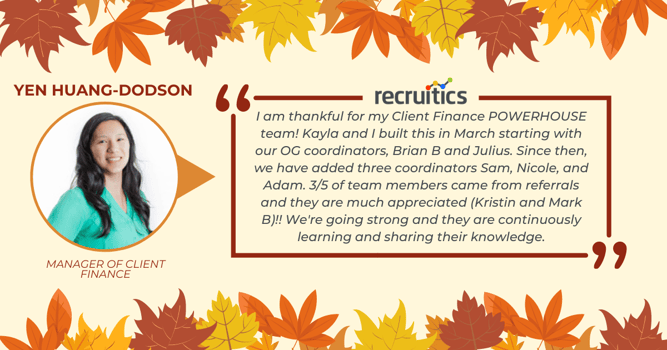 Transformation
For the past two years, many companies have been able to take a step back and create opportunities for innovation and positive transformation. With this, many have evaluated their strategies, goals, priorities, and policies to make sure they are still in line with the company. This is why we are thankful for fresh starts and the ability to transform. As many businesses have done in the past few years, we have grown and adapted to the needs of business, customers, and employees. While for many companies, these changes were necessary, they can lead to a positive lasting impact -- from your corporate culture, company success, and ability to adapt in the future.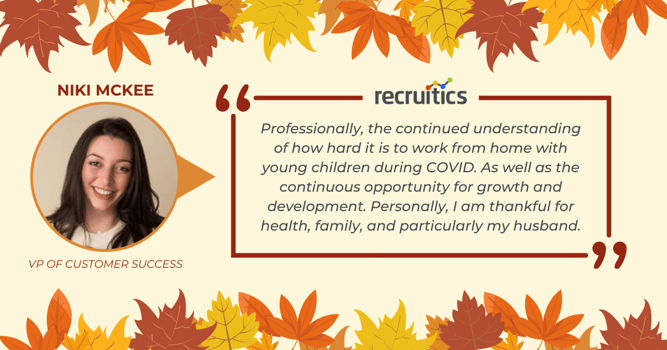 At Recruitics, we took a step back to implement new ways of working -- from speedy meetings (like mentioned above), to an emphasis on our DEIB practices, this time to reevaluate strategies has allowed us to focus on our culture and fostering our community. Also, our community has grown so much over the past year (and continues to grow today), from gaining new teammates to our friends at Reverse Delta. With all of this growth, we have also been able to dedicate time to grow our new solutions and resources, which has been an exciting endeavor for us.
As we continue working in a digital space, where we grow and modernize our business approaches, make adjustments to our business model, virtualize our hiring process, rethink how we manage your resources, or find more effective ways to communicate (both internally and externally), we are putting emphasis on our teams and those we work with.
Family and Friends
We couldn't do what we do without the support of those around us, and we are thankful for our family and friends -- and friends that become family. For many teammates at Recruitics, this is the case. We cannot do what we do without being supported by one another, and we are grateful for the connections we've made along the way. Being able to work (and be friends) with such smart dedicated professionals has set us up for success.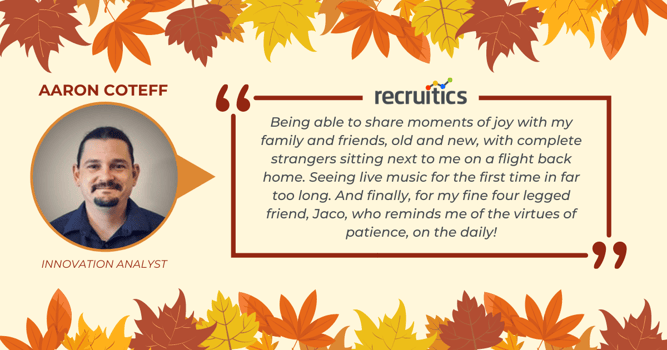 For Recruitics
At our core, our mission is to make it easy for the world's leading brands to attract and hire great talent, and we are humbled to be a part of the process. At Recruitics, we work with some of the best practitioners and companies to help candidates get jobs. Our industry is very rewarding, and to be able to change a candidate's life and be a part of something bigger fills us with joy.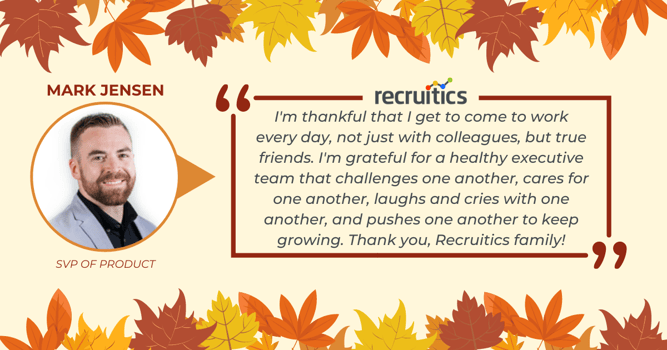 During the pandemic, it was hard for many companies, and many individuals, to hire or find new jobs. To be a part of the process to help so many people bounce back and find their dream career path is indescribable. We provide the strategy and technology to solve today's toughest problems in candidate targeting and acquisition, applicant nurturing and engagement, employer branding, and effective sourcing, among others. This is not without struggle, but we are able to do what we do because of the support and endurance from everyone involved on our team.
Everyone on our team challenges one another, cares for one another, and pushes one another to keep growing. We do not take that for granted. Thank you all for your dedication, support, and guidance to this team.
Everything Else Our Team Is Thankful For
Check out this video to discover everything else our team is thankful for this year!
--
What are you grateful for in 2021? Let us know, we'd love to hear from you!
Posted by Recruitics

Recruitics is a data-powered recruitment marketing platform that makes it easy for the world's leading brands to attract and hire great talent. Recruitics revolutionized recruitment advertising with the introduction of the industry's first programmatic buying platform in 2012. Since then, Recruitics has helped thousands of companies find, attract, and engage millions of job seekers. Today, Recruitics continues to lead the recruitment marketing industry with its state-of-the-art data optimization and analytics platform.