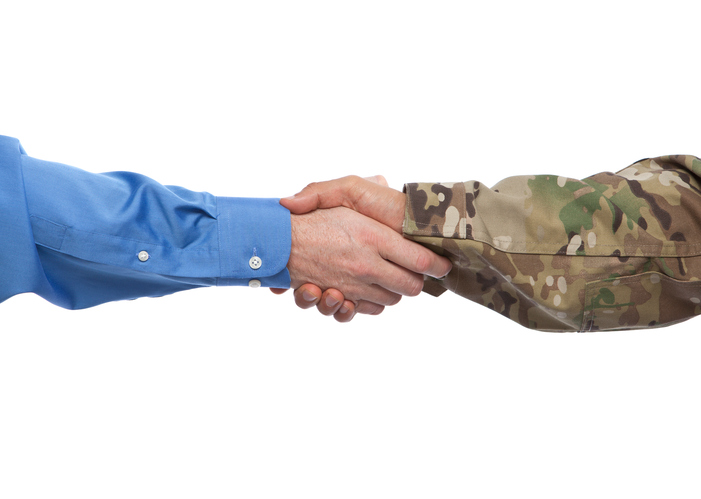 Most recruiters know that veterans bring a unique skill set, good work ethic, leadership skills and an understanding of teamwork. One of the lesser known advertising options for sourcing and recruiting veterans is through PPC advertising on Google AdWords, LinkedIn and Facebook. The following blog post will walk you through exactly how the military and veteran audience can be reached through each advertising platform.
GOOGLE DISPLAY NETWORK
The Google Display Network offers several types of targeting that can help you isolate the military and veteran audience. Two types that have proven to be particularly effective for recruitment advertising are managed placements and retargeting.
MANAGED PLACEMENTS
There are a number of website placements available on the Google Display Network that can be leveraged for veteran recruitment efforts. Military.com, for example, is a popular choice among recruiters. Here is a list of other options you might want to consider targeting:
army.com
militaryandveteransdiscounts.com
americanmilitarynews.com
hireveterans.com
veteransresources.org
veteranprograms.com
myvfw.org
usmilitary.com
veteranstoday.com
military.com
RETARGETING
If you happen to have a page within your careers site that speaks directly to the military and veteran audience, you might want to consider implementing a retargeting program. This type of program would tag all visitors to your military/veteran page(s) and expose them to your ads throughout other websites they will visit..
LINKEDIN
LinkedIn continues to be a strong advertising medium for recruiting quality military candidates.Within their self-service ads platform, There is an option of using LinkedIn Groups as a targeting layer. That said, here are a few LinkedIn Groups that could be used for military and veteran recruitment:
Veteran Job Opportunities
Veterans Hired
Veteran Employment Representatives
Veterans2Work
America's Heroes At Work
Jobs for Vets
Military Veteran Job Fairs & Hiring Conferences
Jobs for Military Wives and Veterans
Veterans looking for jobs
Military Veterans Association, etc.
In total, there are around 300 LinkedIn Groups that could be used as a targeting layer for your recruitment PPC advertising efforts.
FACEBOOK
With a high volume of traffic (approx. 160.3M visitors / month) and unique targeting options, Facebook advertising for military recruitment is another viable option for companies. The targeting options within Facebook make it easy for recruitment advertisers to get in front of both active and passive military and veteran job seekers. For example, you can target by "interests" and include pre-defined interests such as:
Paralyzed Veterans of America
Iraq and Afghanistan Veterans of America
Veterans For America
US Military Veterans
Veterans Benefits Administration
United States Department of Veterans Affairs
Navy Veterans United States America
Disabled American Veterans
Navy Veterans
Institute for Veterans Military Families
Veterans United Network
NEXT STEPS…
What has been your challenges and successes recruiting veterans and military personnel? Share in the comment section below.
Do you have questions about how PPC advertising can help? Get in touch with us.
---
This post was originally published on the KRT Marketing blog on August 5, 2014. Recruitics acquired KRT Marketing on July 31, 2019 - read more about it here.