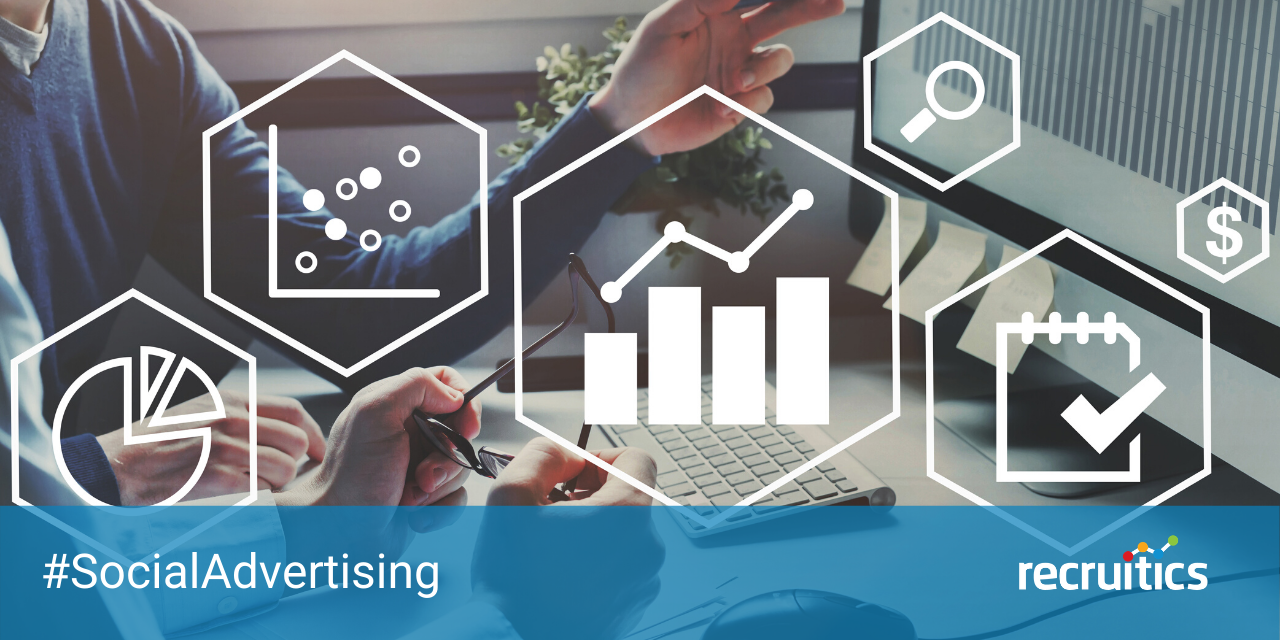 Benchmarks—it's how we measure the performance of an ad on social media channels and lets us know if our ads are performing good, bad, or ugly. While some vendors have implemented tools like the Forecasted Results Window on LinkedIn to help clients "predict" the performance of social advertising campaigns, many agencies are turning to their historical data to help answer questions like, "How many clicks, impressions, applications, or hires can I expect to get from this social advertising campaign?"
With so many options available when building out a social media campaign, predicting a standard benchmark for every possible outcome is difficult. Differences in KPIs, goals, objectives, and candidate experiences can change the dynamics of each campaign and make it difficult to predict ROI. Therefore, each campaign is usually measured differently based on specific targeting, objectives, and ad types that influence cost and performance. Social channels don't generally provide performance or ROI predictions outside of potential reach forecasts (by the end of the blog, you'll know why!).
The following factors (and some that are not listed) affect ROI, performance, and conversions on social channels and make predicting benchmarks difficult:
1. Targeting
Factors such as location, job title, industry, interest, skill set, and seniority may affect how large (or small) the audience size could be, which in turn affects the performance of ads. For example, registered nurses in two metro areas, such as New York and Denver, would have different audience sizes, which could result in distinctly different impressions, clicks, and average click-through rates (CTR). Each campaign will perform on a different level because location targeting factors in audience size.
2. Budget/Bidding Strategy
There are usually two options when choosing a budget on social media: daily and lifetime budgets. With two different bidding types, you can choose to place a maximum cost-per-click (CPC) bid or allow the channel to automate the bidding strategy and adjust for the most clicks, impressions, or conversions. For example, let's say you have two identical campaigns with the same targeting, creative, and objective. If you give these campaigns different lifetime budget amounts over the same duration of time, the number of impressions, clicks, and CTR will be varied. The campaign with the larger budget would allow for higher results and a greater chance to attract more candidates.
3. Creative
The ad plays a critical role in the overall performance of a campaign. It's the first thing your targeted audience sees, and depending on what the ad is offering, the tone of voice and the type of ad (e.g. image, video, carousel, slideshow, lead generation, etc.) will determine if the candidate takes action or not. Ideally, an advertiser would test the following variations of the components for the best results:

Ad Copy: Verbiage, tone of voice, and copy length play a role in convincing a targeted audience to engage with an ad. Keeping ad copy short and sweet while grabbing the attention of the targeted audience is essential.
Call to Action Button: A clear call to action can help direct the candidate. An "apply now" call to action is a likely option when dealing with recruitment ads, but a softer call out, like "learn more", can sometimes achieve greater engagement.
Link: When providing a link to the ad, you are inviting the candidate to leave the social channel platform to learn about the opportunity presented to them, and hopefully, fill out an application or convert. Landing page load times and non-mobile optimized pages can affect the outcome of completed conversions. If the page does not load quickly (or at all!), the candidate may bounce from the page without completing an application.
Photos vs. Videos: Today, video and animated images tend to be more engaging than photos and graphics on certain channels. According to a recent study from Facebook, "In the past year, the number of advertisers using video in direct response campaigns across our platforms increased 3.8x." Make sure the video or still image fits the ad copy and offering. If you're hiring for an engineer, but the video or image is showcasing a retail sales agent, the message could be lost on the targeted audience.
4. Objective
Your social ads' objective will depend on the campaign goals or KPIs. Having a full understanding of what the ads are meant to accomplish before building out the campaigns is essential.
A few objectives currently available on Facebook, LinkedIn, and Twitter platforms include:
Lead-generation form collection
Each of these objectives causes the ad to perform differently for each targeted audience. Choosing the wrong objective for an intended KPI or goal can greatly affect the outcome of any social advertising campaign.
5. Placement
The option to place an ad on a desktop, tablet, or mobile device is standard for most social ads. If most of your targeted audience is seeing the ads on their mobile devices, and your landing page, or the application process is not mobile optimized, than you may see fewer conversions and a large drop off when visitors land on your site. You can also place your ads on third-party sites within the audience networks for most social media channels.
A Note On Conversions
Conversions help determine if we have met the goals or KPIs originally established while creating the social ad campaign. We can see conversions through a third-party source, like Google Analytics, or directly on the social platforms if the event pixels were set up properly.
These can come in a variety of statistics such as:
View Content
Add to Cart
Apply Now
Subscribe (to a newsletter or a hiring event)
Completed Application
Lead
Time Spent on Page (Think of blogs and articles where the only required action is reading)
The most common conversions we see for recruitment advertising are 'Apply Now' clicks and 'Completed Applications'. These types of conversions typically happen after the ad has done its job and has brought a candidate to the website. What happens next, and if the candidate completes an application, will depend on the landing page. Is it mobile optimized? Does it load properly and quickly? How long is the application process? All these items factor into a candidate's experience and makes it difficult to predict the outcome based on a social advertising strategy.
Next Steps
The best approach if you are thinking of starting a social advertising campaign is to first create a relationship with your agency and start tracking performance. As you run more campaigns, your agency will give you more insights on what to expect based on historical data. More and more companies are looking at their data to find benchmarks and gage the performance of social advertising campaigns.
We also searched the web to find these general paid social industry standards for average CTR:
LinkedIn: 0.50% – 0.67%
Facebook: 0.09% – 0.90%
Instagram: 0.02% – 0.20%
Twitter: 0.71% – 1.55%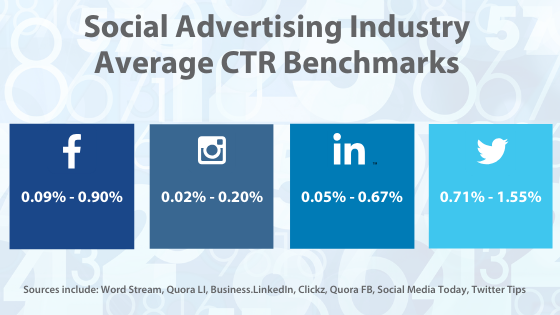 Sources: Word Stream, LinkedIn Ads Benchmarks, Adstage TW, Adstage IG, Rivaliq Benchmarks, Instapage
With historical data, advertisers can ascertain a broad range for average CTR, CPC, impressions, clicks, and engagement, but each industry, job, or client will have their unique benchmarks. Some standards may work for one client or industry, but not another.
While channels, like Facebook, Instagram, and Twitter, share potential reach when planning out a targeted audience, that is the only forecasted information they share at this time. Facebook stated, "company policy prevents us from sharing benchmarks, but rest assured, none of our competitors can provide benchmarks directly from the source either!"
Recruitics has developed internal KPIs per vertical over the past few years and has used this data to guide our ongoing social media campaigns for our clients. If you are a client and haven't seen this data, please contact your account executive. If you are not a client and would like to learn more about Recruitics internal benchmarks, contact us today.
Have any questions? We're happy to discuss more! Contact your account executive to set up a meeting or reach out via email.
--
Posted by Recruitics

Recruitics is a data-powered recruitment marketing platform that makes it easy for the world's leading brands to attract and hire great talent. Recruitics revolutionized recruitment advertising with the introduction of the industry's first programmatic buying platform in 2012. Since then, Recruitics has helped thousands of companies find, attract, and engage millions of job seekers. Today, Recruitics continues to lead the recruitment marketing industry with its state-of-the-art data optimization and analytics platform.