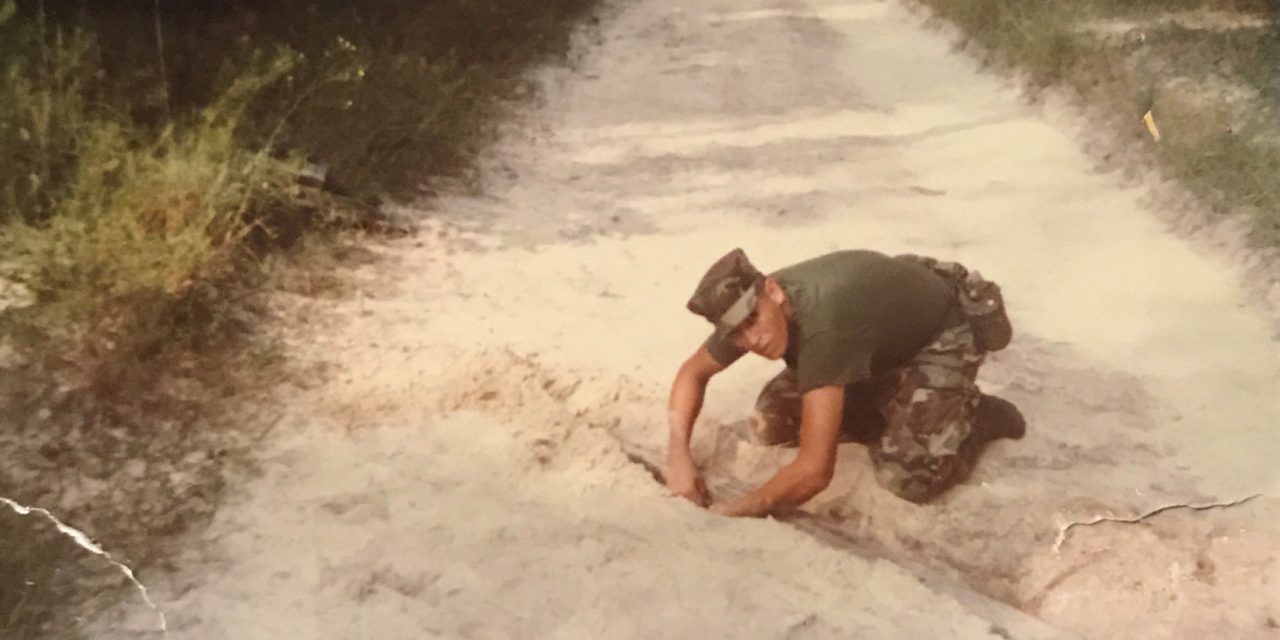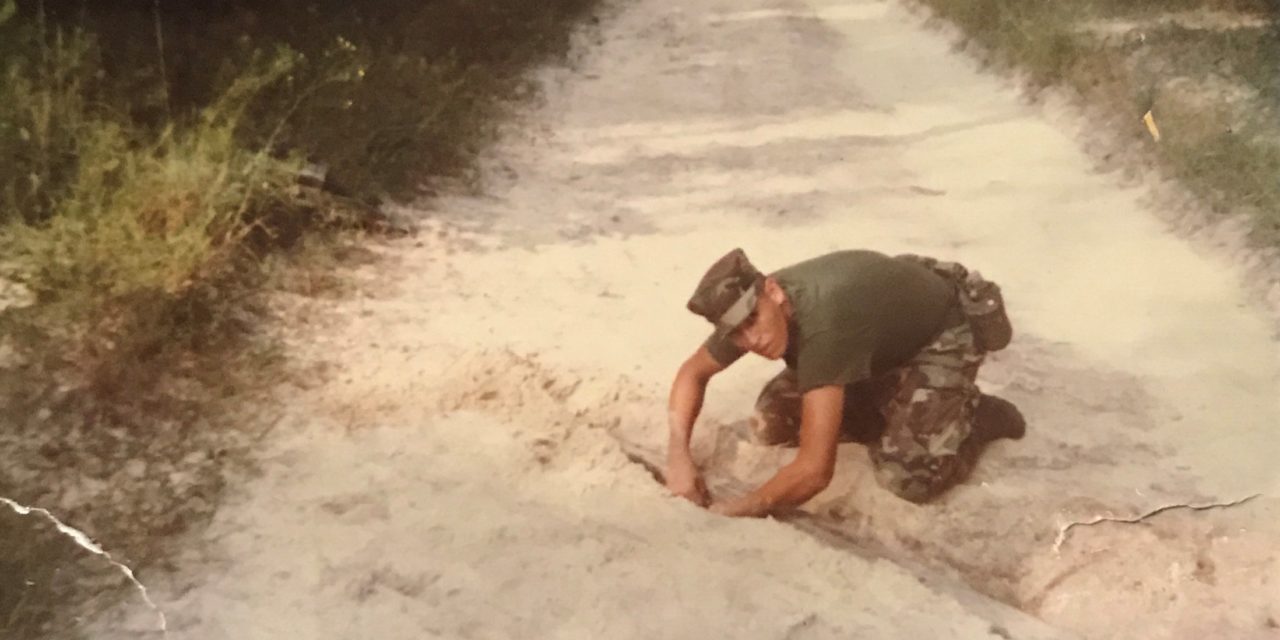 (Pictured: Juan Arzola, United States Marine Corps veteran)
We proudly present the final installment of our veteran recruiting interview series! This time, we spoke with Juan Arzola, United States Marine Corps veteran and current professor of political science. Here is his story, how his military experience changed his life, and the advice he has for employers who want to hire veterans.
Describe your background and tell us about your service.
I was born in Mexico to parents who were migrant farm workers. I began working in the agricultural fields at the age of six. My primary language was Spanish, but I was proficient in the English language by the end of first grade. By the time I turned 13, I joined a street gang, and over the next four to five years would spend time in juvenile detention facilities and group homes. As I explain to people, I spent more time in the juvenile justice system than in my own home and proper school environment. In fact, I never graduated from high school or earned my G.E.D.
In 1989, I attempted to turn my life around. I enrolled at a local community college, but I soon found myself facing a seven-year prison sentence. With the first Persian Gulf War in its early throws, I wanted to parlay the need for the U.S. military for additional bodies into an opportunity to avoid prison. With this in mind, I asked for assistance from the local recruiter for the United States Marine Corps. The recruiter, Sgt. Lowry, was open to helping me. I signed a six-year enlistment, as part of the court and recruiter arrangement (I also tested high enough on the ASVAB to warrant a quality enlistment opportunity).
I enlisted in the Marine Corps in 1991 as a 1371—combat engineer. My time in service could be characterized as above average. However, I did have some failures that led to some non-judicial punishments. Yet, I was still able to rise to the rank of corporal and sergeant ahead of most of my peers in my military occupational skill (MOS) with the same time in service.
One of the most important points in my service occurred after I was promoted to corporal. I was ordered to cross-train into a hybrid position that melded aspects from the artillery and air traffic controller MOS to support live and non-live fire training aboard Marine Corps Base Camp Pendleton. I spent the final three and a half years as a long rifle range operator.
In 1997, after a failed attempt to re-enlist, I ended active duty service (EASed) and transitioned to civilian life.
[How the #Marines Changed this Current Professor's Life. #veterans #recruiting (CLICK TO TWEET)]
What did you do after you ended service?
Like most military members, transitioning from military life and culture to civilian life and culture was a difficult endeavor. While I served honorably, I did not have skill sets that transferred directly into the civilian economy—in particular, the local economy was not a hot bed for employment opportunities. Not to mention that I did not have a high school diploma or G.E.D. In short, employment prospects were limited. Furthermore, I found myself battling depression due to the rejection of my reenlistment attempt. I credit my wife (then, of six years) with pushing and prodding me to go back to school.
In 1997, I enrolled in the local community college. I was not sure what I wanted to pursue as a possible career path. By the end of the first semester, I felt a desire to give back to my community by pursuing a career as a legal advocate for juvenile offenders and/or at-risk youth. In my heart, I felt that I could help mentor youngsters, who, like me, needed a second chance to become a well-functioning adults. Yet, by the time I completed the two-year program, my wife prodded me to pursue law school. I spent the next year completing university-level transfer courses, and ended up transferring to the University of California, Los Angeles (U.C.L.A.). At U.C.L.A., I majored in political science with an international relations emphasis.
In 2002, I was on the verge of completing my four-year degree, and when deciding on which law school and graduate program I would transfer to, I made an important career decision. With my daughter's educational future in mind, I decided to forgo law school and a doctoral degree program. In, 2003, I applied to a master degree program in international relations at California State University, Fresno. The degree program could be completed in a relatively short time period, which would allow me to enter the workforce as a community college instructor, and contribute to my daughter's educational journey.
In 2005, I graduated from Fresno State, and a year later, I began my current career as a professor of political science and ethnic studies at the College of the Sequoias in Visalia, California.
Any pieces of advice for employment-seeking veterans?
At the risk of oversimplification, I think veterans need to figure out what their passions are. What is it that you can see yourself doing of the next 20, 30, possibly 40 years? Determine if you have the requisite experience, skills, and abilities to pursue that passion. Here's the reality: most veterans will enter an economy where their military job traits and skills do not transfer into a civilian job, beyond law enforcement related employment opportunities. Hence, many veterans will need to utilize education to learn new job skills to pursue their passion.
So from an educational perspective, approach education as you did your military service, assuming you were a hard-charger! Find other military veteran students and use each other as support. Transitioning to civilian life is hard, and it is even more difficult when you attempt to adapt to educational life simultaneously. It takes time and some serious management of relationships, but do not be deterred from your ultimate goal.
Any pieces of advice for companies looking to hire veterans?
As a professor, I feel that I can provide a perspective that might resonate well with companies and/or employers looking to hire veterans. While I do not "hire" veterans—students enroll in my class, I find myself approaching my relationship with veterans (really, all students), as an employer. I present work that they are expected to complete for me, as well as lay out the expectations for said completed work.
Today's warriors tend to be committed to their specific missions (goals). Hence, employers should make sure that their organizations have well-defined mission statements. You'll find that the veterans you decide to extend employment opportunities to will, more often than not, approach organizational missions in a military manner and mindset.
[#Veteran #Recruiting Tip: Make sure your org has a defined mission statement. (CLICK TO TWEET)]
That's all for now! Want to take your veteran recruiting efforts to the next level? Contact us.
---
This post was originally published on the KRT Marketing blog on October 4, 2017. Recruitics acquired KRT Marketing on July 31, 2019 - read more about it here.