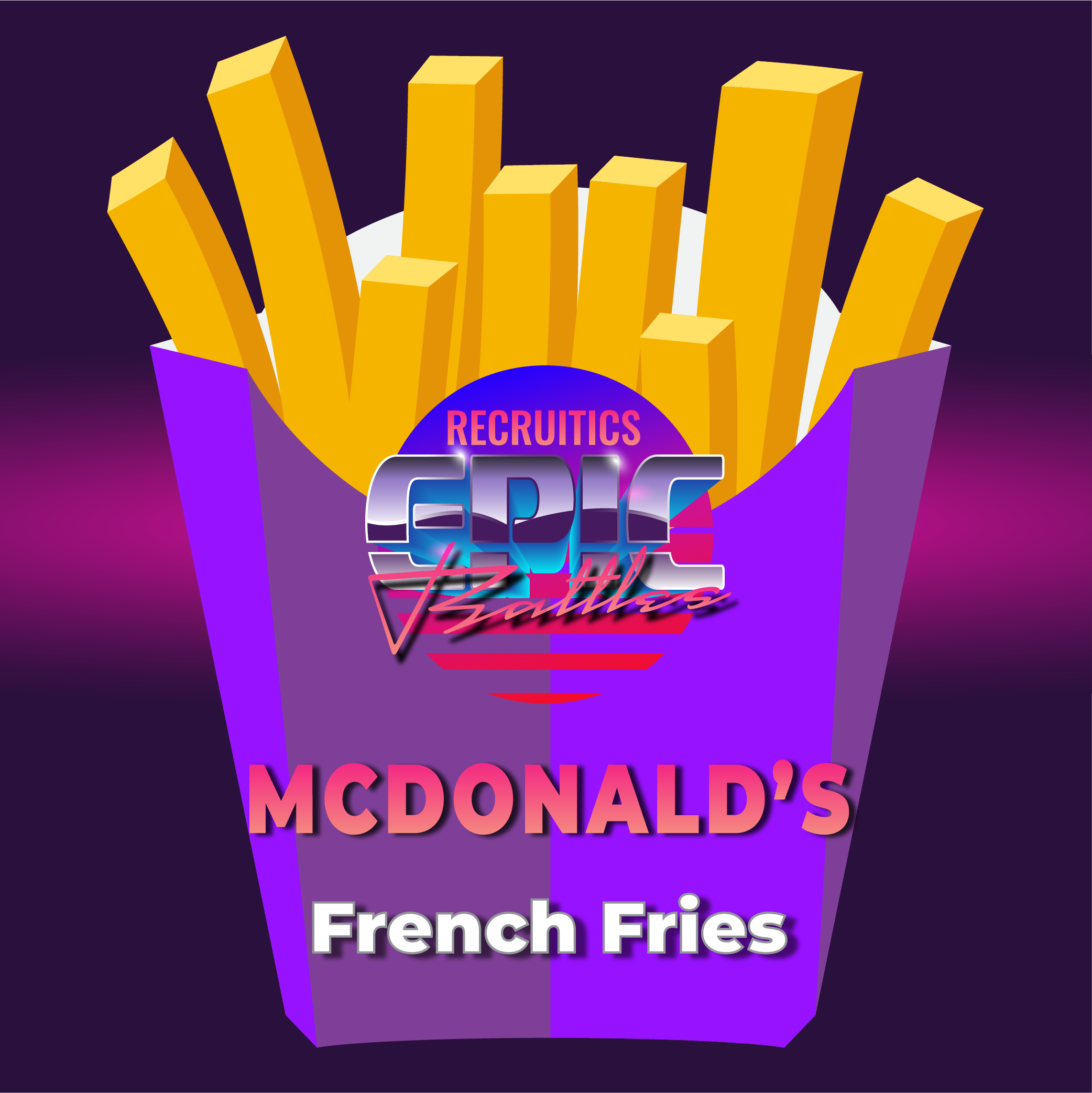 Did you miss March Madness this year? Are you itching for the thrill of a virtual tournament? Do you find the best way to connect with coworkers is through heated Slack debates on what are ultimately unimportant topics? Then look no further!

Recruitics recently kicked off a new, internal agency-wide game series: Epic Battles. These are week-long bracket-style voting tournaments in which our employees have the opportunity to cast votes across various niche categories, with a single agency-wide favorite being crowned winner. Our inaugural Epic Battle commenced this past Monday, July 13 with the very first topic in the virtual Thunder-dome: French Fries.

We put 8 of the leading french fry brands up against one another:
McDonald's
Burger King
Wendy's
Chick-fil-A
Shake Shack
Five Guys
In-N-Out Burger
Whataburger
And, we also put 8 types of french fries (along with a few common french fry alternatives) to the test:
Cheese Fries
Poutine/Disco Fries
Animal Style Fries
Chili Cheese Fries
Sweet Potato Fries
Tater Tots
Onion Rings
Fried Pickles
So..... who has the BEST FRENCH FRIES, according to Recruitics employees?

MCDONALD'S!
And... what was the FAVORITE FRENCH FRY TYPE OR ALTERNATIVE (besides the standard french fry, of course), according to us?
TATER TOTS!

But that's not all. As a data-driven agency, we obviously have to share the stats! Here's a recap of what we learned during our Epic Battle of the Best French Fries.
THE STATS:
Average number of responses: 46. To everyone who voted, thank you. Everyone else clearly needs to reevaluate their fry-orities.

When it comes to a contest between fast food chains, there is no contest. Burger King's french fry have the smallest number of supporters, with only 4 votes (8%) to McDonald's 44 votes (92%).

McDonald's french fry continues to have a passionate following after round 1. It won each round subsequent with over 60% of total votes over its rival fry.

In the west coast vs. east coast fry-off, the east coast won. In round 2, Five Guys fries received 63% more votes than In-N-Out fries did.

The closest round of battles was between Cheese Fries vs Poutine / Disco Fries and Animal Style Fries vs Chili Cheese Fries, with each inching over its rival by under 5% of total votes.

ANECDOTES:
Speaking of Cheese Fries and Chili Cheese Fries: Cheese Fries made it past Round 1, but Chili Cheese Fries did not. Conclusion? Add Chili to Cheese Fries and they're not as good anymore.

At least four people have reported being influenced to eat/purchase fries this week as a result of the battle (ft. stat: with only 4 reported fry-eaters this week, that's only 8% of the average number of voters — way to show some discipline this week, everyone).

Common response to someone supporting a rival fry: "I'm not mad, just disappointed."
What's your favorite french fry? Tell us on social media!
Posted by Jillian Einck
Jillian Einck is VP of Brand & Creative Development at Recruitics. She has seven years of experience in the world of branding, marketing communications, and design. From the world of private clubs, to healthcare, to now recruitment marketing, she has effectively utilized her obsessive attention to detail by channeling it into creative and successful marketing campaigns across a variety of platforms and communications channels. Jillian earned her Bachelors of Arts from San Francisco State University in Theatre Arts in 2006. She spends her free time with her husband and young daughter, reading, watching classic movies, and baking elaborate desserts that she frequently finishes eating in a single sitting.