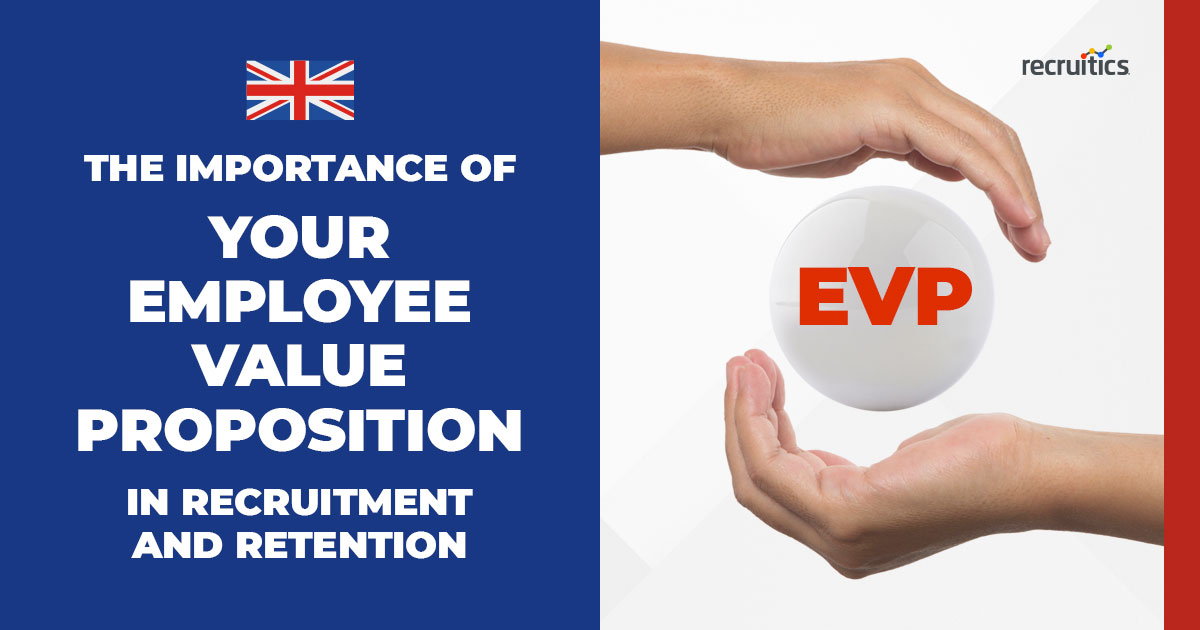 Labour shortfalls are hitting the UK recruitment market, and professional services are no exception. Professional services firms struggle to secure top talent, and some businesses are turning down contracts due to insufficient staffing. Job vacancies rose in March to May 2022 to a new record of 1,300,000 – which is an increase of 20,000 from the previous quarter. The ratio of vacancies to every 100 jobs maintained a record high of 4.3 from March to May 2022 – with 7 of the 18 industry sectors displaying record high ratios.
The problem is exacerbated by some employees' anxiety around leaving current jobs due to general uncertainty linked with the pandemic and inflation. Never has attracting and retaining staff in this sector been harder, leading to significant challenges for the recruitment sector. That is where the employee value proposition can be a great help.
What is the Employee Value Proposition?
The employee value proposition is an integral part of the employer brand. According to the Chartered Institute of Personnel Development (CIPD), the employee value proposition (EVP) "describes what an organisation stands for, requires and offers as an employer."
The employee value proposition is about what employees get for working at the organisation and what they have to give in return. In this sense, it is linked with the psychological contract, or an unwritten and intangible contract with expectations on both sides – employer and employee.
What employees get for working at the organisation will include remuneration, learning and development opportunities, personal kudos for working there, purpose, and a level of work-life balance. Also, employers must live up to expectations and not over-promise and under-deliver. The latter will lead to retention problems and, eventually, a degraded employer brand.
A differentiated employee value proposition is important because it directly impacts employee recruitment, satisfaction at work, and ultimately, staff retention, making it an essential tool for recruiting talent. When candidates know what the business is and what it has to offer, they are more likely to make an optimal choice when applying for jobs. When employed at an organisation like this, they are more likely to be happy with the relationship and stay longer.
How a strong EVP influences recruitment and retention
A strong EVP has a tremendous influence on both recruitment and retention, as well as helps a company's employer branding efforts. There are two different components to this. One is the tangible benefits of working with the company: salary, bonus, commission, company care, and workspace. The other is intangible benefits such as organisational culture, the working environment, work-life balance, likelihood of progression, and perceived job security.
The mix of these different elements is essential in attracting and retaining employees. Considering who the EVP is designed to attract is necessary to develop a solid proposition. Millennials comprise more than 50% of the workforce, so chances are, most organisations will be seeking to attract at least some members of this generation. Considering the needs of this group in the EVP is likely to be necessary.
A strong EVP will be attractive to top talent, while a weak one will not. If the EVP is unclear, the company risks hiring people for whom the EVP is not suitable. This is likely to lead to higher turnover, which is costly. Meanwhile, if the EVP is unrealistic or inaccurate, this can have two impacts. One is that it will not resonate with potential employees. In this case, they may not believe it and may not apply. The other is that retaining employees is more challenging if the EVP does not match the reality of working at the organisation.
The culture and values job seekers look for
Company culture is of great importance to most employees. Given the greater likelihood of a remote working environment, the culture must accommodate remote working scenarios.
Flexibility is one of the key culture factors that will comprise a compelling EVP for many, especially millennials and generation Z. Research published in 2019 suggested that 92% of millennials wanted flexibility when seeking new jobs. This makes a position much more attractive to them, more so even than higher pay. The pandemic has accentuated this trend, with many realising that work-life balance and the flexibility to achieve this is critical for mental health and wellbeing. While rising inflation may potentially impact whether flexibility is more important than higher wages at the current juncture, there is no doubt that this is critical to a successful EVP.
What the employer stands for – its values – are also an essential component of the EVP. Employees are increasingly seeking a greater fit between their values and the company they choose to work for. Research shows that the major concerns of generation Z include the cost of living, climate change, unemployment, mental health, and sexual harassment, and millennials' concerns mirror these on the cost of living, climate change, and unemployment. Organisations that address these points in their EVP will attract talent from these key groups. Employers should ensure that genuinely being sustainable is part of the EVP and that employee wellbeing is a point of interest. The days of greenwashing are gone, and professional services talent will see through this quickly. Diversity, equality, inclusion, and belonging are vital points to consider.
In addition, given the challenges associated with the cost of living currently, employers that show in their EVP that this concern is reflected in their values are likely to enjoy greater recruitment and retention success.
Advantages and incentives in selecting an employer
The advantages and incentives that employees seek in selecting an employer are manifold, but general trends must be considered. As pinpointed above, salary is not likely to be everything for professional services talent, but that's not to say it isn't important. Compensation should be commensurate with experience and in line with market expectations. Consideration should also be given to inflation. While many professional services employees will not be on the breadline, they will still be feeling the cost of living pinch on their pay packets. Recruiting and retaining staff are both being impacted by this.
As shared above, flexibility is paramount, especially post-pandemic, while some emphasis on remote working is also likely to be of great interest to many. Considering what the business offers through benchmarking competitors seeking similar types of employees can be a beneficial exercise. Another critical incentive for prospective (and existing) employees is learning and development opportunities. These may be provided through on-the-job training, training courses, or simply delegating new tasks to employees that they will consider stretching. Professional development is an important element of this – investing in an employee shows commitment to employees and provides a feeling of job security, another important incentive.
A good reputation for employee recognition drives employee engagement, commitment, and retention. Candidates generally want to feel aligned with company values, and there is a significant advantage in retention if perceived as a good fit. All benefits and incentives must be understood as part of the employer brand and employee value proposition.
EVP Development
The EVP should be integral to the employer brand and the recruitment process. If employees are unaware of the benefits of working with the company, both tangible and intangible, then this will do little to further the organisation's cause. Weaving this into the website and the overall corporate brand is essential, as is ensuring it is presented on job advertising communications, in all marketing materials, social media campaigns, etc. If prospective employees have to guess what the EVP is, given current demand, they will likely go elsewhere – where it is more prominent.
Finding unique and engaging ways to showcase the EVP can also be very beneficial in differentiating the organisation to attract the attention of prospective employees. This can include employee recognition programs, rewarding great work in the workplace, encouraging employees to increase their skill sets, and listening to employees. Everyone's opinion and thoughts are valued and must be heard in order to build an EVP. Building an EVP involves a deep dive and conducting a thorough analysis of every level of employee at the company.
For a strong EVP, employees must genuinely feel valued by their employer – that their work is meaningful and the benefits they receive are adequate for their work. A strong EVP statement is a highly beneficial way to keep employees engaged, progress the company culture, and attract the best talent available.
Moving Forward
The current market for recruiting and retaining professional services talent is tough. Companies must differentiate themselves to attract and retain vital professional services talent through a strong and compelling EVP. Such an EVP should reflect the tangible and intangible benefits employees gain from working at the organisation and their expectations. Over-promising and under-delivering will lead to retention problems. In attracting top talent, the EVP should also consider culture and values, which must be visible to have any effect.
If you're looking for help building your employee value proposition, we'd love to help!
Posted by Steve Riley

Steve Riley is a Sr. Product Manager in Career Site at Recruitics. Steve spends his time working with clients, designers, and developers to make digital projects happen more smoothly. He specializes in information design, simple and clear communication of complex information, building marketing materials, and web design. Outside of work, Steve likes to spend time with family and enjoys time in the mountains, running, and climbing.