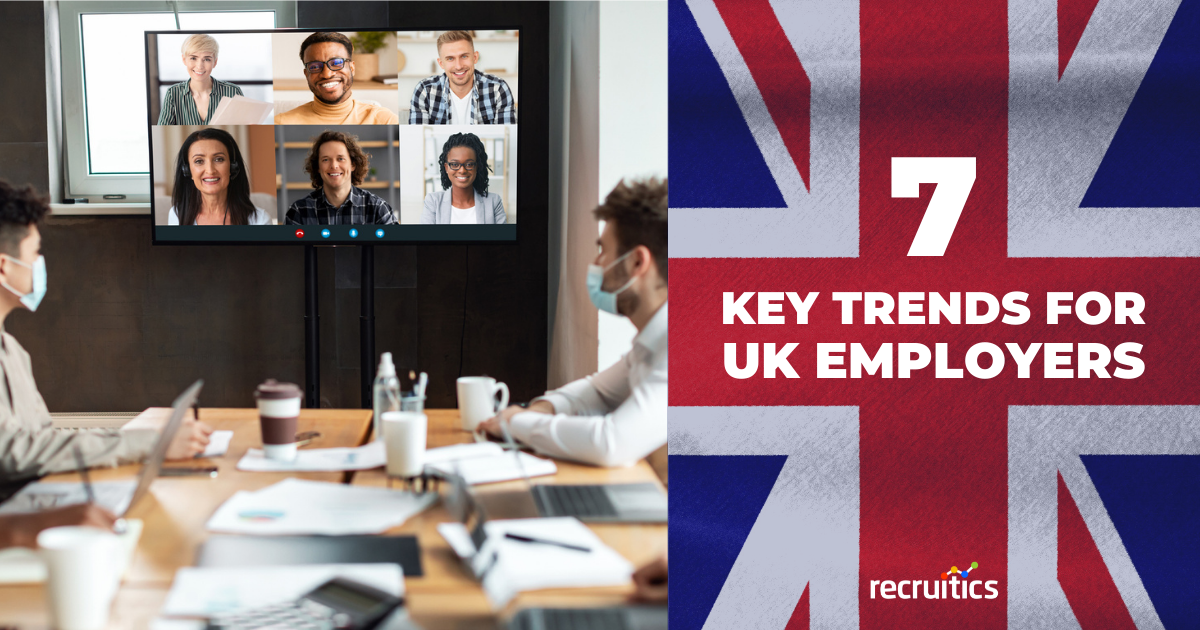 Companies have had to adjust and adapt recruitment strategies frequently the past few years, and since it's still a candidate-driven market, learning about emerging trends to watch out for will ensure companies remain agile and competitive – which is essential when trying to obtain the attention of job seekers.
Read on to learn seven workplace trends to look out for and how they can be beneficial to attract, recruit, and retain top talent when entering into another year of uncertainty.
1. Upskilling Opportunities
As companies look to fill the record-level vacancies, which rose to a record 1,247,000 in October to December 2021, having a skills-based approach may be beneficial. When dealing with major issues trying to recruit talent, it's crucial to remain agile and have skills at the centre of the recruitment strategy.
To elaborate, it wasn't uncommon for companies to move their teammates to roles that were needed, according to the skills the teammates had and what was needed for the company at the time. Focusing on upskilling existing employees can help prevent attrition and allows companies to fill the niche roles they are looking for without having to seek talent elsewhere.
For companies, many of the skills required in a job description years ago have become unnecessary or obsolete due to the pandemic. Focusing more on "soft skills" and upskilling opportunities ensures teammates' skillsets aren't obsolete, helps with employee morale, and shows how much the company values their employees' careers and futures at the organisation.
2. Internal Mobility
As companies look to hire top talent, it's important to not only look outside of the organization, but within as well. Why only seek outside talent when there are qualified candidates already at the organisation? This is a great time to look internally at members of the team, since teammates are already known for their job performance and are known to be a good culture fit (which is why they were hired in the first place), and hiring internally generally takes less time and can be cost-effective.
With this, senior management needs to think about structure and avoid a very flat organisation, which limits internal mobility. It's simpler and cheaper to pay a little more money to someone who is promoted than the cost of recruiting someone new. Having a proactive structure which promotes from within and replaces at the bottom allows room for the growth and development of team members.
Additionally, hiring internally does not only help retain employees, but also give an opportunity to entry level-associate level employees to grow and continue learning/skills development – which can lead to employees staying with a company long-term. Also, employees are more likely to be engaged and less likely to look elsewhere for work if there are opportunities to further their career at their current employer.
HR departments should look at their recruitment strategies and ensure they are built for finding talent internally as well. With this, it's never been more important to review job postings on the right forums – internally or externally – to ensure the best-qualified candidates are applying to open vacancies.
Tip: If a company is prioritising internal candidates, hiring professionals need to be committed to providing their employees with the same candidate experience as an external jobseeker!
3. A Focus on DEI
As much as it's important to focus on hiring practices, it's crucial to look internally at diversity, equity, and inclusion in the organisation. To elaborate, a Glassdoor survey shared that nearly 3 in 4 (72%) UK employees and job seekers say a diverse workforce is an important factor when evaluating companies and job offers.
If an organisation is focusing on implementing DEI strategies, remember that it is not something to cross off a list as being "sufficient." DEI should be a commitment the company actively focuses on to ensure work is being done to create an inclusive and welcoming company culture where everyone feels they can thrive – and a workplace that allows each and every member to have a voice.
When organisations focus on creating a supportive and diverse work environment, there will be an increase in efficiency, engagement, achievement, drive, and productivity. According to McKinsey, companies in the top quartile for gender diversity on executive teams were 25% more likely to have above-average profitability.
4. Remote Work
When looking ahead, there's a discussion around whether there's a need for employees to be working in a physical office or whether working remotely is here to stay. For some organisations, many have agreed that employees have been able to work successfully and productively in a remote environment for the past few years. So is there a rush to go back into the office?
With only one in three employees expected to return to the office, it seems like the hybrid work model is here to stay. However, listening to the feedback from employees can help with this decision. Since the traditional way of working might be gone and organisations are looking into a personalised approach to the hybrid work model, it is wise to check-in with teammates to see what they're interested in – since having either remote or hybrid work options might help to avoid turnover and assist with employee retention. Also, many job seekers are only looking for roles that are remote, so remaining agile with the way of working will give the ability to recruit top talent.
Tip: Implementing technology can be an asset when continuing to work remotely, including onboarding, remote recruitment, tools for better communication between remote teammates, and team gatherings.
5. Revamping Employer Brand To Fit WFH Culture
The need to revamp employer brand to fit the post-covid work culture (remote working) is probably the highest priority for any company right now – ignoring those companies that need people in the workplace. A company who has a website designed in pre-covid is looking out of date to today's candidates.
Also, since the ways of working have drastically changed, and many teams are now dispersed around the country, it's likely that there's a strain on company culture that might not have been there before the pandemic began. Companies previously focused on being in office to facilitate culture and community, but now maintaining connection and community requires special attention from employers.
Typical culture perks, from water cooler chats to games in the office, are no longer available, and instead organisations are working towards reinventing what their culture looks like so it can be adaptable in a remote setting. Instead of fighting against remote/flexible work, employers should focus on putting their employees' needs and wants first – which can ensure organisations don't lose teammates to other companies.
With one in four employees feeling less connected to company culture (26 percent) and their boss (25 percent) during the pandemic, it's essential to work towards creating a new culture that can thrive in a remote environment. From 1:1 mental health check-ins to team check-ins to ensure everyone is able to share their ideas with one another, companies need to focus on ways to reinvent their company culture – and ask employees what they'd like to see implemented. Having everyone's opinions and ideas heard can make employees feel seen and valued.
Tip: Finding the right partner to update an organisation's employer brand can make all the difference. Recruitics has experience of working with businesses across all industries and can help strengthen a Employer Value Proposition.
6. Higher Candidate Expectations
As people began to rethink their priorities during the pandemic, jobseekers began expecting more from employers and what they want out of their career. Today when talent are searching for jobs, they won't be converted by an organisation's pre-covid and during covid EVP (which is why it's essential to update employer brand, as mentioned above). Since it's a job seekers market, it's essential for employers to listen to the market and what candidates are looking for in potential employers.
Many candidates are now seeking companies who prioritize DEIB in the workplace, flexible working, well-defined career paths, employee mental health and well-being procedures, and professional development opportunities. Also, many candidates are looking for employers who share similar values, with six in 10 respondents seeking a better fit between their own and corporate values, beliefs and behaviours.
Hiring professionals will need to understand what job seekers are looking for and adapt – since junior employees have different priorities and expectations for their careers than other generations in the workforce do.
7. Recruiting Through Social Media
Social media has become a major part of people's lives, especially as people try to remain connected when working from home. It's become a vital part of being in touch with loved ones or colleagues, so it's not surprising that companies have turned to implementing social recruiting campaigns.
To remain competitive, organisations should look into how social media can provide the opportunity to reach out to candidates in new markets. If employers are active and have a social media presence, candidates can easily find the information they are seeking and learn everything they need to know about a company before applying. For example, companies are using recruitment videos on their social media channels to showcase their culture and what a day-in-the-life of their employees might look like, which can stir interest in active and passive candidates.
Hiring professionals should look to their employer brand and see how they can showcase it better online. As mentioned above, many job seekers are looking to work for companies who match their values, and social media can be a great way to showcase the work culture and other insights about the company with potential candidates.
This is also an opportunity to reach a younger generation on different social platforms, such as TikTok. When creating content on this platform, it's important to know the audience and the target age group, and then understand the appropriate length of video necessary when targeting each group. The videos used on social media platforms can also be used on career sites – which is an important way to be proactive, since candidates are more likely to trust what an employee says than a manager.
Tip: Ensure the written text of what's said in the recruitment video is on the website. Companies will want to have these videos be accessible to every audience, and subtitles allow all audiences the ability to engage with the content, and going the extra mile will help make a company stand out.
--
Interested in revamping your recruitment strategy to remain competitive and increase the likelihood of attracting top talent? Reach out to Recruitics, we'd love to help!
Posted by Peter Morrow

Peter Morrow, Senior Solutions Engineer at Recruitics, has a passion for helping recruiters attract and hire great talent. Outside of work, Peter enjoys long walks with the family dog, equestrian sports with his wife, and watching rugby.